Overrated/Underrated NYC
In a city that runs on hype, we give a shout-out to the underappreciated NYC attractions and icons that are worth your time—and call out the overexposed stuff that we're kind of done with
Subway line: Q / G
Many cite the Q as the subway's best line, thanks to its clear announcements, express status and magically available seats. But frankly, we think it's a bit of a show-off. Our allegiances lie with the G. We just can't help rooting for the underdog. Like cheering on the Mets year after year or patronizing that one crappy dollar-slice place near your apartment even though it gave you food poisoning, loving the G requires faith. And hey—it provides the system's only direct connection between Brooklyn and Queens; and per the MTA, it's on time more often than many other lines.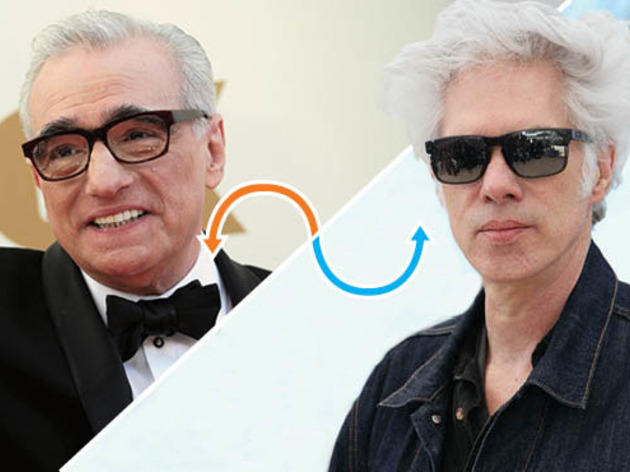 Iconic NYC director: Martin Scorsese / Jim Jarmusch
Marty taught us how to love movies. Taxi Driver is imprinted on our DNA, and don't even get us started on quoting Goodfellas. But in recent years, we fear, his films have gotten a little glitzy. Hugo satisfied no one. And last year's so-called return to form, The Wolf of Wall Street, was a tedious impression of his own Casino. Jarmusch, on the other hand, remains the downtown poet of cool. Even 34 years after his debut, he's still fighting the good fight—a vinyl collector holding out in a sea of digital converts. He's filled his career with defiantly personal work, from Night on Earth to Ghost Dog: The Way of the Samurai.And he's about to release his strangest and strongest movie to date, Only Lovers Left Alive (out April 11). Jarmusch wouldn't even know how to sell out.
Way to hail a cab: Uber/Your arm
Punching a button on your phone and getting a car is nice, especially if it's dark out and you're in a weird place. But a triple-digit ride to the airport because of "surge" pricing? When you look back on your taxi-riding past, you remember only the times it was a pain in the ass to get a cab because it was a pain in the ass. But generally, if you just stick your arm out, a vehicle will find its way to you. Plus, you won't miss out on crazy drivers or eau de barf, both essential parts of the New York experience.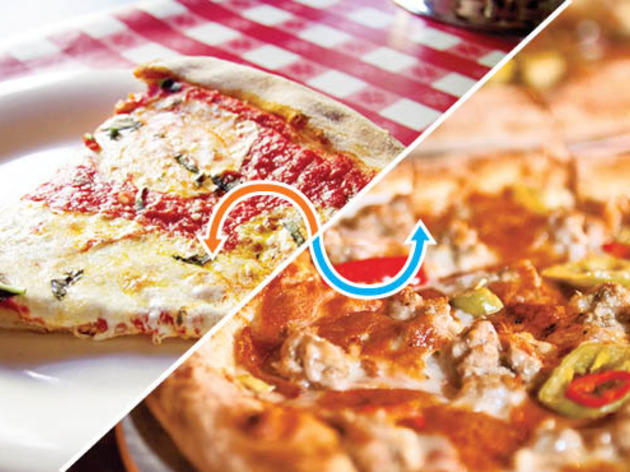 Pizza: Lombardi's / Speedy Romeo
There's no contesting Lombardi's culinary significance: It is America's first pizzeria. But the signature original—fresh mozzarella, unadorned sauce, basil and romano on coal-fired crust ($17.50–$21.50)—is nothing special, hardly worth enduring throngs of tourists.Speedy Romeo recently attracted attention as a shooting location for Girls, but its pies are its true claim to fame. The pliant, wood-fired crust of the Saint Louie ($16) bolsters gooey Provel cheese, sausage, pepperoni and pickled chilies. Same DNA, new twist.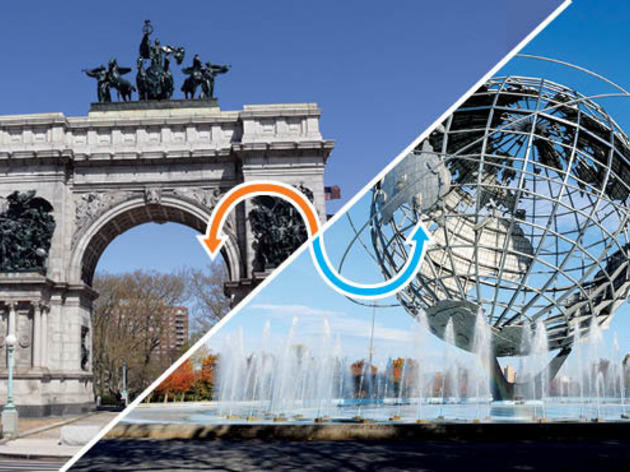 Outer borough: Brooklyn / Queens
It's hard to pinpoint exactly when Brooklyn's image became a parody of itself. In 2013, apartments in Bed-Stuy started selling for $1 million and Park Slope welcomed an artisanal-porridge joint. Hell, there's even a Kings County–themed restaurant in the West Village. Let's face it: BK has become more of a brand than a place to live. But once you cross the Pulaski Bridge, something magical happens: $200 gets shaved off your average monthly rent. And wait, what happened to that cloud of pretension? Oh, that's right. You're in Queens, home to some of the coolest spots in the city: the giddily interactive Museum of the Moving Image; the Chocolate Factory, the site of cutting-edge, inexpensive theater and dance; and Spa Castle, which is literally a castle filled with spas. It's one of the most ethnically diverse urban areas in the world, speaking more than 138 languages. And you can taste it, too: dumplings in Flushing, samosas in Jackson Heights, Guinness in Sunnyside and Italian ice in Corona—all of it inexpensive and relatively impervious to trends. Brooklyn has been tainted by its own PR: There's Brooklyn, and then there's the idea of Brooklyn. But Queens is just…Queens!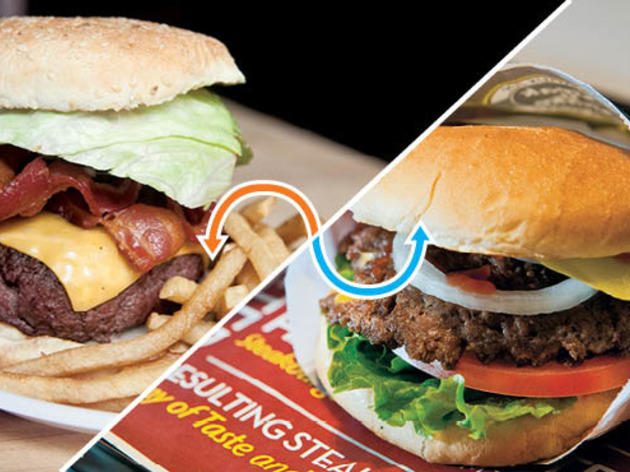 Burger: Corner Bistro / Steak 'n Shake Signature
Between haute $28 creations and paper-wrapped grease bombs, there's a patty to satisfy every craving—and to spark a thousand debates. Time-honored standby the Bistro Burger ($8.75), from Village institution Corner Bistro, is a piled-high stack of beef, American cheese, bacon and lettuce that consistently lures late-nighters. But the broiled patty tends to be overcooked and underseasoned, and the wait can be lengthy. Our favorite unsung burger is also one of the city's cheapest, and comes from, of all places, a national chain. Ever since Steak 'n Shake planted its flag in midtown, we've been smitten with its Double 'n Cheese Steakburger ($3.99). No pomp and circumstance here: just two expertly griddle-seared patties nestled inside a squishy bun with basic toppings, and a side of fries. Maybe it's time to crown a new classic.
Rapper: Jay Z / Homeboy Sandman
Hov is the proverbial king of New York, but he's worshipped to the point where he can turn in uninspired verses—like informing us that Beyoncé's "breasteses [are his] breakfast"—without tarnishing his rep. Homeboy Sandman might not be a future mogul, but the Queens MC—who dropped out of law school to pursue rap—embodies the hip-hop American Dream. With impeccable taste in beats, he's fierce, funny and even a bit nerdy: The lead track on the lush White Sands finds him comparing almond-milk brands and namechecking Trader Joe's. We like a hip-hop hero who shops organic.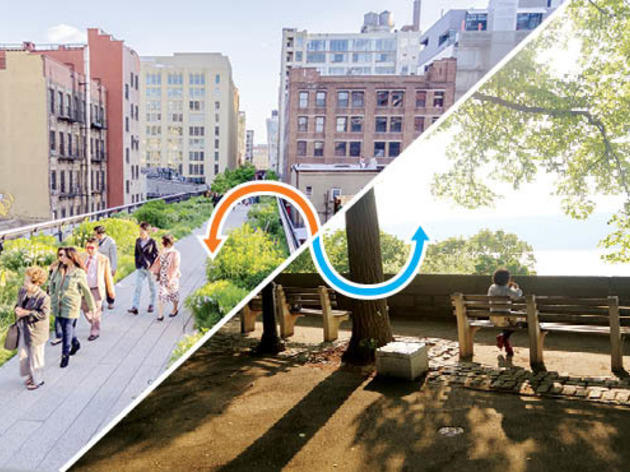 Park: The High Line / Fort Tryon Park
The experience of walking through a well-manicured green space above the city streets can't be beat. The problem is, millions of tourists feel the same way, making the High Line hard to enjoy during peak hours. (Hell, we've wandered into someone's Instagram shot as early as 8:30am.) For peace and quiet, take the A train to Washington Heights. AtFort Tryon, you'll find spectacular views, lush scenery and fascinating history sans the crazy crowds. And a visit to the Cloisters, situated inside the park, is as essential a New York experience as eating a street-meat dog.
Hometown superhero: Spider-Man / Hawkeye
Peter Parker: local boy, working-class kid—he's just like us! That assertion has buoyed the Spider-Man mythos for half a century; but after two film franchises and a Broadway musical, not to mention the guy full-on dying in the comics recently, we're kind of over him. Instead, we'll take Hawkeye (né Clint Barton), who in Matt Fraction's recent comic series lives in Bed-Stuy, snarks up a storm and spends more time fighting slumlords than supervillains. (Onscreen, he's played by Oscar nominee Jeremy Renner.) Plus, he comes from a merit-based hero system: His "power" is that he's really good at archery. No offense, Parker, but that spider bite reeks of unearned privilege.
Gayborhood: Hell's Kitchen / The East Village
A night out in Hell's Kitchen can be a blast, but bars like Atlas Social Club and Industryare too often filled with pretty boys sporting perfectly tousled hair, their faux-distressed T-shirts stretched over manscaped chests. East Village spots like Nowhere, the Boiler Room and the Cock draw a decidedly rougher crowd, unafraid of dark corners, nonlite beer and serious body hair. While HK resembles a cheery TV version of the gay scene—like what your mom imagined after watching Queer as Folk that one time—the East Village remains defiantly divey and grungy.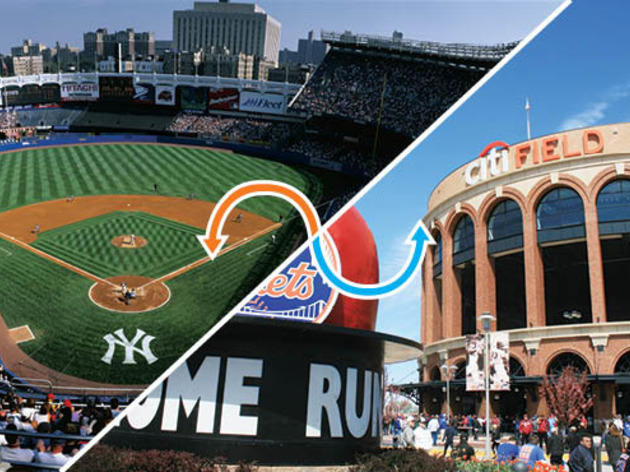 Baseball stadium: Yankee Stadium / Citi Field
After Yankee Stadium was rebuilt to include more luxury boxes, the Bronx Bombers began charging quadruple-digit prices for seats in glorified La-Z-Boys—ousting all us Cracker Jack–popping mouth-breathers to the edge of a concrete wall. The big red apple outsideCiti Field welcomes the masses looking to enjoy the game, not the glitz. Midseason, Mets tickets are often available for peanuts (we've seen 'em as low as $5), giving you free rein to dive into culinary options like Shake Shack and Blue Smoke, plus plenty of craft beers. To quote an old Mets slogan, this is "baseball like it oughta be."
TV show about broke young ladies: Girls / Broad City
Like a mushroom that flourishes in darkness, Girls works best when not held up to the light of unending analysis. So let's take a breather from fixating on how frequently Lena Dunham disrobes (seriously, get over your tizzy, America) and turn our attention to another series about striving twentysomething women in NYC: Broad City. What began as a Web series turned into a network show, executive produced by the divine Amy Poehler, which Comedy Central recently renewed. Abbi Jacobson and Ilana Glazer's hilarious, unabashedly weird characters are eminently relatable in all their messiness, like looking in a fun-house mirror. Hannah Horvath & Co. face their dead-end jobs with shoegazing malaise; Abbi and Ilana opt for downright anarchy.
Major concert venue: Terminal 5 / Beacon Theatre
Terminal 5 brings in tons of big acts, yet it may be the most hated venue in town. Fans grumble about its terrible sight lines, and musicians bemoan the cement box's reverb-prone acoustics. We'd much rather catch a show at the Beacon Theatre, whose superiority goes beyond its gilded architecture. The booking can seem dad-rock–centric at first glance, but it also hosts cool acts like Sharon Jones and Goldfrapp. Plus, the sound quality is top-notch; it's no wonder the Allman Brothers have played there a whopping 220 times.
Way to cycle: Spinning / Riding a bicycle
We've heard it all before: SoulCycle changes lives. Flywheel is a state of mind. But you know what's even better than shelling out to have an impossibly toned trainer scream about self-actualization over blaring techno? Hitting the pavement on two wheels with the sun on your face (once the thaw is complete, of course). Head along the Hudson River Greenway, or through Central Park. Not only do you get to see the scenery whipping by, but it's all free. Don't have a ride of your own? That's what Citi Bikes are for, silly.
New theater trend: Multimedia F/X shows / Well-made plays
Multimedia F/X shows / Well-made plays
Theater has never looked or sounded slicker. Video and digital F/X are integral to troupes as diverse as the Wooster Group and Cirque du Soleil. But there's one thing that all these multimedia bells and whistles can't do: make a bad or shallow show culturally resonant (we're looking at you, Spider-Man: Turn Off the Dark). The time has come for fewer performances awash in eye candy and more dramas that grapple with politics and history. If the new LBJ period drama, All the Way (through June 29), does well on Broadway, we'll know that others share that hunger (or at least that they love Bryan Cranston). Our playmakers should tell us the state of the nation, not drown us in spectacle.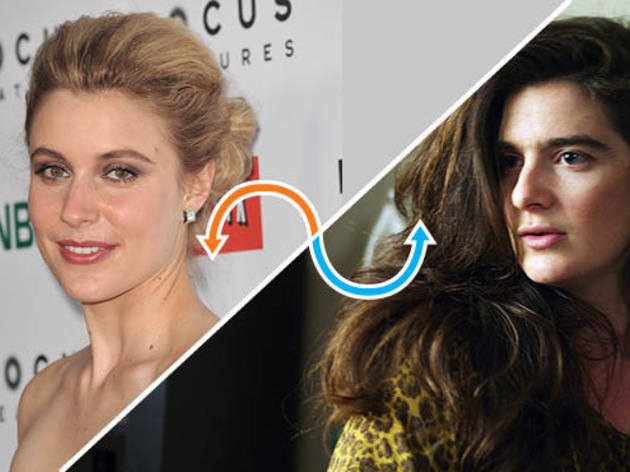 Indie-film starlet: Greta Gerwig / Gaby Hoffmann
Gerwig—or the character she plays, "Greta Gerwig"—is, without fail, a slightly spacey drifter who'd make a great Skee-Ball partner. And that's fine. But there's absolutely nothing threatening about the Frances Ha star, and that should bother film geeks quick to call Gerwig the next Diane Keaton or Parker Posey. We can do better. Better recently arrived in the form of Hoffmann, the unhinged hippie chick at the center of last year's Crystal Fairy & the Magical Cactus. You may recognize her from her child-star days (Field of Dreams, Sleepless in Seattle) or, more recently, as Adam's unstable sister on Girls. Her future projects, including Gillian Robespierre's edgy Obvious Child (out June 6), look heaps more promising than Gerwig's recently announced gig, the groan-inducing TV spin-off How I Met Your Dad.
Bridge: Brooklyn Bridge / Queensboro Bridge
The Brooklyn Bridge is many things: engineering marvel, iconic landmark and the object of much festishization by history buffs and tourists alike. And we don't blame them—it is a beautiful structure, one that embodies the innovation of the Industrial Age. It's also a totally jammed-up clusterfuck, thanks to a perfect storm of camera-wielding sightseers, frustrated joggers and enraged cyclists all sharing a single walkway. Our favorite unsung river spanner? The Queensboro Bridge. (Sorry, Ed Koch, but we can't get used to its honorific title.) It's appeared in pop-culture artifacts as varied as The Great Gatsby andSpider-Man, and thanks to its two massive cantilevered supports, it just looks cool. And let's not forget Simon & Garfunkel's "The 59th Street Bridge Song (Feelin' Groovy)," which isn't simply one of the best songs about a bridge—it's one of the best songs about New York, period.
Way to party: Staring at the DJ / Actually dancing
A crowd of revelers staring blank-faced at somebody standing in a DJ booth isn't exactly a new phenomenon; we began to notice it back in the mid-'90s, when venues like Twilo started importing superstar European jocks to Gotham. But in the past half decade, the trend has taken over—and we blame EDM, with its thumping, flashing-lights filigree mesmerizing clubbers like a hypnotist's swinging watch. But come on, people—it's called "dance music" for a reason—move around a little bit! Maybe even with a partner, if that isn't taking things too far.
Neighborhood to take tourists: Times Square / Dumbo
Though it's nearly universally loathed by New Yorkers, Times Square remains one of the city's most popular tourist spots—witness the throngs queuing up at the TKTS booth, or taking selfies with those weird costumed Elmos. For a far saner time when you're entertaining Mom and Dad or that out-of-town friend, head to Dumbo. The Brooklyn 'hood has long been a destination in its own right—and if anything, it's more packed than ever thanks to the addition of Jane's Carousel and other nifty attractions to Brooklyn Bridge Park, plus spots like Grimaldi's and Bargemusic. But the scenery is prettier than the choked Midtown piazza, and will make your guests feel like they're actually in New York, not the world's sparkliest mall. Plus, you can't beat that view.
TV studio: Silvercup Studios / Steiner Studios
The iconic red SILVERCUP sign that's visible to 7 train riders is a landmark of New York City's filming renaissance. As one of the primary shooting spots for series like Sex and the City, The Sopranos and 30 Rock, Silvercup was instrumental in bringing the TV and film industry back to the city. But Steiner Studios, located in the Brooklyn Navy Yard, is where the really exciting and innovative work is happening. In fact, the Brooklyn studio—where shows like Boardwalk Empire, The Carrie Diaries and Bored to Death have shot scenes—is on its way to becoming the hub for not just TV- and filmmakers, but also new-media practitioners of all stripes. In addition to new back lots and soundstages, the Navy Yard will soon open a new section that will serve as an incubator for media-focused tech companies.
Sculpting trend: Large-scale / Small-scale
Artists starting out with little money and even less space to work in tend to keep things DIY, especially if they create sculptures or installations. Bigger isn't necessarily better, however: Just look at the overblown recent output of artists like Urs Fischer (holes blasted through gallery walls) and Jeff Koons (giant balloon dogs), which wear their sky-high fabrication bills on their sleeves. We're more impressed by creators who are able to achieve a lot with a little. Witness Tom Holmes, who creates sculptures with items like cereal boxes, cinder blocks, wood and even ice. Lo-fi it may be, but at least it doesn't make you wonder first and foremost how much it cost to make.