Heads up! We're working hard to be accurate – but these are unusual times, so please always check before heading out.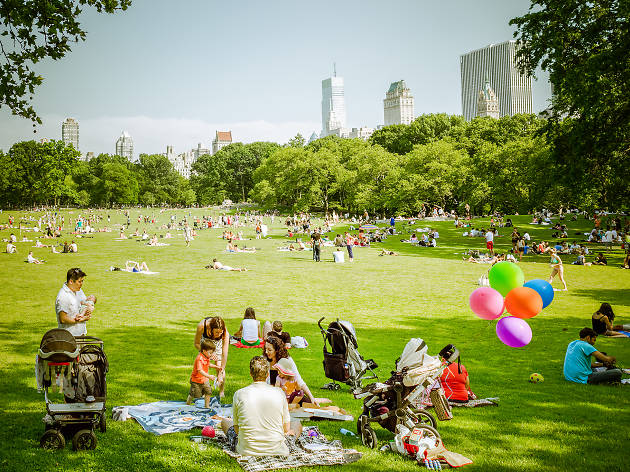 The best picnic spots in Central Park
Fill your basket with treats before heading to one of these secluded and romantic picnic spots in Central Park
When visiting one of the best NYC parks, it's only customary to seek out the best picnic spots in Central Park so you can fully enjoy an outdoor meal on the green space's lush lawn. Once you've secured one of these amazing, pre-made picnic baskets created by some of the best restaurants and eateries in the city, you'll need to decide on the perfect area to sit and dig in. So, we spent a sunny day moving our blanket around Central Park and came up with the most picturesque, romantic and secluded areas for the perfect alfresco feast.
RECOMMENDED: Full guide to Central Park in New York
Best picnic spots in Central Park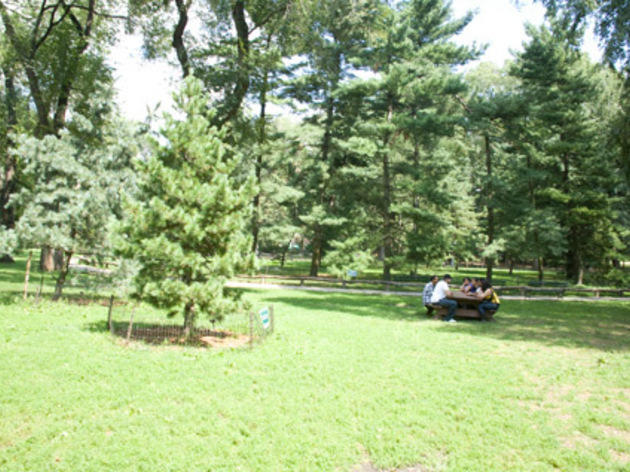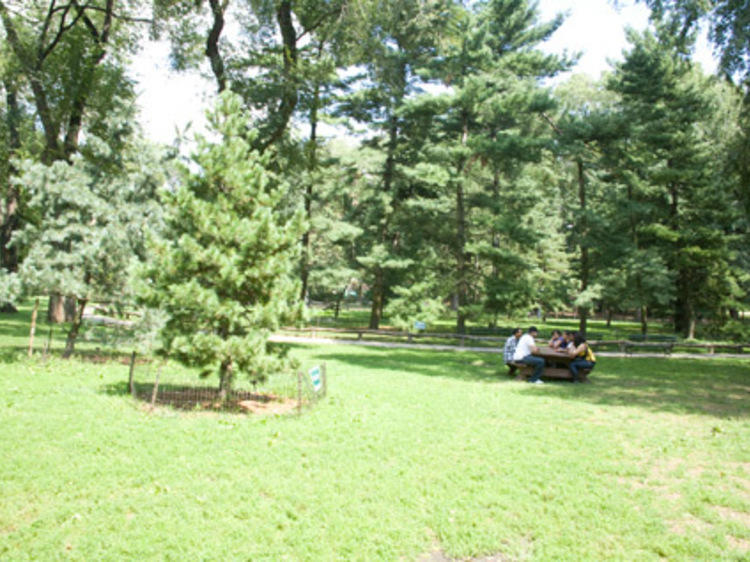 Photograph: Zenith Richards
This oasis of pine trees just north of the Great Lawn is perfect for larger gatherings of all ages. The pinetum features two designated picnic areas, one each directly east and west of the Great Lawn ball fields. Both are nicely manicured with wood-chip-covered grounds, feature several picnic tables and are bordered by 17 different species of evergreens. The western area is equipped with swing sets, while the larger eastern area, located in the shadow of the Metropolitan Museum of Art, is adjacent to basketball courts and volleyball nets. It's the perfect combination of play and pastoral peacefulness.
Perhaps Central Park's most popular sledding destination in the winter is also one of its best picnic spots once the snow melts. Settle down among the sunbathers on the upper slope or in the small valley at the hill's base and dine among the surrounding pine trees. Ball-playing kids and grown-ups both young and old are sure to be hanging out as well. The hill is located right inside the East 79th Street entrance, or walk up from the south and amble through the more than 150-year-old Glade Arch to get there.
This modest slope with a gorgeous view of the Lake is quite possibly the most romantic picnic spot in Central Park. Highly recommended for lovebirds, the grass contains myriad couples quietly reading, canoodling or just gazing out at the water as rowboats carrying passengers of varying competency glide (or splash) past. Just try not to get too carried away with PDA.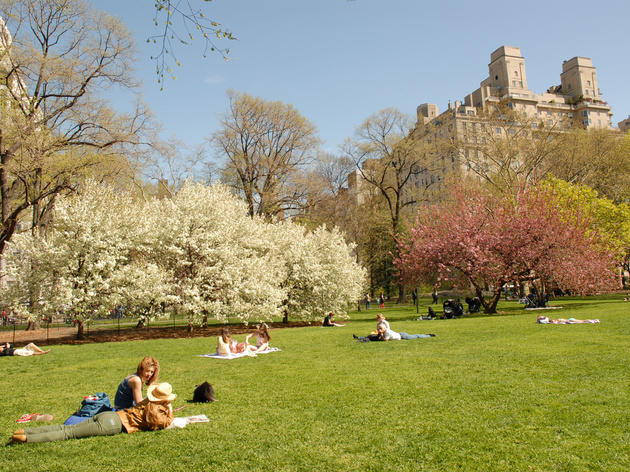 Lie down on a blanket among the lush trees of this east-side lawn and enjoy a peaceful meal. Try out the serene north end rather than the south end (which is located right by a playground and includes a hilly expanse often populated by frolicking kids). When you're done munching, zip right across the street to the Central Park Zoo (near the Pond) and watch the sea lions and penguins eat their lunch.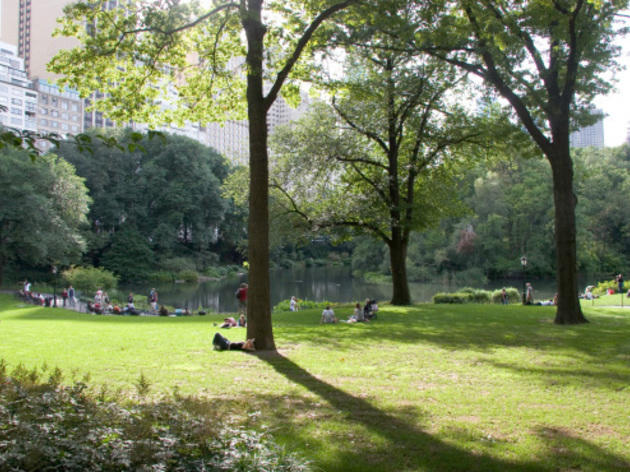 A yearlong restoration effort—completed in September 2011—has transformed this large Fifth Avenue lawn from a dustbowl into an expanse of vivid green grass. This is a great family picnic spot, and you'll probably notice kids pouring out of the adjacent playground or playing on the meadow's distinctive rock formations. But there are plenty of benches and nice, shady spots to be had if you'd prefer to avoid the rug rats.
Located in the heavily wooded northern end of the park, this is a favorite picnic spot of Central Park insiders, and for good reason. Not only is it one of the quieter, more isolated meadows in the park, but it offers picnic tables, a public restroom(!) and plenty of space to toss a Frisbee around. When you're done eating, stroll through the nearby North Woods and see how lost you can get. It contains areas so enveloped by trees and plant life that it becomes impossible to tell that you're still in the big city.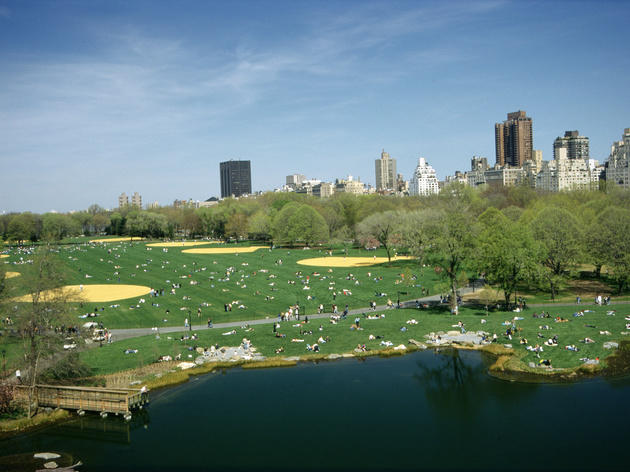 The park's central lawn is typically its most crowded. Sunbathers can often be seen spilling into the eight ball fields in the center—even when there are summer-league baseball and softball games going on. Avoid getting a fly ball in your potato salad and instead pick a spot around the perimeter, where you can eat and people-watch in relative peace. Your best bet is probably a well-shaded stretch of grass that starts in front of the adjacent Delacorte Theater and runs along the west side of the ball fields. There's less shade on the banks of Turtle Pond, located just south of the ball fields, but find a spot there and you might glimpse a few amphibians basking on the rocks.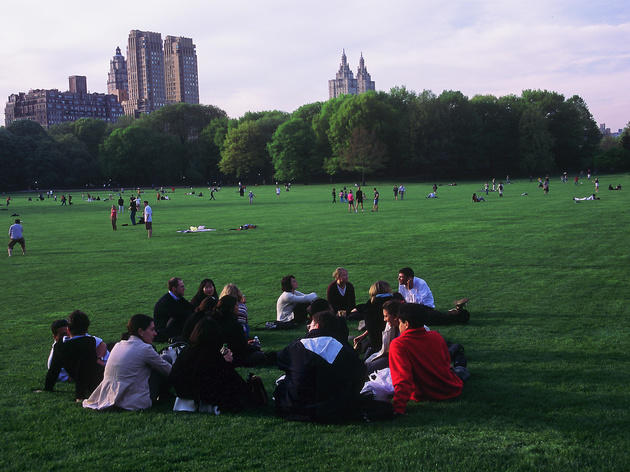 Choose to picnic at this vast, flat expanse of grass and you are sure to encounter sunbathers, shirtless Frisbee throwers, kite flyers and families. The meadow is one of the most frequented chill-out spots in the park, but you can find solace from the masses in the shaded areas around the edges, or under the large tree in the meadow's northwest corner.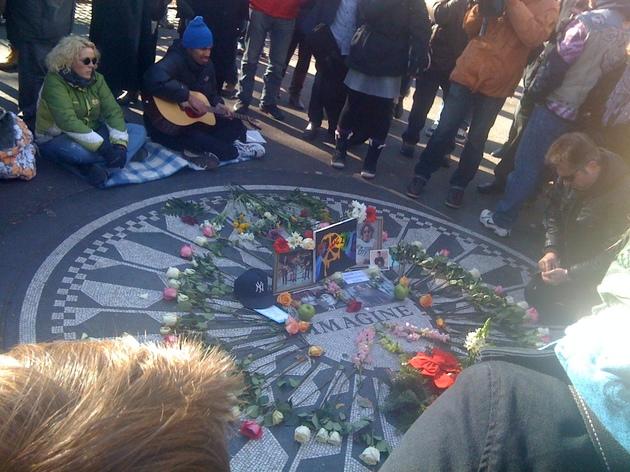 Just north of the Imagine mosaic, a memorial to John Lennon, and out of sight of the tourists and Beatles fans snapping pictures, there lies a lovely, secluded lawn lined with trees, their branches creating several shady nooks. You're unlikely to be bothered by more than a few, if any, fellow picnickers, so just relax and listen to the chirping birds while you dine. Or, provided you bring a pair of headphones to satisfy the rules of this designated quiet zone, your favorite Beatles record.
While this landmark is a predictable choice, Belvedere Castle is certainly the most picturesque setting for any couple who wants to have a romantic picnic comparable to a fairytale. Located in the middle of Central park at 79th street, find a nice patch of grass and enjoy snapping kissy-face selfies in front of the iconic fortress.
Looking to spend more time in Central Park?
The best things to do in Central Park aren't just for tourists! There are attractions for everyone in NYC's iconic park.