Randalls Island, NY guide
Randalls Island, NY has loads of outdoor fun and entertainment as well as killer views of the East and Harlem River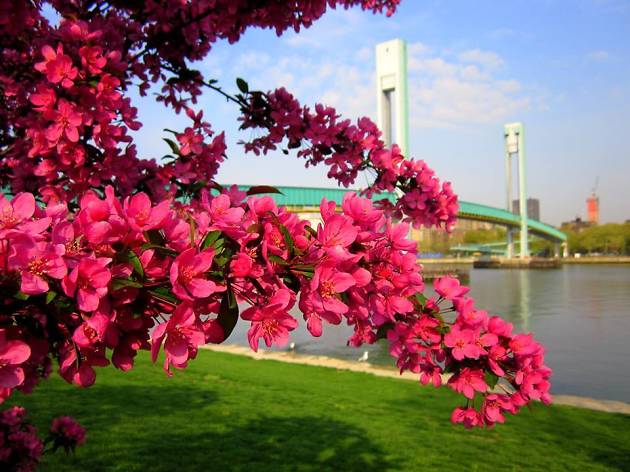 If you're searching for ways to have fun in the sun, check out some of the best things to do outside on Randalls Island this year. New York's lush oasis—separated by the Harlem and East River—is chock-full of things to do in the summer, including free fitness classes, outdoor art and movie nights under the stars.
Where is Randalls Island?
Randalls Island, which is connected to Wards Island, is located along the Harlem River near the New York City borough of Manhattan as well as from Queens by the East River and Hell Gate. The attraction is made up of green spaces. The best things to do occur at Randall's Island Park, located at 20 Randall's Island Park, New York, NY. The park is open from 5am to midnight every day
How do I get to Randalls Island?
You can walk, bike, drive or take the M35 bus to the Island from the Northeast corner of 125th Street and Lexington Avenue. You can transfer from the Lexington Avenue 4, 5, or 6 subway at 125th St. The Randall's Island Park Alliance also offers gratis shuttle service around the park's northern and southern areas. Check the schedule here.
What is there to do on Randalls Island?
Art lovers flock to Randall's Island Park for Frieze—a dreamy display of works from 130 international art galleries. And the view of Manhattan ain't bad either. Take the ferry or the bus over to the island (buy advance tickets online if you can), and plan to spend some serious time immersing yourself in the imaginative projects found both indoors and out. Take advantage of the park's gratis yoga held along the water through the end of August. The parks excellent bike and running trails are also available for anyone who wants to work on (or maintain) their summer bod. Islanders of all ages can bring a blanket and pack a picnic for free movie nights held on select weekends in summer. Check the schedule for eents here.
Things to do on Randalls Island
Archive Randalls Island content