Heads up! We're working hard to be accurate – but these are unusual times, so please always check before heading out.
Six New Yorkers' wild modes of transportation
Sick and tired of subway delays and traffic? Get inspired by the outrageous ways these Gothamites get to work.
With the deteriorating state of the New York subway and the neverending standstill that is crosstown traffic, a lot of city dwellers are close to reaching their breaking points when it comes to their daily commutes. So they've taken to the great outdoors and given their commutes the best views. From custom-made bikes to an actual kayak (seriously) these workers are putting some fun back into their daily treks to the office. This is much better than going to one of NYC's best gyms, wouldn't you say?
Photographs: Nicole Fara-Silver
Alternative commuters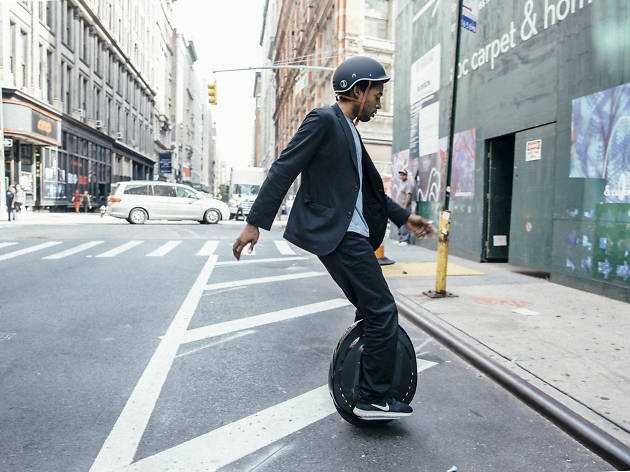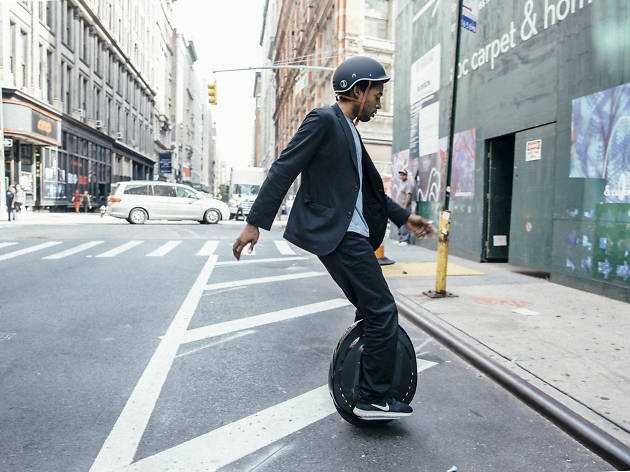 Photograph: Nicole Fara-Silver
Tishawn Fahie
33, app developer
Ride: GotWay electric unicycle
Commute: Bensonhurst, Brooklyn, to Union Square in one hour
"I've been riding this model for about six months. It has a gyroscope inside, and this wheel can go up to 35 miles per hour and travel for 60 miles on a charge. I'll let people test it out. Sometimes they even buy one for their commutes. Two of my coworkers have invested in one and they're using it now. A lot of them think I'm crazy. One time I was riding at night and didn't see this huge dip, and my wheel landed in the hole and I flew forward. I didn't break anything, but I was pretty scraped up. I think it's part of the learning curve, you just have to be more cautious. If I take the train or bus it can take me two hours to get to work, but with this, I'm there in an hour."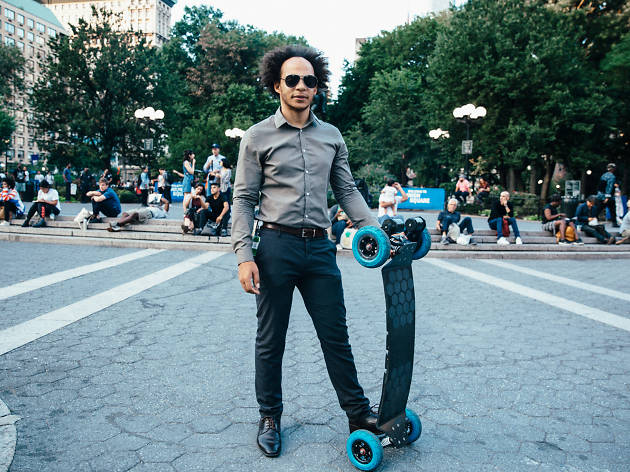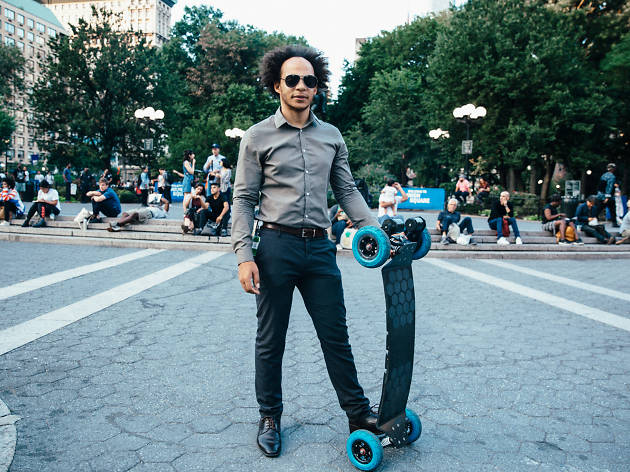 Photograph: Nicole Fara-Silver
David Linton
30, IT professional
Ride: Kaly.NYC electric skateboard
Commute: Harlem to the Upper West Side in 20 minutes
"I usually wear a suit to work, so this helps because I can wear my dress shoes and slacks, but I'm still skateboarding. If I'm running late, I'll take what I call the longboard highway, Central Park, because there are no lights. Most people want to know what it is, how it works and where I got it. I think just seeing a guy skating in slacks is the biggest surprise. My next-door neighbor was so interested that he ended up getting one. You get a lot of stares, a lot of interest. A lot of people will honk at you or roll down their car window and take your photo. I put it under my desk and charge it while I'm at work. It makes for great company at happy hours. No one has the courage to try it, but once they have a few drinks they hop on."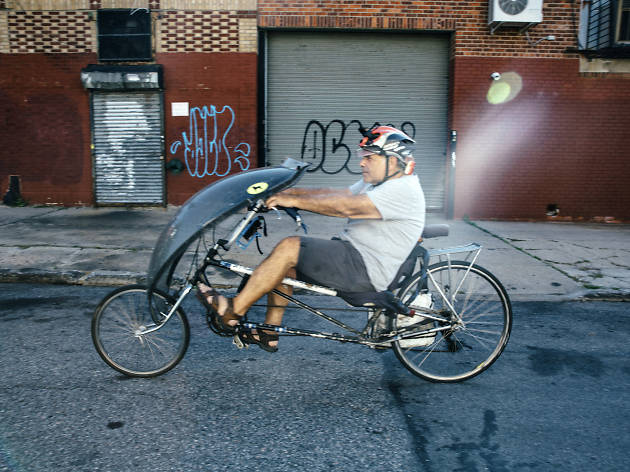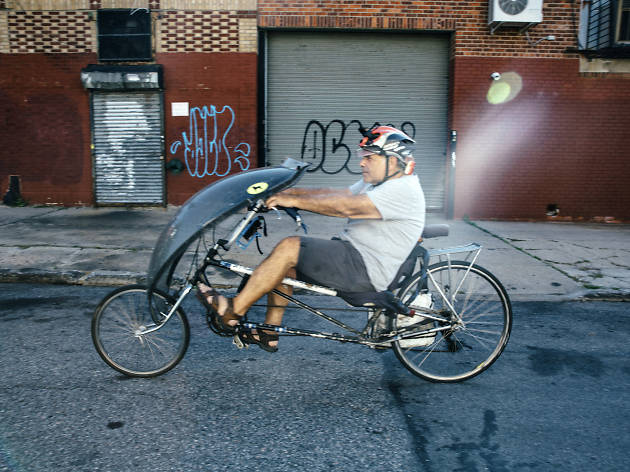 Photograph: Nicole Fara-Silver
Shelly Mosse
63, tour-company owner
Ride: Easy Racer recumbent bicycle
Commute: Red Hook to Gowanus in 15 minutes
"I was a bike messenger in my twenties. Then in 2008, after everything tanked, I went back to being a messenger. I was the only guy in my fifties out there. I loved it. Now I own a bike tour company [Rolling Orange Bike Tours: rollingorangebikes.com]. With a recumbent bike, you're an instant superstar. You become an ambassador of goodwill—any rider will tell you the same thing. It definitely takes awhile to learn. It's like learning how to ride a bicycle all over again. It's a completely different animal. I've convinced my wife and son and all of my friends to buy one. It's like a little cult. People always think you're too low, that cars can't see you, that you're uncomfortable. But whatever they think about the bike on first sight, they're wrong."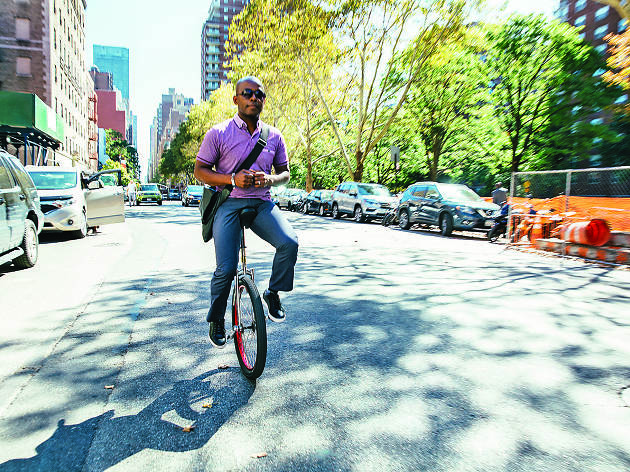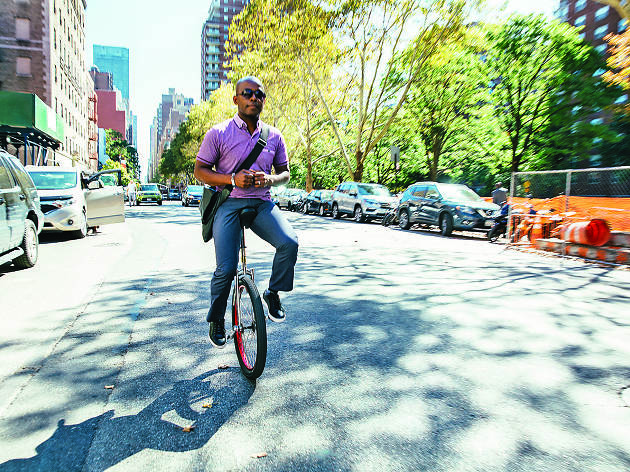 Photograph: Nicole Fara-Silver
Kim Anthony "Kip" Jones
51, advertising manager
Ride: Nimbus II unicycle
Commute: Flatbush, Brooklyn, to the Fashion District in one hour and 30 minutes
"It's a very different apparatus, it's something that people aren't used to, so you always get reactions. The funny one is always, 'Hey, you're missing your wheel.' That's the typical New York reaction. Kids are the biggest fans. Sometimes I do tricks like ride it with one leg. It takes me a bit longer to get to work, but it's great for exercise. Your core and your legs are always working. Like anything, you'll sometimes have an accident when your foot slips off the pedal or you hit a pothole and fly off; you try to learn from it. My coworkers find it hilarious. It's like finding out the secret life of someone you work with. But they respect my skills. For me, I think the attraction is that you can zip through traffic so easily."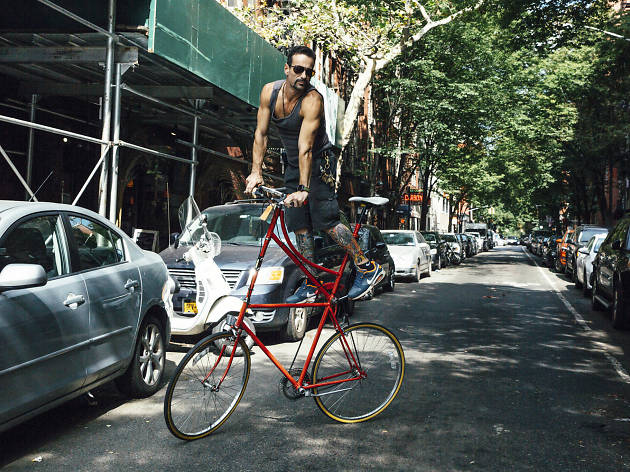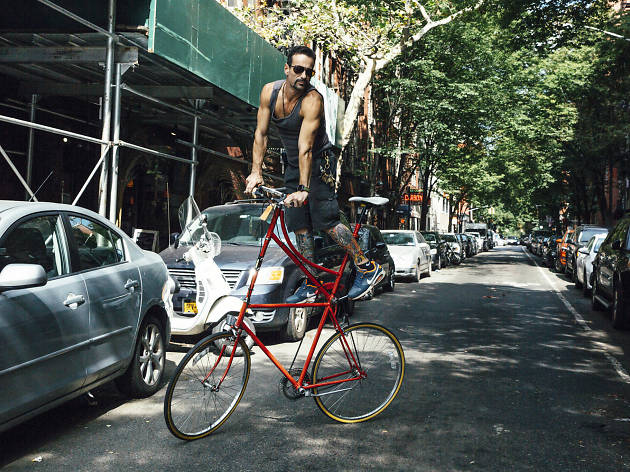 Nicole Fara-Silver
Paulo Tavares
41, building super
Ride: Self-made tall bike
Commute: Greenwich Village to Soho in five minutes
"One day I saw a guy on Houston go by on a tall bike and I was like, Wow, I want one of those. I always biked and I had a welding machine, so I decided to put one together myself—no picture, no designs, no nothing. That was about five years ago. I get a lot of reactions. They always ask how you get on, how you get off. But it's pretty easy; I'm used to it. You put your foot on the pedal, lift your other leg all the way up and pop over. The balancing is the same as a normal bike. Sometimes if I have to stop, I'll use one of those green garbage containers to rest my foot on."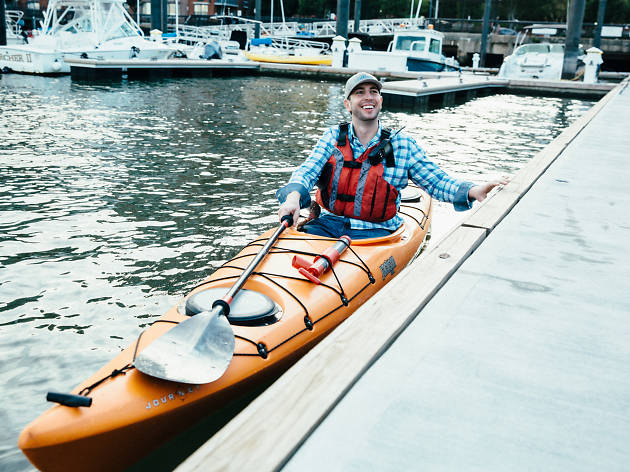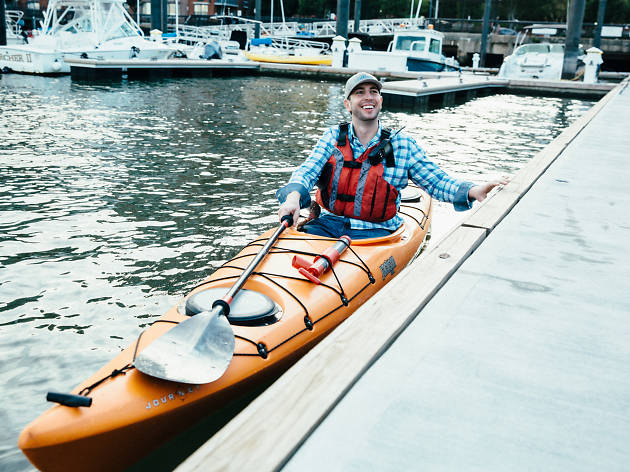 Photograph: Nicole Fara-Silver
Zach Schwitzky
34, CEO Limbik
Ride: Jackson kayak
Commute: Hoboken to midtown in 50 minutes
"In 2012, a friend and I were standing at Port Authority at 3am, waiting on a bus, and we weren't in a good mood. So we started brainstorming ways that we could get across the river on our terms, then we thought of kayaks. I had probably only kayaked three or four times before, but one night we just went for it. It was like 10:30 at night with no visibility and a pretty strong current. We paddled a lot, screamed a lot and eventually made it to the other side. Now I commute by kayak year-round, even in the winter if there's not much ice. My family thinks it's funny, but my company's investors are like, Oh, my God, insurance! It checks a lot of boxes for me. But I can come and go as I please, I get exercise and it's good thinking time. Now it's become so normal for me that it's just another day and I'm getting across the river."
Want to see NYC from a different POV?
All aboard! Book these boat tours in NYC for incredible views of the Statue of Liberty and other iconic landmarks.