The best hiking near NYC
If you want to go hiking near NYC, there are many trails (from easy to challenging) you can get to without a car.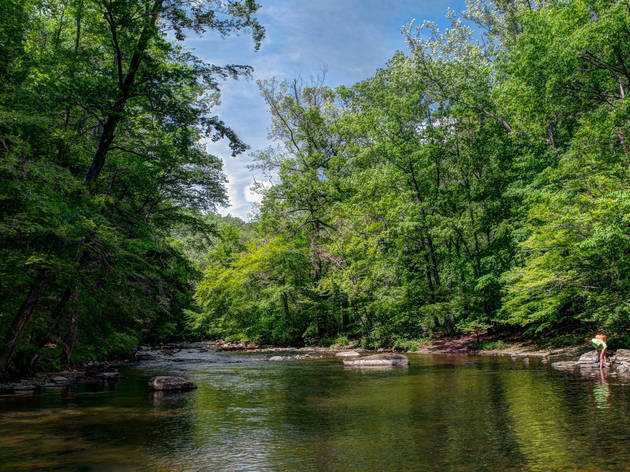 Grab your boots and MetroCard: These magical and awesome places to go hiking near NYC await! While there are a handful of parks in NYC with trails you could wander, becoming one with nature can be a bit of a challenge when you're sharing it with 8.6 million other people. When you tire of the best things to do outside in the Gotham, get a change of scenery and try one of these outdoor adventures below. From serene paths through the woods and thrilling ascents up rocky cliffs, these hiking trails and day trips from NYC are just a quick train or bus ride away.
Missing Time Out magazine?
You can still read our latest issue from the comfort of your couch
Read online
Best hiking near NYC
1
Photograph: Courtesy Yelp/Nadia Z.
Ice Caves and Verkeerderkill Falls Trail Hike
This hike can be busy, but it's easy to see why. Along the seven-mile trail, you get to navigate through the tight passages of the Ice Caves and walk past Verkeerderkill Falls, which happens to be the highest waterfall trail in the Shawangunks. Oh, and that's after you get the incredible views from Sam's Point, a.k.a. a good spot to take a break. Take the Short Line bus from New York to nearby Ellenville and then take a 14-minute cab ride to Sam's Point Preserve via Abe's Taxi Service.

Time: 4.5 hours
Level: Easy
2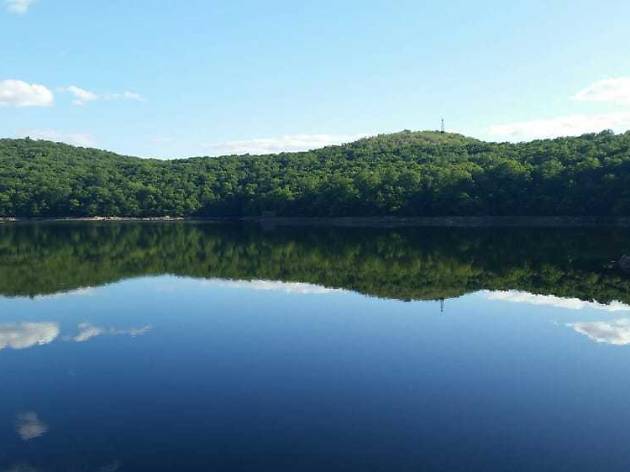 Photograph: Courtesy Yelp/Helen L.
Malouf's Mountain Sunset Camp
Just an 80-minute train ride on Metro North from Grand Central to Beacon, and you'll be in one of the most unique hiking destinations near the city. After hopping off the train, you can head into the forest, where a campground awaits you. The best part? You don't need any equipment as you can rent everything on the spot. They'll even provide meals if you aren't up for cooking. From the base camp, you can choose multiple trails, which have things to explore like old railway tracks and casino ruins.

Time: 30 minutes to five hours
Level: Easy
3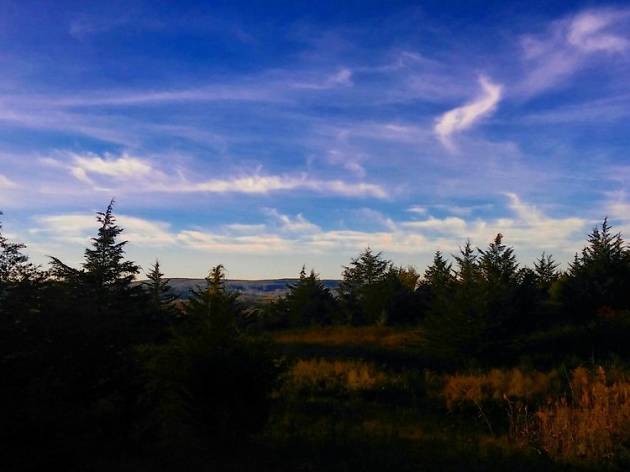 Photograph: Courtesy Yelp/A A.
It might take a little while to get to this spot located about 50 miles outside the city, but you'll get everything you ever wanted in a hike. There's a suspension bridge, wildflowers and cow pastures. Not to mention, you'll get a fantastic butt and thigh workout if you opt to do the steep 7.3-mile "Stairway to Heaven" section (there's also the shorter 2.5-mile version, which starts at the lot on Route 94). Take NJ Transit bus route 196 or 197 to Warwick, New York, and it's just a 10-minute cab or Uber ride to the trailhead.

Time: Varies
Level: Easy to hard
4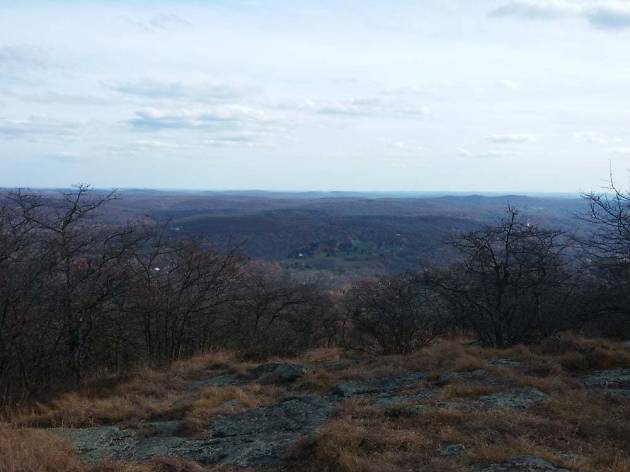 Photograph: Courtesy Yelp/Hatsumi T.
It might have "hill" in its name, but Bull Hill is most certainly a mountain. With an ascent of 1,350 feet, you will get some of the most spectacular views of the Hudson Valley from here. Better yet, you're not as likely to see as many folks along the way as the more popular Breakneck Ridge, which is less than a mile away. You can add on an easier hike if you're still up for some walking by making the one-mile loop at Little Stony Point just across the street before grabbing a bite to eat in the town of Cold Spring, which is just a 15-minute walk away. Take the Hudson line from Grand Central Station to the Cold Spring stop and walk one mile to the trailhead.

Time: 3 hours
Level: Moderate to hard
5
Photograph: Courtesy Yelp/Jeana P.
You have several options of hikes here, some a bit steeper than others, but all are guaranteed to have great views of the Catskills and Hudson Valley. What hikers love most is undisturbed wild nature of the trail, but they will argue that the actual distance ranges somewhere between 3.6 and 5 miles. Storm King Art Center, which is near the trailhead, offers train and bus packages from New York using public transportation. Just check the website for details.

Time: 3 hours
Level: Moderate
6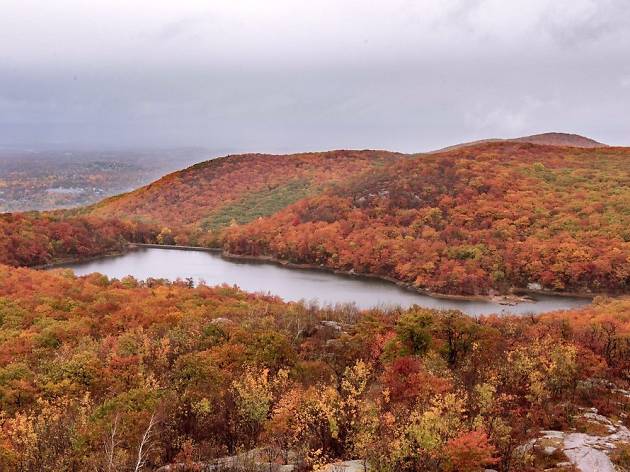 Photograph: Courtesy Yelp/Rob W.
Yellow Trail at Mount Beacon
Another great alternative to Breakneck Ridge, consider this trail if you're short on time and want to avoid a lot of people. The 2.5-mile out-and-back is a quick but challenging hike that sends you straight up the mountain, where you can take in views similar to its more popular neighbors. You can even make it up to watch the sunset and back down in time before it gets too dark. To get there, take Metro-North to Beacon and walk or cab the two miles to the trailhead.

Time: 90 minutes
Level: Moderate to hard
7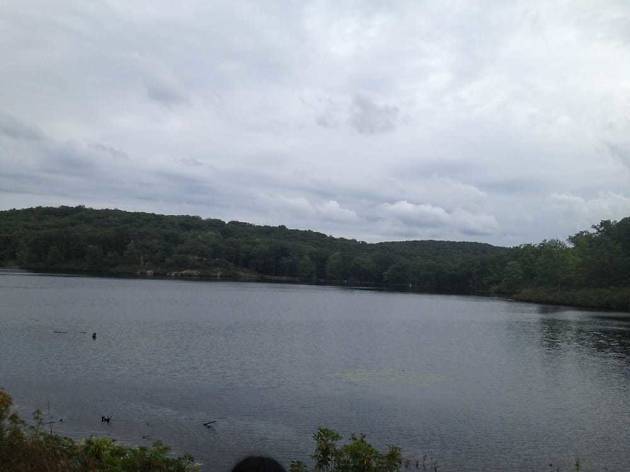 Photograph: Courtesy Yelp/Sheba K.
Located about a half-mile from New Jersey Transit's Tuxedo Station, you can start this eight mile loop by looking for the red trail on your NYNJTC map. From there, head to Parker Cabin Mountain, where there's a perfect spot for lunch, complete with flat rocks and views of the lake. Continue to the blue Victory trail, which will take you along the edge of Lake Skenonto, past Black Ash Swamp and then back to the start.

Time: 5 to 6 hours
Level: Easy to moderate
8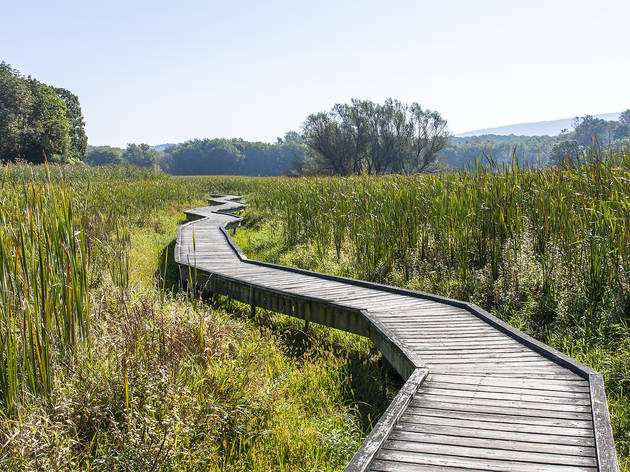 Photograph: Courtesy Creative Commons/Flickr/Henry Solich
Before committing to all 2,168 miles of the Appalachian Trail, take a weekend to test it out by taking a quick train ride to a portion of the famous hike. The Metro-North Harlem line runs from Grand Central to the Appalachian Trail station on weekend mornings, and you can pick your hiking pace and direction, making it a great hike for people of all levels. Self-described "wildman" Steve Brill also offers guided foraging walks of a small section of the trail on Saturday mornings, if you can't decide which route to take.
Time: Varies
Level: Easy
9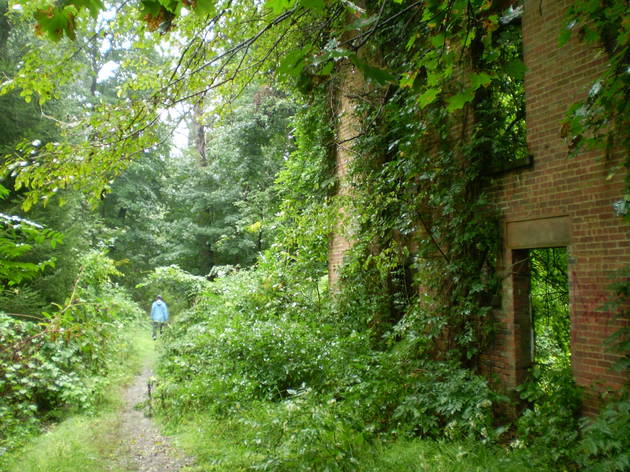 Photograph: Courtesy CC/Flickr/East Hudson
Arden Point and Glenclyffe
It doesn't get much easier then stepping off the train and on to the trailhead. After taking the Metro North to the Garrison stop, look for two stone pillars and a sign for "Arden Point–Hudson Highlands State Park." Follow that to enjoy a 3.7-mile circuit passing several panoramic viewpoints over the Hudson. Bonus: you get to walk along a historic road Benedict Arnold used to escape during the Revolutionary War.
Time: Two to three hours
Level: Easy
10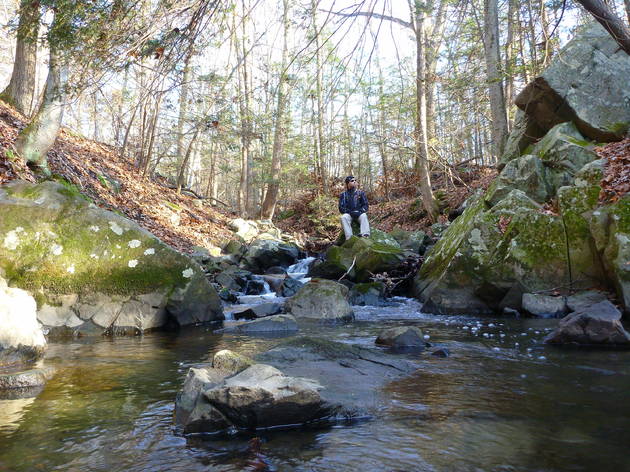 Photograph: Courtesy CC/Flickr/Paul Brady
Blue Mountain Reservation Loop
There's no better motivation to get some exercise than the promise of a crisp beer at the end. This 12-mile loop starts about a mile from the Peekskill Metro North stop. Once on the trail, you'll be able to hit to viewpoints over the Hudson River and pass a serene pond along the way. On your way back to the train, make sure to stop at the Peekskill Brewery to reward yourself for tackling the climb.
Time: Three to four hours
Level: Easy to moderate

Show more
Find the best hiking trails in America
Hit one of these epic hiking trails to experience some of America's most iconic and dramatic landscapes at ground level