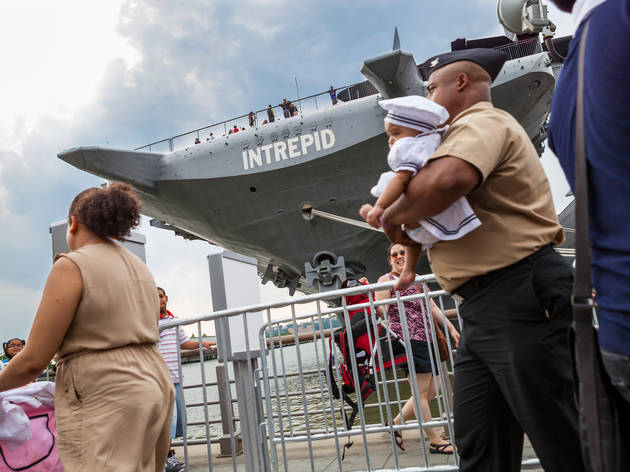 The best Fleet Week events in NYC
Support and celebrate all the seafaring service members during these Fleet Week events online
Things are different this year with Fleet Week events moving online. Usually, NYC gives a warm welcome to nearly 3,100 service members of the U.S. Navy, Marine Corps and Coast Guard as they dock in the city for the weeklong celebration that overlaps with Memorial Day weekend.
Now, while the city is still shutdown, the maritime-themed fun is all virtual. Read on for what you can do this year for Fleet Week in NYC.
RECOMMENDED: Full guide to Fleet Week NYC
Things to do during Fleet Week in NYC
For World War II buffs, and folks that like checking out fighter ships and planes, this museum on a real aircraft carrier The Intrepid docked at Pier 86 is a chance for an upclose look at the nuts and bolts of our not-so-distant history—and you can tour it online.
Aboard this vessel, which fought in the Pacific during the '40s and withstood head-on attacks by Kamikaze planes and a torpedo strike, visitors will find a wealth of information about how naval officers lived on the massive ship, including hands-on-displays of items used in everyday life and views of the lower living quarters, and an outdoor flight deck with an impressive assortment of fighter jets and helicopters. Non-claustrophobic guests should descend into the Growler, the only American guided missile submarine open to the public, where you're tiny New York living quarters will seem spacious and airy in comparison. If underwater living freaks you out though, then imagine taking to the skies, and beyond, in the Space Shuttle Pavilion where NASA orbiter, the Enterprise, is parked, which is fitting since during the 1960s the Intrepid was a NASA recovery vessel. A series of photographs, films and artifacts from the Enterprise's career makes the history of space travel, which predated modern computers by decades, all the more awe-worthy.