The best Fleet Week events in NYC
Show your support and celebrate all the seafaring service members during these wonderful Fleet Week events in NYC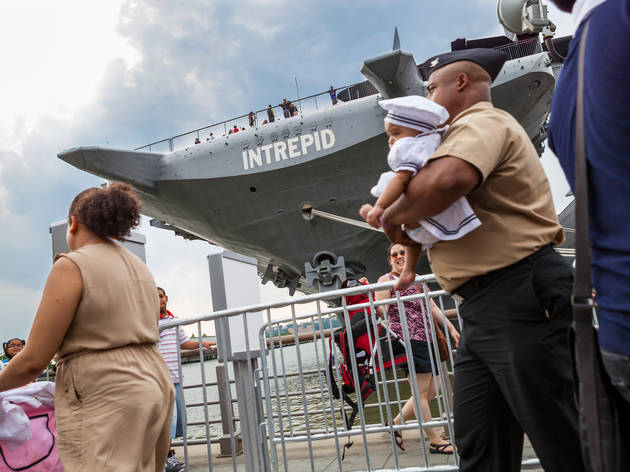 Fun fact: Some of the best NYC events in May are actually Fleet Week events. NYC gives a warm welcome to nearly 3,100 service members of the U.S. Navy, Marine Corps and Coast Guard as they dock in the city for the weeklong celebration that overlaps with Memorial Day weekend. There's a wide-range of maritime-themed fun to be had at some popular New York attractions. Read on for the best things to do for Fleet Week in NYC.
RECOMMENDED: Full guide to Fleet Week NYC
Things to do during Fleet Week in NYC
Things to do, Classes and workshops
The U.S. Navy is hardly known for its subtlety—and every year they make an entrance that's hard to miss. Fleet Week kicks off with a "parade of ships," during which massive aircraft carriers, giant warships, historic vessels and fighter jets cruise down the Hudson River. Take a picnic lunch and watch the impressive show from any of the parks along the water. After the parade, the ships will dock around the city. Some of them will be open for public tours for the rest of the week. Arrival times and tour locations are can be confirmed here.
Museums, Military and maritime
The Intrepid pays homage to veterans with a full week of events. Visitors and airheads can learn How Do Things Fly? from museum educators in aviation in one of the many presentations. There's a movie screening of Top Gun on the Flight Deck and a chance to tour certain vessels docked at Pier 86. Plus check out interactive displays that allow you to examine artifacts and equipments used by service members for safety. For more information, head to the museum's website.