Where to watch the 4th of July fireworks in NYC
Hit up your friend with the best rooftop—it's time for the 4th of July fireworks! NYC always celebrates with a bang.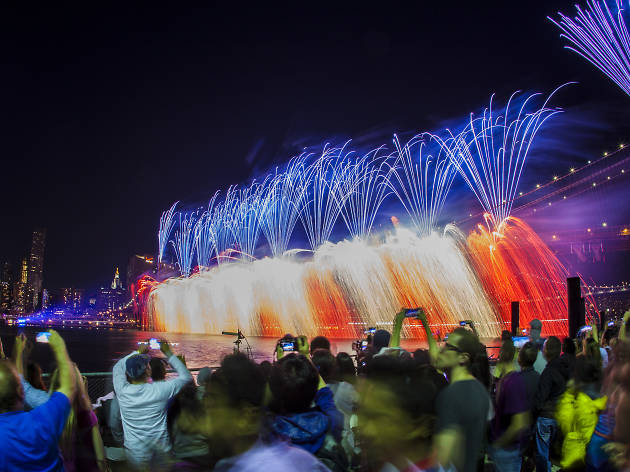 Let the American Eagles fly and the red, white and blue bikini tops shine! It's time for 4th of July Fireworks, NYC's epic celebration of all things America and one of the most exciting things to do in summer. Check out Macy's pyrotechnic spectacular as it bursts over the East River and some of the best New York attractions. And don't forget to look out for other smaller but still dazzling displays like the Coney Island July 4th Fireworks Spectacular from our favorite lookouts rooftop bars and parties.
RECOMMENDED: Full coverage of the 4th of July in NYC
What time are the 4th of July fireworks in NYC?
Macy's 4th of July Fireworks occur over the East River and the show begins at 9:25pm on Tuesday, July 4, 2017. The show during the fourth annual Freedom and Fireworks Festival at Jersey City starts after dark. These displays should last about 25 to 30 minutes.
Where are the 4th of July fireworks in NYC?
The Macy's 4th of July Fireworks are set off from barges located on the East River spread between 24th and 41st Sts. Jersey City will be displaying fireworks at Liberty State park where you'll get a waterfront view of the Statue of Liberty.
Watch the 4th of July fireworks in NYC
Check out these NYC parks
NYC parks offer verdant green spaces to relax, get some sun, picnic and more. Don't miss any offerings with our guide.
Read more
Sponsored listing
Chateau le Woof
"One macchiato, one beef treat." That might be a typical order at Chateau le Woof, an Astoria cafe offering La Colombe coffee for humans and treats, toys and accessories for their canine companions. During one of their doggy-friendly happy hours, you might see a poodle and a French bulldog frolicking on the floor while their owners sip lattes nearby. Or, your order of an espresso might come with a complimentary sample of organic, gluten-free kibble for your furry friend. It's the only place in the city you can sip fresh java and shop for your pooch at the same time. One of their cappuccinos and a rawhide might be just you and Fido need after a ruff day.
Venue says: "New York City's very first Pet Market & Café. Spring is in the air, come try our new spring coffee and iced tea infused menu!"