Where to watch the 4th of July fireworks in NYC
Call your friend with the best rooftop: It's time for the 4th of July fireworks, NYC's biggest firework display of 2019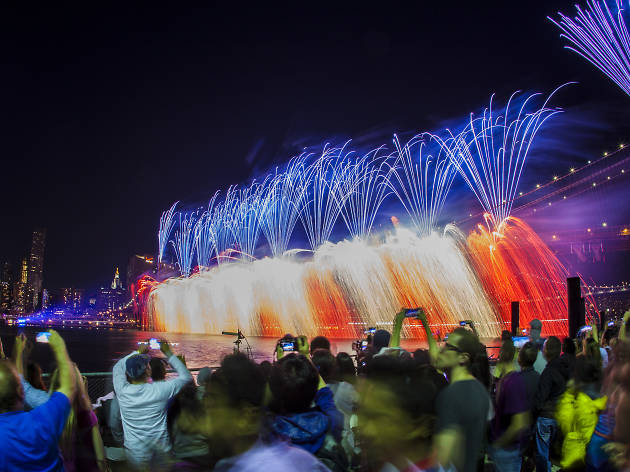 Let the American Eagles fly and the red, white and blue bikini tops shine! It's time for the annual 4th of July Fireworks—NYC's epic Independence Day celebration and one of the most exciting things to do in summer. Check out Macy's 43rd pyrotechnic spectacular (with more than 70,000 shells!) as it bursts over the East River and some of the best New York attractions. You can also look out for other smaller but still dazzling displays in New Jersey and Coney Island. It's gonna be a blast!
What time are the 4th of July fireworks in NYC?
Macy's 4th of July Fireworks return to the Brooklyn Bridge on Thursday, July 4, 2019. The show begins at 9:20pm. Not one minute later or earlier! The show during the annual Freedom and Fireworks Festival at Jersey City starts after dark. These displays should last about 25 to 30 minutes each.
Where are the 4th of July fireworks in NYC?
The Macy's 4th of July Fireworks are set off along the Brooklyn Bridge and from barges along Pier 17 in the Seaport District. Jersey City will be displaying fireworks at Exchange Place where you'll get a waterfront view of New York.
What are the best viewing spots for the 4th of July fireworks in NYC?
You have many options, friends. Any area with an unobstructed view of the sky from the lower part of the East River or below the Brooklyn Bridge is best. Four barges will be set between the Manhattan Heliport and Pier 17 in the Seaport District as well. Public viewing areas are created along the FDR Drive in lower Manhattan. But plan to stake out your spot early for those spots—it will be packed!
RECOMMENDED: Full coverage of the 4th of July in NYC
Watch the 4th of July fireworks in NYC
Things to do
Time Out Market New York, DUMBO
Reserve your spot on Time Out Market New York's Rooftop Terrace for an unreal view of the fireworks! We're taking reservations for an exclusive party during the USA's birthday celebration. We offer tables of four, eight, 10, 12 and 16; for only $200 per person. You and your guests receive a wristband that grants you access to our fifth-floor bar and rooftop restaurants. Don't miss out—it's going to be a blast!
Music, booze, hot dogs, fireworks and a beach view—you can't ask for much more than that on Independence Day. Last year's party began at 9am and went until midnight, so assume you're in for a full day of partying, unless you need to leave for a quick drunken ride on the Cyclone (you will definitely be tempted). The blowout ends with an incredible firework display at 9pm. Best viewing location: The Steeplechase Plaza and the Coney Island Boardwalk. Sure, it's not as big and flashy as the Macy's 4th of July fireworks, but it's still a pretty great way to end America's birthday.
Want to hang out in an NYC park?
Attractions, Parks and gardens
NYC parks offer verdant green spaces to relax, get some sun, picnic and more. Don't miss any offerings with our guide.