The coolest Airbnb treehouse rentals near NYC
These rentals take advantage of incredible leafy real estate.
If you haven't been in a treehouse since you were a kid, you've been missing out. It's just as magical as a grown-up as it was back then. And there's no better time to rekindle your love for living aloft in the woods than right now. And the easiest way to do that? Renting a treehouse Airbnb, especially as the leaves change. There's nothing cozier and more magical than taking in nature's beauty from the air. It's a step up from camping near NYC and offers a way to have the secluded getaway that you sorely need. Make sure to pack your hiking boots and essentials! Some of these are quite off-the-grid.
RECOMMENDED: 13 cozy cabins near NYC that you can rent on Airbnb
This article includes affiliate links. These links have no influence on our editorial content. For more information, click here.
Incredible treehouse Airbnb rentals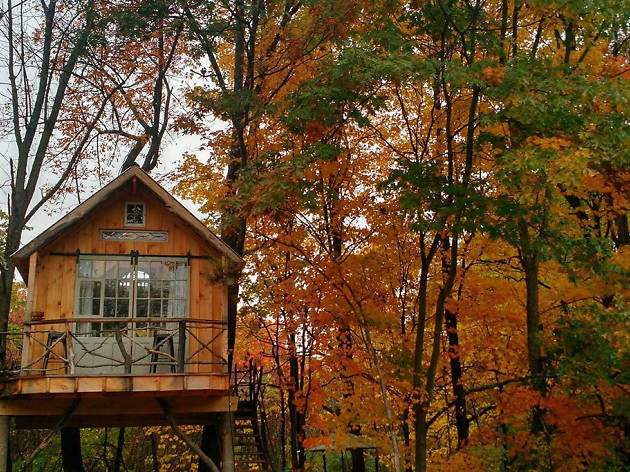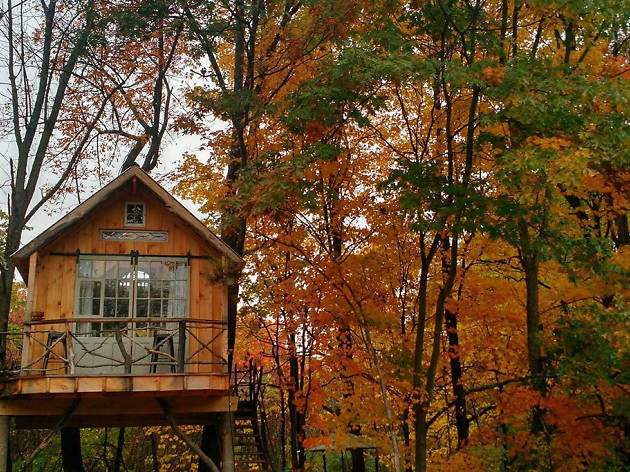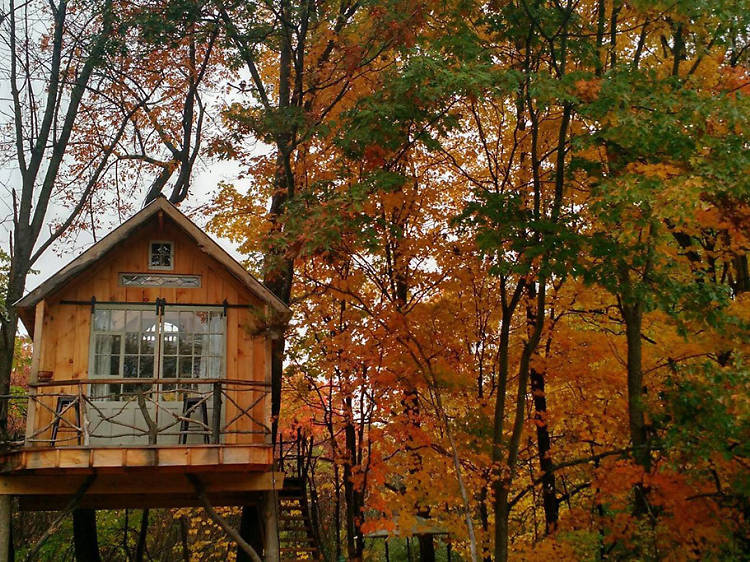 Photograph: Airbnb
Argyle, NY: The whispering wind treehouse
This treehouse just outside Glen Falls is totally off the grid: no electricity, no Wi-Fi and a sleeping loft with a clear roof. The light-filled space also boasts a cozy living room and an attached deck with a café table. Guests have access to an outdoor kitchen, outdoor shower and all of the host's tranquil five-acre property. (And if you do need to plug in, you can do so at the host's nearby yurt). From $195 per night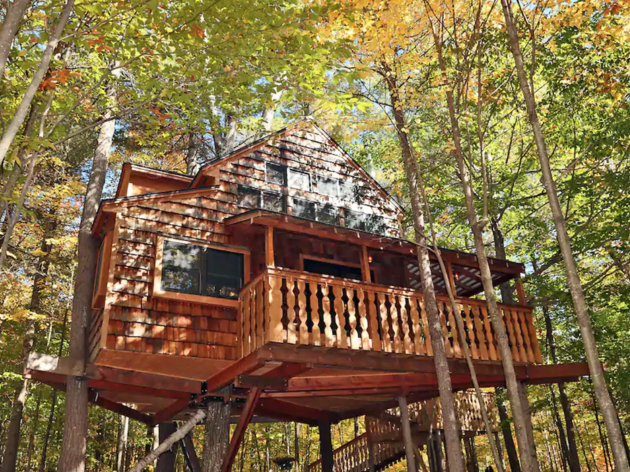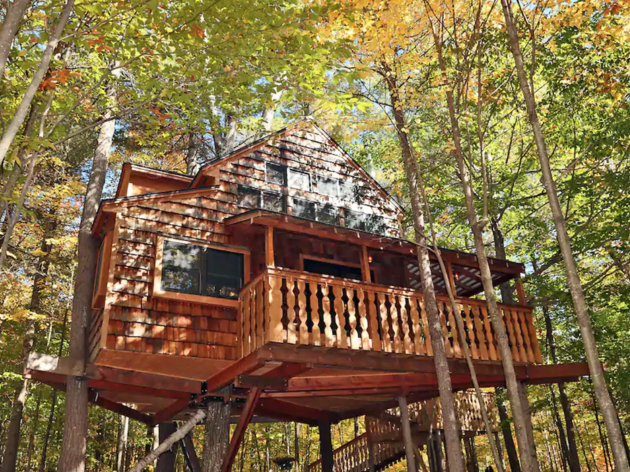 Photograph: Courtesy Airbnb
Newbury, NH: Luxurious two-story treehouse
It's clear that this incredible treehouse was decorated and crafted with love—the two-bedroom, one-bathroom home has a wrap-around deck, a lower deck with a grill, a "Hobbit door," a heated floor, reclaimed wood from an 1800s barn for its floors and walls, and a full kitchen. Outside, enjoy its fire pit and beautiful property that is near Lake Sunapee and less than a mile from the slopes of Mount Sunapee. From $448 per night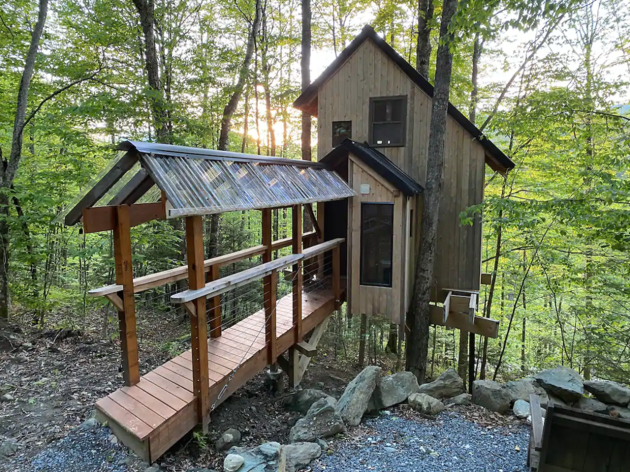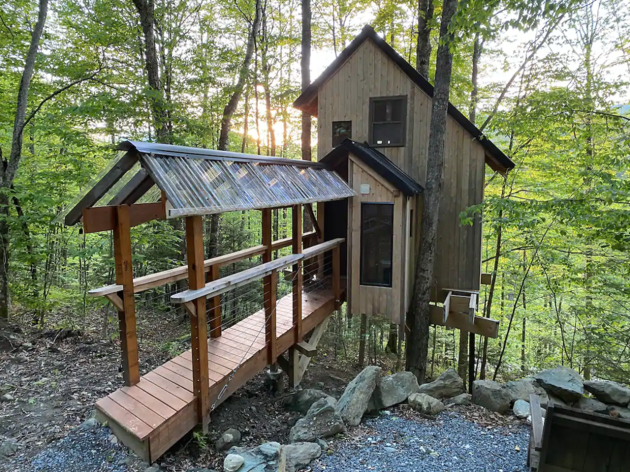 Photograph: Courtesy Airbnb
Hancock, VT: The Sugar Maple treehouse
The one-bedroom Sugar Maple Treehouse was hand-built in the wilderness of the Green Mountain National Forest and is perched high above the ground in three maple trees. Don't worry, it's fully-insulated and has electric heaters for cold nights (and there's internet). Starting at $144 a night.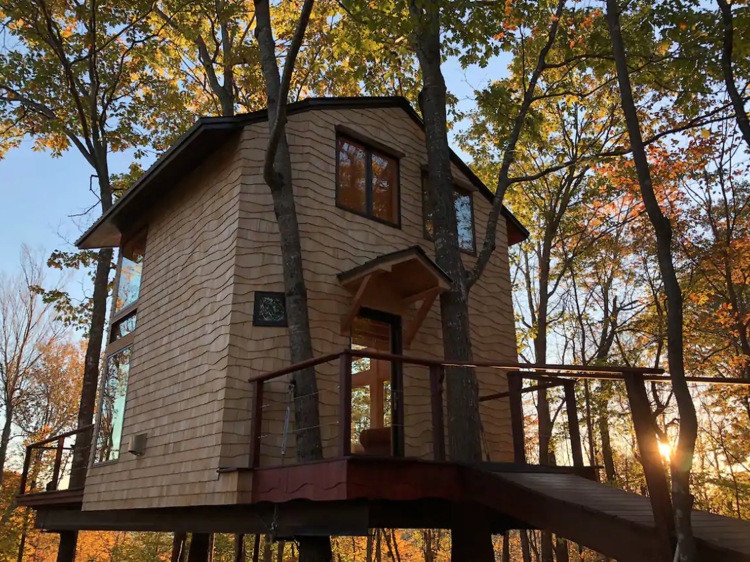 Photograph: Courtesy Airbnb
Newbury, NH: Ling Treehouse: Soul's Retreat
The Ling Treehouse is totally off-the-grid, perfect for unplugging and reconnecting with nature. It's deep in the woods with no one around with ample room for hiking, skiing, enjoying the lakes, and forest bathing across its hundreds of acres of private land next to a nature preserve. You'll have to take outdoor showers and use an outhouse. Leave work at home since there is no wi-fi and pack your food because there is no kitchen except for a sink, a propane burner, a fire pit and firewood outside. It's truly for the outdoorsy types. Starting at $371 per night.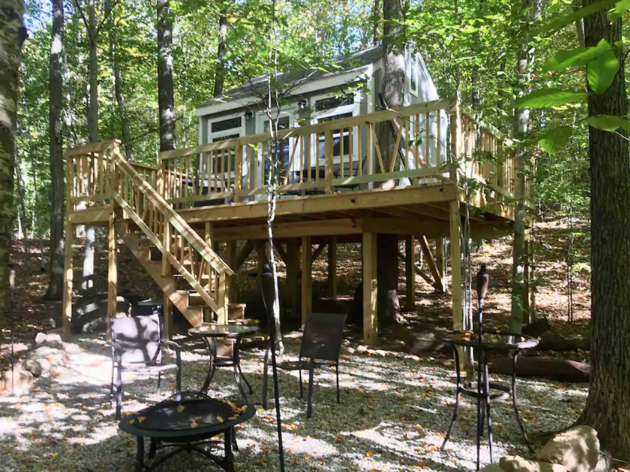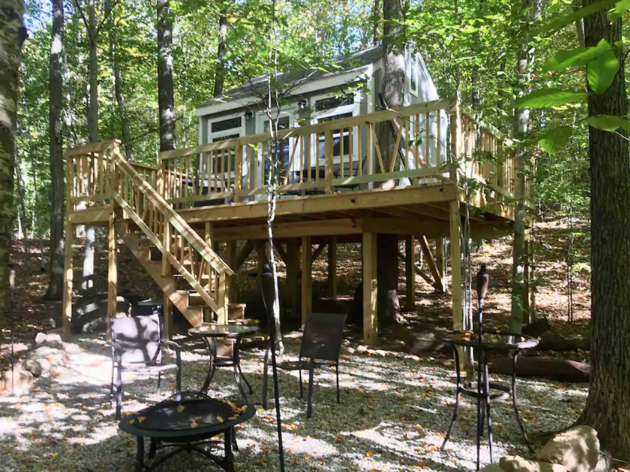 Photograph: Courtesy Airbnb
Norwich, CT: Water Forest Retreat
The Water Forest Retreat is a small treehouse with stained glass windows, nestled in an oak tree that's part of a 100-acre forest. Commune with the birds on the deck or go hiking to a waterfall. The house itself is heated and has electricity but no running water, so it's a bit of a roughing-it situation. There's a queen- sized bed that's surrounded by white birch logs decorated with branches and fairy lights and an electric fireplace for cold nights. There's no kitchen but there are camping essentials such as a propane camp stove, dinnerware, cutlery, cutting board, sugar and sugar substitutes, spices, oil, tin foil, creamers, pots, pans, lighters, scissors, a wine bottle and can opener, and more. The woods it sits in has well-maintained, wood-lined hiking trails with some that follow Goldmine brook to a waterfall that once hosted a grist mill back in the 1700s. There are resident barred owls, a red fox, eastern coyotes and white-tailed deer you may see while hiking the trails.
Gardner Lake State Park in Salem is only 15 minutes away and Bluff Point is about 24 minutes away. Starting at $124 a night.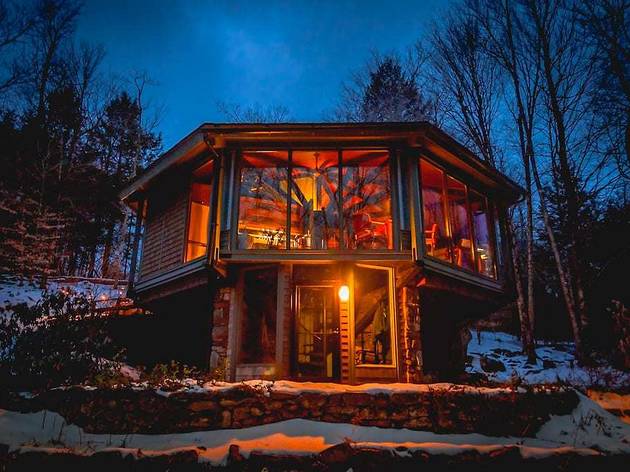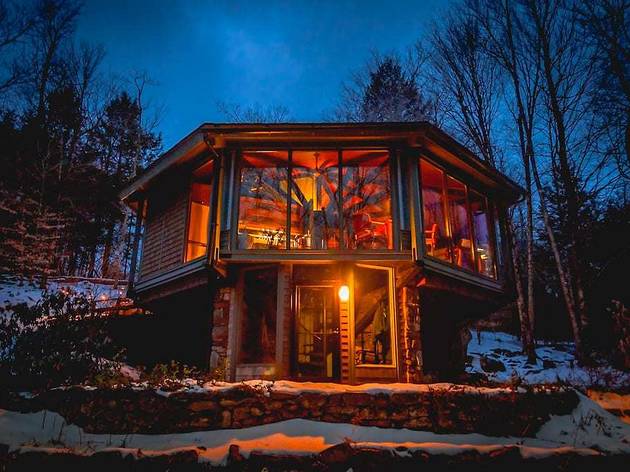 Airbnb
Otis, MA: Octagonal Treehouse in Berkshires
This uniquely-shaped Massachusetts rental boasts a wood-burning fireplace, floor-to-ceiling windows and an impressive 7 acres of private property. The property accommodates up to four people in two separate bedrooms.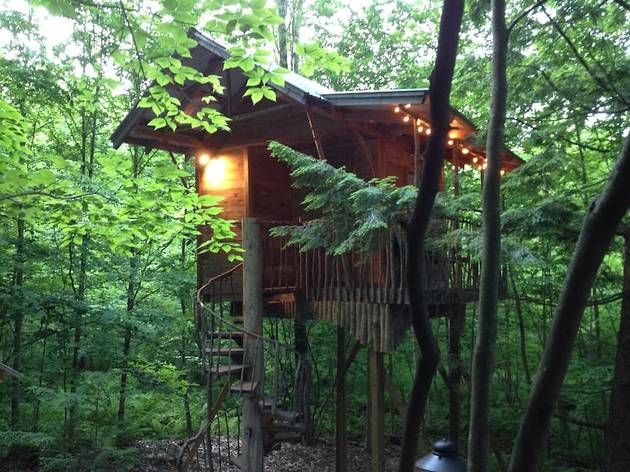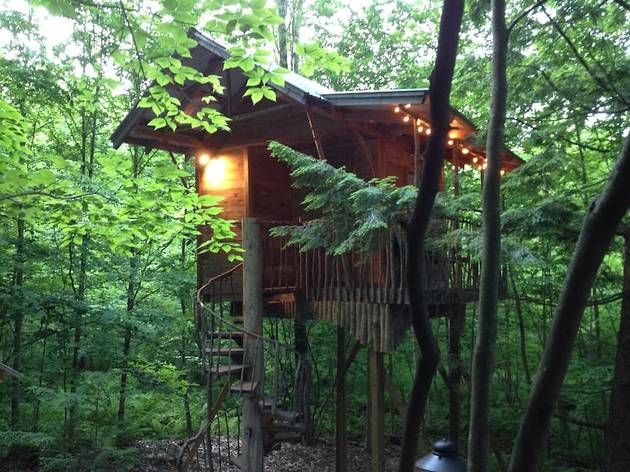 Airbnb
Middle Grove, NY: An Adirondack Tree House Retreat
This whimsical wooden cabin is nestled in the trees of the Adirondack Mountains, a mere nine miles from Saratoga Springs. There's even a winding staircase that wraps itself around a tree.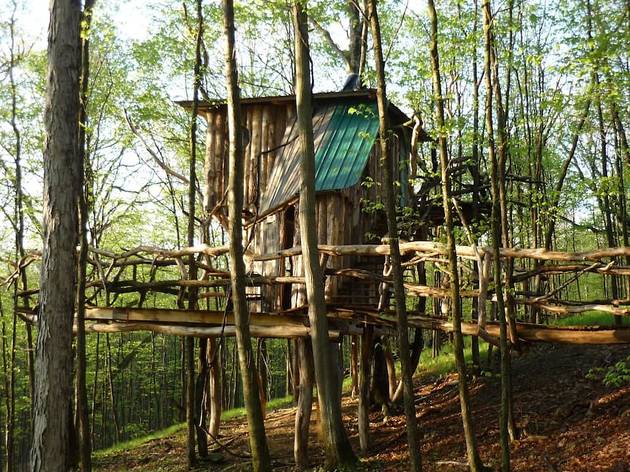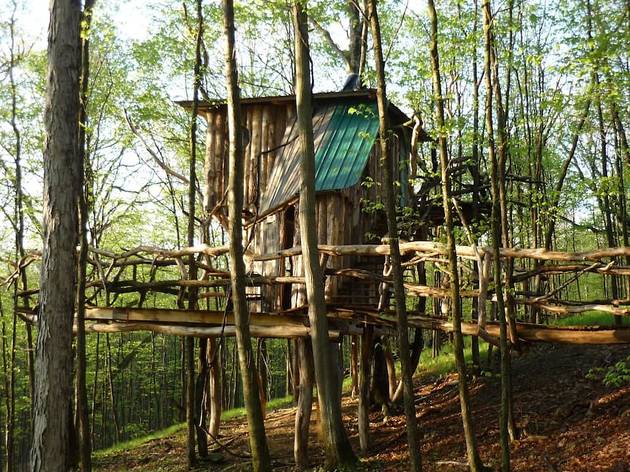 Airbnb
West Pawlet, VT: The Hermit Thrush Treehouse
Elevate your weekend at this unique treehouse in southern Vermont. Guests have access to a fire pit, cooking area, hammocks and an outside shower in case you don't necessarily want to smell like a hermit while living like one.
Airbnb
Carmel, NY: The Treehouse Lovenest
Perfect for couples, this two-bedroom country lodge in Upstate New York has 18-foot ceilings, and an extensive collection of vinyl, and a 1,000-square-foot deck. What else do you need?