Airbnbs for ski getaways from NYC
Rent one of these log cabins, chic chalets, modern townhouses or other Airbnbs for ski getaways from NYC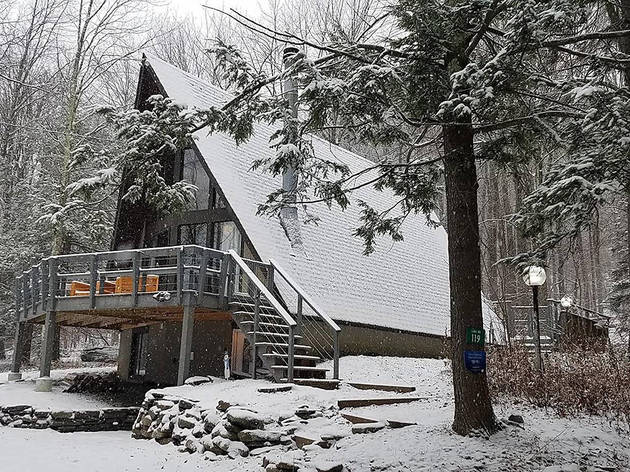 The best winter getaways from NYC all have a few things in common: Rustic vibes, cozy blankets, steaming mugs of hot chocolate and plenty of the powdery white stuff. These stunning Airbnbs at ski resorts near NYC hit all of the criteria. Whether you'd like to book an easy weekend trip within a few hours of the city or want to spend a full week on the slopes, there are plenty of cabins near NYC to rent on Airbnb. Stunning chalets, modern condos and 19th-century farmhouses all appear on our list of rental properties near the slopes. Don't forget your hand warmers!
RECOMMENDED: Find more weekend getaways from NYC
Airbnbs for ski getaways from NYC
Photograph: Courtesy Airbnb
The Stone Farmhouse in Stroudsburg, PA
Distance from NYC: 2 hours
Where to ski: Camelback Mountain Resort
Since it's a solid 20 minutes from the nearest ski resort, this 1840s farmhouse feels peaceful and serene. The home retains much of its old school charm (like the claw-foot tub, turn-of-the-century fireplace and wide plank floors) but has been renovated with modern amenities (like the chef's kitchen with a farmhouse sink that Joanna Gaines would approve of). It's close to popular hiking spots, as well as natural waterfalls and golf courses too. Animal lovers should book a tour of the Lakota Wolf Preserve for the life-changing opportunity to see foxes, bobcats and four wolf packs in their natural habitat. From $150 per night
Photograph: Courtesy Airbnb
Rustic 1830s Farmhouse in Brewster, NY
Distance from NYC: 2 hours
Where to ski: Thunder Ridge
This quaint, 19th-century farmhouse would make an ideal setting for a couples' getaway or girls' trip. There's three bedrooms which sleep up to six people, enough space outside for any ball game you desire and totally charming decor, which includes rustic wooden beams that run throughout the house. Though neighboring Thunder Ridge is one of the smaller resorts near New York, it still offers 22 trails for skiers and snowboarders. At night, sink into the leather couch to play games or catch up; if it's not too cold, you can even build a fire in the pit on the back patio and reminisce about old times. From $175 per night
Photograph: Courtesy Airbnb
Three-Bedroom Cottage in Gorgeous Litchfield Hills in Cornwall, CT
Distance from NYC: 3 hours
Where to ski: Mohawk Mountain
This quaint colonial cottage is just five minutes away from Mohawk Mountain, but snow bunnies might also want to try another nearby cold-weather sport: snowshoeing the Appalachian Trail. However you choose to spend the day, you'll be greeted by charming period decor and cushy queen beds when you return to your Airbnb. If you want to make the most of the sunsetting in the evening, grab a drink and head out to the decking where you can relax. From $144 per night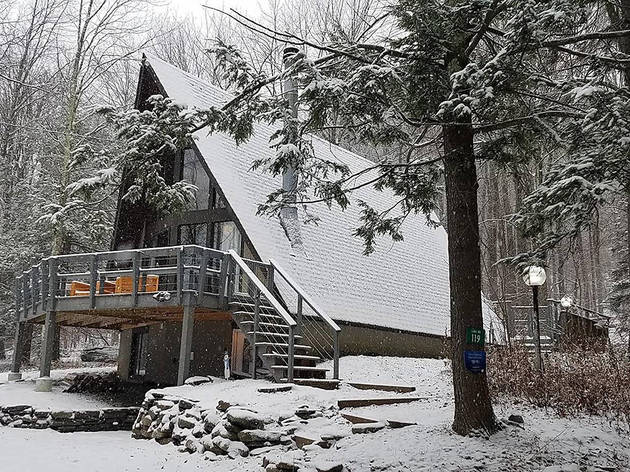 Photograph: Courtesy Airbnb
Catskill Chalet in Lanesville, NY
Distance from NYC: 2 hours 45 minutes
Where to ski: Hunter Mountain
Skiiers and snowboarders can walk to the slopes from this vintage 1970s A-frame cabin. There's space for eight guests, a modern kitchen and variably styled soft furnishings. Enormous windows span the entire front of the home—from the base of the roof to the massive deck—and provide gorgeous views of the snowy landscape. After a long day out in the cold, an evening in front of the wood-burning fireplace sounds oh-so-cozy, doesn't it?! From $450 per night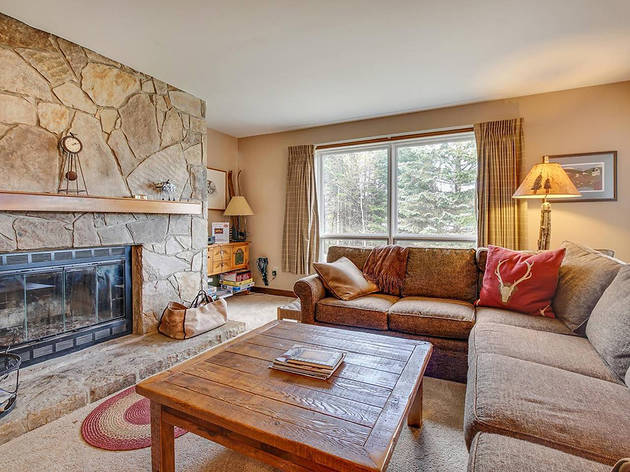 Photograph: Courtesy Airbnb
Ski In, Ski Out Condo With Shared Pool, Hot Tub and Sauna in Dover, VT
Distance from NYC: 4 hours
Where to ski: Mount Snow
This modern condo on the slopes of Mount Snow offers amenities galore: a wood-burning fireplace, massive sectional sofa, flat screen HDTV and access to the sauna, hot tub and pool at the lodge. Since the three-bedroom, three-bathroom space can easily accommodate as many as 10 people, it's perfect for a group getaway. Set trailside, you've got easy access to the best skiing spot as well as a handy outdoor locker. From $186 per night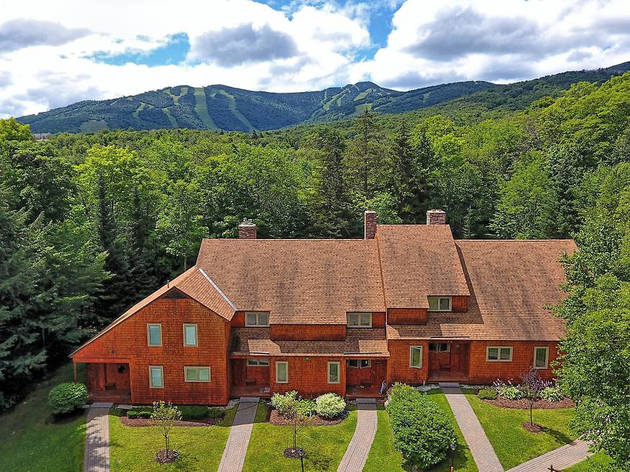 Photograph: Courtesy Airbnb
Beautiful Townhome Close to Killington Nightlife in Killington, VT
Distance from NYC: 5 hours
Where to ski: Killington Ski Area
The red-brick fireplace is the focal point in this vacation property and it's likely where you'll spend your evenings after hitting the slopes all day. Need something stronger to soothe your aching muscles? Sit inside the small sauna for almost instant relief. From $218 per night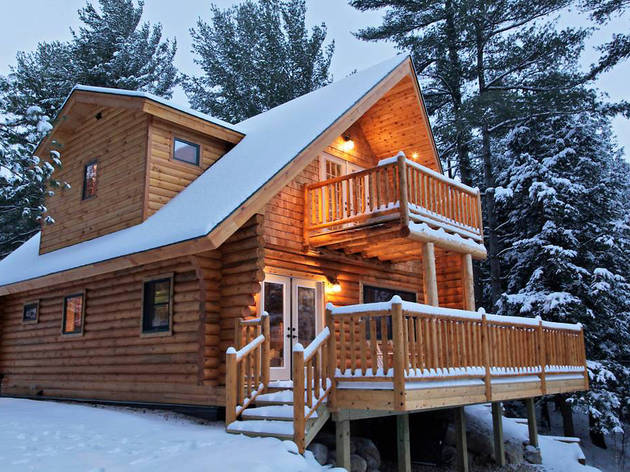 Photograph: Courtesy Airbnb
Adirondack Riverfront Log Chalet in Wilmington, NY
Distance from NYC: 5 hours
Where to ski: Whiteface Mountain
Talk about picturesque: This cabin's deck offers views of the Ausable River, while the balcony off the master bedroom overlooks Whiteface Mountain. Handmade furniture, cedar ceilings and framed photographs of the area give the interior a rustic-chic aesthetic. Best of all, the sturdy construction keeps this log cabin toasty warm even when the temperature dips below zero. From $200 per night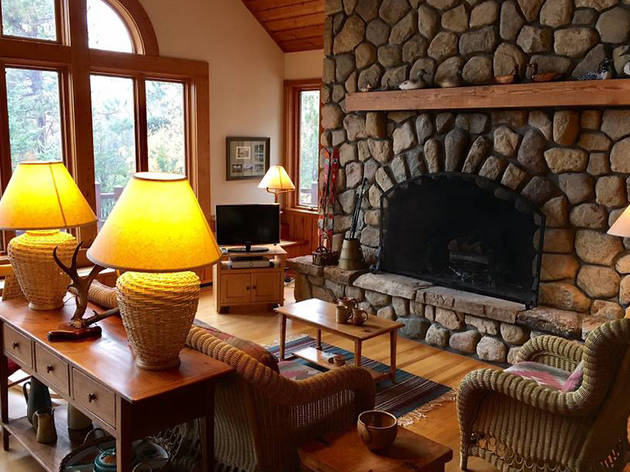 Photograph: Courtesy Airbnb
Secluded Lake Chalet in Wilmington, NY
Distance from NYC: 5 hours
Where to ski: Whiteface Mountain
Looking for the ultimate place to dose up on some peace and quiet? Nestled inside 160 acres of forest, this home overlooking a private lake makes an ideal wilderness retreat. A picture window in the living room provides views of blue herons, loons, deer and other wildlife. Though this Airbnb isn't far from Whiteface Mountain, you can also cross-country ski on the property and snowshoe across the lake when it freezes. From $350 per night
Photograph: Courtesy Airbnb
Luxury Renovated Ski In, Ski Out Stowe Mountain Gem in Stowe, VT
Distance from NYC: 6 hours
Where to ski: Stowe Mountain Resorts
Just steps from the Toll House chairlift to the south side of the mountain, this Stowe townhouse offers all the convenience of staying in the main lodge without the crowds. The luxurious interiors—complete with an open-concept living area, updated kitchen and mid-century modern furniture—couldn't be more welcoming. Cross the water and get cozy. From $550 per night
Looking for more getaway ideas?
Next time you want to skip town with your boo, these romantic getaways in New York state will certainly come in handy