The 13 best things to do in Norwich
There's more to Norfolk's capital than Alan Partridge and treasure hoards: here are the best things to do in Norwich.
Here, the modern overlaps with the ancient: just check out our list of best things to do in Norwich to find out what we're talking about. This British city has a history steeped in warrior queens and treasure hoards but, more recently, it's become known for its café and restaurant culture… And for being home to outspoken (fictional) radio presenter Alan Partridge, of course! The Norfolk capital is calming, quaint and the ideal place to escape busy day-to-day life for a weekend or even a single day. Whether you plan to seek out the history that's paved into the city's streets or simply relax, order a flat white and a bit of cake, these are the most wonderful activities you should be partaking in. something on this list and loved it? Share it with the hashtag #TimeOutDoList and tag @TimeOutEverywhere.
Find out more about how Time Out selects the very best things to do all over the world.
Best things to do in Norwich
Photograph: Courtesy Al Dente
What is it? An authentic-feeling Italian restaurant and bar serving up home-cooked dishes that'll transport you to the country.
Why go? As well as an epic Italian brunch menu, Al Dente prides itself on having food that hasn't hit the UK mainstream. You can even choose from a multitude of pasta shapes, sauces and toppings, to create a bespoke – and delicious – dinner of your choosing. Try the Casarecce with the Al Salmone sauce, which costs a very reasonable £7.50.
Photograph: Courtesy Norwich Castle
What is it? A gallery and museum of ancient artefacts tucked away in Norwich's Castle, built in 1121.
Why go? It's the perfect place to learn about Queen B. No, not Beyonce, warrior queen Boudica. She was the leader of a Celtic tribe Iceni that lived in the area now covered by Norfolk, Suffolk and Cambridgeshire during the late Iron Age (and famously pissed off the Romans a lot). Watch over your shoulder while you're here. According to local legend, the castle is still the stomping ground of a few of its previous inhabitants.
Photograph: Courtesy Laura Francis
What is it? A café with the best view of Norwich in the city. (Plus, it's inspiring social change in the area.)
Why go? Grab tasty food while chilling at the former Britannia Barracks atop of Mousehold Heath. This is the spot to head if you fancy an afternoon tea with an amazing view and a good ethos. The staff of Café Britannia are mostly low-risk inmates retraining and gaining new skills in hospitality.
Photograph: Courtesy Sainsbury Centre
What is it? An impressive collection of paintings and sculptures in a Grade II-listed building.
Why go? The permanent collection here includes works from artists and creatives such as Picasso, Degas and Lalique, and there's even an outdoor sculpture park to explore on sunnier days. Added geeky bonus: this spot was a filming location in 'Avengers: Age of Ultron' and 'Ant-Man'. And, best of all? Its free entry.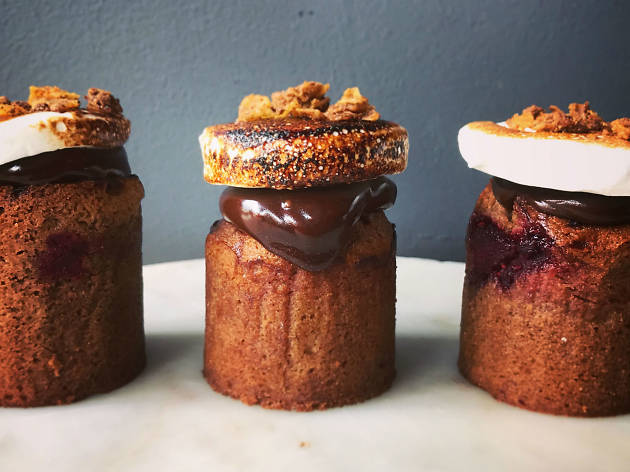 Photograph: Courtesy Figbar
What is it? A restaurant serving beautifully quirky sweet treats that change on a daily basis.
Why go? If you lust after food that's both tasty and Insta-worthy, this is your spot. They don't bake cakes, they create works of art you can eat. Indulge in the Tea 'n' Toast – earl grey creme brûlée, lemon curd and brown bread ice cream topped with roasted cinnamon cornflakes – or treat yourself to the Snickers, which includes a donation to the Norwich Food Bank within its cost. Bring a friend and share a plated dessert or two…. or three.
Photograph: Courtesy Andrew Atterwill
What is it? Norwich's very own Secret Garden… Ready to be discovered by you.
Why go? This hidden green space was once just a lowly chalk quarry. Victorian tycoonHenry Trevor filled it with follies, flowers and foliage, and it's still a great place to wind down and take a leisurely break. For the £2 admission fee you can expect to see incredible plants and even the odd fashion blogger shooting some #OOTD pictures.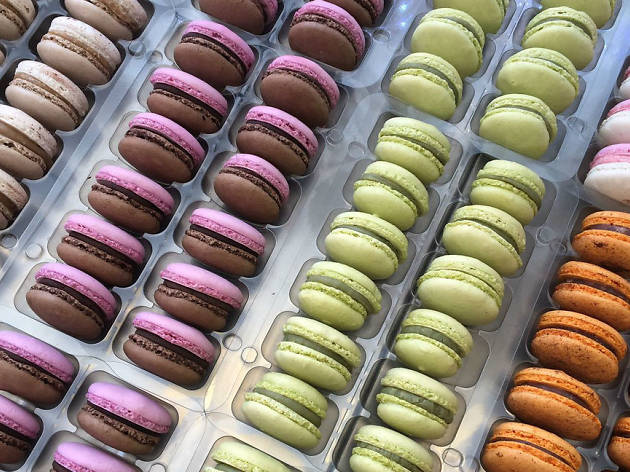 Photograph: Courtesy Macarons and More
What is it? A macaron-filled dream run by MasterChef finalist Tim Kinnaird.
Why go? Surround yourself with sugar, pastel colours and pastries in this candy-flavoured dream world. It's certainly an extremely tasty place to visit – they even make their own soft-serve ice-cream in the summer. While here make sure to mooch around the Royal Arcade in all its Art Nouveau opulence.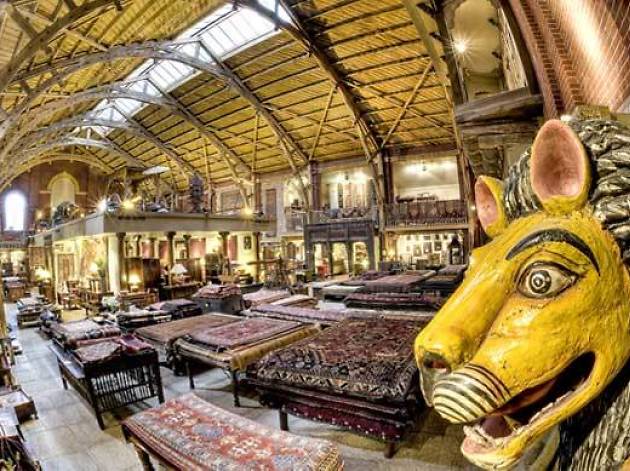 Photograph: Courtesy Country & Eastern
What is it? A vast interiors shop filled with antique gems.
Why go? Housed in a converted skating rink, this emporium's filled with cushion covers, mirrors and rugs. You will be agog with the choice on offer and the curious stories all the items could tell. They also raise money for the South Asian Decorative Arts & Crafts Collection Trust, so by purchasing you're preserving a little bit of art and culture at the same time. (http://www.southasiandecorativeartsandcrafts.co.uk/)
Photograph: Courtesy Retreat Vintage
What is it? Tucked away on super trendy Magdalen Street, this diamond of a store sells unique and affordable vintage clothing.
Why go? Retreat Vintage is the best place in the city to travel through time. A shift dress that makes you feel like Twiggy? A pair of bell-bottoms that'll help you channel your inner Disco Diva? You'll be able to find all this, and more, in the well-priced selection here. If retro clothing isn't your thing then discover nearby neighbour Looses Emporium to kit out your home instead.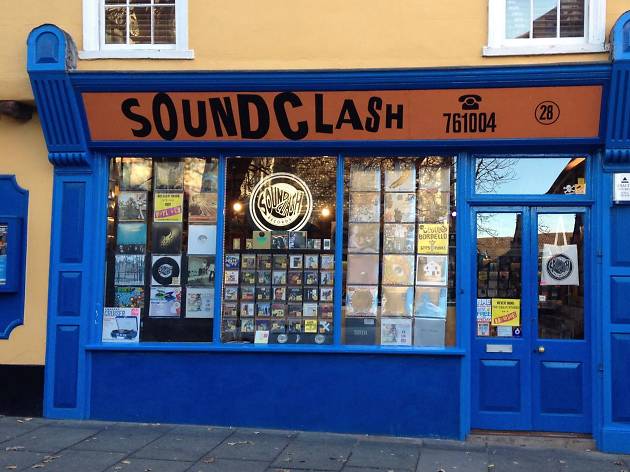 Photograph: Courtesy Soundclash
What is it? A Norwich institution, selling vinyl and music to all since 1991.
Why go? Although there are a few record shops in Norwich's streets, Soundclash is the ramshackle original. Spend a lazy afternoon flicking through records from classic artists and discovering new ones. Also, check this spot out for picking up tickets to gigs and festivals in the area.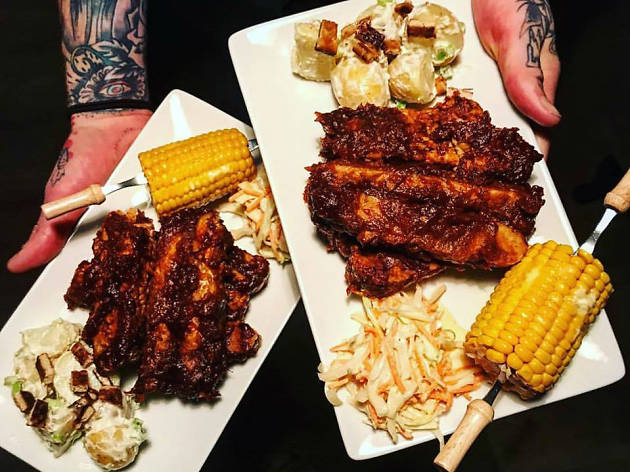 Photograph: Courtesy Tipsy Vegan
What is it? A cosy restaurant serving top-drawer, fresh vegan cuisine.
Why go? Not only does the Tipsy Vegan serve fabulous food, everything on the menu is meat and dairy-free. Every. Single. Thing. So, you can forget about picking apart the meals, checking all the ingredients and relax knowing whatever you order will be ethical, made in-house and utterly delicious. Start your evening off with one of their carefully curated cocktails before tucking into a menu that spans mushroom scallop linguine, tempeh ribs, burgers and curries.
Photograph: Courtesy Izzi Johnson
What is it? Elm Hill is one of the prettiest streets in all of Norwich and a great spot for photograph or two.
Why go? With cobbled pathways and Tudor buildings, Elm Hill attracts visitors from far and wide thanks to its quintessentially English vibe. The street conjures up visions of yesteryear that are only enhanced by cute little shops such as The Bear Shop and Dormouse Bookshop. If you feel like it looks super familiar it was once a filming location for the movie 'Stardust'.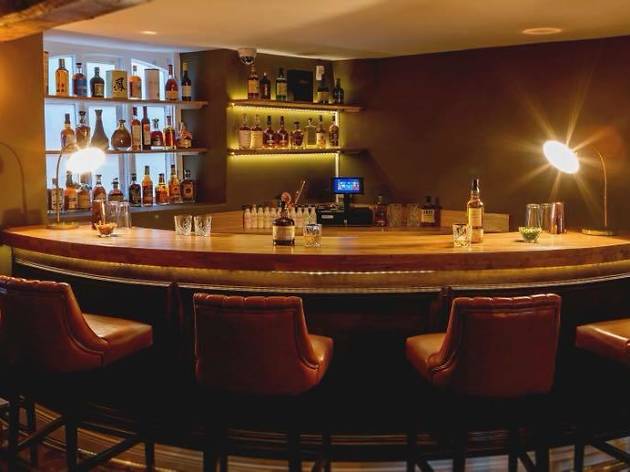 Photograph: Courtesy Bond No. 28
What is it? It's Norwich's top spot for living your best life: a beautifully lavish bar to sip champagne in.
Why go? Bond No. 28 is often cited as one of the best cocktail bars in Norwich. Situated in Tombland, this super glitzy bar is the place if you fancy a super-swish cocktail. Take your pick from an Aperol spritz for one (£9) or maybe a sparkling white sangria to share (£15). With velvet sofas and glittering chandeliers, it'll leave you feeling celebrity special.
Looking to grab a bite?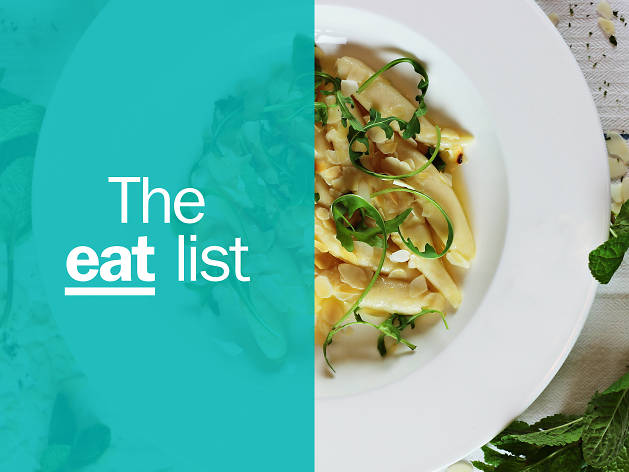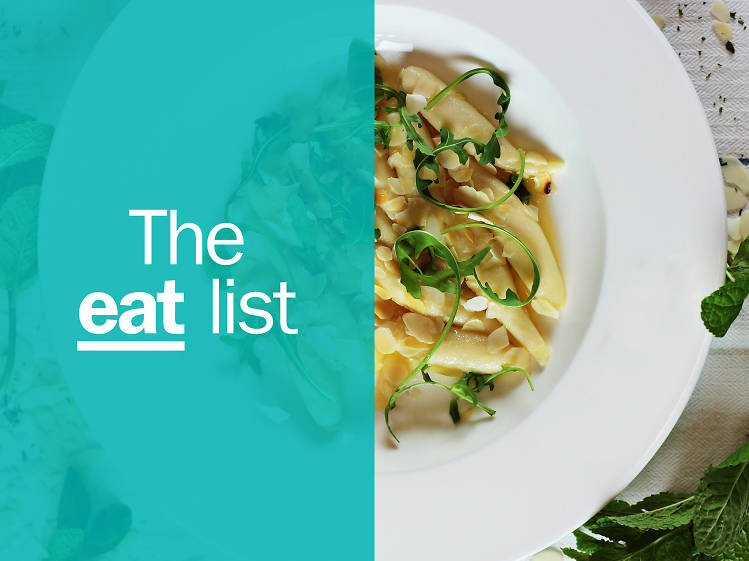 The historic architecture, cobbled lanes and leafy riverside are just perfect to stroll through, which means you'll fast work up an appetite. Norwich has plenty of places in which to grab a satisfying bite. From sushi to tacos to critically swooned-over bobby dazzlers, it's all here amongst our picks of the best restaurants in Norwich.
Best selling Time Out Offers