Jazz clubs and bars
Our choice venues to listen to live jazz in Paris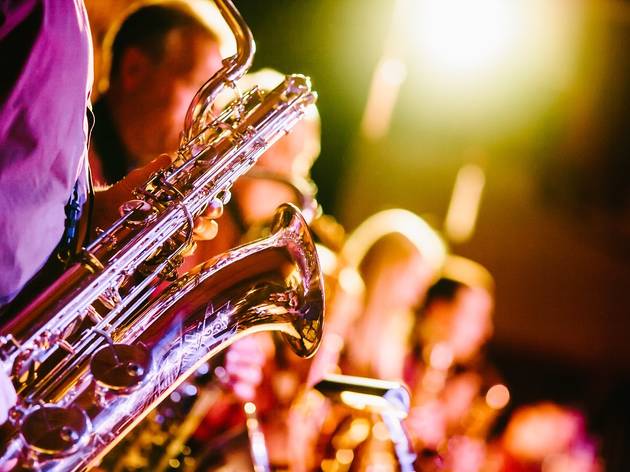 From Saint Germain to Montmartre and Les Halles, Paris and jazz have quite a special relationship. Introduced to the city during the First World War, the history of jazz in Paris has given a vibrant scene to music lovers across the decades. This love affair continues, with the City of Light still charting as one of the best places to listen to live jazz music.
From iconic jazz halls, to unknown jazz bars, we've rounded up the best jazz bars in Paris to sway along to a tune or two.
Recommended jazz bars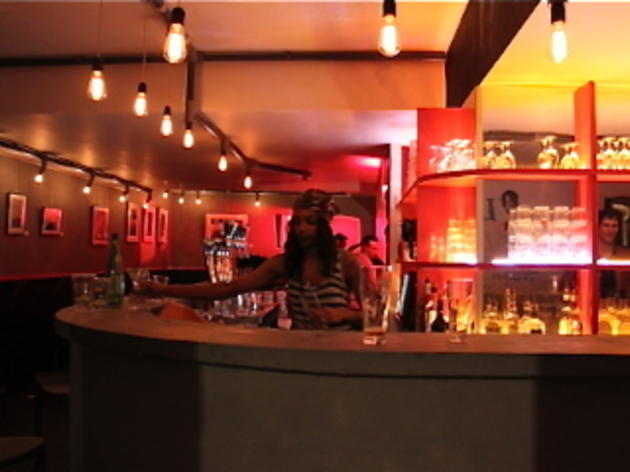 In its newly-renovated, shiny red interior, Les Disquaires's little stage directly faces the dancefloor and the decks, and temporary exhibitions by Parisian artists decorate the walls around the bar. The venue is a good Bastille quarter bet for enjoying a quality gig over a cocktail or a beer during happy hour, and even music novices will always find something to enjoy in the programme of live jazz, funk, hip-hop and soul. For those who want to press on until the early hours (2am), the organisers always have a DJ set or two up their sleeve. It's always a good idea to look in here to get an idea of what's setting Parisian pulses racing – for the programme details, take a look at their website (French only).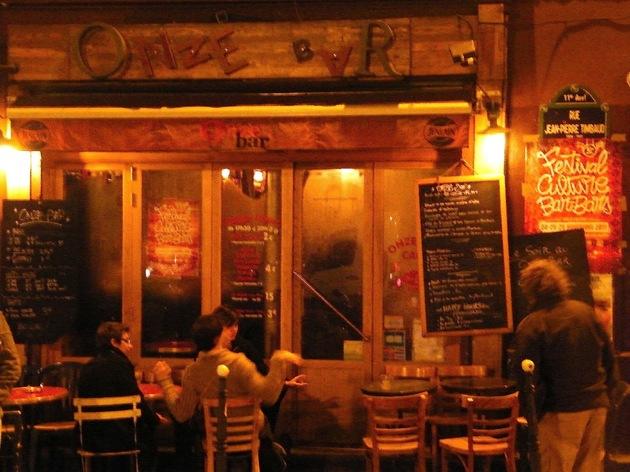 A little boho bar that's just the way we like them, Le Onze seethes with people day and night. Very hip and popular right now, its been done up in (very) shabby chic – the stuffing of the big sofas is oozing out, witness to many wild parties. Daily concerts range from Balkan folk to rock'n'roll, via via jazz, blues, funk or afrobeat (see the program on the (French) website here), and the music never fails to produce a fantastic atmosphere, with people getting up to dance wherever they can find room between the tables and chairs. Even during the week, the bar teems with regulars topping themselves up with the very well priced beers or house rum cocktails. There's also a menu with things like roasted Camembert with garlic, duck pie, herby beef skewers and cheesecake, all at reasonable prices.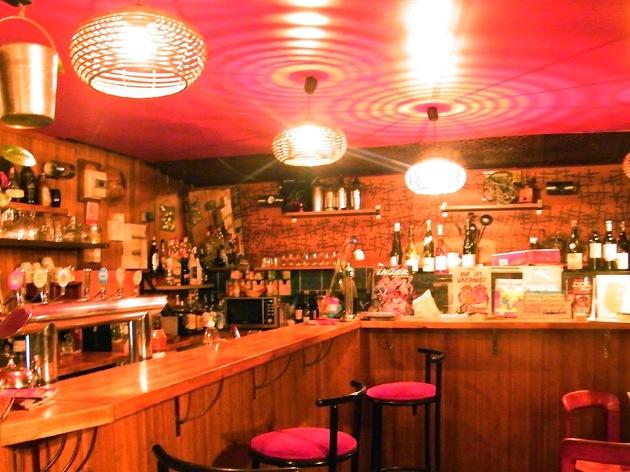 From the minute you step in the door of Café Babel, you feel like you've crossed the threshold of a Miró or a Matisse dreamscape, an artistic encounter between Africa and Europe. The walls are covered in stylised paintings, lines of poetry and vibrant colours. Dragonflies woven out of wire sit on the ceiling, so cast your eyes up as you knock back your coffee to take it all in.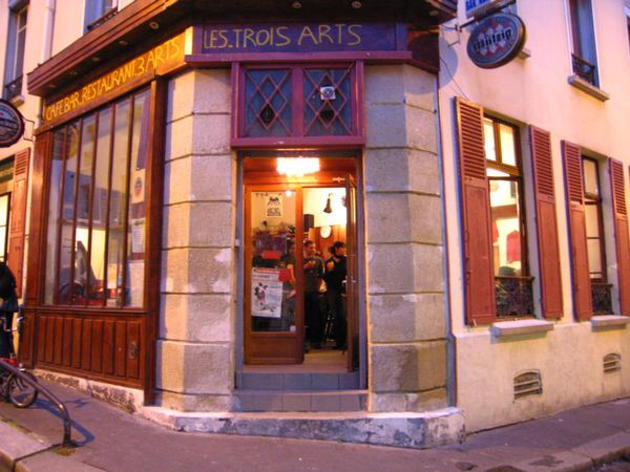 Had enough of cocktail bars that are too cool by half? Here's a real local bar that's buzzing with things to do and has a rustic country style. This Breton tavern dedicated to traditional entertainment offers a mix of live arts and lessons on the art of living. You can hear folk, jazz, klemer or classical concerts, or take part in French, Irish, Mediterranean and Eastern European storytelling evenings. Occasionally, you'll happen upon plays, improv and comedy. All that goes on in the basement, but the bar upstairs also lays on activities. You can borrow board games to pore over in the library, and they'll even lend you works of art on show as part of the De l'art chez toi (Art at Your Place) initiative. The good food and generous portions will take you back to grandma's kitchen, with stew, a two-litre soup tureen to share, a cheese board, and every Friday, kig ha farz, a traditional Breton dish from Léon in Finistère. Reservations recommended. Enjoy with a barley ale on tap, a glass of cider, a 'hypocras', a specialty of the house and sort of medieval aperitif, or a chouchen, a honey-based Breton aperitif.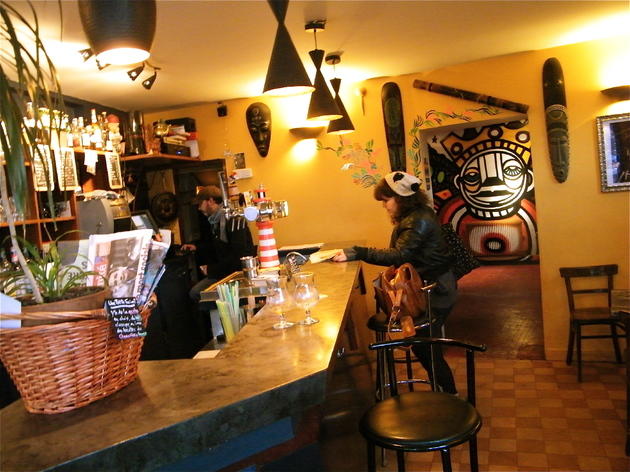 Opened near the Canal de l'Ourcq, Mama Kin jumped right in, offering a full programme of live music and DJ nights since its launch in May 2011. Their dedicated crew organises regular acoustic concerts, inviting jazz manouche, rock, funk, blues and folk groups, or DJs spinning hip hop, reggae, groove and soul. Separated into two rooms, the bar is painted a sandy colour. You'd think you were at the beach, with exotic trinkets washing up on the shore. A striking mural by street artist Da Cruz stretches across the walls of the room next door where the concerts are held. It's worth coming for the unique, vibrant surroundings alone. Once you're there, you'll be tempted by a wide variety of Belgian beer. It's also open during the day for coffee or a quick meal on the hop including savoury tarts or a 'welsh' (rarebit).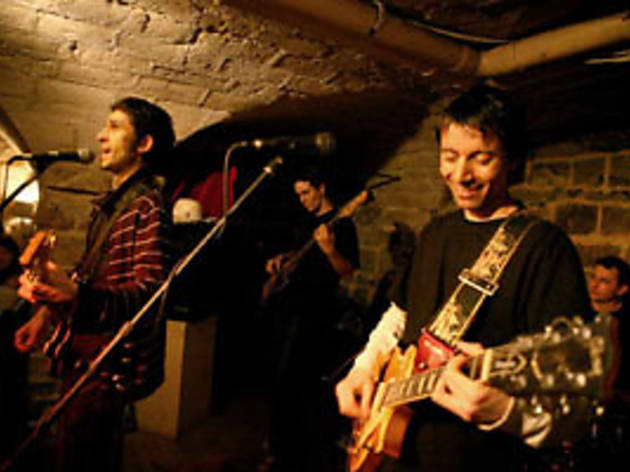 Stashed away below a Turkish restaurant, this little basement is a landmark for new talent and small groups from far-flung places as they pass through Paris. Order a glass at the restaurant bar (there isn't one downstairs) and head down into the cosy, softly-lit vaulted room to settle in and enjoy acoustic concerts of Latin music, klezmer, jazz or chanson française. Early in the week and early each night, actors and comedians try their luck on the little stage (check the listings online). Here, artists pass the hat at the end of each show – don't forget to show your appreciation as it makes the rounds!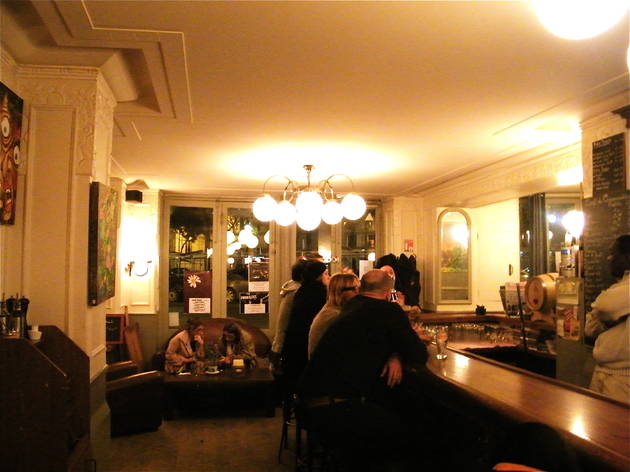 This newcomer is small compared to the barns of places that have cropped up along the streets of Bastille. Happily, its careful renovation did well to preserve the essence of the 1930s café, highlighting the Art Deco designs and period mouldings. Opened in 2009, it revived the tradition of the bar-concert with acoustic gigs of chanson française, folk, jazz, blues, bossa nova and tango. Amateurs can try their hand the open mic nights. In the glow of the beautiful globe chandeliers, a neighbourhood vibe reigns, which is rare enough in this corner of the 11th arrondissement, where the touristy hubbub has stripped much of the local colour. Yet it's the pleasures of the palate that will keep you at L'Angora until closing time. The menu, designed by French-Italian cooks, changes daily to keep up with fresh deliveries from the market. That said, they keep up a few key specialities like warm chèvre profiteroles and baked eggs with foie gras. Bliss! At L'Angora, the food is fresh and the music mellow – one to be shared with friends.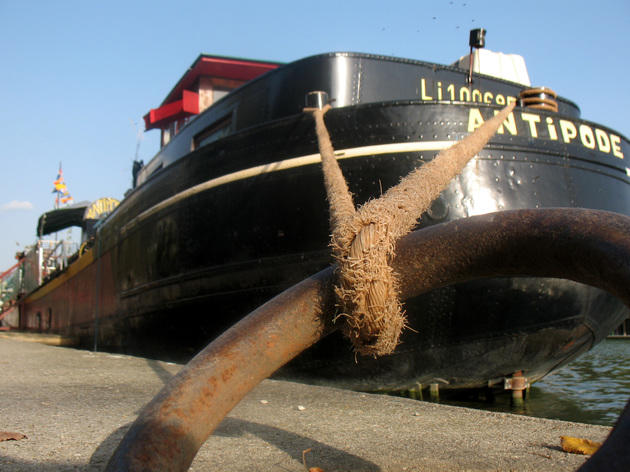 In 2002, the Abricadabra theatre company transformed this boat moored on the Canal de l'Ourcq into a floating café, with shows for youngsters during the day and plays and concerts for adults in the evenings. In this enchanting Peniche (houseboat), kids 3-8 years old are entertained and educated by screenings, mimes, songs, comedies, shadow puppets and more – and the actors' antics contain many a nod and a wink for the adults' amusement. In the evenings, the Peniche alternates gypsy jazz, rock, reggae, blues or funk concerts with improv or theatre sketch nights, and from time to time DJs will spin roots, dub, electro or breakbeat. The bar is well supplied, but you won't find coca-cola – the products are all artisanal and fair trade.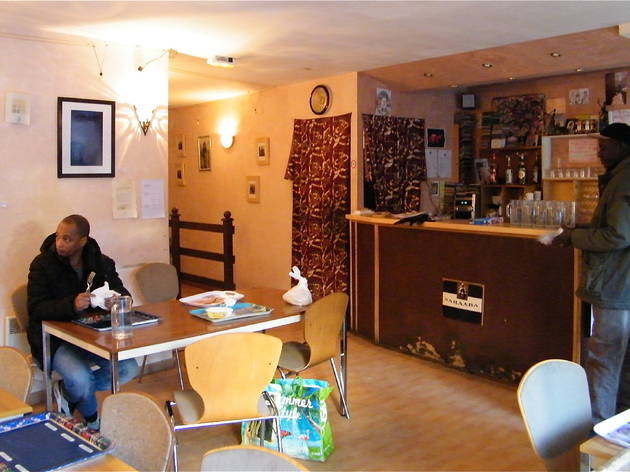 Wandering around the Goutte d'Or area gives you the chance to explore the diversity of African cultures living side by side in épiceries and improvised market stalls. At the heart of this micro-continent, the Saraaba is an activist music bar that supports the promotion and cross-pollination of world cultures through music, art and cinema. The Senegalese owner hosts regular concerts that put the talents and traditions of the African diaspora in Paris on show, along with other world music. Discover kora virtuosos, Mandinka singers, and musicians who fuse mbalax, jazz, funk, salsa and reggae. Check out the jam session every Tuesday at 9.30 p.m.The walls of Saraaba are covered in the works of artists inspired by questions of cultural identity, like the French-Moroccan painter Anita Ben Mohammed and Japanese-Brazilian artist Julia Keiko. A serious cultural agitator in the area, the bar screens documentaries and arthouse films on Wednesdays, along with readings of traditional stories and international cultural debates. There are workshops, too: take a darbouka class on Tuesday, djembe on Wednesday and theatre on Thursday (or Saturday 3–4.30 p.m.). A true community centre, the Saraaba serves African and Asian beer and delicious exotic meals at low prices. A seriously good spot for dishes as far flung as jambalaya (Louisiana), yassa and thiebou dieune (Senegal), bobotie (South Africa), mafé (Mali), matapa (Mozambique) and plenty more culinary surprises. Bon voyage as you eat your way