San Francisco Halloween 2017
Scare yourself silly with our guide to San Francisco Halloween 2017, filled with spooky events, costume parties, terrifying tunes and horror films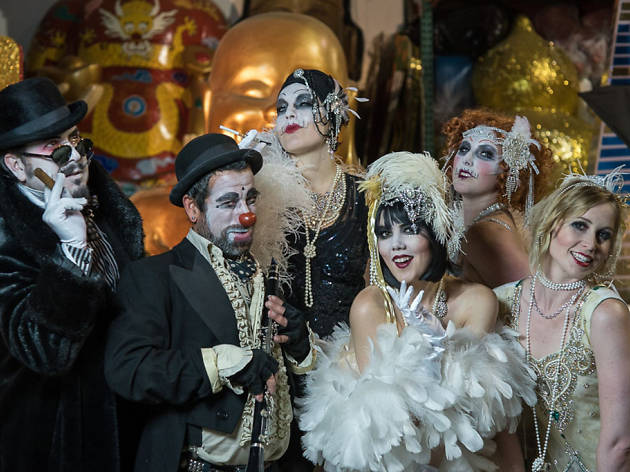 Making plans for the most important holiday of the year—we're talking Halloween, of course? Our guide to Halloween in San Francisco has you covered with the best candy treats, the rockingest parties, the coolest activities and events and more. We've also rounded up our favorite haunted spots where real ghosts still can rattle a few chains. Let the countdown to the thrills and chills begin!
What day does Halloween 2017 fall on?
Unfortunately, this year Halloween falls on a Tuesday. So be prepared for the weekend prior to be jam-packed with Halloween festivities.
Halloween in San Francisco
You know what's scary? Halloween falls on a Tuesday this year. But fear not, we've rounded up a thrilling array of hair-raising events to keep you amused all week long.
With its legacy of earthquakes, island prisons and fantastic fortunes won and lost (not to mention all the ancient Indian burial sites), it's small wonder San Francisco is one of the country's most haunted places. For those in search of chills and thrills (beyond corn mazes and horror movies), here are seven spots for fright night fun. RECOMMENDED: Fun pumpkin patches near the Bay Area    
We can't think of a better way to celebrate the season than from inside a corn maze. With tons of Halloween events just around the corner, Bay Area pumpkin patches are packed with visitors seeking decorative gourds, pumpkin-spiced treats and fields of cut corn to get lost in. So grab your layers and a buddy (you always need a buddy in a maze) and check out one of these top corn mazes in the Bay Area. RECOMMENDED: Get your thrills and chills with these scary haunted spots in San Francisco
Whether you're looking to carve a jack-o'-lantern, wander through a corn maze with the kids or arrange a festive horn-shaped basket of colorful squash for the Thanksgiving table, these local pumpkin farms will help you achieve peak holiday cheer. RECOMMENDED: The best places to trick or treat in San Francisco
One of the best parts of Halloween in San Francisco is finding the neighborhoods where kids (and let's be honest, parents) can score the best candy in town.