Heads up! We're working hard to be accurate – but these are unusual times, so please always check before heading out.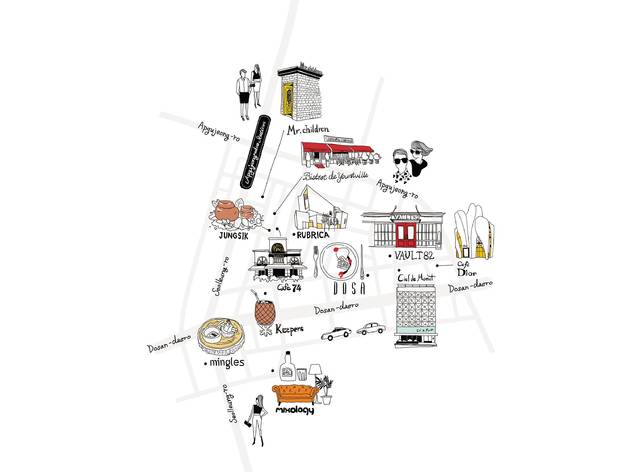 Hot spot: Oh damn, Cheongdam
Your exclusive invite to an elite Gangnam party
For those who vow to never hang out south of the river, Cheongdam can be the epitome of everything that is dislikeable about the Gangnam area. Expensive, exclusive and elite; Cheongdam's the meanest of the Mean Girls. All the buildings become a blur with one lavish, luxurious exterior after another, and unlike central Seoul spots where it's easy to walk from one place to another, the blocks are long and arduous, making Cheongdam somewhat of an intimidating space to explore. A name that's long been in the know amongst trendsetters, the neighborhood is making a comeback and it's not uncommon to hear the phrase, "Cheongdam is rising again." For many a K-pop lover, the Hallyu streets, which are becoming more and more tourist-friendly, smell of their favorite celebrities with the JYP building and the K-Star Road right in center of the neighborhood. But the neighborhood is making other developments as well—becoming slightly more affordable and mixing in some down-to-earthness without losing its upscale feeling. Put on your nicest shoes and hold your head high because this is your exclusive invite to the most elite Gangnam party.
Restaurants
In Seoul, sushi tastes are passing over conveyor belts and honing in on the more proper sushi, termed "sushiya." With sushi masters leading the way, the well prepared omakase method of dining is gaining prominence. Naturally, the quality is heavily dependent on the chef's ability and know-how. As one saying goes, "There are as many methods as there are sushiya restaurant names." Chef Ahn Hyoju is at the center of this trend. Chef Ahn is even featured in the Korean episode of the Japanese manga "Mr. Sushi King" and is recognized as one of the first generation Korean sushi masters. Sushi Hyo is therefore the place any self-respecting sushi diehard in Korea will visit at least once. The vegetable stick setting common in Japanese restaurants, elongated fish (neta - Japanese for ingredient) and the selection of ingredients according to traditional recipes feels classic compared to the menus of younger generations of sushi chefs. The ikura (salmon roe), known to be supplied from his former master in Hokkaido, and the eel dishes simply melt in the mouth and are especially popular.