Heads up! We're working hard to be accurate – but these are unusual times, so please always check before heading out.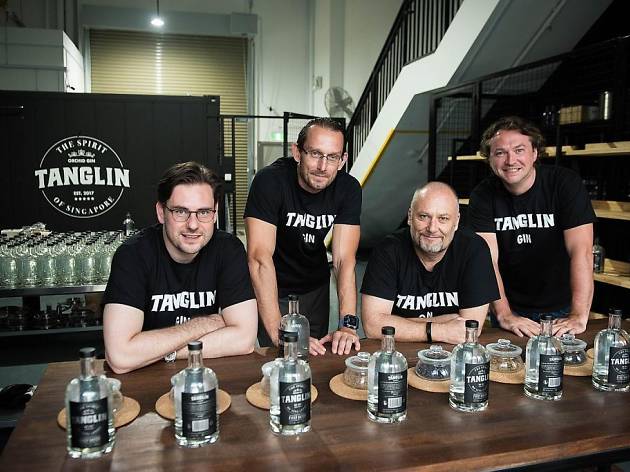 Meet Tanglin Gin – the first made-in-Singapore gin in the market
The orchid, Singapore's national flower, plays a leading role in the award-winning Tanglin Gin
Like all good ideas, Tanglin Gin came to be over a round of drinks two years ago. Founded by Briton Andy Hodgson, the processes and organisation guy; Charlie Van Eeden from Holland, who handles branding and marketing; Aussie Chris Box, who deals with the finances and fellow Australian Tim Whitefield, the botanicals whisperer and chief distiller, Tanglin distils the first ever made-in-Singapore gin over at the industrial Mandai Foodlink. While he likes to joke that he learnt how to distil by watching YouTube videos, Tim has spent the past 10 years researching, talking to distillers and experimenting with gin. For Tanglin's first expression, he's created a gin using 11 botanicals, each selected because they represent Singapore.
There are the usual suspects like juniper, coriander seeds, angelica roots and orris root but what makes Tanglin Gin stand out is its use of orchids. Specifically, it utilises the dried stems of dendrobium orchids, which is also known as shi hu, the immortality herb used in traditional Chinese medicine that's sweet and slightly salty. Other unique touches include the addition of vanilla pods and amchoor, a powder made from dried unripe green mangoes. The combination results in an audacious gin with a heady floral aroma that's punchy when sipped neat. We recommend having it with a swig of tonic and a dash of orange juice to highlight its creamy sweetness. Here's what Tim Whitefield has to say about his unprecedented creation.
How does it feel to be Singapore's first gin distillery?
We're pretty proud of this fact. It's not just about being the first distillery, but also creating what we believe is a premium gin. We wanted to ensure that as Singapore's first gin, it's special. We hope others will follow suit and that Singapore will have more locally made gins to celebrate. It doesn't matter where you have come from, it only matters that you love gin.
What was the process of creating Tanglin Gin like?
The process has been a lot of fun but with huge learning curves – we are all still learning. We've all brought to Tanglin skills from our backgrounds, and that has helped us a lot. When we look at the vast selection of stunning gins available from across the globe, what's interesting to us is that the majority of these fantastic gins are made by people who are not 'master distillers'. We believe it's the freedom to experiment and not be tied to the limitations of formal training, which can sometimes limit creativity.
Tell us more about the obstacles you faced.
The challenges have been interesting, whether it's been finding sources for our botanicals or bringing in our steel pot still and ethanol. Forgetting to order our bottles was a little challenging, but airfreighting 2,000 bottles solved that. Working with the various government agencies has been interesting. We all learnt what needed to be complied with as we followed the necessary processes. There were no guidelines for what we wanted to do. While there are micro- breweries that open as a part of a restaurant, what we're doing is different. We didn't want to open a bar or a restaurant; we wanted to open a distillery that focused on making a quality gin. Our single purpose was to create a premium gin that we could sell to other businesses. Another challenge we faced was finding an appropriately zoned space to open the distillery. Gin is classified as food, so we had to be in a food zone. We would love to be in a heritage building along the Singapore river instead.
Tanglin Orchid Gin ($108) – Floral, herbaceous, liquorice. Available from tanglin-gin.com