Best cocktail bars in Singapore
We round up the top tipples for a great night out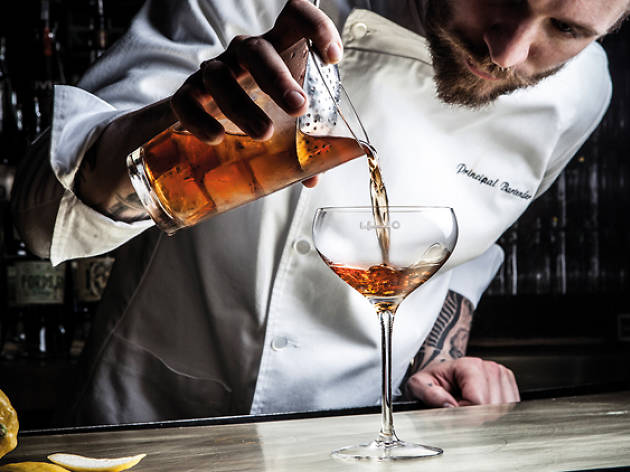 As the day dims, it's time to let loose and have a drink or two. From speakeasy joints to secret cocktail dens to bespoke bars, we've put together a list of the best cocktail bars to seek out around town.
Who says regional spirits don't have a space on the countertops of your home bar? We got Native's head bartender, Vijay Mudaliar, to let us in on how we can recreate a simpler version of the bar's cocktails. Here are three easy to follow recipes that you can shake up to impress your guests. 1) Jagermalt • 100ml Amrut Single Malt Whisky • 15g Jaggery • 40ml Water • Himalayan pink salt to taste • 1g Pandan leaf This one requires a bit more work, but trust us, the result is worth it. Pour everything except for the salt in a bag and sous vide the mixture for two hours at 55 degrees. Finish with a sprinkle of salt and garnish with a fresh pandan leaf. Buy it here: whiskymarketplace.sg 2) Matcha Tonic • 150ml Hot water • 5g Matcha powder • 300ml East Imperial Burma Tonic • 45ml KI NO BI Kyoto Dry Gin Since most of us don't have distilling units at home to make our own gin, this recipe will have to do. It tastes almost like Native's matcha gin and tonic – all you have to do is make matcha tea, strain and chill. Pour the tea over some KI NO BI Kyoto Dry Gin and fill the rest of the glass with East Imperial Burma Tonic. Buy it here: whisky.sg 3) Lantern • 50ml Paper Lantern Sichuan Pepper Gin • 3 Calamansi (juiced) • 5-10ml Honey The easiest of the lot – simply combine the ingredients, shake and pour over ice. Buy it here: drinkpaperlantern.com Make sure to show some love to Vijay at Native at 52A Amoy St.
Read more
Lu Yawen (Lindy) hops around the city's top speakeasies and hidden cocktail bars.
Read more
Let us school you on seven classic cocktails everyone should know and where to get them. Additional reporting by Rebecca Liew and Michelle Ng
Read more
As the local cocktail scene continues to mature, we wonder if there's a new drink that can rep the Lion City.
Read more
We sent two Time Out Singapore staffers to check into three bars and order bespoke cocktails suited to their taste buds – some were amazing, and others, not quite
Read more
Check out our guide to the best bars in Singapore
Whatever your choice of tipple, type of occasion or if you just want a drink, here's our guide to the best bars in Singapore. Bottoms up!
Read more