Quite the hidden gem is Anju Restaurant, which literally translates to dishes served with alcohol. As simple as it sounds, this modern Korean dining concept sits shoulder to shoulder with some of the finest restaurants on Tras Street. It makes for an elegant space, showcasing a refined intersection between subtle modernity and tradition – all dressed in muted earthy tones, leather and hazelnut wooden furnishings.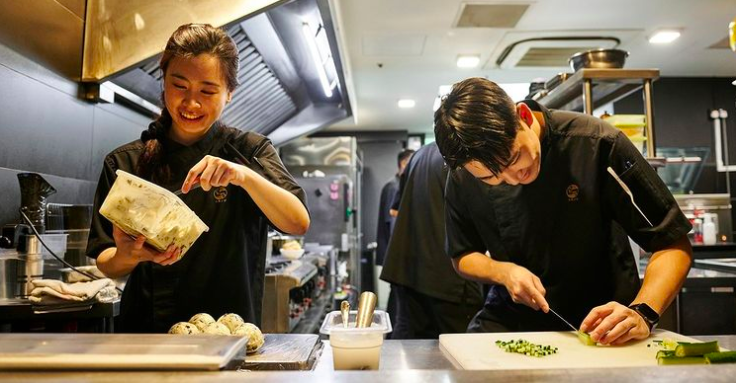 From an experimental black bean mascarpone cheese on sourdough starter to the nourishing galbi jjim (slow-braised beef short ribs), the food here is a mix of traditional Korean dishes and contemporary interpretations. The kitchen is made up of an exuberant young team helmed by South Korean Head Chef Marco Kim – formerly of two-Michelin starred Jaan – alongside Pastry Chef Doreen Ting – formerly of one-Michelin starred Restaurant Labyrinth.
For a light start, the Chogyetang ($24) is a healthy and refreshing cold starter of shredded chicken breast, crisp pear, cabbage, cucumbers and pickled dongchimi (radish kimchi). Those who prefer richer flavours could go with the crowd favourite Hogam Jeon Cheese ($26), Chef Kim's celebrated take on a pajeon (Korean pancake). It is a crunchy amalgamation of potato, zucchini, cheese and succulent prawns with a vibrant hit of onion pickle that levelled the playing field. It somehow reminded of flavours and textures of a soft shell crab.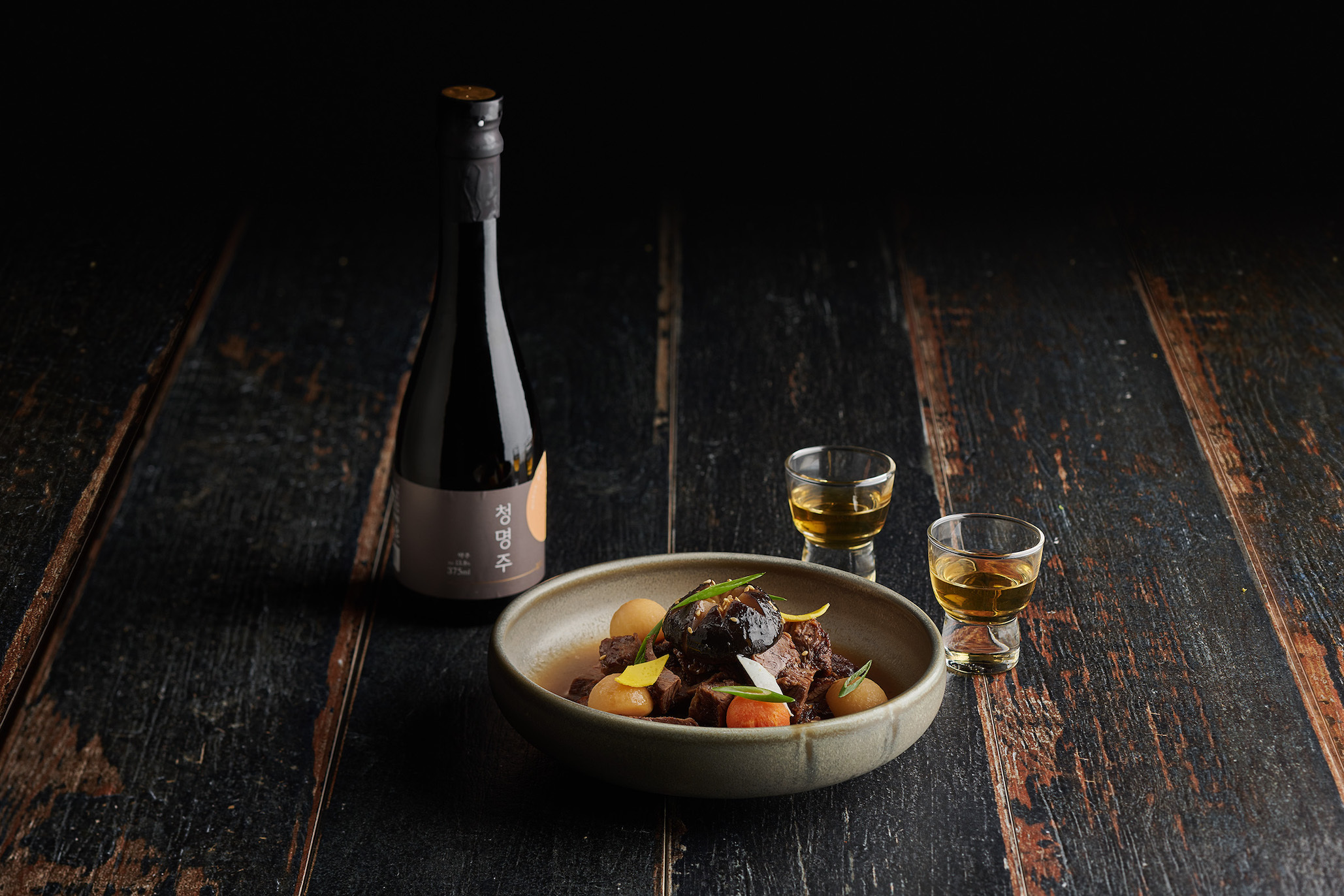 For mains, most would stick to familiar favourites like the soul-comforting Galbi Jjim ($76) and the new Sot Bap (Korean Pot Rice) where seasonal fish – in our case, prime season sea bass – is first kissed with smoke and laid on a delicate bed of seasoned rice and textures of radish. But Chef Marco's cuisine is more than just classics done right. Take the Abalone Gim Pasta ($34): a whole fresh abalone is crowned atop cold angel hair pasta with seaweed and pickled shallots – a breath of sea almost, with a nice balance of salinity and sweetness.
While most look to soju as the choice of libation to pair, Anju has a different approach when it comes to booze. With hopes to introduce unique lesser-known Korean spirits – new to even some native Koreans – it has curated a fine list of spirits from Korean distilleries. The Chungmyungju ($88) stood out as our firm favourite. Served in most Michelin restaurants in Korea, it is a refined glutinous rice liquor that is well-bodied with a clean balance of acidity and natural sweetness – it pairs exceptionally well with the hearty mains.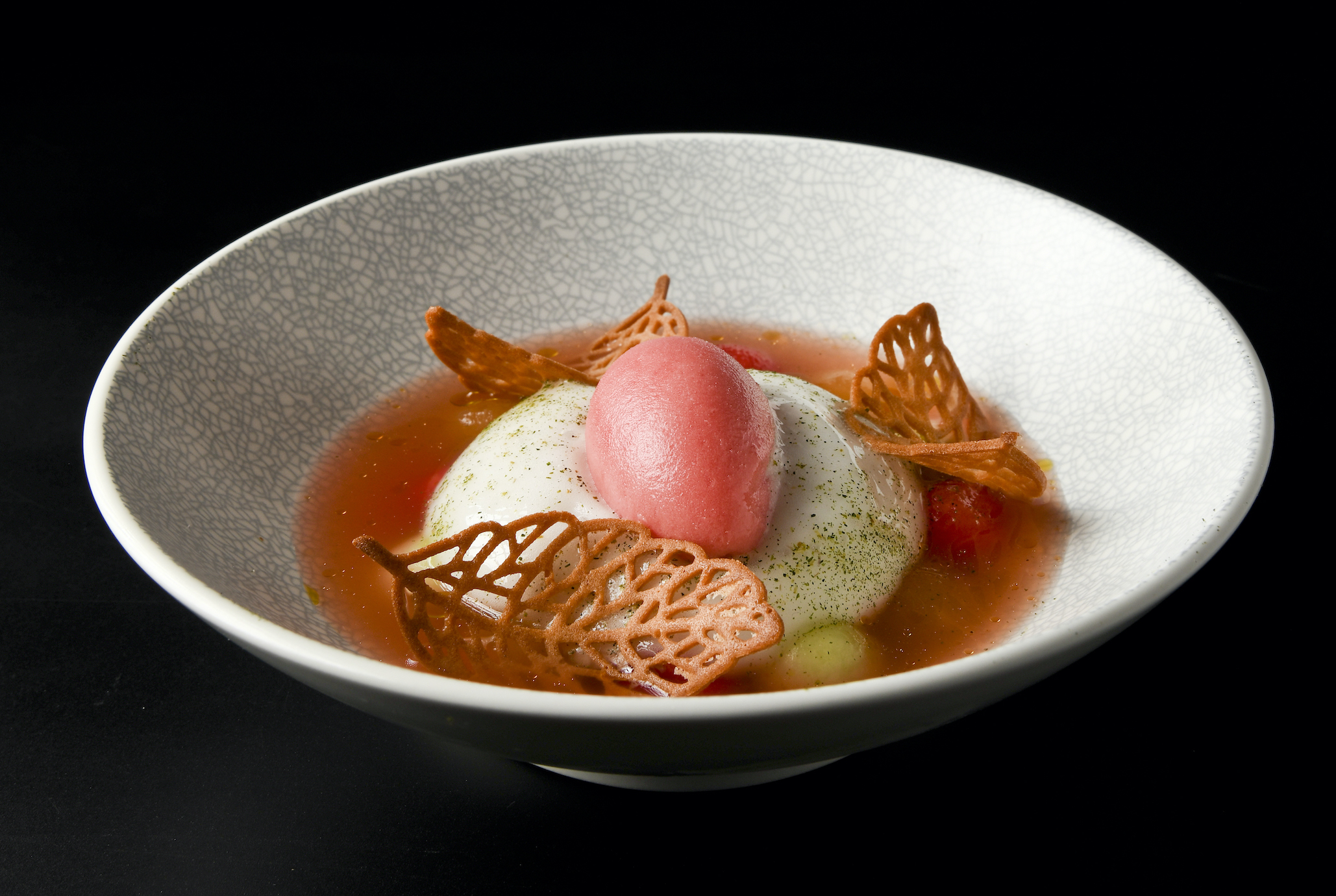 Save some space for dessert though as Chef Ting's creative flair and understated elegance reflect well on the desserts. The new – and soon-to-be fan favourite – Hwachae is summer in a bowl featuring watermelon sorbet, yuzu jelly, apple foam and drops of mint oil. There is also a delicate deconstructed black sesame bread ($16) that plays with hot and cold temperatures, that had us floored us with its layers of textures and sweet-savoury flavours.
A sanctuary for avid Korean food fans and a home-away-from-home for native Koreans, Anju represents modern Korean cuisine that is both innovative and comforting. With its clear concept, it strays far from the hackneyed pack in Tanjong Pagar and that is undoubtedly something worth shouting about.
Book here.
READ MORE:
Aussie-inspired brunch café Forty Hands will be closing down both Tiong Bahru and East Coast branches
Ken Japanese Restaurant in Novena has a new Hokkaido hairy crab bento lunch set
Hawker spotlight: Harry's Eurasian Pies