Taste test: best salted egg yolk fish skin in Singapore
Is Irvins worth the one-hour queue? Or are there better salted egg yolk fish skin snacks around? The Time Out Singapore team investigates with a blind taste test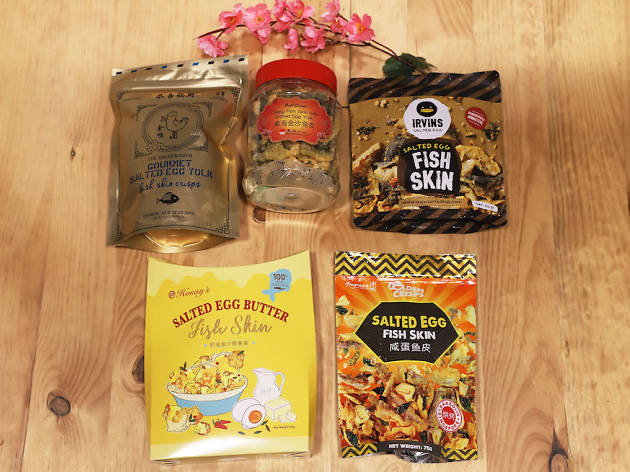 It's been a good five years since the salted egg yolk trend first took off in Singapore and it still shows no signs of slowing down – especially when it comes to salted egg yolk fish skin. We pit five big brands against each other by conducting a blind taste. Here's how they fared...
5
East Ocean Teochew Restuarant
Crispy Fish Skin with Salted Egg Yolk
Number of votes 1
Despite being named the best salted egg yolk fish skin in Singapore by The Straits Time, East Ocean's rendition failed to impress our blind tasters – a mix of everyday Singaporeans and expats. While the fish skin is thinly sliced and very crispy, it's also too greasy and does not come evenly seasoned with salted egg yolk so some bits are blander than others.
$19/200g. Available at #05-08/09 Ngee Ann City, 391 Orchard Rd, Orchard.
4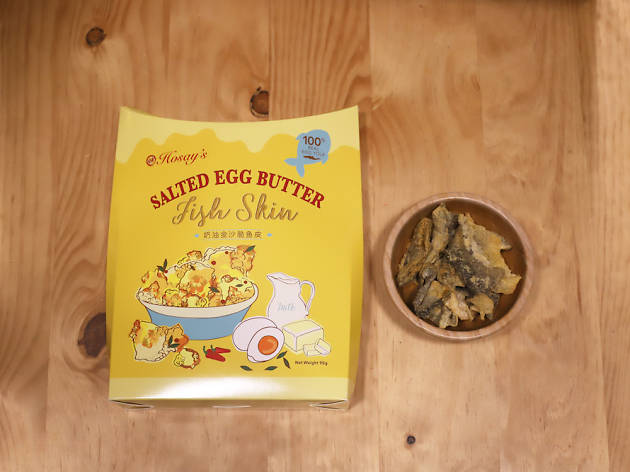 Hosay's Salted Egg Butter Fish Skin
Number of votes 3
Those looking for light, subtle flavours will enjoy these fish skins from Bee Cheng Hiang. It tastes more like fish crackers lightly dusted in salt and pepper – the salted egg yolk is barely perceptible but it's still pretty tasty.
$9.50/90g. Available at multiple locations including 189 New Bridge Rd, Chinatown.
3
Gourmet Salted Egg Yolk Fish Skin Crisps
Number of votes 3
On the other end of the spectrum, we have The Golden Duck's fish skin crisps, which are extremely bold in its flavour and not afraid to show it. These sweet and spicy chips are aggressive and in your face so you'll either love 'em or hate 'em. We're also not a fan of the texture that's more hard and crunchy than airy and crispy.
$7/125g. Available at order.tgdsingapore.com.
2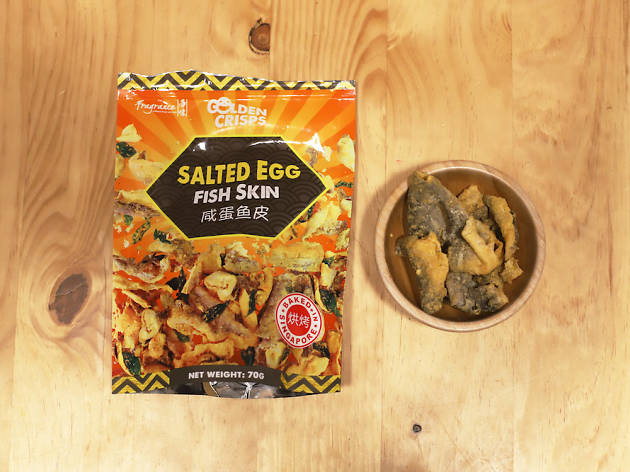 Golden Crisps Salted Egg Fish Skin
Number of votes 5
Since these fish skins are baked instead of fried, it's the least oily of the bunch. We like how each skin is evenly coated with seasoning, marrying sweet, salty, spicy and savoury in one bite. It's the most well-balanced of the lot and a good option for people who hate the taste of curry leaves.
$6.80/70g. Available at multiple locations including 205 and 207 New Bridge Rd, Chinatown.
1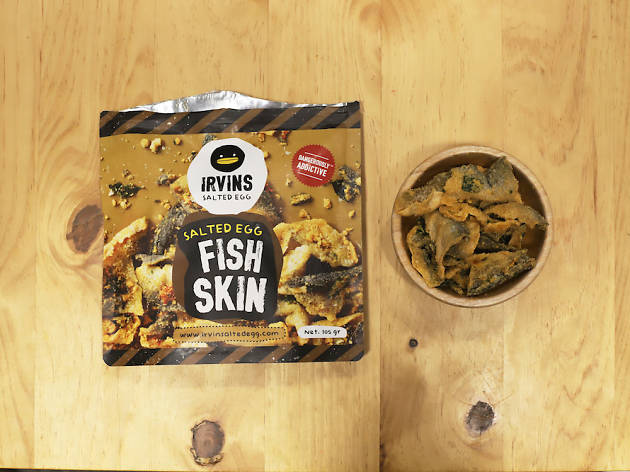 Salted Egg Fish Skin
Number of votes 8
Surprise, surprise. Irvins comes out on top thanks to how generous it is with the seasoning – each crisp comes coated in a thick layer of salted egg yolk and the packet is stuffed with as many curry leaves as there are fish skins. Some people found the crisps a little too soggy and clumpy because of it, but most of our blind tasters loved these fish skins.
$8/105g. Available at multiple locations including #B2-K25, VivoCity, 1 Harbourfront Walk, Harbourfront.
Show more
Find out what else is happening during Chinese New Year
Read on to find out the best Chinese New Year activities happening around town, which performances to catch and the top restaurants to book for your reunion dinner.