7 popular salted egg fish skin brands ranked from best to worst
It's been five years and the craze still hasn't stopped – and it shouldn't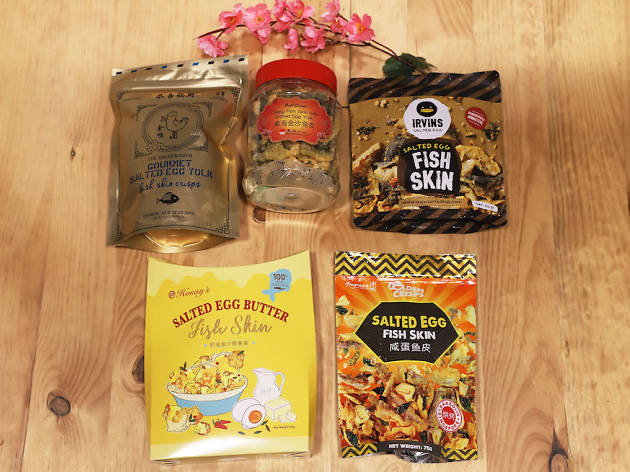 Typically, trends tend to die down after a while. However, in the case of the salted egg yolk – especially when combined with the crunchy crisp of fish skin – some things become too delicious to stop. Whether you like the treat for its mouth-watering flavors or for its addictive crunch, you'll be glad we made a list ranking the most popular brands of salted egg yolk fish skins in Singapore for you to try out. Crunch away – just don't forget to buy some mints too.
RECOMMENDED: Unique local snacks to try and old-school childhood snacks for nostalgia
1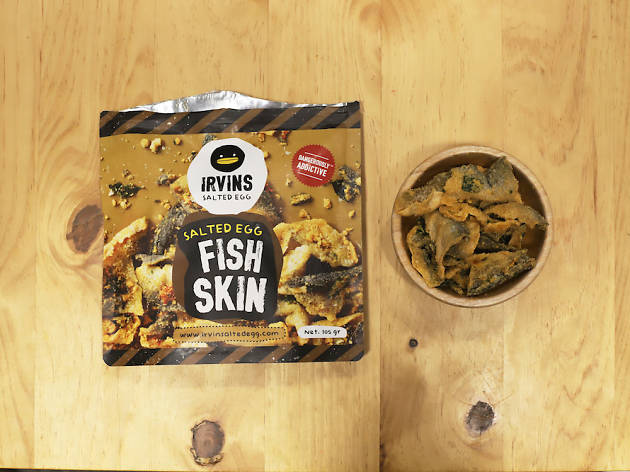 Salted Egg Fish Skin
Thanks to how generous it is with the seasoning – each crisp comes coated in a thick layer of delicious salted egg yolk, and is packed with as many curry leaves as there are fish skins for an even more delightful flavor.
$8/105g. Available at multiple locations including #B2-K25, VivoCity, 1 Harbourfront Walk, Harbourfront.
2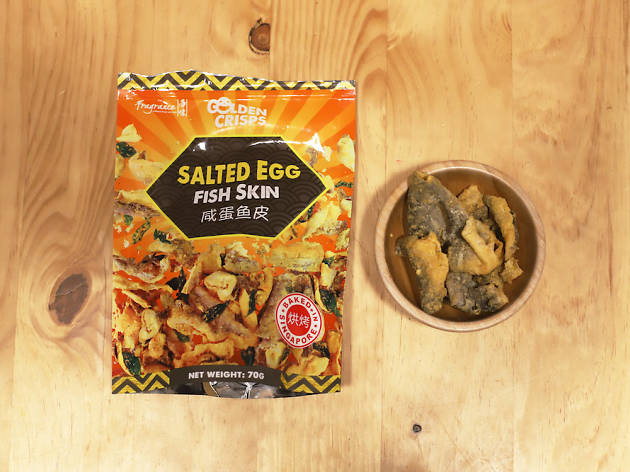 Golden Crisps Salted Egg Fish Skin
Since these fish skins are baked instead of fried, it's the less oily alternative if you are more health-conscious about your snacks. The skin is evenly coated with seasoning, marrying sweet, salty, spicy and savoury in one bite - resulting in a balanced of flavor. Definitely a recommendation for those who are not fans of the curry leaf taste.
$6.80/70g. Available at multiple locations including 205 and 207 New Bridge Rd, Chinatown.
3
Gourmet Salted Egg Fish Skin Crunchy Crisps
Extremely bold in its flavour and not afraid to show it. These sweet and spicy chips are aggressive and in your face, so you'll either completely love it or hate it. However, its texture packs more than just a crunch - it's slightly more hard and dense than than airy and crispy.
$7/125g. Available online at www.thegoldenduck.sg and at all 8 of TGD's retail outlets.
4
Salted Egg Fish Skin
Light, crispy and not covered in oil. Each crisp is evenly coated in salted egg yolk – with finely chopped spices that easily infuse into the mix – for a nice balanced flavour. Though the essence of the curry leaves are quite apparent and the salted egg yolk is clearly the star of the snack, the crisp altogether taste rather one dimensional - lacking any spiciness or complexity. Definitely worth for its price.
$6/130g. Available at your nearest 7-11.
5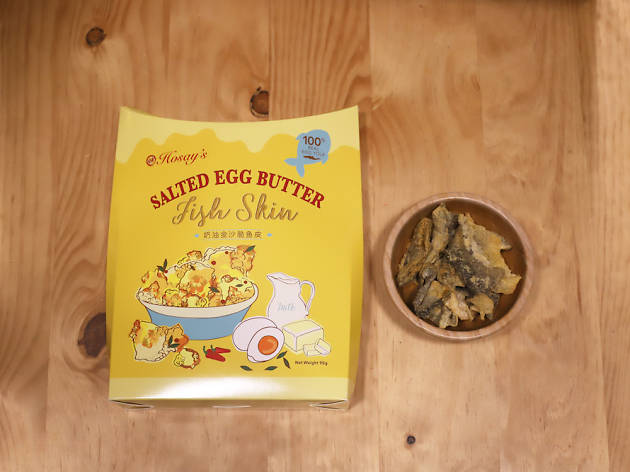 Hosay's Salted Egg Butter Fish Skin
Those looking for light, subtle flavours will enjoy these fish skins from Bee Cheng Hiang. It tastes more like fish crackers lightly dusted in salt and pepper – the salted egg yolk is barely perceptible but it's still pretty tasty.
$9.50/90g. Available at multiple locations including 189 New Bridge Rd, Chinatown.
6
East Ocean Teochew Restuarant
Crispy Fish Skin with Salted Egg Yolk
The fish skin is thinly sliced and very crispy, however feels like it's drenched in oil. Though the salted egg yolk flavour is well balanced, the coating is quite uneven - leaving some crisps blander than others.
$19/200g. Available at #05-08/09 Ngee Ann City, 391 Orchard Rd, Orchard.
7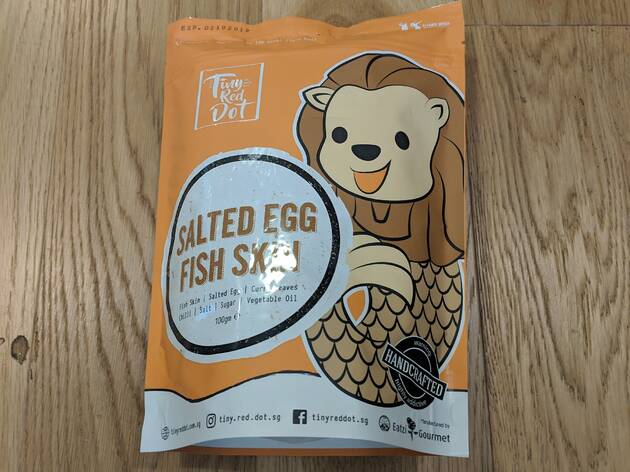 Salted Egg Fish Skin
Its crispy, light and un-oily texture is not enough to save this brand from being ranked the bottom of our list. It could easily pass off as a delicious savory snack, but unfortunately lacks in the salted egg yolk department. Each crisp is unevenly coated, resulting in those with less to be overpowered by the fish skin taste (and salt), while those with more to be abit too sweet.
Though this one disappoints, the brand itself is completely capable of making other local snacks. We high encourage you try the Laksa counterpart of the snack.
$7/100g. Available only at its website, all orders must be made three days in advance.
More Chinese New Year snacks to indulge