Heads up! We're working hard to be accurate – but these are unusual times, so please always check before heading out.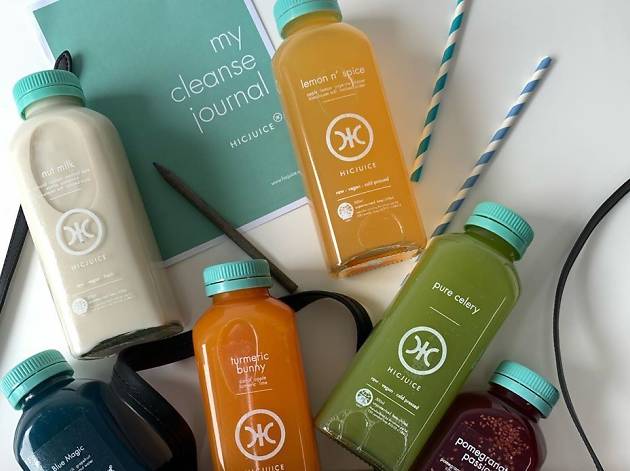 The best juice bars in Singapore
Cold pressed, smoothie-d or shaken – visit the city's best spots to get your fancy juice fix
While we could pop some pills for our daily dose of Vitamin A through to Zinc, we'd much rather sip on freshly squeezed juice. These juice bars in Singapore offer individual bottles for when you're craving something sugary after a carb-heavy lunch or juice cleanses if you want to go on a full-on detox. Even if you're not on a mega healthy diet or a vegan phase, there's something life-affirming about sucking down a cold cup of nature's sweet nectar, especially to cool off from Singapore's scorching heat.
RECOMMENDED: The best vegetarian and vegan restaurants in Singapore and the best vegetarian local food in Singapore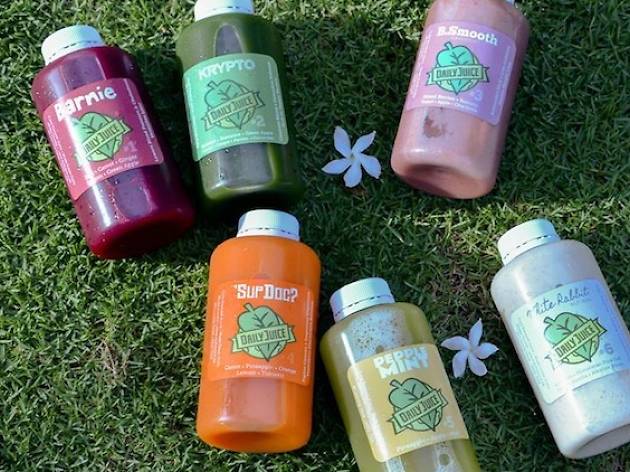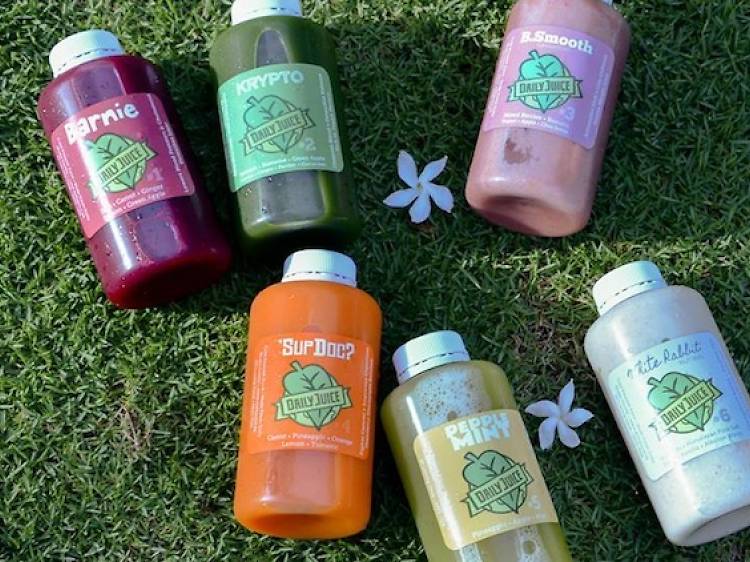 🥤Price per bottle: from $4
🥤Price per one-day cleanse: from $65 for eight bottles
🥤Price per three-day cleanse: from $195 for 24 bottles
Daily Juice makes it convenient for busy individuals to slurp up their greens. Ingredients are slow-pressed and concoctions come well-balanced with a mix of fruits and vegetables to create unique blends. Juices are available à la carte at its Serangoon Gardens outlet, and range from the simple Apple Pie ($4) with apple and cinnamon, to the hearty Berrychio ($12) blended with strawberry, coconut, psyllium husk, apple, and alkaline water. It also has different juice cleanse programmes for various needs: a one-day starter cleanse ($65) for beginners, all the way to an intense five-day Reboot plan at $450 with bottles filled with higher veg content. Peckish at night? Head to the 24/7 vending machine located outside Anytime Fitness at Serangoon Gardens to grab a convenient bottle.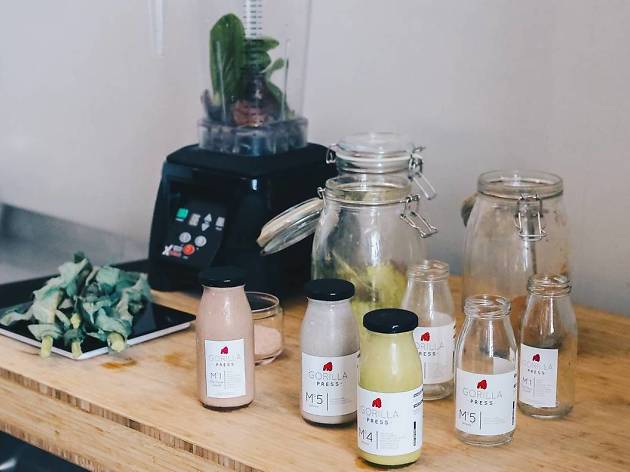 Photograph: Gorilla Press/ Instagram
🥤Price per bottle: from $8
🥤Price per one-day cleanse: from $95 for seven bottles
🥤Price per three-day cleanse: from $280 for 21 bottles
Pack in all the goodness from superfoods with Gorilla Press. Green juices ($10) comes loaded with kale, cucumber, lemon, ginger, and seasonal greens while other tasty creations include nashi pear, lemon, and cayenne pepper ($8); or the watermelon with pink grapefruit, turmeric, and fresh mint ($8). For something more filling, load up on Raw Activated Nut Mylk ($8) flavoured with matcha or avocado, or have a smoothie instead ($8). A sampler of eight different bottles is available for $70, while omakase-style juice programmes begin at $95 for one day to $370 for four days. Grab yours from Redmart.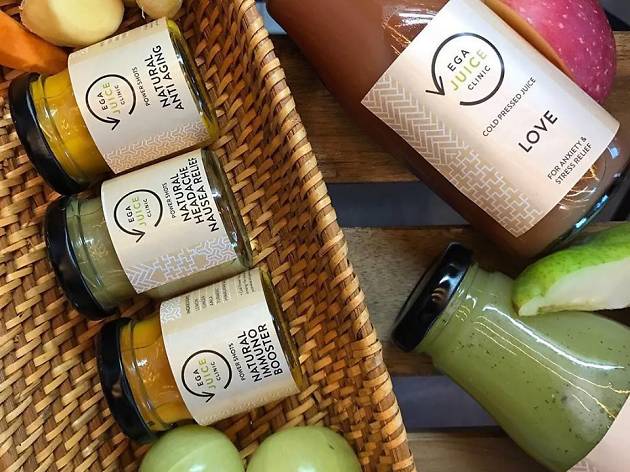 🥤Price per bottle: from $8.50
🥤Price per one-day cleanse: from $100 for six bottles
EGA Juice Clinic believes strongly in the power of ayurveda and how the power of food can recreate balance and strengthen the body and soul. Unlike other juice bars, there's a reason why this joint is called a clinic – in each outlet (there are three in Singapore), there's a ayurvedic practitioner that's available for consultation during the store's opening hours. You can also check out its range of cold-pressed juices ($8.50) that are said to help with energy, immunity, anxiety and stress as well as its range of super shots and caffeine drinks.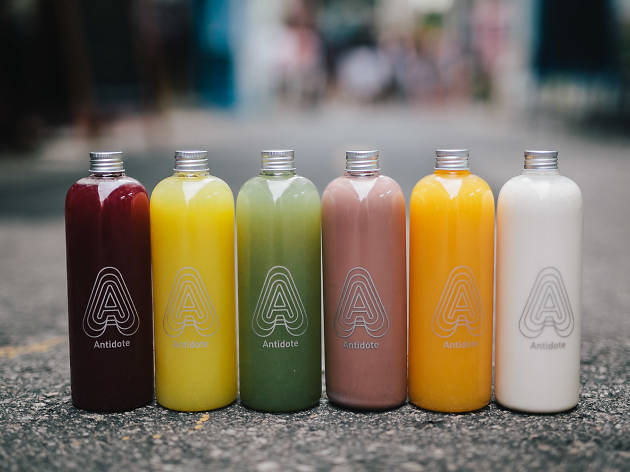 🥤Price per bottle: from $18
🥤Price per one-day cleanse: from $99 for six bottles
🥤Price per three-day cleanse: from $289 for 18 bottles
Founded by health and fitness enthusiasts Myron Pang and Venessa Toh, Antidote has different juice packs available to help you achieve various goals. The energy booster cleanse pack (from $99) has six juices to help you detox. Other packs include a skinny cleanse (from $99) to boost metabolism or a vitality juice cleanse (from $99) for a deep overhaul of your body.
Available online at www.antidote.sg.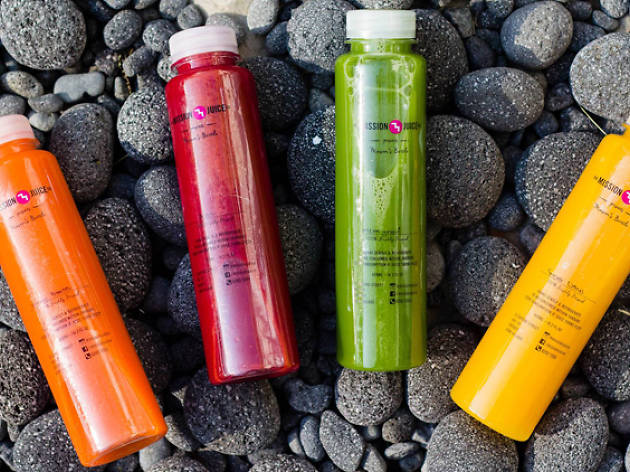 🥤Price per four bottles: from $25
Conveniently located near Tanjong Pagar MRT at Icon Village, Mission Juice serves the CBD crowd with healthy treats like fresh juices, nut milk and frozen yogurt. Each bottle of juice is cold-pressed to ensure that the fruits do not oxidise and lose their nutrients during the juicing process. A set of four bottles start from $25 but opt for the Fabulous Four set ($32) to get a breakfast juice that comes with a shot of protein powder, a green juice, a chia seed drink and cinnamon nut milk.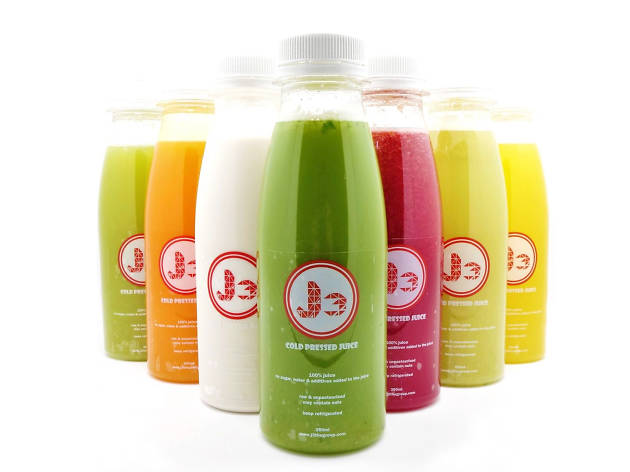 🥤Price per one-day cleanse: from $79.90 for eight bottles
🥤Price per three-day cleanse: from $199.90 for 24 bottles
With over 14 different blends available, you'll never get tired of the juices from J3. Instead of picking and sticking with a few ingredients per bottle, one juice can contain a variety of flavours from berries, apples, carrots and more. A one-day juice cleanse is priced at $79.90 for six bottles of 250ml juices and includes two nut milks.
Available online at www.j3juice.sg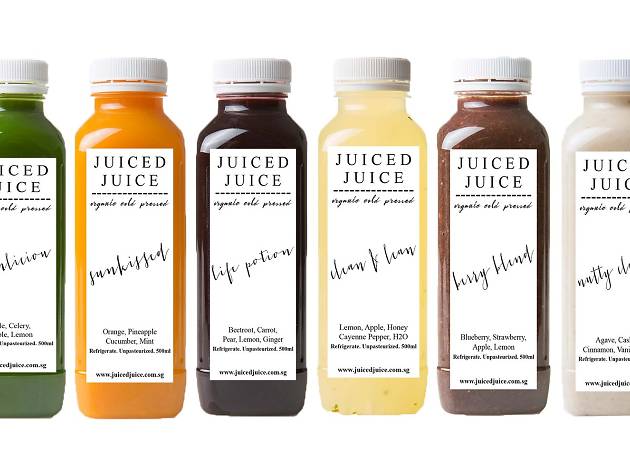 🥤Price per one-day cleanse: from $90 for six bottles
🥤Price per three-day cleanse: from $260 for 18 bottles
If it's just green juices you're looking for then try Juiced Juice's Power of Green Cleanse ($260). You'll get two bottles of Greenlicious (kale, celery, apple, lemon), Green Wonder (celery, cucumber, chye sim and lemon) and Oh My Greens (carrot, kalian, apple, cucumber and lemon) to flood your system with multivitamins.
Available online at www.juicedjuice.com.sg.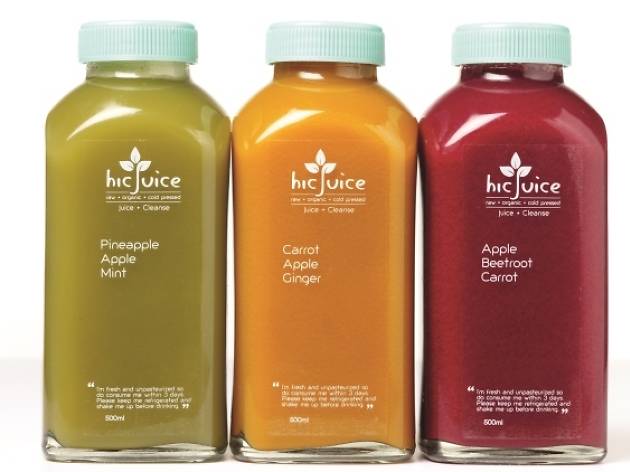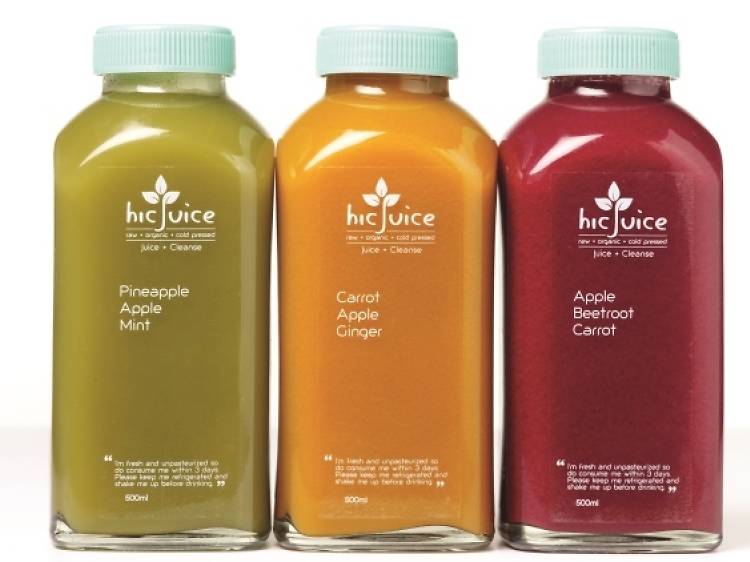 🥤Price per bottle: from $15.50
Get your hands on more than 24 blends of cold-pressed juices. It also has three different nut milks to fill you up so you don't have to subject yourself to forced starvation. Not completely, anyway. Sample eight of its bestsellers for $68, or choose from the Revitalise ($46), Restore ($51), or Reset ($72) programmes depending on your needs. Chalk up points with every order, which can, in turn, be used to redeem rebates on future purchases.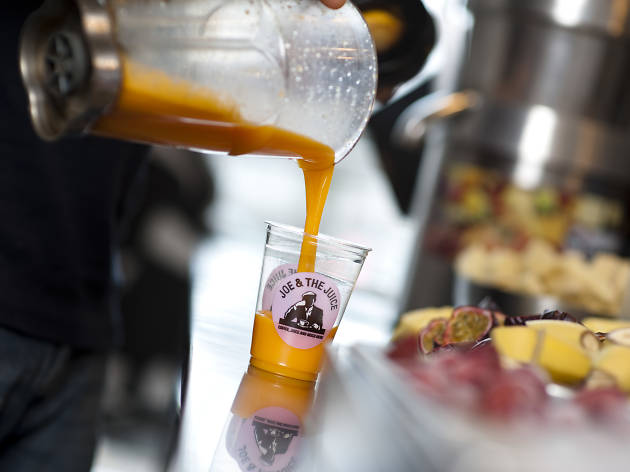 🥤Price per cup: from $6.90
Copenhagen's Joe and The Juice outpost in the thick of the Raffles Place hubbub is the chain's first global export. Its distinct, yet rather familiar, brand of good-looking guys, tattoos, caffeine and juice means you'll definitely remember your first visit.

While you await your order, the 'stars' – known otherwise as baristas – mix up your order in a spectacle that they consider to be a performance. Juices go for $6.90 to $9.90, tailored to ease your hangover or to help with that detox diet. Coffees ($3.50-$7), bites ($10.50-$11.50) and green signature juices ($10.90) are also available.
More plant-powered goodness