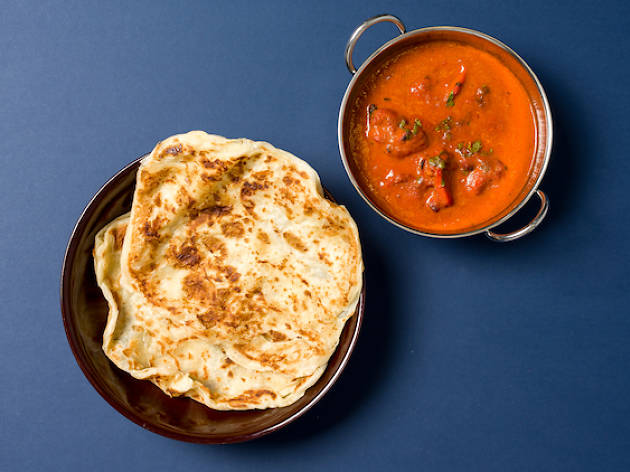 Makan Spotlight: Roti Prata
Sweet or savoury, this Indian-influenced flatbread can be enjoyed at any time and any place in Singapore
Whether it's breakfast or supper, nothing hits the spot quite like roti prata. This local comfort food can be described as the savoury lovechild of the fluffy American pancake and the flaky French croissant. The grill-cooked flatbread is a simple dough mix of flour, water, sugar and salt, and if your chef's particularly skillful, lots of pizza-like tossing and twirling theatrics.
Despite being considered a Singapore dish, the roti prata is actually introduced by Indian immigrants. Roti prata – or roti paratha – translates to flatbread in Hindi. But its actual origin story remains a mystery. Some believe that it originated as a type of pancake from Punjab before evolving into what it is today. Others have said that it was brought over by the Muslim conquerors who also specialised in making various types of bread. And across the causeway, Malaysians call it roti canai, which some claim is a nod to its origin from Chennai.
Whatever the backstory is, the Indian-influenced prata is one of the most versatile dishes in Singapore, if not the world. Plain versions are good conduits for sugar or the usual curries that accompany a plate, but recent years have seen even more unique toppings like cheese, chicken floss, chocolate syrup and Milo powder sprinkled between the pastry folds. But if you prefer sticking to the safe side, you can't go wrong with the classic prata kosong (which can cost as low as $1) and teh tarik combo.
RECOMMENDED: Makan Spotlight: Chicken Rice and Makan Spotlight: Nasi Lemak