The best local breakfasts in Singapore
Here are eight ways to start your day on the right note: by eating a breakfast for champions
With food as rich as ours, it's hard not to breakfast like a champion each day. There's no reason not to with our array of local breakfast the can satisfy any fussy palate. Plus, how you breakfast sets the tone of the day – so one should always breakfast right. Kaya toast, prata, good coffee, nasi lemak and more, here are some local breakfasts we wouldn't want to to swap for any fancy Eggs Benedict, muesli or granola.
RECOMMENDED: The best prata shops in Singapore and the best hawker centres in Singapore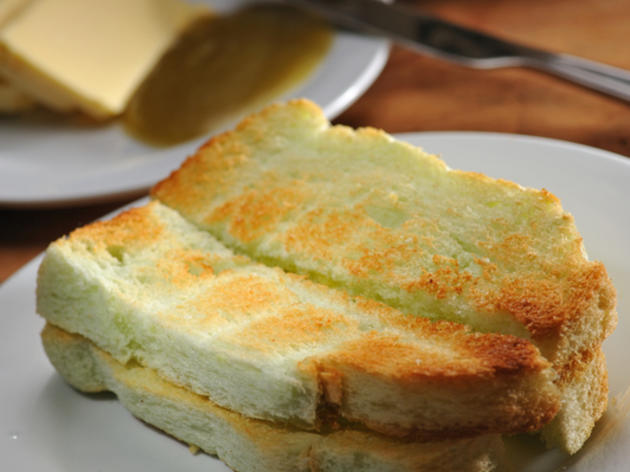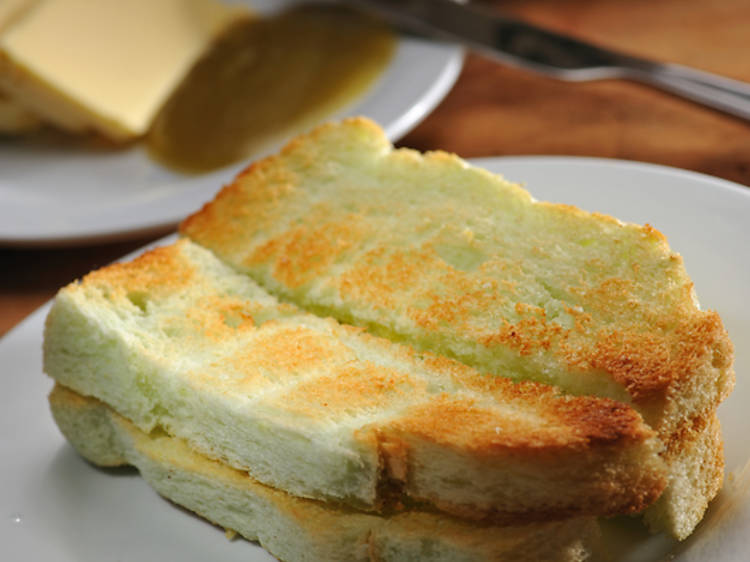 Two compressed slices of white bread with a spread of jam and butter slathered between doesn't exactly sound like a meal of champions, but in Singapore, it's breakfast. The quintessential start to the city's day features a knife's swipe of kaya – eggs, coconut milk and sugar perfumed and coloured by pandan leaves –between charcoal- or heater-browned slices of thin bread.
Chain cafés like Ya Kun Kaya Toast and Toast Box do a decent job of promoting Singapore's breakfast culture here and around the region, but for the full nostalgic experience, seek out venerable institutions like Heap Seng Leong and Tong Ah Eating House.
To wash the toast down, get a cup of potent sock-filter Robusta coffee, or kopi gu yew: black coffee that includes a dollop of butter for mouthfeel and, back in times of austerity, as a sign of wealth. And you thought bulletproofing your coffee was groundbreaking.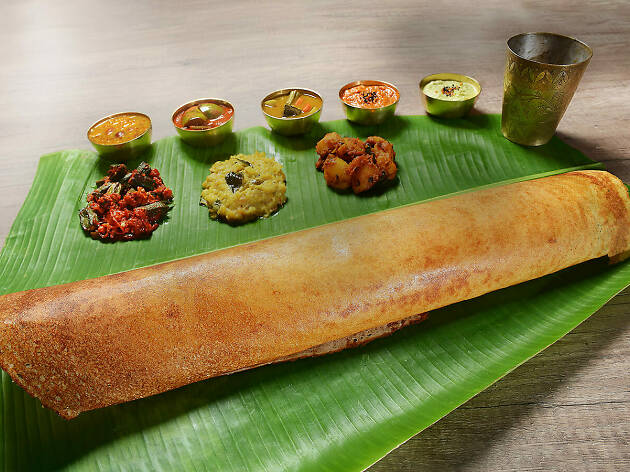 Photograph: Komala Vilas
Made from rice, lentils, potato, methi, and curry leaves, and served with chutneys and sambar, masala dosa makes for a hearty – and healthy! – breakfast. Crispy and thin on the outside, but stuffed with potatoes, the dish has been a local breakfast favourite for many. The dish usually comes out in a set so you can value for money with the masala dosa.
As it is a vegetarian dish, hit up joints like the popular Komala Vilas and the Prime Minister-endorsed Madras New Woodlands Restaurant in Little India for an authentic take.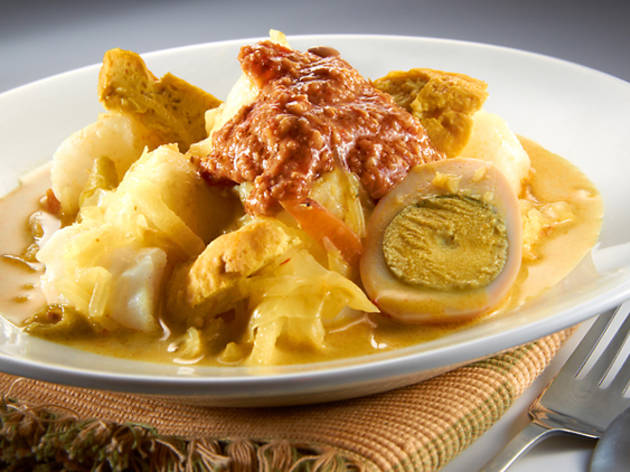 Lontong is essentially a log-shaped rice cake steamed in banana leaves, sliced into pucks and then dunked into a spicy broth of coconut milk and veggies called sayur lodeh. Malay and Peranakan stalls load their bowls with a generous mess of chilli, carrots, cabbage, tofu, fried shredded coconut and a dollop of sambal to fill you well into tea time.
Wake up early to queue for a plate of lontong at the Inspirasi stall in Bedok Interchange Hawker Centre. If you're super hungry (or with family), try its mee rebus and mee soto as well.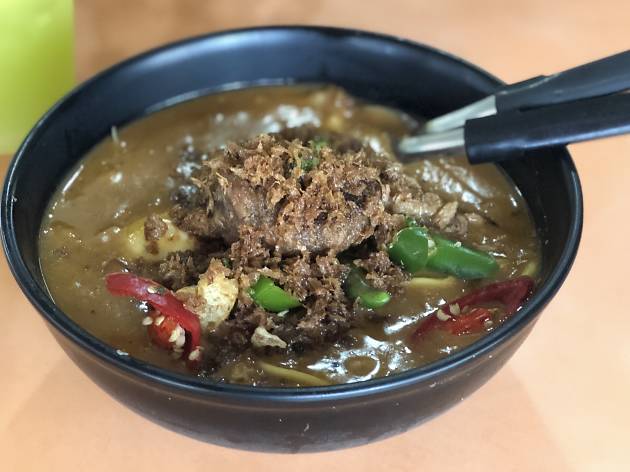 Photograph: Time Out Singapore
If anything, we sure love piling on the carbs for breakfast. Good for any time of the day, mee rebus is a bowl of yellow in a thick gravy usually made from sweet potatoes. Served with a hard-boiled egg, fresh green chilli, a potato patty and of course a dollop of sambal, mee rebus is quite a heavy meal.
Our favourite bowl of mee rebus comes from Yunos & Family at Ang Mo Kio. For variety, you can have mee rebus with ribs or even satay to enhance the experience.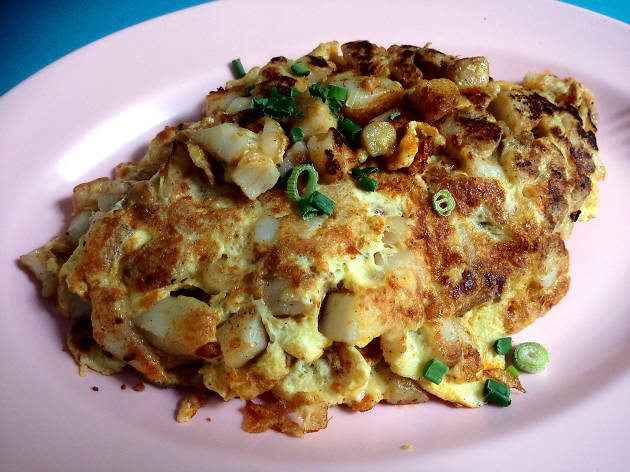 Photo: Jimmy Tan/Flickr
Another dish good for any time of the day, carrot cake (both black and white versions) are a breakfast favourite in Singapore. Carrot cake is cut into thick cubes and then fried with egg, preserved vegetables and the optional dark soy sauce. Sounds a little bit too indulgent? That's how we do things here.
For a perfect plate, try Ah Heng Carrot Cake. It makes a morish, smokey and also cheap plate.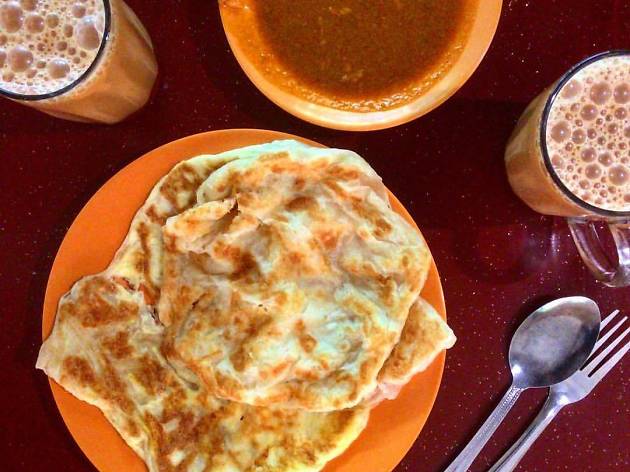 Photo: Richard Lee/Flickr
The Americans have their pancakes and Singaporeans have roti prata. This grill-cooked flatbread is a simple dough mix of flour, water, sugar and salt, and if your chef's particularly skilful, lots of pizza-like tossing and twirling theatrics. A good place for the classic crispy prata is Mr and Mrs Mohgan's Crispy Prata in Joo Chiat.
Plain versions are good conduits for sugar or the usual watery dhaal curries that accompany a plate, but recent years has seen even more unique toppings like cheese, chicken floss, chocolate syrup and Milo powder sprinkled between the pastry folds.
Stalls like Thasevi Food Famous Jalan Kayu Prata and Springleaf Prata Place have also perfected the art of making the paper prata – a translucent, thin cone of crispy dough with a dusting of butter and sugar that breaks away at the lightest touch.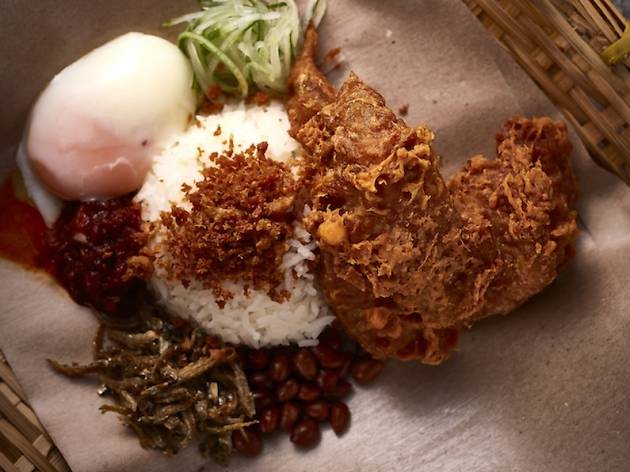 Lemak literally means 'rich' in Malay – and it's no wonder. The calorific start to the day includes a plate of coconut- and pandan-infused rice topped with fried anchovies, cucumbers, a fried egg and a healthy dose of sambal chilli.
Malay-Muslim stalls like Boon Lay Power Nasi Lemak add protein to the plate with turmeric-coated fried chicken, fish paste otah or a tiny piece of deep fried fish – usually ikan selar – with edible pin bones. At The Coconut Club, the nasi lemak experience is elevated (it's $12 a bowl!) with fresh ingredients sourced daily.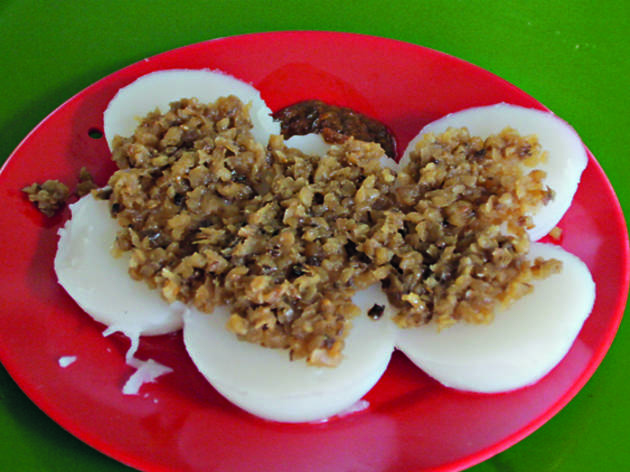 The Teochew contribution to the Singaporean breakfast is chwee kueh: small wedges of rice flour cakes topped with a salty top of brown preserved radish (chai poh) and chilli on the side.
Simply made, each good bite features the melting texture of the mild cake, contrasted with the crunch and brine of the chai poh. Get in line at Jian Bo Shui Kueh and Ghim Moh Chwee Kueh for the taste of the city's best versions.
Best selling Time Out Offers