The best rock climbing gyms in Singapore
Hang by your fingertips at these rock and bouldering gyms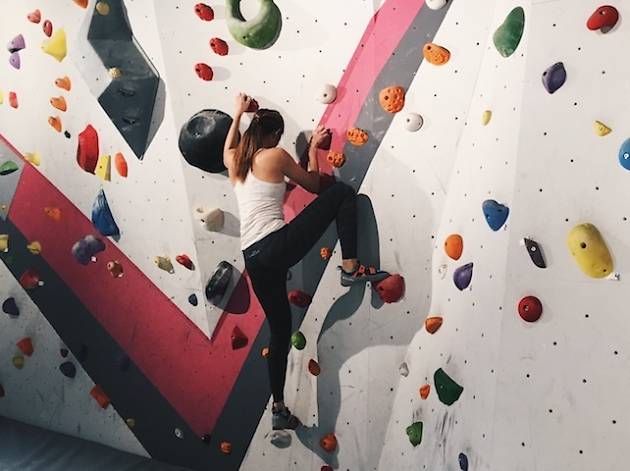 Boulder Movement
My arms are sore and my thighs are quivering. Yet I can't let go. Not unless I want to free fall three metres or so on to the, admittedly, cushy crash pad below – but I'm too chicken to do that.
I'm two-thirds through a bouldering problem in Boulder Movement ($30/single entry, $148/month) and, despite the aches, I can already see the appeal of this sport. Bouldering is very much like indoor rock climbing, except the former is stripped down to its raw essentials – there are no ropes and harnesses involved. All you need is a good pair of climbing shoes, a bag of chalk, some fundamental techniques and a whole lot of guts to take on a bouldering problem (the path a climber has to take in order to complete the climb).
Conveniently located in the CBD, Boulder Movement is the newest entry into the burgeoning climbing gym scene in Singapore. Founded by climbing enthusiasts Jansen Ko, Lwee Jia Wei and Joe Fu, the gym positions itself as a beginner-friendly bouldering-only facility with over 30 metres of wall, lengthwise. The walls are no higher than four metres –which sounds short, but trust me, it's certainly high enough to experience the thrill of climbing without any safety gears.
Bouldering problems are categorised by different climbing abilities: white tags BM1-6 are for beginners, blue tags BM6-16 for intermediates and red tags BM17-25 are for the advanced – a section of the wall is refreshed every two weeks so you'll never get bored. First-timers can join a Basics of Bouldering class to get acquainted with the sport. There are also foundational classes for those with prior climbing experience looking to refine their upper and lower body techniques before moving on to the intermediate classes – which include those that improve pull strength and burst activation. General fitness classes run the gamut from flexibility and mobility to strength enhancement and rehabilitation.
Make like Spider-man and check out Boulder Movement at OUE Downtown Gallery.
Three more to try
More than 2,000 square feet of bouldering surface and climbing walls dominate this massive facility dedicated to the rope and carabiner. There are 43 lanes, with more than 100 possible routes, and a 15-metre speed climbing wall to flex your Spidey senses. Even if you haven't scaled walls before, Onsight offers sport climbing courses and provides all the necessary equipment.
This extra-colourful climbing theme park (from $18) has 19 walls – and there's no need to wait around, thanks to Clip 'n Climb's auto-belaying system that makes sure you're always safe.
Prepare to sweat buckets at Camelot (from $9 per single entry) – an outdoor adventure centre. The Adventure Tower houses a 25m outdoor rock wall and other challenges.