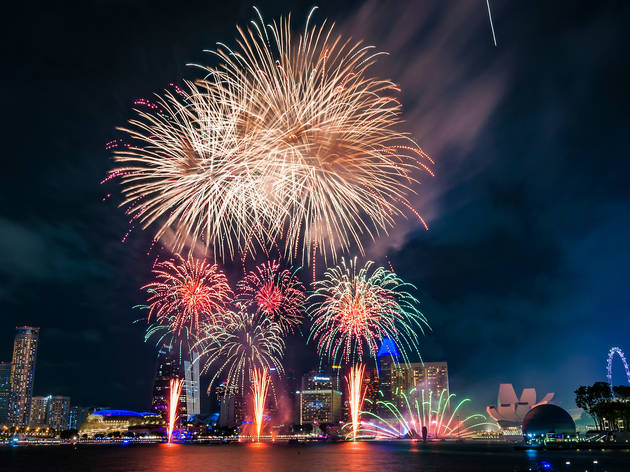 The best places to catch New Year's Eve fireworks in Singapore for free
This year's NYE fireworks will set off in the heartlands. Watch the sky light up from these vantage points on December 31
End your year with a bang – literally. Whatever the occasion – whether it's New Year's Eve or the National Day Parade (NDP) – Singapore knows how to light the sky up with a dazzling display of fireworks.
This year, the Marina Bay Countdown takes on a different format. Urban Redevelopment Authority (URA) has confirmed that it will not feature its annual prodigious pyrotechnics to minimise crowds from gathering in the precinct. Instead, the fireworks will set off at 11 locations in the heartland, similar to this year's NDP showcase, so that everyone can enjoy them in the comfort of their homes.
Look out for the dazzling display at Bedok, Tampines, Bishan, Yew Tee, Boon Lay, Geylang, Hougang, Jurong, Nanyang ward in West Coast GRC, Tiong Bahru, and Woodlands. Take note of these vantage points for a front-row fireworks viewing experience.
RECOMMENDED: 101 best things to do in Singapore and the best rooftop bars in Singapore
At the heartlands
The fireworks set off in the north are within view of residents in the north and northeast districts, as well as Pulau Ubin. The best place to catch the dazzling display in the north lies between Sembawang and Yishun, and we reckon Sembawang Park's your best bet as it's by the waterside. Fireworks are often set off over water to avoid the risk of fire on land. The park is also a popular spot for stargazing, as well as rolling out the mat for a picnic or a barbecue, which makes for a great outdoor NYE celebration – just be sure to practise social distancing and avoid crowds.
Westies can secure a spot at Jurong Lake Gardens for the ultimate fireworks viewing experience as they're likely to set off on the west side of Jurong Lake, near Boon Lay. Filled with flora and fauna, the largest nature wonderland in the heartlands also makes a relaxing spot to catch the brilliant spectacle against the night sky. Whether in a hammock or on the steps by the waters, Jurong Lake Gardens is the place to be in Jurong West.
Photograph: Bob T
Jurong East-siders can look forward to the display shared by Bukit Panjang and Bukit Batok residents. Since Bukit Timah Nature Reserve – which is home to the highest hill in Singapore – is off-limits after 7pm, the next best high-rise spot is 101 Jurong East Street 13. Located by the MRT tracks, this high-rise building not only gives you an ace vantage point to catch the fireworks but also makes for a stunning composition at night. Think fireworks, MRT, and HBD buildings in your shot which has National Day written all over it.
The NDP2020 fireworks went off at the grass field next to Junction 8, and we reckon it is likely to take set off at the same place this NYE. Located in Bishan Town Centre, between Bishan MRT station and Bishan Bus Interchange, Junction 8 is an easily accessible mall catering to a wide selection of shopping, dining and entertainment needs. You might want to even give yourself a pre-NYE treat for getting through 2020 – you deserve it.
Due to the space on this side of town, we're guessing that the fireworks display at Bishan and Ang Mo Kio is smaller in scale as compared to those in other parts of Singapore. But one thing we know for sure: it's still going to be as bright. Bishan-Ang Mo Kio Park is one of the largest parks in the heartlands, allowing you to navigate around until you find the perfect point. Unlike the corridors of tall HDB flats, the park has plenty of space for you to spread around, kick back and enjoy the stunning views. It's also a top spot for stargazing sessions.
Northeast-siders can soak up the vibrant atmosphere from Punggol Point Jetty. It has a clear view of the waters, which the fireworks are likely to set above. Once a quiet and small jetty, Punggol Point Jetty has been transformed into a site popular to many fishermen – mainly due to the amenities nearby which includes a lookout deck, another great spot to catch the spectacle.
Despite the lack of high-rise buildings in the east – due to the airport being located there – there are still plenty of nature spots for Bedok and Tampines residents to catch the fireworks. The fireworks are likely to be set off close to the Paya Lebar Air Base, so the picturesque Bedok Reservoir would be an ace place to soak up the views. Head to the floating boardwalks or the waterside platforms for gorgeous shots of the dazzling display and its reflection on the reservoir.
Those in the East can also retreat to this hidden gem along Tampines Avenue 10. A stone's throw away from Bedok Reservoir, the lack of buildings, equally calm waters and untouched land of Tampines Quarry has become a popular spot for anglers, bikers, drone enthusiasts, and now, fireworks admirers. But be sure to be careful – as it's left to nature's own devices, and the quarry is surrounded by the thick foliage of vegetation. If you're planning a trip down here, be sure to carry some mosquito repellant too.
Choa Chu Kang residents can also enjoy the visual feast as the fireworks set off above Peng Siang River. If you're doing some National Day shopping, head up to the roof garden of Lot One Shoppers' Mall. The mall usually closes at 11pm, but it's best to check its closing hours on NYE to avoid any disappointment.
While there's a fee to get to the island ($4 per person for each way, and $2 extra if you are bringing your bicycle), the rustic vibe of Pulau Ubin provides a more laid-back experience than catching the fireworks display at Marina Bay. After all, it's one of Singapore's last surviving kampongs. Residents can also enjoy the colourful showcase without having to leave home. If you're planning to catch it in Pulau Ubin, do make prior arrangements with boat operators for returns to the mainland after 6pm.