The best places to catch fireworks for free on National Day in Singapore
Celebrate Singapore's independence with amazing firework displays at these vantage points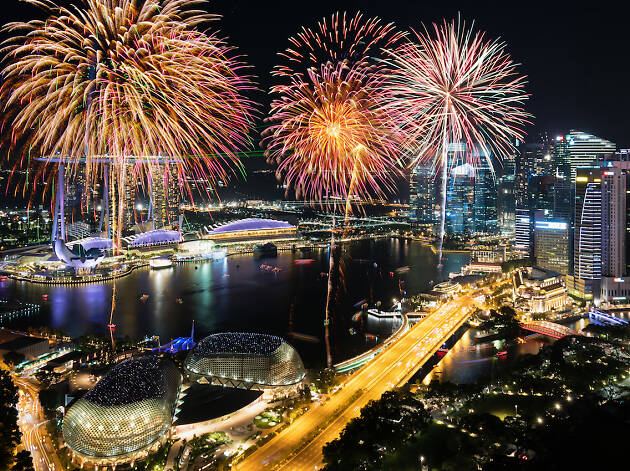 Don your best red and white ensemble and celebrate Singapore's 54th year of independence with a bang – literally. Whether it's the National Day Parade or New Year's Eve, Singapore knows how to light the sky up with a dazzling display of fireworks. If you want to avoid the crowds at The Fullerton and CBD, here are the not-so-secret spots to catch the visual spectacle instead.
RECOMMENDED: Best things to do in Singapore and best rooftop bars in Singapore
Watch the fireworks for free
Soak in the picturesque views of the fireworks by the riverside. What better way to enjoy the visual extravaganza than with a breath of fresh air?
Photo: Jui-Chi Chan
Bay East Garden @ Gardens by the Bay
For panaromic views of the fireworks, flanked by Marina Bay Sands and the Singapore Flyer, head to Bay East Garden. It's accessible by car via Tanjong Rhu Road or across the bridge from Marina Barrage.
Photo: Orpheus
Helix Bridge and Benjamin Sheares Bridge
Two of the most popular places to view the fireworks are the Helix Bridge and the Benjamin Sheares Bridge. Both are conveniently positioned close to where the celebrations are held, giving a good view of the bay area. Be sure to arrive early to save yourself a good spot.
Photo: Tamas Nemeth
Between The Sail and Marina Bay Financial Centre is a grass lawn where you can gather a comfortable distance away from the crowds. If all else fails, you can always snatch reflections of the fireworks from the buildings of MBFC.
Photo: superjoseph
Esplanade Bridge and Jubilee Bridge
Merlion Park, which gives you a worm's-eye view of the pyrotechnics display, will be rammed, so spread out along these two bridges instead.
Photo: kkkpai
Although it may be a distance away from the immediate action, the expansive lawn of Marina Barrage overlooks the city from across the Marina Channel. The views are slightly obstructed from its green roof, but you'll get to see the lights against the Singapore Flyer and Marina Bay Sands with the business district in the background.
Your National Day sorted