The guide to Kranji Marshes in Singapore
We strap on our hiking boots to explore the Kranji Marshes in Singapore's wild countryside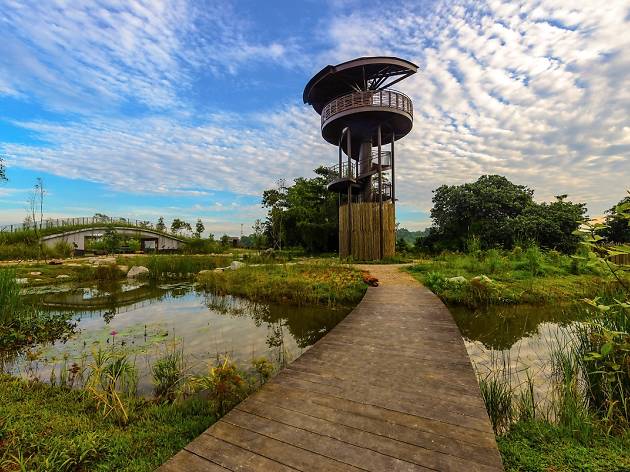 Metal cranes are a dime a dozen in Singapore, but it's always good to seek out some of their feathery counterparts out in the wild – and get a few deep breaths of fresh air while you're at it. MacRitchie Reservoir and Sungei Buloh Wetland Reserve are (literally) evergreen favourites, and we can add one more to the green club – Kranji Marshes, which, at a sprawling 57 hectares, is our island's largest freshwater farmland. It was cultivated since the '70s when the Kranji reservoir was dammed, forming a wild diversity of terrains such as marshland, grassland and secondary forests. We wade through the green and suss out five unique things you can do in this slice of paradise away from the city.
RECOMMENDED: 7 cross-country treks in Singapore to do and hidden trails in Singapore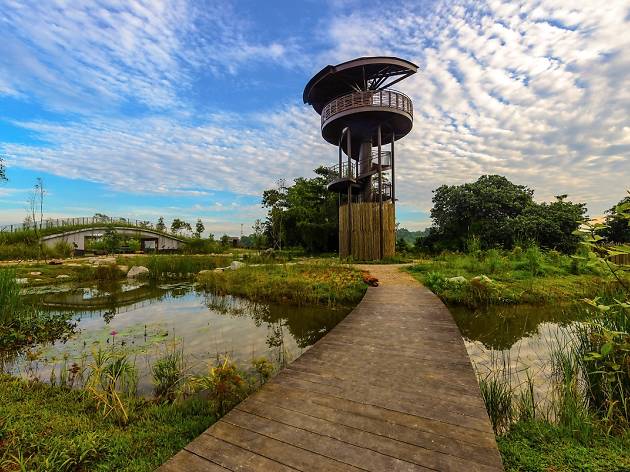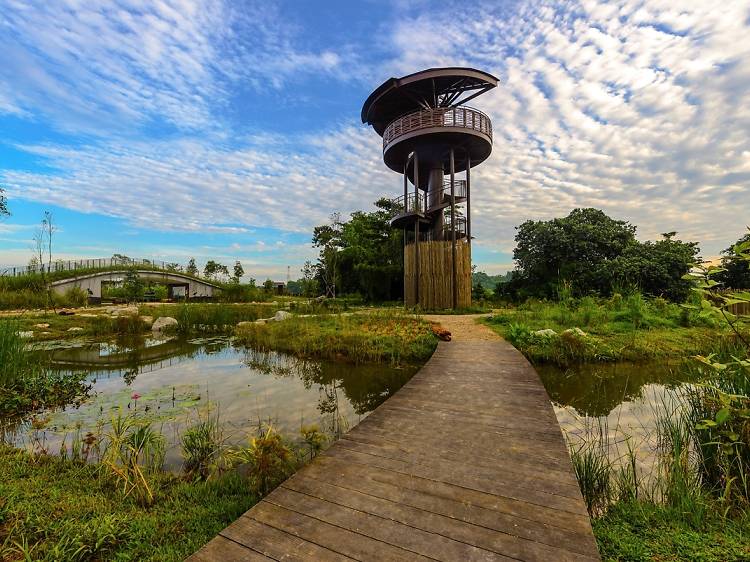 Photo: Urban Redevelopment Authority
Enjoy panoramic views of the Marshes
You've been to the top of Marina Bay Sands, ION Sky and Pinnacle@Duxton, but now it's time to see the city from a very different vantage point: the Raptor Tower at Kranji Marshes. Designed to emulate a bird protecting its nest on a tree, the 10.65-metre-tall wooden structure offers a panoramic view of the surrounding marshes. Educational boards are placed around the open-air observatory deck of tower, helping the eagle-eyed identify birds and pick out landmarks such as the Moorhen Pond and the BBC Shortwave relay station in the distance. From November to March, you can also catch raptor birds – otherwise known as birds of prey – that include migratory visiting species such as the Black Baza and Japanese Sparrowhawk.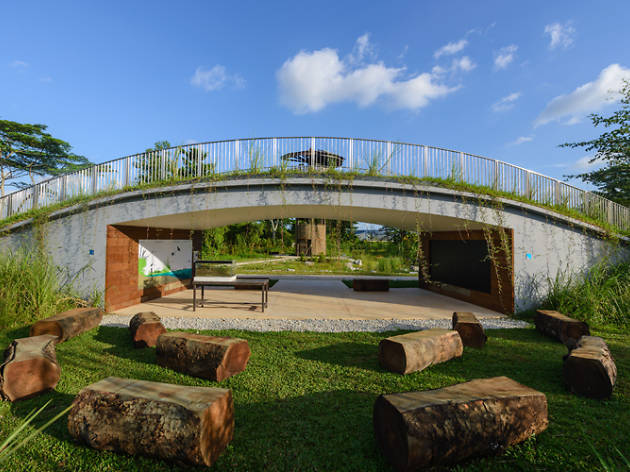 Photo: Urban Redevelopment Authority
Have a one-of-a-kind learning experience
The Kingfisher Burrow is another intriguing structure – it's an arch that can be used as both an open-air classroom space and a vantage point. The structure is 100 per cent sustainable and includes recycled tree trunks for benches and the shelter. It's the perfect setting to learn about the importance of nature and conservation. The National Parks Board is even considering the possibility of collaborating with schools to arrange lessons here.
Photo: National Parks Board
Go into stealth mode to bird-watch
With the Marshes being home to 170 species of birds, four species of butterflies and 33 species of dragonflies, it's easy to catch them all in action, especially in the early morning. Unlike neighbouring Sungei Buloh Wetland Reserve, Kranji Marshes mainly comprises open and grassy marshland, which attracts different kinds of wildlife. Six bird hides and two blinds at the Marsh Station give you a chance to observe birds native to the habitat, such as the Common Moorhen and the Marshes' signature bird, the Purple Swamphen. The hideouts – they have names like 'Duck Hide' and 'Woodpecker Shelter' – let visitors spy on wildlife up-close and personal.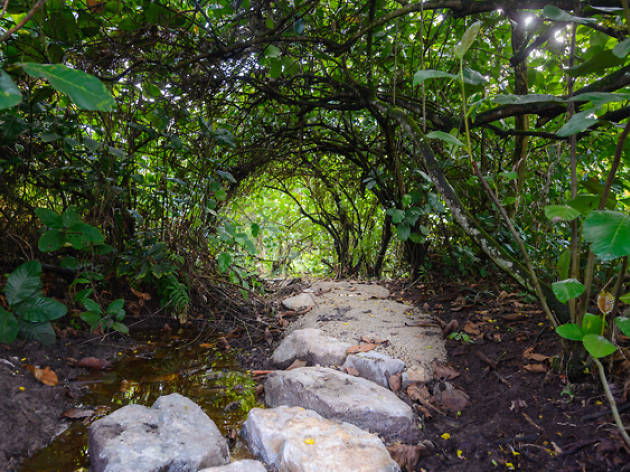 Photo: Urban Redevelopment Authority
Indulge your inner child with sticks and stones
With the birds chirping in the background and its rural vibe, Kranji Marshes is the perfect place to hark back to simpler times and indulge your inner child. That's what the many man-made twig structures lying around the marshes are for. Think of all the fun possibilities: you can sit in a 'nest', or pose for an artistic shot with friends and family. You can also hop, skip and jump to your heart's content across the Moorhen pond in the public area – it's one to bring the whole brood to.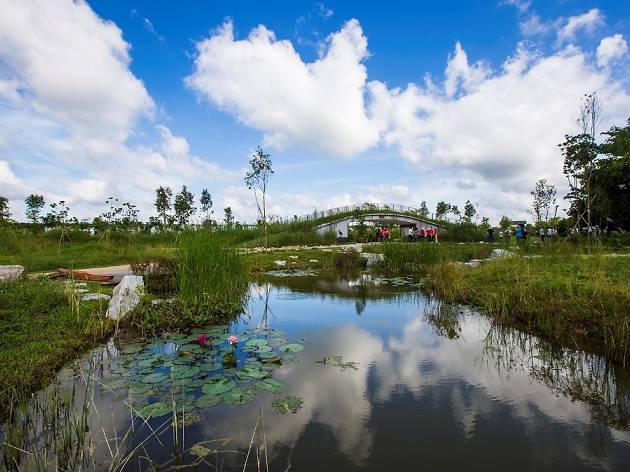 Photo: Mark Teo
Go on a guided tour to see more of the Marshes
If you're keen to see more of the marshlands, there is a whole separate area which is not open to the general public. Don't fret, you can get access to it by applying for a guided walk. The walk will cover the core conservation area and aims to educate visitors about the biodiversity in the marsh, woodland and grass habitats.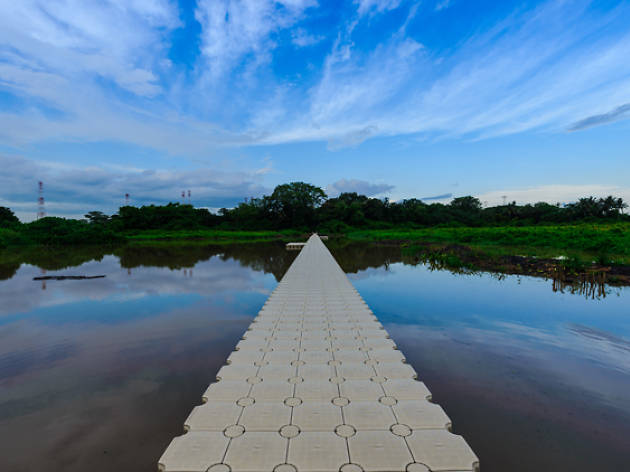 Photo: Urban Redevelopment Authority
Take an epic Instagram shot of the floating boardwalk
If panoramic views and tranquil marshes aren't enough, the floating boardwalk at the Reed Crossing just might be. Shutterbugs have noticed its resemblance to other photogenic jetties around the world, and snapping a shot down the boardwalk makes it look as though it extends to infinity. The platform is also a key pathway between the public area and the core conservation area – like the Turut Woods and the Parrot Hide – which can only be accessed through special guided walks.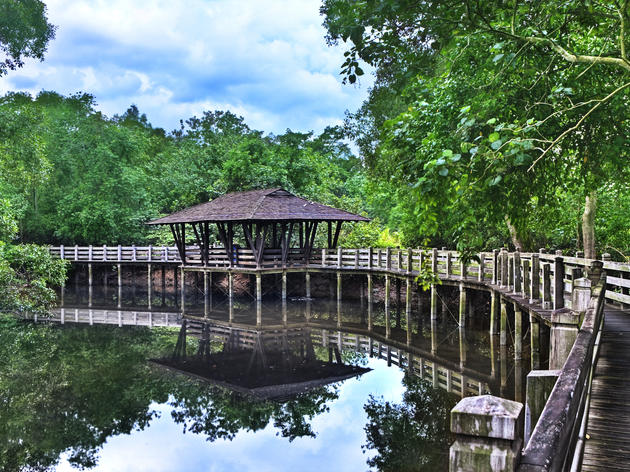 Photo: Dreamstime
Continue to explore the wild, wild country
If you feel like you want to continue exploring the wild countryside of Kranji, hop on the daily Kranji Express shuttle bus which takes you to selected places in the area like Bollywood Veggies, Hay Dairies and Sungei Buloh Wetlands Reserve. A ticket costs $3 but you can use it for multiple trips up to a day.
Visit the Kranji Marshes
Home to 170 species of birds, 54 types of buttferflies and 33 different kinds of dragonflies, this nature reserve is the perfect recreation area to observe and enjoy the island's wildlife. At 57 hectares and with a range of natural and green habitats, Kranji Marshes is Singapore's largest freshwater farmland.
Love the outdoors? Check this out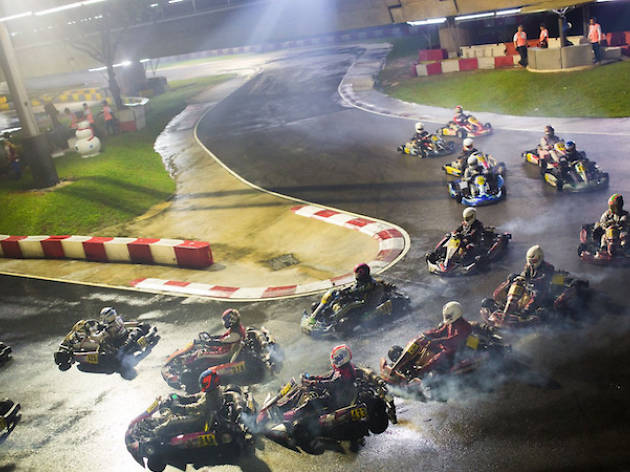 Singapore isn't just a concrete jungle, there are pockets of green to seek out the wild, urban walking trails and unique group sports activities – there are plenty of reasons to go outside in this city. Strap on a good pair of shoes and embark on one of these land-based adventures.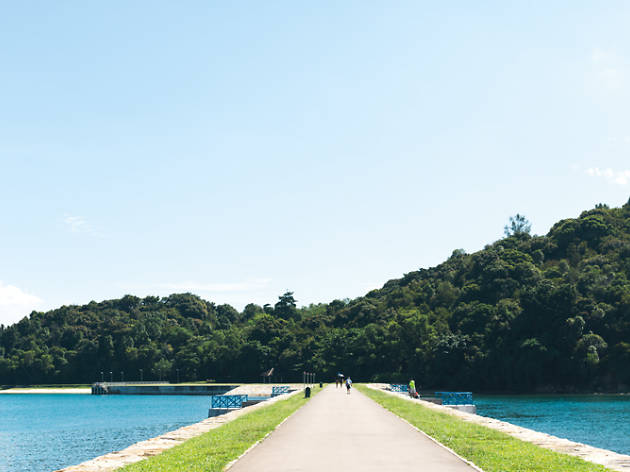 Spending 24/7 in the thick of city life can take a toll. Hop on a boat to these offshore islands and breathe in the fresh air. Set up camp – or a picnic mat if you don't intend to stay the night – and relive those kampong days at these uninhabited islands that are ripe for exploration. Just don't forget to mozzie repellant and sunscreen.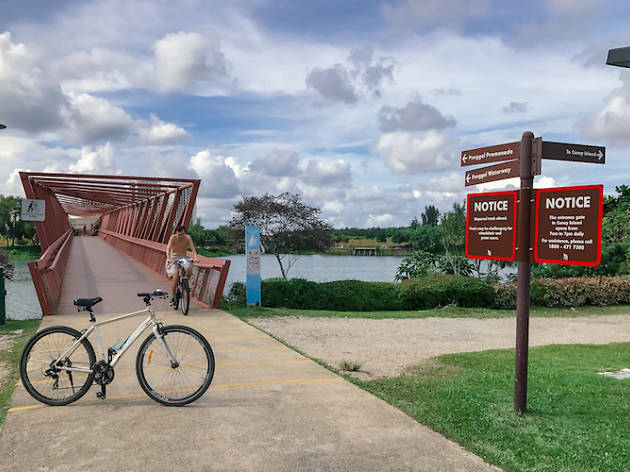 Things to do, Walks and tours
Singapore may be small in size but you'll be surprised to find plenty of green spaces including farms (yes, we've got farms!) and outdoor activities indulge in – if you know where to look. So leave the car at home, hop on a bicycle (get a cool one from one of these bike shops or do a bike-share) and explore these cycling trails in and around the city. Don't worry, we've included plenty of leisure beginner-friendly options (with a good view to boot), intense mountain biking tracks and everything else in-between to suit all abilities.