NDP2020: Guide to National Day in Singapore
Singapore flags, NDP songs and the kampung spirit – are you feeling patriotic yet?
Anniversaries are meant to be celebrated with gusto and Singapore knows just how to party when it comes to National Day. Observed on August 9, the yearly affair marks Singapore's independence from Malaysia. The city dresses for the occasion with flags lining the buildings, patriotic songs pervades the airwaves, people kitted out in red and white, and of course, the National Day Parade (NDP).
Here's the NDP in a nutshell: impressive aerial displays, military parades, and multicultural performances – all wrapped up with stunning fireworks. However, this year's NDP is going to be different due to safety measures. Instead of dominating the Padang or the Float @ Marina Bay with mass performances, it transforms into a digitalised and immersive affair with a series of home engagement activities to encourage audience participation throughout the day. Plus, the fireworks will be set off at 10 different locations across Singapore.
If you're planning to pop the poppers outdoors, remember to wear a face mask, remain in groups of up to five, and maintain a one-metre safe distance between each other. There will be limited vehicular and pedestrian access at areas that are likely to be crowded (ie. firework locations). Nonetheless, here's everything you need to know about NDP2020.
RECOMMENDED: The best places to catch the National Day Parade fireworks for free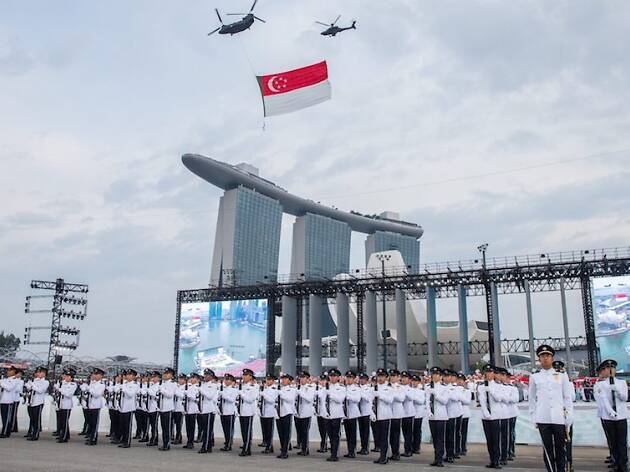 Photograph: NDP
NDP2020 officially begins in the morning with the National Day Message from the Prime Minister. It's set to be broadcasted live on Mediacorp free-to-air TV channels at 10.20am. It's then followed by a parade at the Padang reviewed by the President.
Prior to the National Day Message, the Red Lions are landing in the open fields along Toh Guan Road, near to Ng Teng Fong General Hospital, as well as the one along Sengkang East Road, near Sengkang General Hospital. This is likely to take place around 9am.
Look up in the sky as the Fly Our Flag aerial display featuring the state flag take flight at 10.30am, whizzing across the heartlands. This is followed by the Roar of Unity by the F-15SG fighter jets, soaring around the island from the Padang to Paya Lebar Airbase.
Down on the ground, the Mobile Column showcases the Singapore Armed Forces, the Singapore Civil Defence Force, and the Singapore Police Force's arsenal. This can be witnessed in the heartlands from 10am to 1am.
Vessels from the Maritime and Port Authority of Singapore, Police Coast Guard, Republic of Singapore Navy, and the Singapore Civil Defence Force are also participating in a maritime sail-past, which can be seen from Marina Barrage and the Marina South Pier.
All these displays pay special tribute to the frontliners, essential workers, and everyday Singaporeans for their strength and resilience. Wave your flags in salute.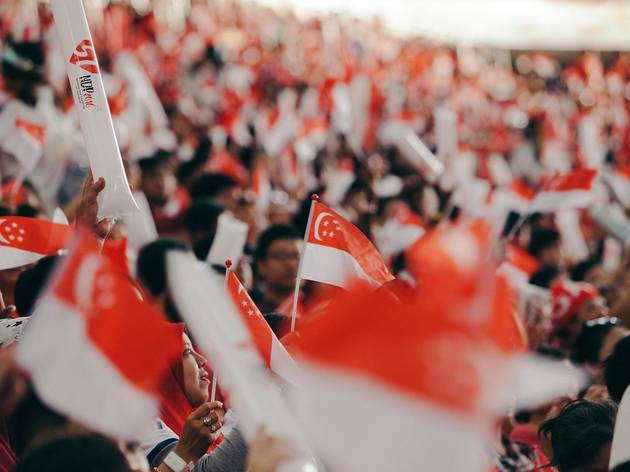 Photograph: Rogan Yeoh/Unsplash
In the afternoon, gather the fam and check out ndp.gov.sg for home engagement activities including workouts sessions, art and crafts workshops, and cooking tutorials. For something patriotic, raise your flag and look forward to the pledge and anthem moment virtual choir, frontline fighters recognition, and flag-waving.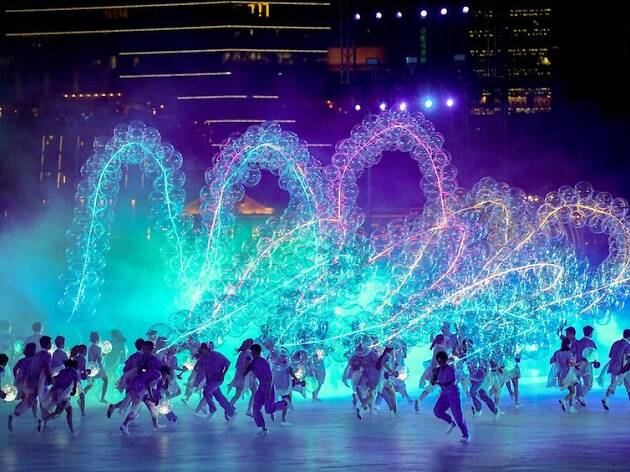 Photograph: NDP
A first, the evening celebratory show is held in an indoor venue – The Star Performing Arts Centre. However, instead of the usual mass performances, the 7pm show features intimate and meaningful showcases including films and live stage performances by local celebrities and citizens. It also spotlights the inspirational and uplifting stories of Singaporeans during the pandemic, while honouring the frontline fighters and community heroes. NDP2020 then wraps up with a nationwide anthem and pledge moment, as well as fireworks set off across different areas so that everyone can enjoy them at the comfort of their homes.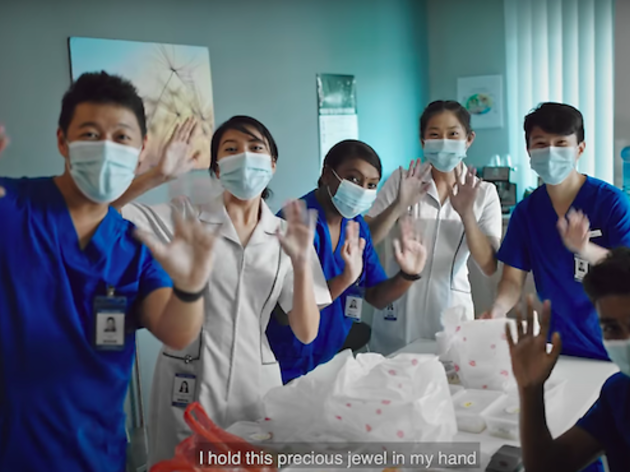 Photograph: YouTube
This year's theme – Together A Stronger Singapore – doubles as a rallying call to all to push through the difficulties and bring the country forward as a nation. An ode to the Singapore spirit of togetherness, this year's theme song is a mellower tune that comes complete with a video that acts as a touching reminder that we're not alone in this – and that the NDP is not always about being flashy and grandiose. Composed by Joshua Wan and performed by Nathan Hartono, Everything I Am is undoubtedly more emotional than the clap-along anthems that have rolled out in the previous years.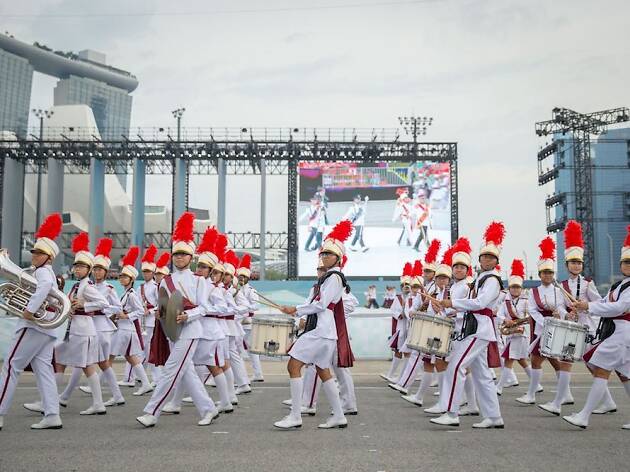 Photograph: NDP
It's a bird, it's a plane, it's rehearsal time. If your afternoon snooze is interrupted by the roaring sounds coming from above, don't be alarmed. Rehearsals are in full swing, taking place every Saturday until Parade Day. Unlike previous NDPs, preview shows are not available this year.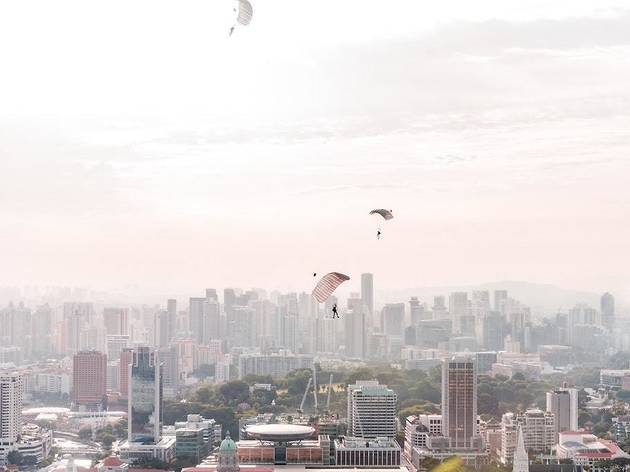 Photograph: Zuyet Awarmatik/Unsplash
While you can't catch the entire parade in person – as it's split into different times and venues – you can still catch all the action, song and dance on your telly and social media platforms. The three-part show is broadcasted live on screens islandwide, showcasing the parade and up-close views of the fireworks and aerial displays.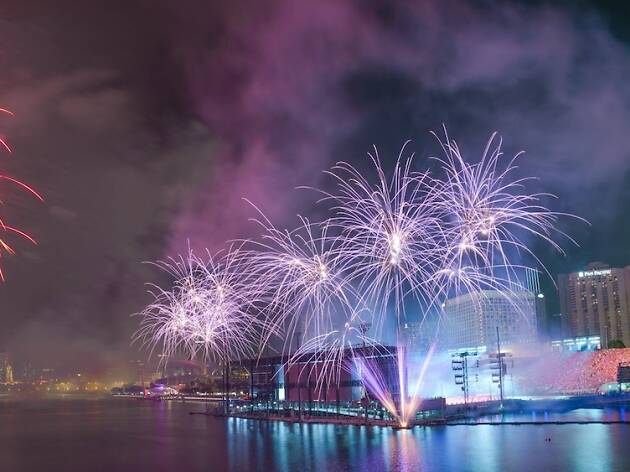 Photograph: NDP
The main star of the NDP is, of course, the prodigious pyrotechnics. This year, the fireworks display is set off at 10 different locations in Singapore so that everyone can catch 'em from their respective sweet digs. The locations include Ang Mo Kio, Bishan, Buona Vista, Jurong Lake Gardens, Marina Reservoir, Punggol, Sembawang, Tampines, Woodlands, and Yew Tee. The fireworks will collectively go off at 8.20pm, lasting for five full minutes.
However, if you're resuming your annual ritual of heading down to the Marina Bay area to soak it all up, get to know the vantage points for the best view. From rooftop bars to the waterfront, we've listed out the best spots to catch more than just a glimpse.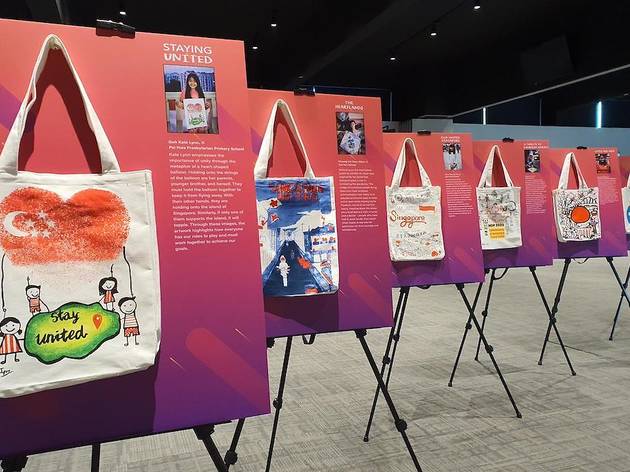 Photograph: NDP
Even if you're not heading to the Padang for a live spectating or the NDP, you can collect the Singapore Together Pack. Available for all Singaporean and PR households, the fun pack features 20 different designs by aspiring artists with disabilities, as well as Primary Five students. Each pack is loaded with a handheld flag, face tattoo, red filter for phone torch, snack, and canned drink to enhance your NDP celebrations at home. You'll also find a state flag, iron-on flag, Our Heart For Singapore card, Singapore Together commemorative magnet, face mask, hand sanitiser, and thermometer too.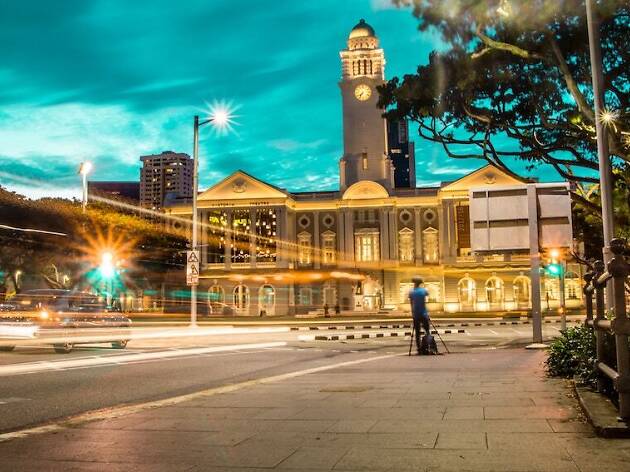 Photograph: Unsplash
Whether you're driving, riding, cycling, skating or simply walking, be sure to take note of the road closures to avoid any inconvenience – or road rage. Roads around the CBD and the Civic District are partially or fully closed on July 25, and August 1 and 9. Affected roads include St Andrew's Road, Connaught Drive, Parliament Place, Coleman Street, Old Parliament Lane, Supreme Court Lane, Empress Places, and Fullerton Road. Do check the traffic advisory on ndp.org.sg for the full information.