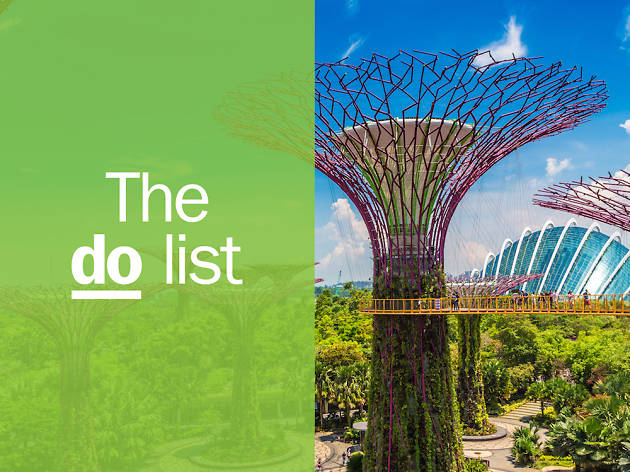 101 best things to do in Singapore
The crème de la crème of what Singapore has to offer – we present our top 101 things to do in the Lion City
Welcome to the Time Out Do List where we handpick the best things to do in Singapore.
Singapore may be one of the smallest cities in the world but there are plenty of major attractions to hit up, sights to see, grounds to explore, and under-the-radar spots to discover in this modern city. Take a couple of days off to play tourist and smell the roses at Gardens by the Bay, brace yourself for the tallest dual rollercoasters at Universal Studios Singapore, and get cultured on the rich history of Singapore and its people at the museums. Not sure where to start? Leave it to us to show you the best events in town, as well as 101 things to do, see, eat, drink, shop, and have fun.
JULY 2020: We've refreshed the list with new kids on the block and old-time favourites that have us coming back for more. Currently, we're enjoying a tipple (or two) at Asia's 50 Best Bars 2020 list topper Jigger and Pony, browsing through unique wares from local brands at Naiise's new outlet at PLQ Mall, and striking pins at K-Bowling – all while practising safety guidelines. While events and programmes remain temporarily suspended, these venues are open for business during Phase 2 of Singapore's reopening plans.
Done something on this list and loved it? Share it with the hashtag #TimeOutDoList.
You can also find out more about how Time Out selects the very best things to do all over the world, or take a look at our list of the 50 best things to do in the world right now.
More great things to do across the globe
Going out and doing things satisfies our need to explore, to learn and to grow (and then to brag about it on social media). Our hope is that the DO List becomes not just your bucket list, but your inspiration to experience and appreciate the corners of magic in the world.
Arts and culture
What is it? An art museum in the heart of Singapore that holds an extensive collection of Singaporean and Southeast Asian art.
Why go? Home to the former Supreme Court and City Hall buildings, the National Gallery Singapore is a result of combining the two structures. This beautifully restored space is now a whole new monument with over 8,000 works of art reflecting the heritage and art history of Singapore and surrounding regions lining its walls. There are various exhibitions taking place on a rotational basis to keep the visuals fresh.
Don't miss: Download a digital map of the gallery on your mobile devices for easy navigation in the art wonderland. The entry is currently free until July 31.
What is it? A lotus-shaped museum located within the Marina Bay Sands showcasing high-tech artworks that seamlessly weaves art, science, design, architecture and technology.
Why go? Observe how the two seemingly contrasting entities – art and science – come together in the world's first ArtScience Museum. Open your mind to the futuristic sphere of cutting-edge interactive installations and explore how art and science shape the world that we live in.
Don't miss: Its permanent exhibition Future World is a mind-bender – it takes visitors on an interactive journey of lights, digital art, and magic. Together with digital art installations by teamLab, it features over 170,000 LED lights that change colours, as well as an 8-metre-tall digital waterfall where water particles tumble down logs in accordance with the laws of physics.