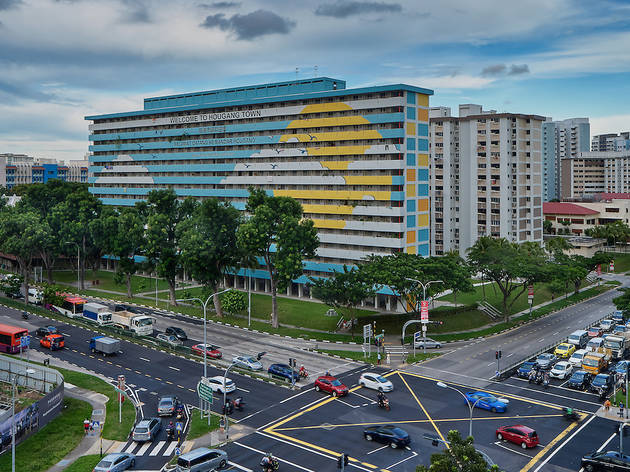 The ultimate guide to Hougang
From gothic churches to good and cheap food, Hougang is the neighbourhood that keeps it real
Before it is the vibrant and mature estate it is today, Hougang was once a large area of forested land, with pig-rearing farms and villages. Two of the more popular villages in this are was Somapah Serangoon and Kangkar. Somapah Serangoon village used to be a popular spot to catch Chinese opera shows and listen to entertaining storytellers while Kangkar was a bustling fishing village originally set up by Catholic missions in the early 20th century.
These days, Hougang is more than just one of the few "Opposition towns" in Singapore. This northeast 'hood packs a lot of gems like gothic churches, a lush park complete with a lake and the some of the best hawker fare Singapore.
RECOMMENDED: Neighbourhood guide: Yishun and neighbourhood guide: Bukit Timah
DO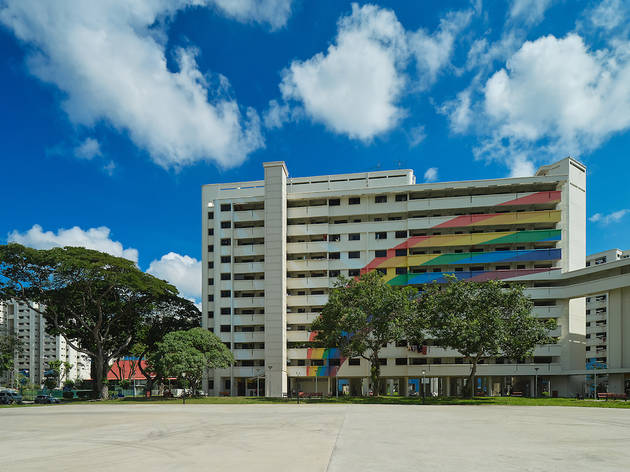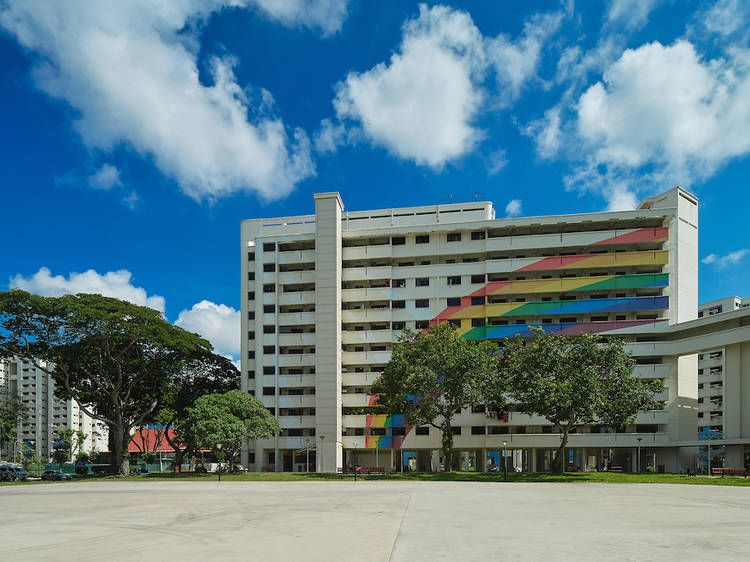 Photograph: National Heritage Board
Check out colourful flats
There are many old HDB buildings in Hougang and for some reason, there is more creative license exercised when it comes to paint colours for these older flats. At a glance, you'll see orange, purple, red and blue blocks around the estate. Explore the colourful massive murals and brightly painted flats of Hougang on foot.
First established in 1929 at Upper Circular Road – which was known as a Teochew enclave – Phoh Kiu Siang T'ng started out by providing funeral services for its members and dispensing medicine to the poor communities. In 1953, the shantang (siang t'ng) moved to Simon Lane in the northeastern suburbs in Singapore due to the fact that Hougang then had a large concentration of Teochews. Today, the shantang operates a free TCM clinic that is open for all.
Masjid Haji Yusoff is the oldest mosque in Hougang and was built in 1921 on land donated by Gujarati merchant and philanthropist Ahmad Mohamed Salleh Angullia. It was such a prominent landmark in the area that the Chinese name for the section of the road near the mosque was Sembahyang Tng (a combination of the Malay word for "prayers" and the Hokkien word for "pavilion" respectively). The mosque now serves as a hub for the Malay-Muslim community living in the Hougang and Upper Serangoon areas.
This park located in the middle of Hougang is well-loved by families and active residents living nearby. Punggol Park covers over 16 hectares in size and includes a large pond where anglers can try their luck at fishing. Sporty types can choose to do laps around the pond, rent a bike from the kiosk in the park or level up at the exercise areas which are equipped with bars, stationary bikes and more. If you're looking to do something more relaxing, there are plenty of designated picnic spots with views within the park.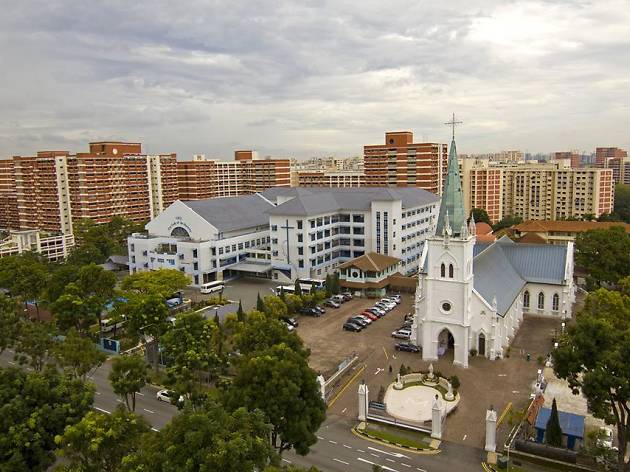 Think you'll never find gothic-style churches in Hougang? You're wrong. The Church of the Nativity of the Blessed Virgin Mary located on Upper Serangoon Road, is a national monument that was constructed in 1901. Mass is held every single day in various languages and many sit and reflect in the small garden with the statue of the Virgin Mary.
Within the greater Hougang neighbourhood, you can also find the remaining village in mainland Singapore, Kampong Lorong Buangkok. It's situated precariously in the middle of new developments so its future remains uncertain. Before you enter, remember to get permission from the landlord of the small estate. Take a walk through the village and get transported back to a time when life was simpler in Singapore. Be respectful of course, these are people's homes after all.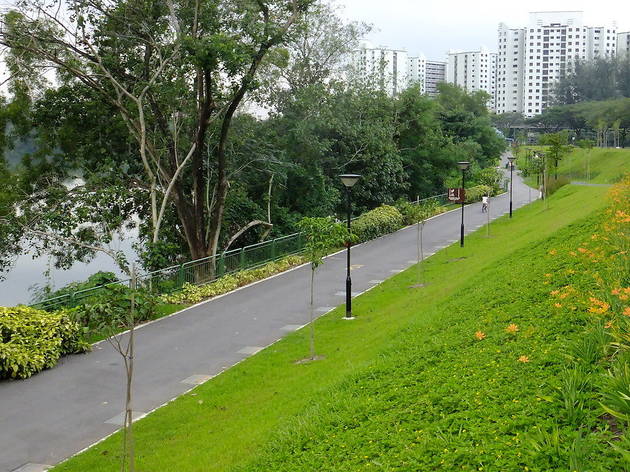 Photograph: NParks
A short walk from Punggol Park is Sungei Serangoon park connector which stretches all the way to Punggol. Go for a scenic jog or run by the river and stop to take in the views. Catch a glimpse of the famous otter family of Hougang or boost that workout with some extra pull-ups at one of the exercise pits along the river.
DRINK
You can spend a day in Hougang without acknowledging its ties to The Workers' Party, an opposition party in Singapore. The coffeeshop located at Blk 322 in Hougang is often referred to as the unofficial homeground of Workers' Party supporters. It's a place that has seen a lot of celebrations in the past two general elections – and also a good place for some kopi or teh. If you love talking politics, come have a drink or two and go in-depth about the pros and cons of implementing minimum wage in the country. Discuss.
SHOP
This humble neighbourhood bicycle shop may be small but it is a favourite stop for the enthusiastic cycling crowd in this neighbourhood. You can pick up a bike for a leisure ride to the nearby parks, or get your bicycle serviced or tuned as well. Customisation is also available if you want to spruce up your bike to stand out on your rides.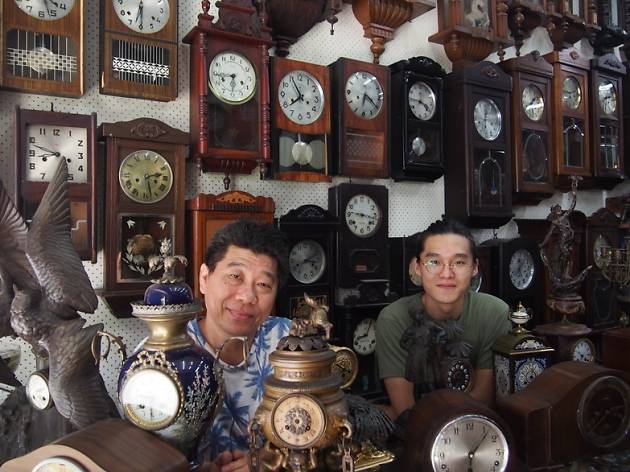 Clocks of all shapes and sizes occupy every possible nook and cranny of this two-storey shophouse. Some have been restored to their former glory, but most are waiting for their turn to be tinkered by second-generation owner David Lim, 55, or his son and protégé Shawn, 23.
Located at the end of a sleepy, sun-drenched street in Upper Serangoon, the shop is quiet, punctuated only by lulling chimes as the duo work on mending timepieces. It's a job that requires fine tools, intense concentration and years of experience passed down through hands-on practice since the shop opened in 1947.
Despite his store's name, David doesn't deal in watches. He gave that up about a decade ago, deciding to focus on antique clocks instead – they've a longer and more interesting history that appeals to him. Sourcing from overseas dealers, regular customers and even karung guni, David has amassed a collection so vast that it extends into his home and, at one point, into his toilet. Asked how many he has and he simply shrugs: too many.
While repairing and restoring clocks – from grandfather's clocks to a rare 19th-century, French-made Oriental clock – is the mainstay of the business, the father-son pair also handles gramophones, musical boxes, or, as David so succinctly puts it, 'Anything with gears in it'.
More neighbourhoods to explore
Best selling Time Out Offers