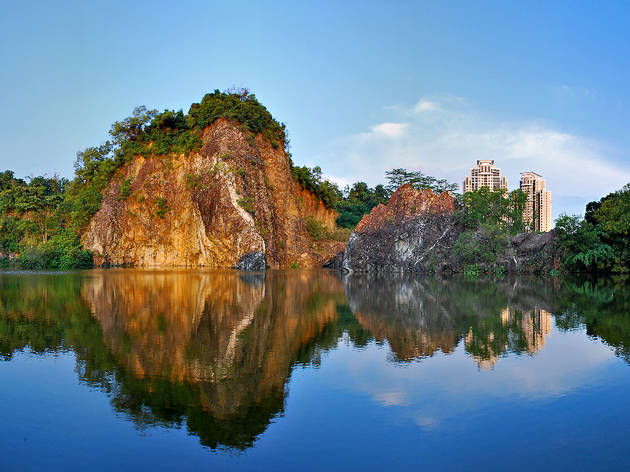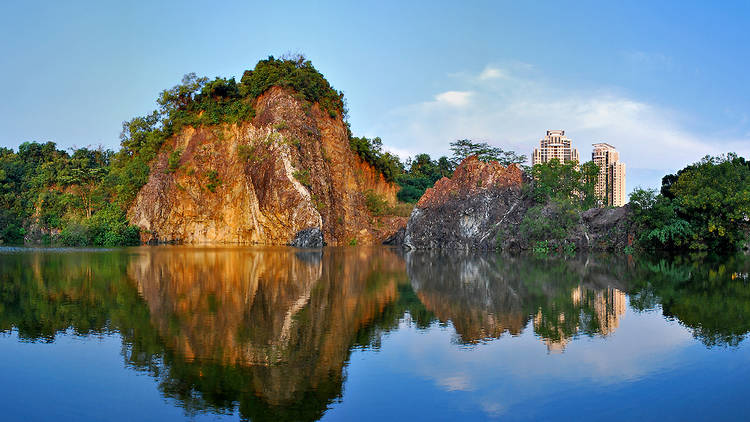 The most beautiful quarries in Singapore
These quarries now form part of Singapore's natural landscape, coexisting alongside glitzy shopping malls and towering skyscrapers
Here's a fact you probably didn't know: quarrying is a significant part of Singapore's history, fuelling Singapore's development from the 19th century. Much of the granite mined from these quarries was used for the construction of early public housing and roads in the 1970s. While the industry came to a halt by 1991, Singapore's quarries have stood the test of time and now form part of the city's natural landscape, coexisting alongside glitzy shopping malls and towering skyscrapers. Here are some you definitely shouldn't miss.
RECOMMENDED: The best hidden trails in Singapore
Nearest MRT: Bukit Gombak
In the past, the island's strongest rock formation is found at Gombak Norite, where the rock is tested to be more than ten times stronger than concrete. In its heyday, nine quarries operated at Gombak Norite, including Seng Chew, Lian Hup, Poh Hin and Gammon. The latter ceased operations by 1984 and was converted into a park a year later.
Today, it is known as Little Guilin (or Xiao Guilin) as it looks similar to China's granite rock of the same name. There are lookout points that afford stunning views of the quarry, along with footpaths to cycle and jog on and a moderately easy hiking trail through the foliage.
Nearest MRT: Beauty World
Located close to Little Guilin is Bukit Batok Nature Park which is also home to another beautiful rock formation. The serene Bukit Batok Nature Park was developed on an abandoned quarry in 1988. There are lookout points that afford stunning views of the quarry, along with footpaths to cycle and jog on and a moderately easy hiking trail through the foliage. For a bit of history, head to the WWII memorial, which commemorates the location of one of the fiercest battles that took place in Singapore.
Nearest MRT: Tampines West
In the 1960s, Tampines experienced a huge quarry boom when the construction of public housing estates and other urban redevelopment resulted in high demand for sand. At its peak, there were more than 20 sand quarries in Tampines. However, that came to a stop when the Singapore government close all quarries by 1991 due to the substantial environmental damage caused by them.
Now, only two of these quarries remain: Bedok Reservoir and another hidden gem along Tampines Avenue 10. The latter, located just a stone throw's away from Bedok Reservoir, has served as a hidden park for Tampines residents for years. Its calm waters and untouched land drawing in anglers, bikers and drone enthusiasts alike. So head on to the east for an adventure. As it's left to nature's own devices, and the quarry is now surrounded by the thick foliage of vegetation. So if you're planning a trip down here, be sure to carry some mosquito repellant.
Nearest MRT: Beauty World
Located at the end of the scenic Hindhede Nature Park, this is one of Singapore's famous quarries. The quarry was named after a Danish businessman and tea farmer Jens Hindhede, who was the elder son of famous physician Mikkel Hindhede. The younger Hindehede operated the granite quarry until it ceased operations around the late 1980s.
Now, the picturesque quarry draws in nature-lovers and photography buffs. Venture beyond the quarry and you'll find exciting trails with views of streams and lush greenery.
Nearest MRT: None, it's on Pulau Ubin
Pulau Ubin's name means 'Granite Island' in Malay, because it is known for its granite quarries that operated until the 1960s and 1970s. One of the island's oldest quarries, Pekan Quarry, was previously known as Ho Man Choo Quarry. It ceased operations in 1970 and two quarry pits were merged to form a scenic lake.
Now, Pulau Ubin visitors get to appreciate the quarry's natural beauty, with lush greenery and thick vegetation surrounding the site. So plan a trip, whip out your binoculars and spot Pulau Ubin's resident herons at this scenic quarry.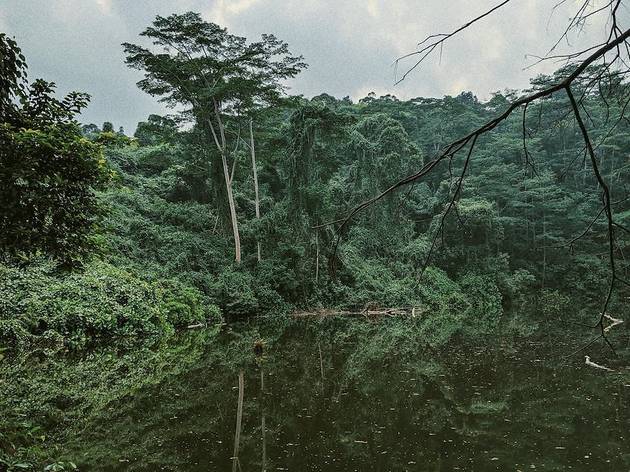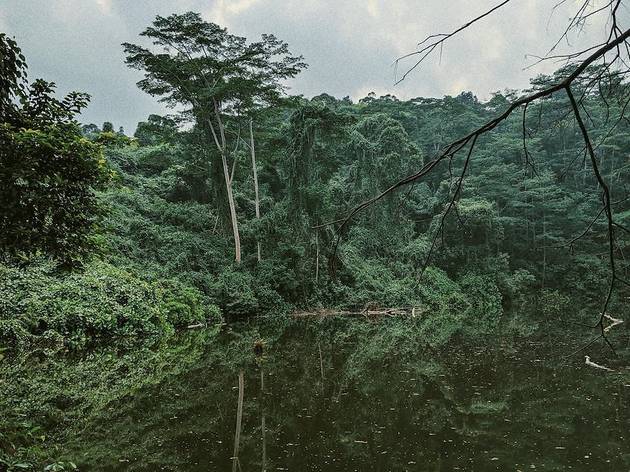 Photograph: Delfina Utomo
Nearest MRT: Bukit Gombak
Venture off the beaten path and discover this hidden quarry, located behind a block of residential flats in Bukit Gombak. Said to have water with magical properties, Seng Chew Quarry in Bukit Gombak is a product of the mining heydays in Singapore. It was part of nine quarries that operated at Gombak Norite.
Seng Chew Quarry is not as prominent and a lot less accessible than the other quarries in Singapore, so come prepared with non-slip shoes as you have to climb steep and muddy hills to get there. The views, however, are worth the climb.
Nearest MRT: Hillview
Located in Dairy Farm Nature Park are two quarries: Dairy Farm Quarry and Singapore Quarry but both are very different. Unlike most of the quarries on this list, Dairy Farm Quarry was filled up with earth instead when mining activities ceased in the 70s to 80s.
What you will see this days is a vast and enormous rock – popular with adventure seekers in Singapore. On some days, you can find may climbers flexing their skills here. Climbing routes have intriguing names like "Lost World", "Razor's Edge" and "Boring and Meaningless" – they are not the most challenging, but present enough variation to interest climbers of any experience level. It's free to enter, but just be sure to read up on safety protocols beforehand and to bring an experienced friend along with you.
Nearest MRT: Hillview
After you're done gawking at the mega rock that is Dairy Farm Quarry, follow the signs to head to the scenic Singapore Quarry at the park's southwestern end. The quarry is now a huge lake where you can spot fish, turtles and even monitor lizards if you're sharp.
Walk on the boardwalk by the water for the best views and keep a lookout for all sorts of species of dragonflies flitting over the water – there's more than one type and some of them are pretty rare.