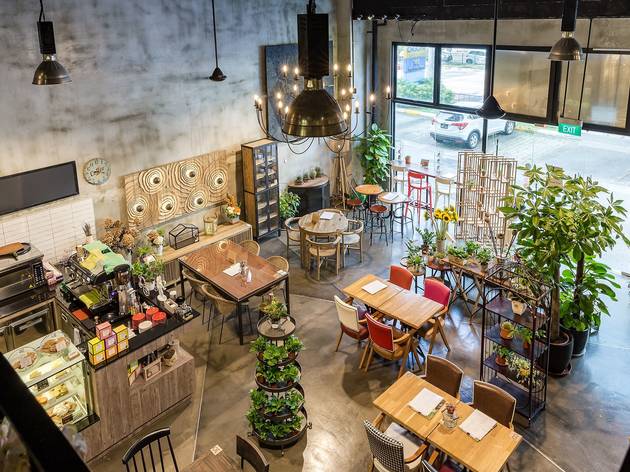 The ultimate guide to Tai Seng
There's more to the industrial hood of Tai Seng than meets the eye
Once a vibrant kampung area rife with gang wars, Tai Seng has cleaned up pretty well. The place takes its name from Tai Seng Rubber Factory which was constructed in the area in 1917. Although it is known for being a dusty industrial estate, Tai Seng now shines with cafés, shops and even an art gallery. Make a trip down to this neighbourhood for venerable char siew, go crate-digging and shop for vintage furniture. Read our guide to discover the things to do while you're in the 'hood.
RECOMMENDED: Ultimate guide to Singapore's neighbourhood
DO
Boulder Movement, a climbing gym, opens a second outlet outside of the CBD. In its latest heartland outlet, the space is almost twice as big. And with it comes more square footage to fit more climbing surfaces – for both novices and expert climbers alike. Spot a special climbing cave, which promises a steep challenge for those looking for a good workout. Not a fan of facing the four walls? Not to worry, this outlet features plenty of windows that let in natural sunlight, so it feels bright and airy.
Interested in a career in cooking? This culinary school provides courses that will level up your kitchen competencies – from cooking to baking. Just a leisure cook? At-Sunrice GlobalChef Academy also organises ad-hoc workshops for those looking to pick up some new skills.
DRINK
There's more to this café than just warm brews and bakes. The furniture and decoration you see splayed out in the space are all for sale – a perfect excuse to squeeze in some retail therapy as you knock back a flat white ($4.60) or salted caramel latte (from $6.50). There's a clear botanical theme going on in this garden café, too. Lush potted plants, moss art pieces, and wooden furniture help create a soothing, tranquil atmosphere for you to escape the concrete buildings and unwind.
This quiet café, tucked within the neighbourhood of Macpherson, is filled with warm service, coffee, and bakes. Drop by and sip on its rotating selection of beans. There's the filter coffee ($6), alongside espresso-based drinks of black ($4), white ($4.50), and more. Cold brew coffee by the bottle is also available, along with unique concoction s of ice miso caramel latte ($7). Hungry? A lean selection of brunch plates and tarts baked in-house can also be ordered.
SHOP
With attitudes loosening around lounging around on second-hand furniture, stores like Hock Siong and Co are suddenly top-of-mind to score home goods at a steal. New-gen co-owner Brillyn Toh and the shop's sales team do a brilliant job of infusing their cheery personalities and good eye for products into Instagram and Facebook updates, which send customers flocking to the space. The products are hand-me-downs from hotels and show flats, furniture shops that have closed down, and the occasional beautifully appointed home.
It's a crate-digger's wet dream: more than 10,000 vintage vinyl stack up at this out-of-the-way joint. Red Point is known among music geeks for its varied selection – you'll find records from '50s Chinese divas to the golden age of rock 'n' roll to contemporary indie to bygone Singaporean hits. There's no question here: if you own a player, you owe it to yourself to check Red Point out.
Built to the tune of $64.08 million and located right outside Tai Seng MRT station, the kueh lapis-shaped international headquarters of one of the Little Red Dot's most internationally successful homegrown brands has a 500-seater F&B zone on the ground level that houses dining outlets owned by the group – BreadTalk, Din Tai Fung, RamenPlay, Toast Box and Food Republic, and more. A slew of other lifestyle shops are also housed within.
Best selling Time Out Offers