The ultimate guide to the F1 Singapore Grand Prix
Before you race to the tracks, be in the know of everything F1 – from the actual races to the entertainment lineup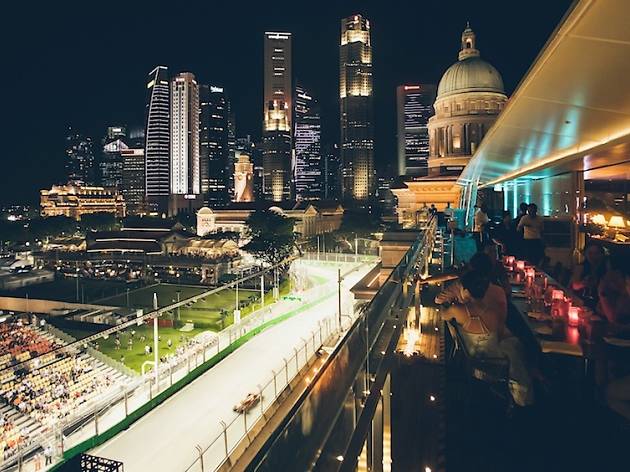 Think Lewis Hamilton, Sebastian Vettel and Fernando Alonso – among the 20 international racers – are the only ones capable of making deafening noises? Expect loud sounds beyond the tracks with five of the biggest acts taking the F1 stage, plenty of after-parties at the city's hottest clubs and race-themed events for the high-octane weekend from September 14 to 16.
RECOMMENDED: Where to watch the F1 Singapore Grand Prix for free
Off-track entertainment
Jay Chou
We last saw the Taiwanese star headlining at the National Stadium early this year, and now Jay Chou is back for more. No stranger to the F1 stage, the Mandopop prince is kicking
off the off-track entertainment with fresh numbers from his latest album Bedtime Stories on top of his biggest hits. Joining him on-stage is homegrown jazz songbird Joanna Dong who was a member of his Sing! China team last year.
Also: Björn Again (Fri/Sat/Sun), Sampa the Great (Fri/Sat), Abby Simone x MMLD (Fri/Sat), THELIONCITYBOY, Boys in the Band (Fri/Sat)
The Killers
The award-winning Las Vegas band returns with another killer set, including hits like Mr Brightside and Somebody Told Me, which paved way for an explosive debut in the 00s' alternative rock scene. Fast forward to now – prepare to throw shapes as frontman Brandon Flowers takes you through new tracks like The Man and Run for Cover from their fifth studio
album, Wonderful Wonderful.
Liam Gallagher
You know him as the former Oasis frontman, the loud-mouth Shakermaker and the younger brother of Noel Gallagher, but are you ready for this Rock 'n' Roll Star's Singapore solo debut? Liam Gallagher is taking over the F1 stage with an amalgam of tracks from his solo release As You Were, but you can also expect some Oasis classics in true, blue Liam swagger.
Also: Joe Hahn (of Linkin Park), End of the World, Young Fathers (Sat/Sun), Afro Celt Sound System (Sat/Sun), Joanna Dong, EMONIGHTSG
Dua Lipa
Seems like this chart-topper can't get enough of Singapore, and vice versa. Showing no signs of slowing down, the sultry-voiced Dua Lipa returns with a stage upgrade to accommodate her massive legion of fans here. And with a bigger stage comes a bigger set, so watch out for the New Rules girl squad, dancercise-esque choreography and fiery pop bangers.
Martin Garrix
Ask anyone and they'll tell you that EDM wunderkind Martin Garrix is an absolute beast in the dance music scene. The Dutch DJ-producer has attested his striking finesse by churning out a slew of club bangers including hot collabs like In the Name of Love with Bebe Rexha, Ocean with Khalid, and Scared to be Lonely with fellow F1 performer Dua Lipa – here's hoping for a joint performance.
Also: Simply Red, The Sugarhill Gang, MYRNE, EATMEPOPTART