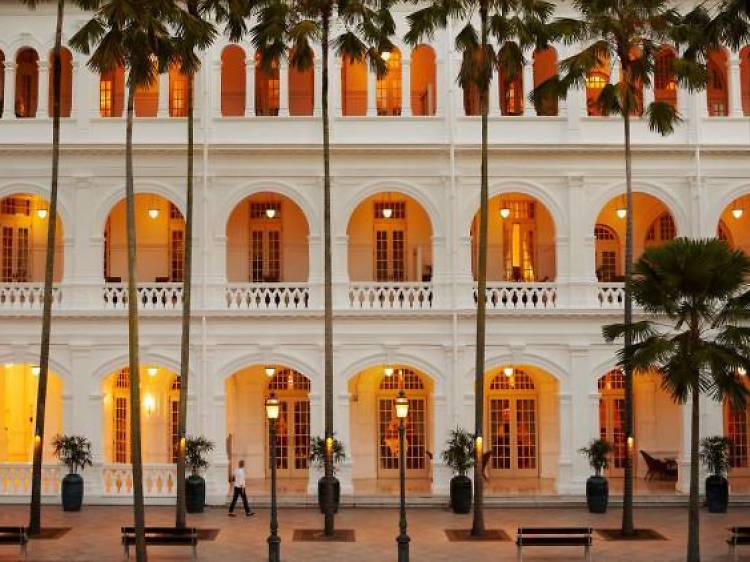 Built in 1887
From being home to the world-famous Singapore Sling to a tiger hunt and an illustrious roster of guests including authors Joseph Conrad and Rudyard Kipling, Raffles Singapore is full of stories. The grande dame is celebrating its 134th birthday this year – and no one knows the history of the hotel better than resident historian Leslie Danker, who has been with Raffles Singapore for 48 years. Mr Danker has just published his book A Life Intertwined, which unveils a collection of anecdotes and personal recounts of history since he first stepped foot in the hotel at 18 years old.
The hotel was established by Armenian hoteliers the Sarkies Brothers in 1887, proprietors of the Eastern & Oriental in Penang, and named after Singapore's founder Sir Stamford Raffles. What started as a 10-key accommodation housed in an old bungalow at the corner of Beach and Bras Basah Roads expanded over the years. Its Main Building – fronted by the now-iconic neo-Renaissance architecture – was completed and opened on November 18 1899, marking the beginning of the hotel's heyday. Raffles Singapore soon welcomed illustrious guests from all over the world including W. Somerset Maugham, Elizabeth Taylor, Rudyard Kipling, Charlie Chaplin and Michael Jackson, who celebrated his 35th birthday at the hotel.
Interesting fact Perhaps Raffles Singapore's most famous visitor is a Bengal tiger that found its way into the hotel's Bar & Billiard Room. It is known to be the place where the last tiger in Singapore was shot. This happened in 1902, when a tiger escaped from a performing circus at the far end of Beach Road. The 2.3-metre long feline cowered in the space underneath the Bar & Billiard Room, which was then used as a storage for empty boxes and crates. A staff member at the hotel saw the tiger and alerted a headmaster, who was known to be a hunter and a sharp shooter.
"Mr Charles McGowan Philips, principal of the neighbouring Raffles Institution, was roused from his bed by the hotel staff," Mr Danker wrote in A Life Intertwined. "Clad in pyjamas and armed with his Lee-Enfield rifle, he stalked the tiger, which was hiding under the elevated floor of the bar. The first three shots missed, but the fourth found its mark."