The best hidden waterfalls in Malaysia you can drive to
You know what they say, go ahead and chase waterfalls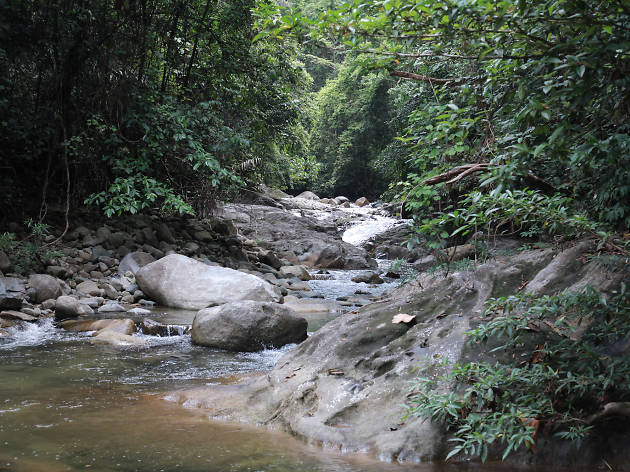 Most of us hit the causeway to Malaysia for all the right reasons: sipping coffee at the best hipster cafes in Johor Bahru, going on a food trail around Malacca for the region's best Kristang cuisine, and challenging ourselves to an adventurous trek at one of Malaysia's best hiking trails. But did you know there are also stunning hidden waterfalls all across the country? Keep reading, as we highlight the ones worth driving to.

RECOMMENDED: The best hiking trails in Johor Bahru and the best short day trips from Singapore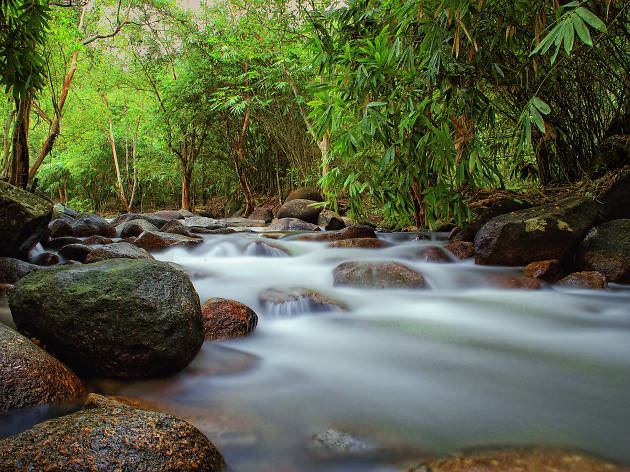 Photograph: Flickr / Asyraff Alrasyid
If you're in Ipoh...
Located just 10km from Ipoh City, Ulu Chepor Waterfall is cloaked in a verdant tropical rainforest. The river itself is enchanting, with multiple falls at 20 to 30-metre intervals. You can easily spend a weekend in nature, with amenities such as its picnic area, prayer rooms, small huts, and toilets built by the Ipoh City Council. Take a dip in the
How to get there: Ulu Chepor Waterfall is a 30-minute drive from Ipoh. To get there, exit the Plus Highway at Jelapang and take the road leading to Chemor.
Time Out tip: Besides its unparalleled hiking trails and rainforests, Ipoh is a foodie paradise. Stroll around Ipoh town and stop by establishments such as Restoran Cathay for flavourful Hakka Mee, Kedai Kopi Keng Nam for a cup of white coffee and kaya glutinous rice, and Nasi Kandar Ayam Merah for, well, the ayam merah.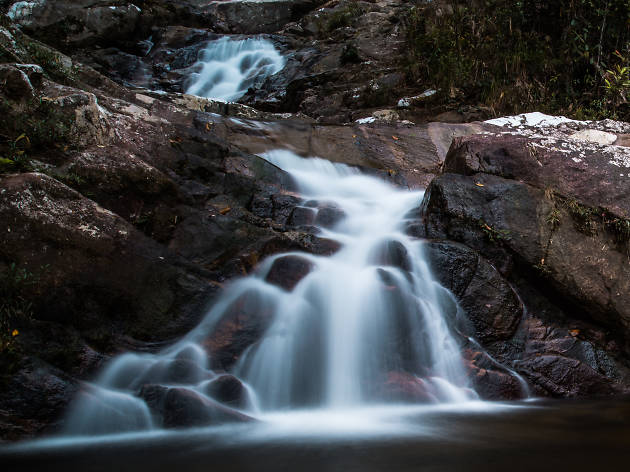 Photograph: Shutterstock
If you're in Kota Bahru...
Hidden in the Gunung Stong State Forest Park is the famous Jelawang Waterfall, the tallest waterfall in Malaysia and Southeast Asia at 303 metres from sea level. Trek to the top of the waterfall for a different perspective or swim in the plunge pool below. You can also spot the world's largest flower native to this region, the Rafflesia.
How to get there: from Kota Bahru (or any other districts in Kelantan), you can choose to drive or catch a train to Dabong using the Keretapi Tanah Melayu Berhad railway services.
Time Out tip: Jelawang Waterfall isn't the only natural attraction worth visiting in the area. Keep an eye for the beautiful limestone caves of Gua Ikan, Gua Pagar, and Gua Gelap near Dabong train station. Marvel at the unique rock formations and explore the cave system's narrow passageways.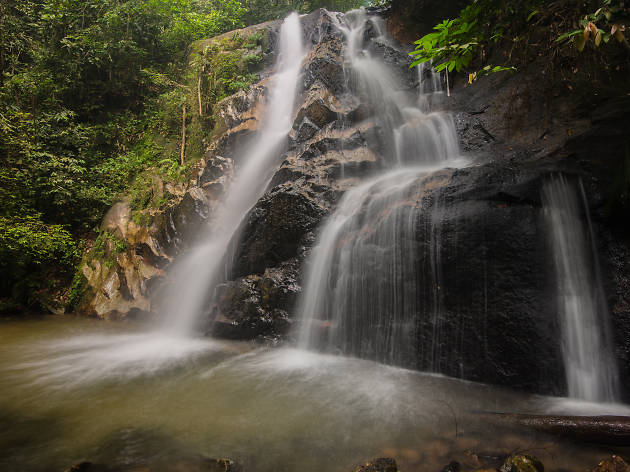 Photograph: Shutterstock
Kanching Rainforest Waterfall
If you're in Kuala Lumpur...
Looking at the sheer beauty of it, you wouldn't have guessed that Kanching Waterfalls is located just 30 minutes away from Kuala Lumpur. Hike up the rainforest and take a plunge in one of the seven levels of falls, or simply bring a picnic basket and bask yourself in nature. For an oasis to yourself, brace yourself for a challenging hike up to the sixth or seventh level.
How to get there: Kanching Rainforest Waterfall is less than an hour's drive from Kuala Lumpur. You might even find some buses that take you from the capital city to the rainforest park.
Time Out tip: If you're visiting this cascading waterfall, base yourself in Kuala Lumpur – which has much to offer even after dark. Whether you're looking for the best hotels to book, the hottest restaurants in town or just quiet coffee spots, we've got you covered with our ultimate guide to Kuala Lumpur.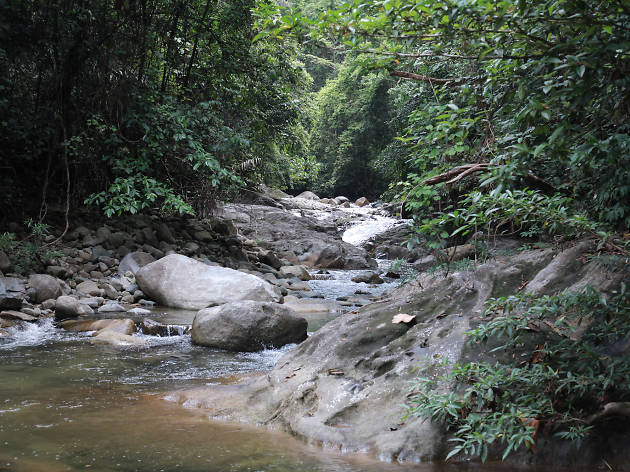 Photograph: Shutterstock
If you're in Kuala Terengganu...
Located within the Sekayu Recreational Forest in Kuala Berang northeast of Kuala Lumpur, Sekayu Waterfall is a mesmerising sight. Make sure to set aside at least half a day here. The waterfall's seven cascades feature water-cut pools which you can swim in. If you're not planning to do much trekking, head to the lowest levels of the waterfall, accessible by concrete stairs. The higher cascades require a bit more of an effort, but the views and privacy make it worthwhile.
How to get there: From the city of Kuala Terengganu, the recreational forest is just an hour's drive away.
Time Out tip: Sekayu Recreational Forest is home to some of Malaysia's best flora and fauna. Look out for Shorea and Dipterocarp tree species such as Meranti and Damar Hitam and Keruing respectively.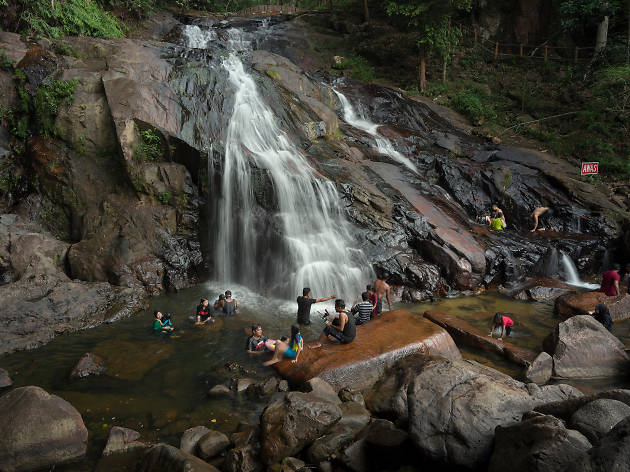 Photograph: Shutterstock
If you're in Johor Bahru...
Kota Tinggi is one of the more accessible waterfalls from Singapore, which contributes to its popularity. The falls is located 60km from Johor Bahru and 15km from the quaint Kota Tinggi town. Kids will love sliding down the two man-made water slides in the tubes, which are on rent for $1.67 each.
How to get there: From Johor Bahru, drive 50 minutes to Kota Tinggi Town. Once you are there, follow the signposts marked "air terjun," leading the way.
Time Out tip: Set aside some time to explore Kota Tinggi, a historical town where the Johor Sultanate was established. Besides amazing local food, the town also boasts great hiking trails, glamping spots, and even firefly-watching experiences.
Looking for more secret spots?