Heads up! We're working hard to be accurate – but these are unusual times, so please always check before heading out.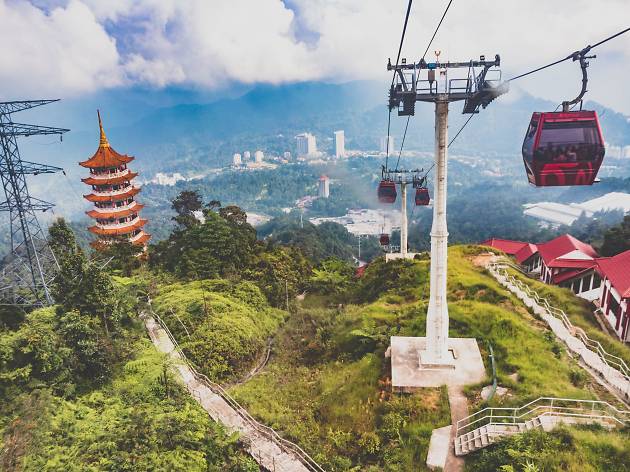 The best short day trips from Singapore
You don't have to board a plane to escape the bustle of the city when you make these day trips from Singapore
Take a break from city life by leaving our sunny (and hectic) island for not-so-faraway ones that are far more quaint. These day trips within Singapore and beyond provide a breathtaking change of scenery sans airport queues and hours of travelling time.
Cross the Causeway into Johor and other Malaysian towns or jet off to an Indonesian beach resort in Batam or Bintan. Whether you're looking for unexplored hiking spots, the best white coffee in town or authentic cuisine, we've got ya. These out-of-town spots are perfect for relaxing and refuelling away from the hustle and bustle of Singapore city, coconut (or perhaps, a martini) in hand. Now, let's hit the road.
RECOMMENDED: The ultimate guide to Johor Bahru and the best resorts and villas in Bintan
Day trips from Singapore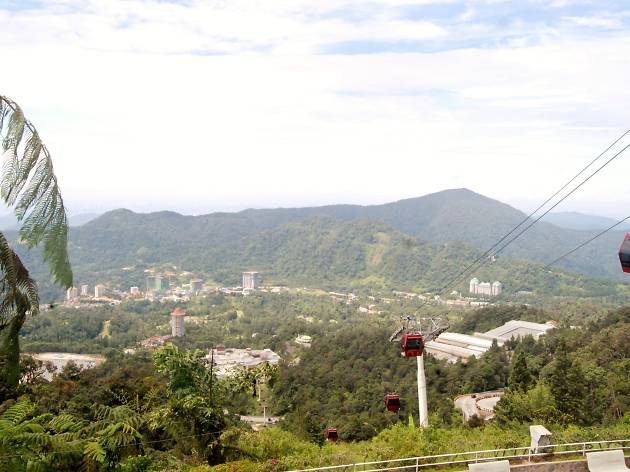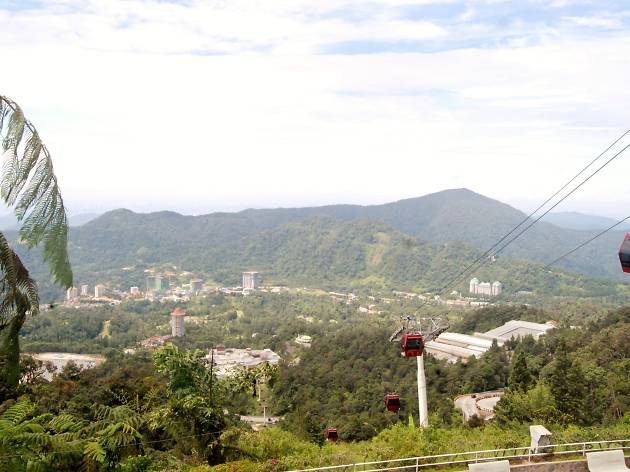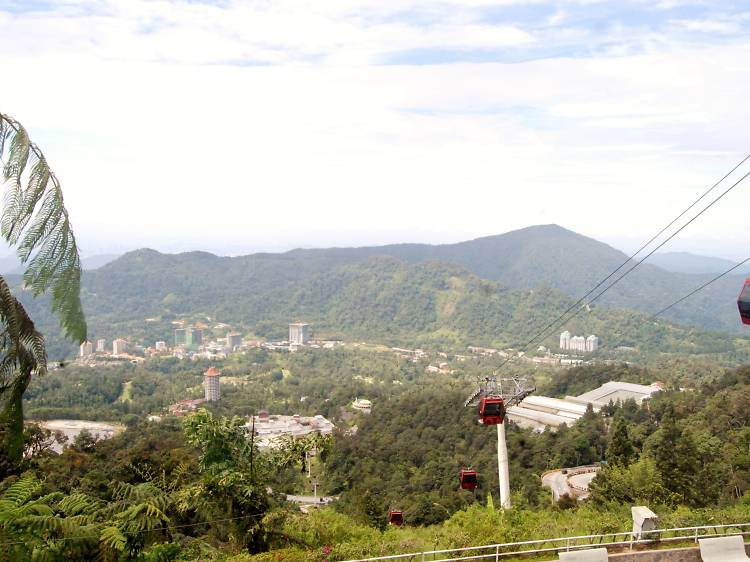 Ag PIC on Unsplash
This popular hilltop retreat in Malaysia has something for everyone – whether you're heading to the casino or spending the day with your family at the kid-friendly theme parks.
EAT Burger & Lobster Malaysia
Skip the queues at the Burger & Lobster outlets in Singapore and head to the establishment's first Southeast Asia outlet at Genting Highland's lifestyle mall, SkyAvenue. If you have specific dietary requirements, the Genting outlet is also the chain's first halal restaurant. You can't miss the restaurant's signature Chilli Lobster, which is exclusive to the Malaysia outlet.
DRINK Powerplant Malaysia
This Korean jaunt is the place to go to for fried chicken, hot pot, and ice-cold beers – all while vibing to the live music every night.
DO Skytropolis Indoor Theme Park
Leave your worries at the door and have an exhilarating time at the newly renovated Skytropolis Indoor Theme Park, which has state-of-the-art rides, such as the virtual reality centre with a variety of experiences from Star Wars, to Wreck-it Ralph and Ghostbusters.
STAY Resort Hotel
If you're staying the weekend, cosy up at Resort Hotel to be right in the middle of the action. The Mezzanine Deluxe Room is perfect for couples, while the Deluxe Twin room is great if you're travelling with friends. You'll have views overlooking the mountains, too.
If you do just one thing... Don't miss the chance to embark on the Awana SkyWay, which takes you up to the peak in just 10 minutes. On the scenic ride up, you get a free stop at the Chin Swee Station, where you can explore the magnificent Chin Swee Caves Temple.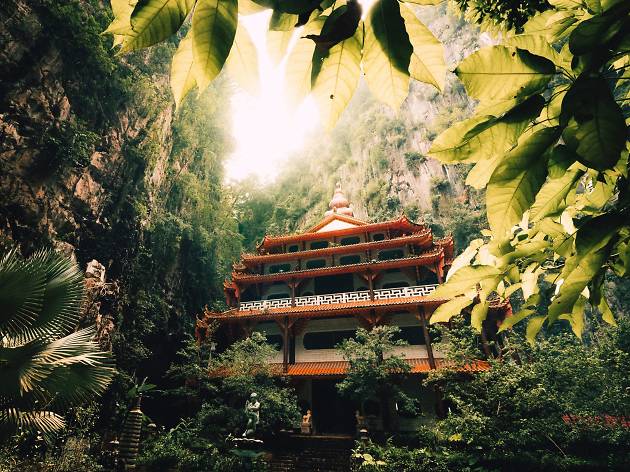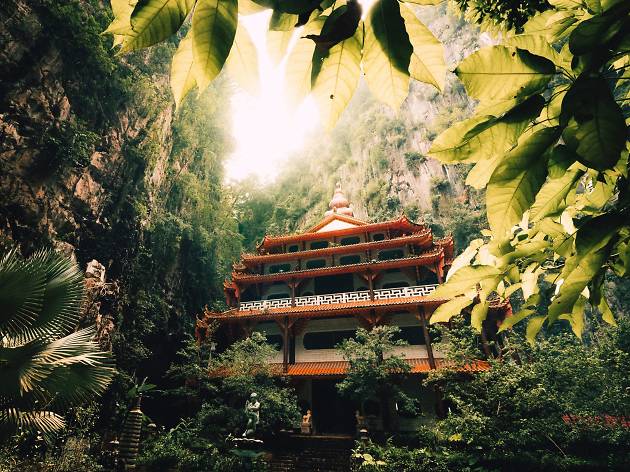 Photo: John T on Unsplash
Once a sleepy village in the valley of the Kinta River, Ipoh has undergone a transformation over the years and is now one of Malaysia's coolest emerging destinations. It evokes a retro-vibe, reminiscent of Kuala Lumpur in the past.
EAT Restoran Tauge Ayam Lou Wong

Ipoh is known for its hawker fare. One institution popular with both locals and tourists is Restoran Tauge Ayam Lou Wong, where you can find one of Ipoh's delicacies: bean sprouts with chicken rice.
DRINK Restaurant Ah Chow

Ipoh is the birthplace of Malaysia's famous white coffee, and you can easily find it in retro cafes scattered throughout the city. Besides the original Old Town White Coffee Shop, check out local favourite Restaurant Ah Chow. Here's a tip: Ask for the "secret weapon" menu option, their kopi o kosong – which is essentially white coffee prepared with a hint of alcohol.
DO Ulu Geroh Rafflesia Trail
Trek the Ulu Geroh Rafflesia Trail, located a little way outside of Ipoh in the village of Ulu Geroh in Gopeng. Besides the largest flower in the world, you will also chance upon rubber plantations, durian orchards, and quaint local villages. However, take note that to trek along the trail, you will need a Semai Orang Asli guide from the village.
STAY Sekeping Kong Heng Hotel

One of the first boutique hotels in Ipoh that sparked its new identity, Sekeping Kong Heng Hotel takes over a preserved three-storey neo-classical building. Don't skip the eponymous famous coffee shop on the ground floor, serving up amazing coffee and some of the best local dishes in town.
If you do just one thing... Explore Ipoh's historic laneways, such as Concubine Lane, for its street art and culture precincts. Ipoh's preserved architecture is a sight to behold, consisting of heritage shophouses with Chinese and British colonial elements – complete with five-foot ways and pretty shutters and tiles.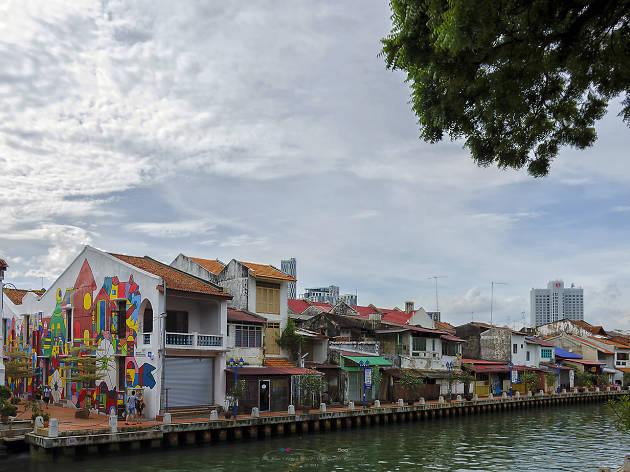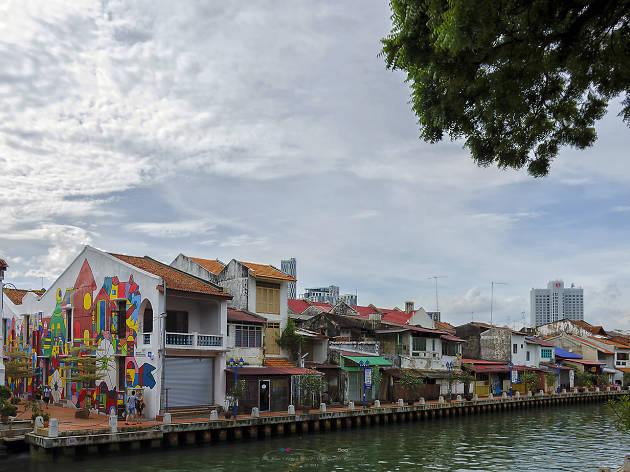 Photo: Lung Wei/Flickr
If you're looking for an idyllic heritage town to spend a quiet weekend in, the charming and quaint Malacca is only a few hours drive away from Singapore. Rows of shophouses, Peranakan antiques, winding laneways and plentiful of good food at every corner, this town is your dream road trip destination. There's history, heaps of culture, too much food and many happy photo opportunities to be had.
EAT Pak Putra
Despite all the guide books telling you to eat your weight in assam laksa and chicken rice balls, skip the advice and try out Pak Putra, an open-air, open-at-night-only establishment. For the best naan you'll have, amazing Tandoori chicken, and assorted curries, this is a must-go when you're in town.
DRINK The Daily Fix
Blink and you might miss this buzzy cafe located within a gift store. You'll be surprised to find that this is no sleepy, quiet spot. Still, if you do bag a spot, the coffee is the best in town. Rose lattes, ice mochas and the cold-brewed tea (ask the staff to see what's brewing for the day), it's the erfect complement to your short getaway. The kids will love the selection of fluffy pancakes in gula melaka, chocolate chip and more.
DO The Clay House
Here's a different sort of holiday shopping: it's where you take the time to make your own wares to bring home. Drop by the rustic store and pottery studio where you can sign up for a session to get your hands dirty. From sculpting to glazing, you'll be bringing home your own handmade cups, bowls, lamps, aromatherapy burners and more.
STAY 1825 Gallery Hotel
When in Malacca, stay by the river, just so you won't be too far from all the good food and good spots in town.This colonial-style heritage building is located just outside the main Jonker Street area but still close to everything. Rooms are spacious so if you're rooming with the family, there's enough sleeping space for everyone. Splurge on a room upgrade with river views, a balcony and your own personal whirlpool tub.
If you do just one thing... Besides just eating and cafe-hopping, Malacca is huge on its antique stores as well. From Chinese porcelain stools to crystals and gemstones (think agate face rollers and rose quartz stone massagers), batik and fabric stores to rattan furniture shops, it's a different kind of shopping sans malls here in Malacca.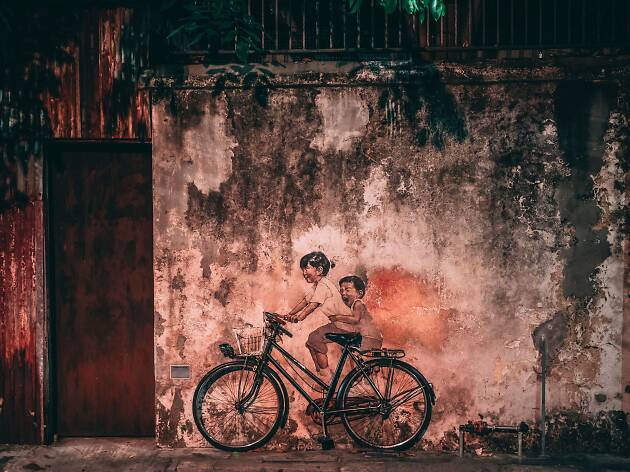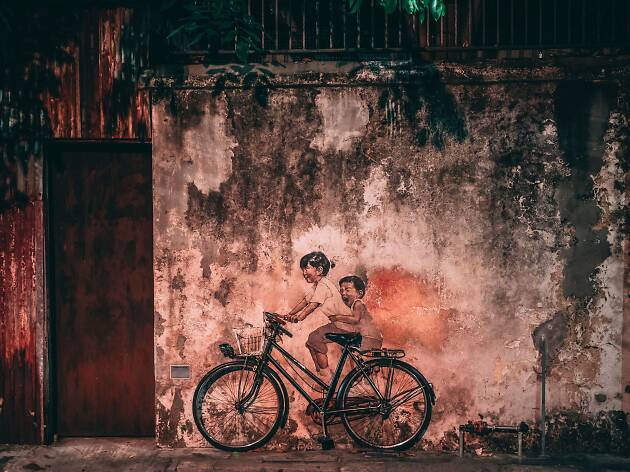 Photo: Poh Wei Chuen via Unsplash
A popular weekend getaway for its famous hawker food, street art, history and culture, Penang is a great pick for a quick getaway from Singapore. Whether you choose to go on a road trip with friends or catch a quick and cheap flight there, the first thing you will surely do when you reach is to go on an eating binge.
EAT Kafe Khoon Hiang
When in Penang, you have to try one of the most famous local offerings, char kway teow. Don't think that just because you've tasted the ones here, you've tasted it all. The charred flat rice noodles are tossed with juicy prawns, crunchy bean sprouts and scrambled duck eggs.
DRINK The Canteen At ChinaHouse
When hanging out in a new town on holiday, kicking back with a cold drink in hand and all-around chill vibes are important. At The Canteen, it's all about dressing down and enjoying the nightly live music covering genres from jazz to indie, while sipping on your favourite cocktail.
DO Penang National Park
If you have had enough of culture and the food, pack your bags and hike the Penang National Park. See the best of Penang's rainforests and beaches in this huge park. Enjoy spectacular views from canopy trails or sink your feet into the pristine sand on the beach.
STAY Cheong Fatt Tze Mansion
If it looks familiar to you, you might recognise it from an important scene in Crazy Rich Asians. The mansion also happens to be a boutique hotel with 18 personalised rooms – and all of the rooms are different and tastefully decorated with 19th-century antiques.
If you do just one thing... Hunt for murals on the street of Penang. Penang's famous and colourful murals have made for Instagram fodder. There's one on almost every wall so get exploring and remember to snap some pics.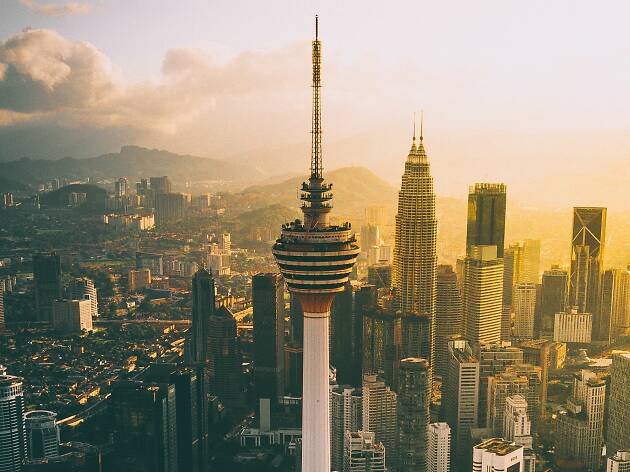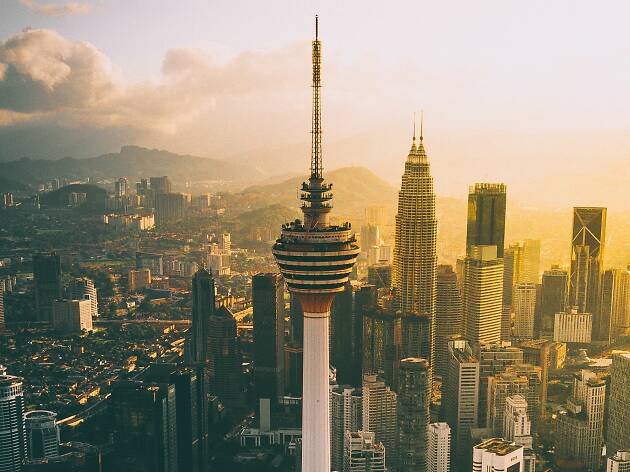 Izzudin Helmi Adnan/Unsplash
Leaving the city to another city? Kuala Lumpur it is. There's much to see and do (and eat) in this city that seemingly never sleeps. From suppers in the open air to fancy air-conditioned malls, the familiarity might even remind you of Singapore at times but with a myriad of new adventures waiting for you.
EAT Wong Ah Wah Restaurant
When in KL be sure to make some time for some barbecue chicken wings – possibly the best you'll ever have at this no-frills open-air zi char place at food street, Jalan Alor. While you won't go wrong with the standard dishes like salted egg yolk chicken, braised vegetables and fried rice, it's the chicken that's barbecued right in front of you that is the absolute standout. Brined overnight, the end result is a smoky, salty and just-the-right-amount of oily masterpiece.
DRINK PS150
Have fun trying to find this speakeasy in KL's Chinatown, Petaling Street. Housed in an old shophouse that was once a brother, the space is unassuming, intimate (think In The Mood For Love vibes) and romantic all at once. The drink menu is divided into five distinct eras in the history of cocktails itself: Vintage, Prohibition, Tiki, Disco and Contemporary.
DO Batu Caves
Interestingly enough, one thing to do in KL is to get out of KL. A 30-minute train ride, or 13km from the city is the majestic Batu Caves worth seeing in the flesh. Batu Caves is a limestone hill comprising three major caves and a number of smaller ones. Be prepared to be climbing steps all day and exploring the depths of several caves – remember to bring your cameras!
STAY Alila Bangsar Hotel
You're in for an urban retreat when you book a room at the new Alila Bangsar. City life away from the city will never be this chic. With tasteful and modern decor, an amazing pool with a view, pool-side yoga and impeccable room service, it's great to get away from downtown life once in a while.
If you do just one thing... If sticking to central KL is your prerogative, then all you can is shop and eat to your heart' content. Go mall-hopping along Bukit Bintang and be impressed by the sheer amount of boutiques and shops in a major mall. Ready your cards, you'll be using it lot. When it comes to food, you'll be spoilt for choice with the in-mall restaurants or venture out to Jalan Alor for a taste of hawker life in Malaysia.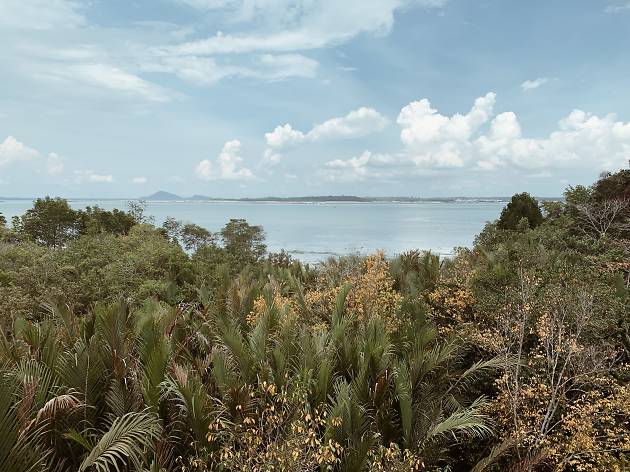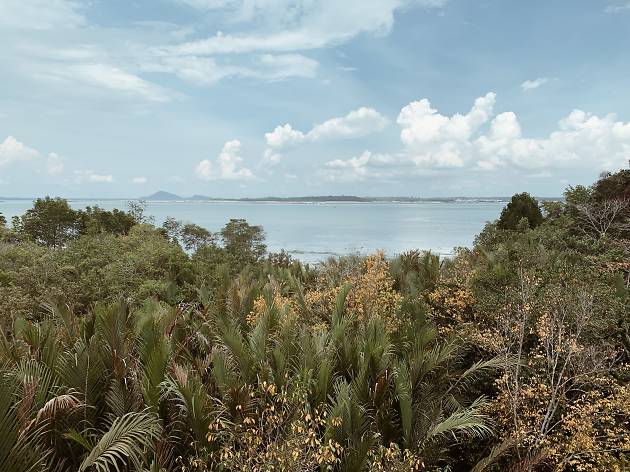 Photograph: Dewi Nurjuwita
Time-travel back to the golden kampung days at the beloved Pulau Ubin, a rustic island off the north-eastern coast of Singapore. Located just a 15-minute boat ride from mainland Singapore, you can realistically explore the whole island (about 10.2 square kilometres) in just a day.
EAT Cheong Lian Yuen Coffee Shop
This unassuming dining establishment near the jetty is the perfect place to wind down after cycling or hiking around the island. Tuck into a mouthwatering selection of fresh seafood with an ice cold beer before getting on the ferry back to the mainland. Popular dishes here are the pig trotter bee hoon, oysters omelette, salted egg sotong and mud crab with black pepper.
DRINK Ah Ma Drink Stall
Stop by this iconic drink stall, housed in a distinctive blue structure in Jalan Jelutong, for a fresh coconut. Don't forget to say hi to the friendly Madam Ong Ang Kui, who has been running the stall for more than 20 years.
DO Soak in everything Pulau Ubin has to offer
There's plenty to do: whether you choose to cycle its unpaved trails, hike up hills for stunning views of abandoned granite quarries, kayak the circumference of the island, or dust off your binoculars out to watch the kingfishers and bulbul birds that inhabit the tidal flats and mangroves. For more in-depth info, read our guide to Pulau Ubin here.
STAY Set up camp
While you can't stay in a hotel on Pulau Ubin, you can embrace the island's wilderness and set up a tent at one of the three campsites on the island: namely Jelutong, Mamam, and Endut Senin. Mamam Campsite boasts uninterrupted views of the sea, with Malaysia in the background.
If you do just one thing... Wander around Chek Jawa Wetlands, one of Singapore's richest ecosystems. A 1.1km boardwalk runs along the coast and mangrove area, giving visitors a chance to get closer to nature. After which, climb up a 20-metre-tall viewing tower for a 360-degree panorama of the island.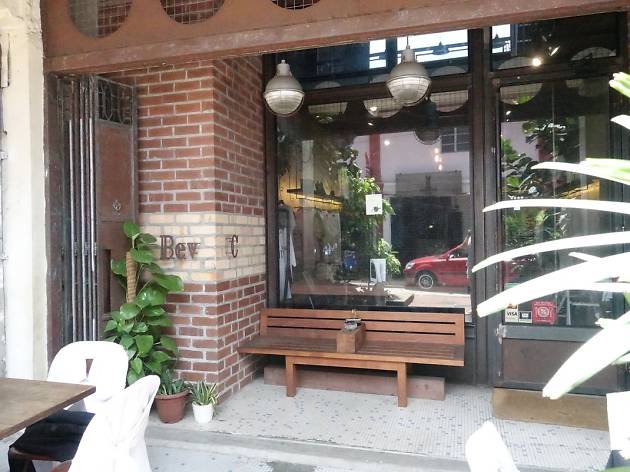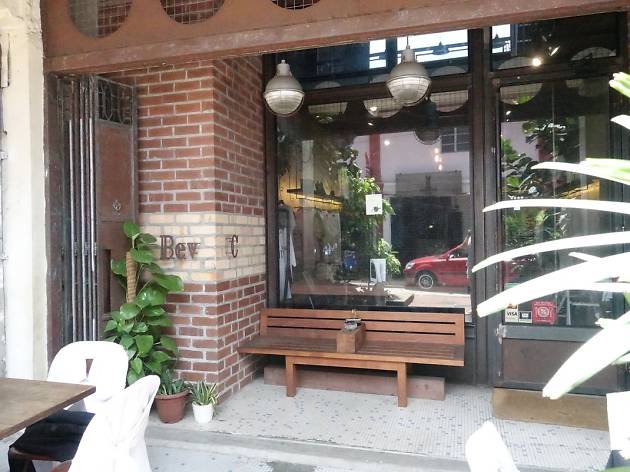 Camera: Sony RX100 IV
Cross the causeway via public transport or in the comfort of your car from Woodlands Checkpoint and you'll find yourself in the heart of Johor Bahru. The JB immigration building is directly connected to City Square Mall, where you can find brands such as H&M and Uniqlo priced more affordable, thanks to the strong Singapore dollar. The surrounding area is also home to plenty of cool restaurants and cafés where you can while the day away.
EAT The Replacement – Lodge and Kitchen
Out of all the cafés we've been to in Johor Bahru, The Replacement – Lodge and Kitchen undoubtedly serve the best food. Try the soft shell crab bao and the piping hot churros served with your choice of dip: there's salted caramel, dark chocolate, Nutella hazelnut and salted egg yolk to choose from.
DRINK Bev C
Johor Bahru isn't exactly known for its buzzy bar scene so swap the booze out for some caffeine instead. The house special at Bev C is the espresso ice cube: shots of coffee frozen into ice cubes served with some milk.
DO Austin Heights Water & Adventure Park
Just a half an hour drive from Johor Sentral lies Austin Heights Water & Adventure Park. The family-friendly theme park is home to the Supersurf, a waterslide with six high-speed lanes.
STAY Doubletree by Hilton Hotel Johor Bahru
Conveniently situated within JB Sentral, Doubletree by Hilton makes for the perfect base for exploring the rest of the city. The modern hotel also comes equipped with a swimming pool and gym to work off those calories from all that café hopping.
If you do just one thing... Queue up for buns baked in a charcoal oven at Hiap Joo Bakery. The banana cake at this old-school institution is unbeatable too – we guarantee you won't stop at one slice.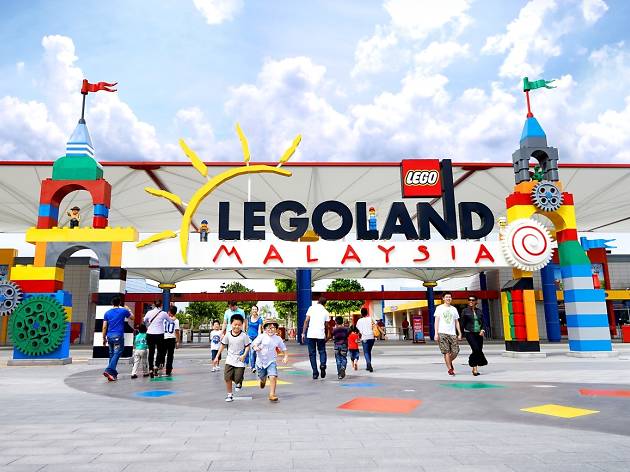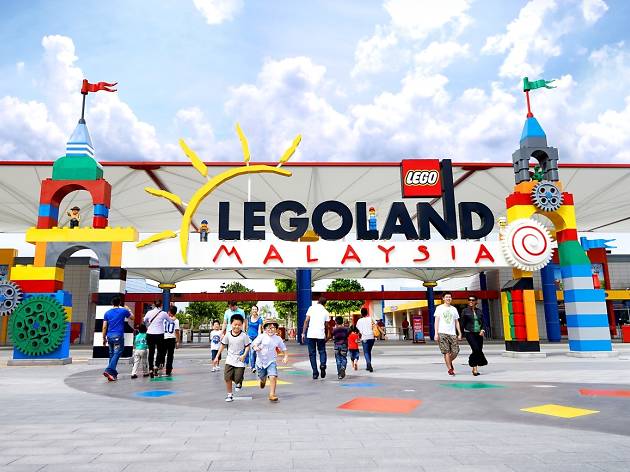 Photo: LEGOLAND Malaysia
Home to some of Southeast Asia's most epic theme parks like Legoland Malaysia and the Hello Kitty Indoor Theme Park, the thriving city of Iskandar Puteri is well worth crossing the causeway for – especially with the kids in tow.
EAT Spice Grill
Leave the touristy eats at the theme parks behind and make the drive down to Puteri Harbour instead. There, you'll be greeted by a host of better options such as Spice Grill, a stylish Indian restaurant that also has Western offerings.
DRINK Rock Bottom Kitchen & Bar
During happy hour, Rock Bottom Kitchen & Bar offers ridiculously affordable alcohol. Think $3 drinks and Bud Light draft, those are some truly rock-bottom prices.
DO Legoland Malaysia
Spend a day (or two) at Legoland Malaysia, the country's first international theme park. Ride the towering roller coasters or immerse yourself in a captivating 4D movie experience. Whichever the case, the impressive park promises to fascinate both children and adults alike.
STAY Hotel Jen Puteri Harbour
Aside from its incredibly convenient location, Hotel Jen at Puteri Harbour also offers a luxe infinity pool overlooking the glistening marina.
If you could do just one thing... Get more for less at Southeast Asia's first luxury premium brand outlet – Johor Premium Outlets. The retail paradise houses internationally-renowned designer brands like Burberry, Coach and more.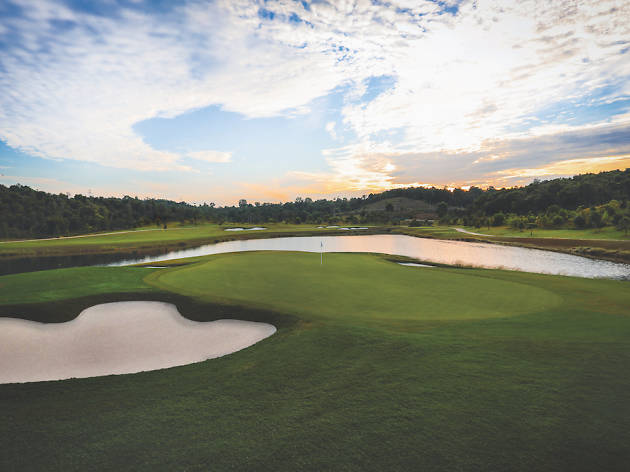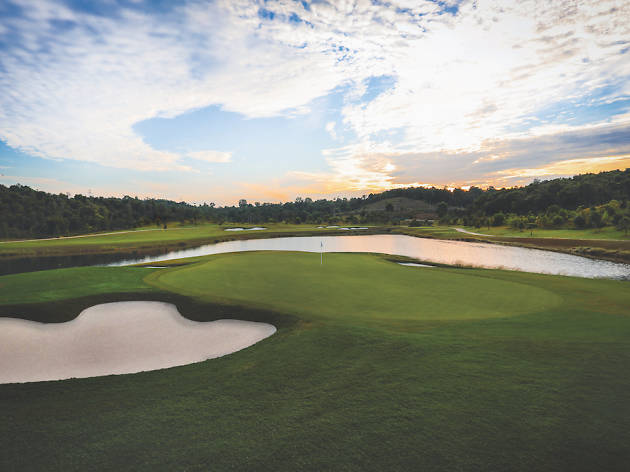 Photo: James Lovett
Spellbinding white sand beaches and azure waters render this relatively underrated island the perfect place for a fulfilling getaway. Simply hop on a 30-minute ferry ride from Changi Ferry Terminal to unravel the diverse offerings of Desaru – everything from ostrich farms and fruit plantations to posh golf courses.
EAT Jade Garden Seafood Corner
Treat yourself to a decadent seafood dinner at Jade Garden Seafood Corner – expect succulent lobster and bamboo clams, to name a few.
DRINK Beach Hut
Located within Lotus Desaru Beach Resort, this shack along the coast is a restaurant by day and bar by night. Grab a coconut or beers by the bottle.
DO The Els Club Desaru Coast
The sprawling club consists of 45 holes spread across two world-class golf courses. The stunning Ocean Course offers a range of customisable golf lessons at its academy for both serious golfers and beginners alike.
STAY Hard Rock Hotel Desaru Coast
Choose from one of the renowned hotels housed at Desaru Coast – a unique integrated destination resort that spans across a pristine beachfront. In particular, the Hard Rock Hotel entices with "rock star" treatment for vacationers and business travellers alike.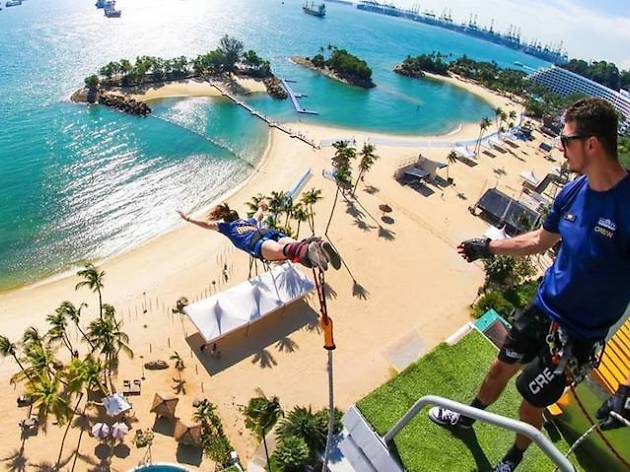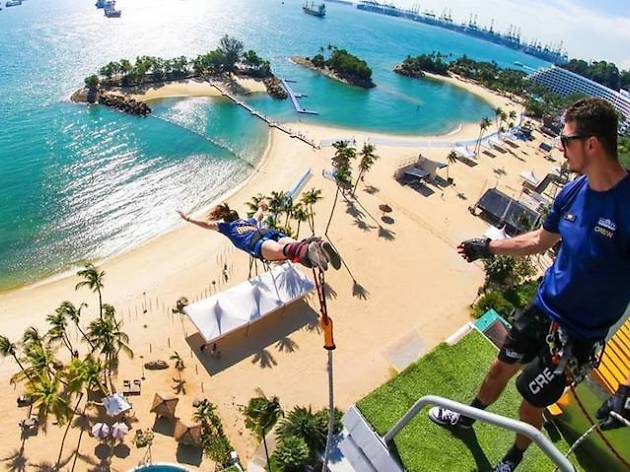 Photograph: AJ Hackett Sentosa
There's something for everyone at Sentosa. Whether you're a high roller looking to make your fortune, a thrill-seeker wanting to scream your heart out on a high-speed coaster, Michelin-star hunting foodie or a marine life enthusiast learning more about our ocean depths, the island has you covered. And if all that sounds a little too much for you, you can always park yourself at one of its three beaches and laze the day away.
EAT Curate
Dine at Asia's first Michelin chef showcase experience. Every quarter, a different guest chef takes over the kitchen at Curate to present his or her award-winning menu.
DRINK Tanjong Beach Club
Dig your feet into the sand as you lounge by the beach with a tiki cocktail by Tanjong Beach Club. On Sunday, DJs turn the beachfront into a dance floor from the afternoon 'til late.
DO AJ Hackett
Here's one for the daredevils. Take a leap of faith by jumping from a height of 47m at AJ Hackett, Singapore's first bungy jumping facility.
STAY W Singapore Sentosa Cove
There are plenty of family-friendly hotels and luxe cabana stays on the island but for something sexier, we recommend making the trek out to W Singapore Sentosa Cove. Located in a quieter corner of the island, the hotel is perfect for couples looking for a little privacy.
If you do just one thing... Spend the day at Universal Studios Singapore, home to Battlestar Galactica and other fun rides that get the heart racing.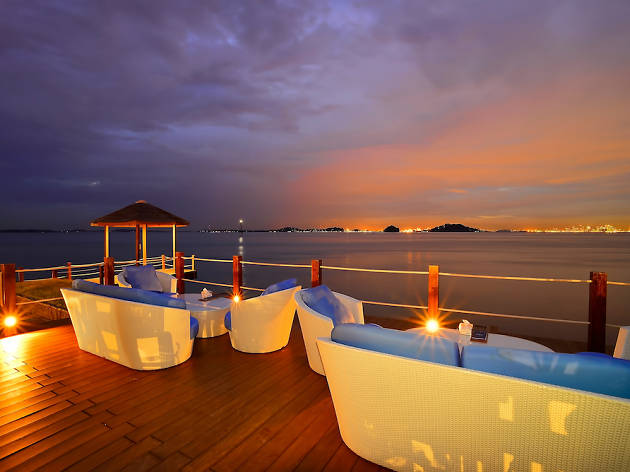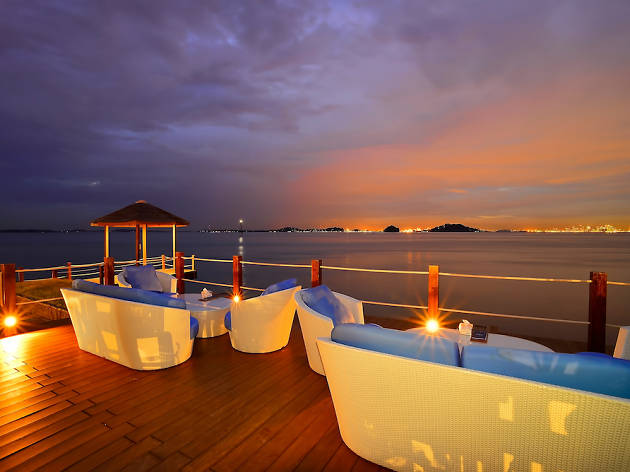 Take a ferry across the Singapore Strait to the charming Indonesian island of Batam. From serene beaches to an enthralling nightlight scene, this oft-overlooked island makes for a more than a decent getaway. Look past its sleazy reputation to unearth an array of exciting activities unique to the alluring destination.
EAT Golden Prawn 933
Head over to Golden Prawn 933 for a leisurely lunch that guarantees to satisfy. Serving up delectable plates of affordably priced freshly-caught seafood, the renowned restaurant proves that it's worth the hype. Alternatively, join fellow tourists as they flock to the iconic A&W café for authentic root beer floats – creamy vanilla soft serve atop fizzy root beer.
DRINK Brewsky & Co
Pay a visit to one of the island's reputable microbreweries. Brewsky & Co has delicious cocktails and great bar games as the cherry on top.
DO Batam Cable-ski Park
If you're looking for adventure, choose from a variety of exhilarating water sports. In particular, opt to go jet skiing at Batam Cable-ski Park. Prices start from $25 for a one-hour pass but opt for the full-day pass that's priced at $65.
STAY Montigo Resorts The distinctive white and blue colour palette of Montigo Resorts' façade affords you the luxury of experiencing a slice of Santorini without having to catch the dreaded 17-hour flight. If that wasn't enough to warrant your stay, the posh villa-style resort boasts an exclusive private pool with unparalleled views of the surrounding Nongsa waters.
If you do just one thing… Relish a fragrant slice of one of Indonesia's famed traditional specialties, Kueh Lapis – an indulgent layered cake – from the revered Layers Batam. Its range of conveniently located outlets include Nagoya Hill Mall and Batam Center Point.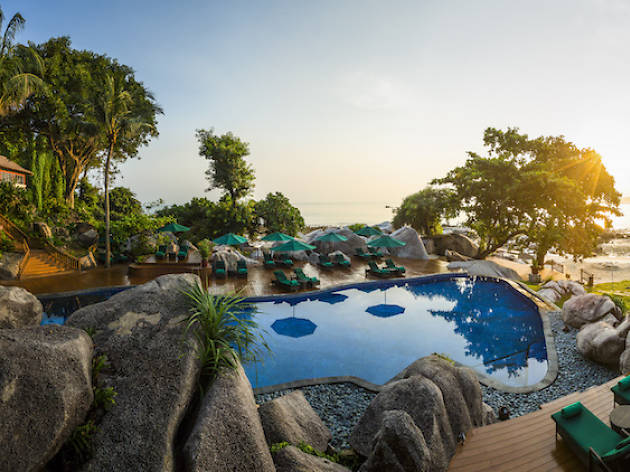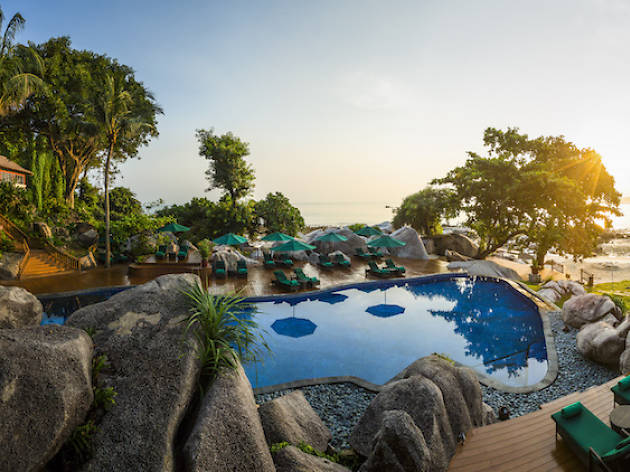 Long established as an upscale playground for the spendthrift, the idyllic archipelago is spoiled with pristine beaches and picturesque landscapes. Yet, hidden amidst an abundance of high-end luxury resorts are rustic old-school fishing villages that intrigue with their grit. It's nice to know that a mere 50-minute ferry ride from Tanah Merah Ferry Terminal can transport you to a versatile and multi-faceted holiday destination like Bintan.
EAT Nasi Padang
Experience Indonesian-style Nasi Padang in its most authentic form as you tuck into the generous servings at Pujasera Food Centre's Lamak Basamo or Rumah Makan Sederhana in Tanjung Pinang.
DRINK Silk
Touted as Bintan's veteran nightclub, Silk promises a night to remember as you immerse yourself in live band music with a jazzy beverage in hand.
DO Air Adventure
Learn to fly at Air Adventure, a flying club at Lagoi Bay. But if all that sounds a little too ambitious for you then opt for a 20-minute ride on a seaplane that will accord you stunning views of the island. There's even an option to purchase a video recording of your flight so you can take your memories home.
STAY Banyan Tree Bintan
Tucked away in a verdant rainforest, the lavish villas of Banyan Tree Bintan offer breathtaking views of the South China Sea and a tranquil atmosphere. In line with its luxurious setting, hotel staff provide impeccably intuitive service catering to every need and want.
If you could do just one thing… Embark on a rejuvenating eco farm tour conducted by BRC Tours – have a hand at harvesting seasonal crops and relish farm-to-table rojak comprising of house-grown fruits and vegetables.
If you've got a whole weekend