Guide to Johor Bahru: things to do and where to eat
From heritage buildings to mouthwatering local food and burgeoning cafe culture, here's an all-encompassing guide for your next trip to Johor Bahru By Darinee Durai, Nicole-Marie Ng, Ng Su Ann and Dewi Nurjuwita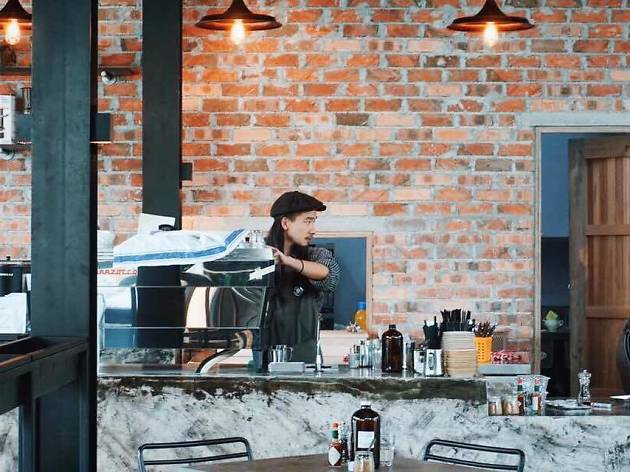 Just across the border from Singapore, the city of Johor Bahru awaits. The weekend destination is a favourite among many Singaporeans thanks to the attractive exchange rate. There are also preserved heritage buildings to see, hip boutique stores to trawl, popular eateries, and a myriad of Insta-worthy cafes. But don't just take our word for it, cross the border and explore JB. Hey, you don't even have to stay the night.
RECOMMENDED: The ultimate guide to Bintan Island and the best resorts in Batam for a quick getaway
Things to do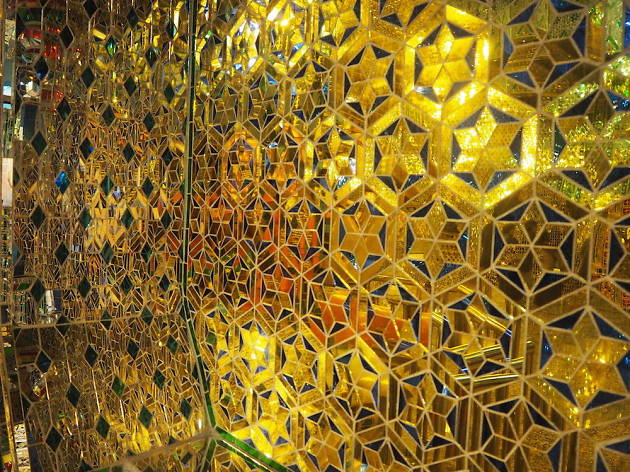 Explore JB's heritage buildings
JB, like Singapore, is a melting pot of cultures and religions. Find out more about this diversity by strolling along the Johor Bahru Heritage Walk and popping into the Sultan Abu Bakar Mosque, Sri Raja Mariamman Temple, Sikh Gurwara Sahib and the Johor Bahru Old Chinese Temple along the way. Arulmigu Sri Rajakaliamman Glass Temple is one of the top attractions in Johor Bahru. It's the only glass Hindu temple in the world with 500,000 pieces of colored glass lining its walls and ceilings. In contrast to the modernity of the glass temple, there's the Old Chinese Temple that was built in 1862,156 years ago. It is one of the oldest buildings in Johor and you can find old paintings on the doors and walls depicting stories of its past.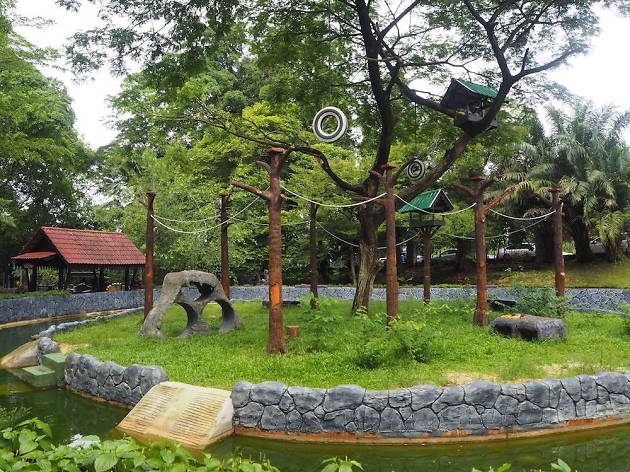 Johor Zoo
Even if you've been to the Singapore Zoo, the Johor Zoo is still worth checking out. Entry costs a nominal RM2 per adult to view a small range of animals like tigers, tapirs, crocodiles, hippopotamuses, camels, reptiles and birds. After you're done here – it should take about 20 minutes to cover the grounds – you can hop on over to the next destination.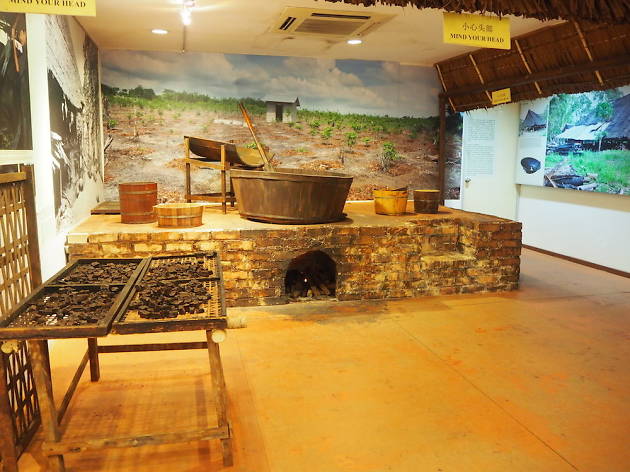 Immerse yourself in Chinese culture
Did you know that Johor was a predominantly Chinese state back in the day? Or that planting pineapples propelled the state to become one of Malaysia's top fruit producers? Housed in a four-story building, the Johor Bahru Chinese Heritage Museum (RM6/adult, RM3/child) is packed with various artifacts and documentation on display, old coins and notes, music instruments, photos, porcelain and more paraphernalia that'll teach you more about the Chinese population living here in the past. Read up on how the local Chinese planted pepper and gambier and the differences it made to the Malaysian economy.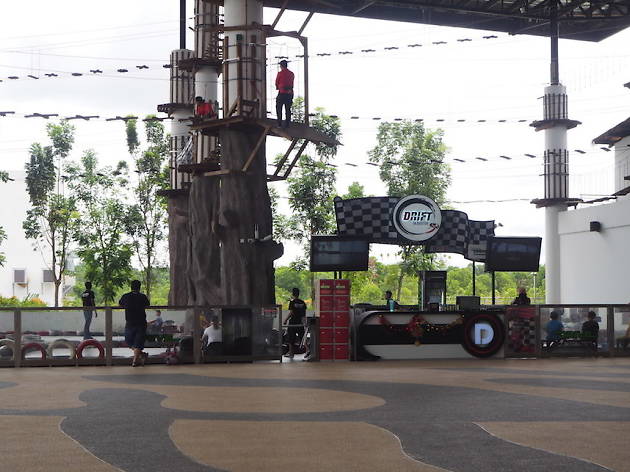 Make a splash at Austin Heights
Now, if the kids (or you) would rather splash around and have fun, Austin Heights Water & Adventure Park has tons to offer. The entrance is flanked by the Adventure Rope Course which features 51 different challenges. Venture deeper into the establishment, and you'll find multiple water slides and pools where you can bask under the sun. If you'd rather not get wet, head over to the Indoor Trampoline Centre and bounce your way to fitness or let your need for speed out at the Drift Kart course upfront.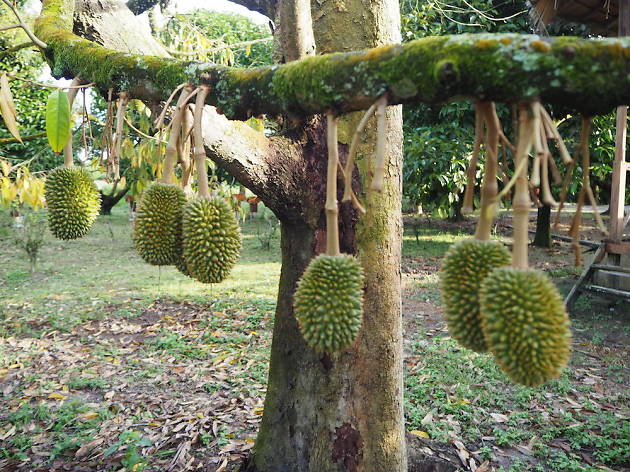 Pick fruits straight from the tree
An hour's drive away from Woodlands Checkpoint is a 180-acre farm. Sure, it's not within the city, but if you've never experienced the thrill of standing under a durian tree during durian season, it's worth the trip. As long as no one gets hurt. Desaru Fruit Farm has over 40 types of tropical fruits and an average tour of the land takes about 20 minutes. If you come in time for lunch, there's an option to dine on-site and be treated to fruits as part of the meal. Stay till the sun dips below the horizon and take a 40-minute river cruise to see fireflies. Those little critters just amp up the magic factor to make your trip a memorable one.
Where to eat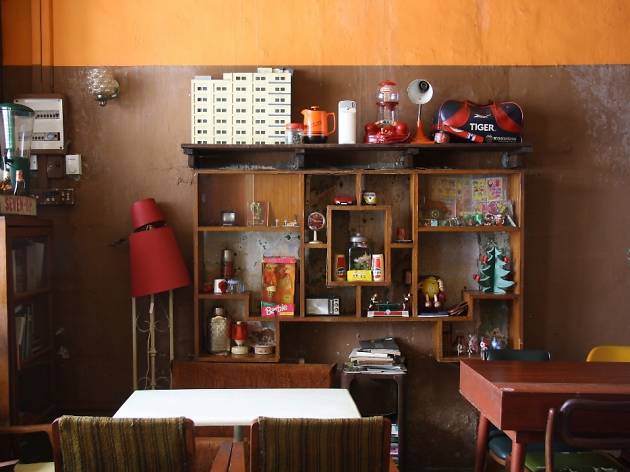 Photo: Ng Su Ann
You know you've arrived at Jalan Dhoby when you spot Roost Café and Bistro. Entering the café is like stepping into a two-storey time machine – think mid-century sofas, antique telephone sets, mini jukeboxes and ornate mirrors, relics of a bygone time. The food menu is based on co-owner Sea Wong's family recipes and the drinks are served in small, colourful buckets. When you're done dining and drinking, pop over to Miss Ireen Handmade and The Girl Next Door: the custom accessories boutique, and designer/vintage store and hairdressing salon share an al fresco area with Roost.
9 Jln Dhoby (+60 1 6776 7489). Mon-Sat noon-4pm, 6pm-midnight; Sun 6pm-midnight.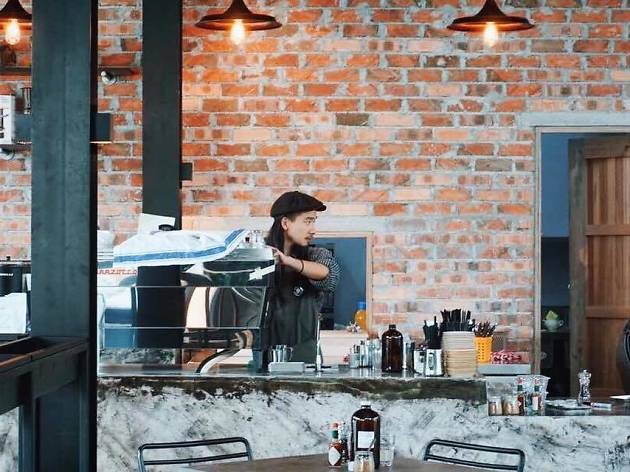 People & Places
A hangout for JB's cool kids, People & Places Cafe is inspired by Melbourne's famed brunch scene. Decked out in industrially-inspired interiors and floor-to-ceiling glass walls with potted plants at every turn, the cafe is an insta-approved spot.
It's best for all-day breakfast. Try out the Quesadilla breakkie (RM25) with fluffy Tomyam scrambled eggs, chicken ham, sliced tomatoes, Alexa's Sriracha aioli, coriander, and Belgium cheddar cheese sandwiched between tortilla sheets. Those looking for healthier options can consider Keto-friendly dishes such as the pan-fried salmon fillet, kimchi, cauliflower rice (RM34.90), kale spinach, beetroot poached egg, lemon mustard cream and toasted sesame seeds.
6 Jalan Kencana Emas 2/3, Kawasan Perindustrian Tebrau 3, (+60 7-351 5303, www.facebook.com/peopleandplacescafe). Mon-Thurs 10am-6pm; Fri-Sun 10am-9pm.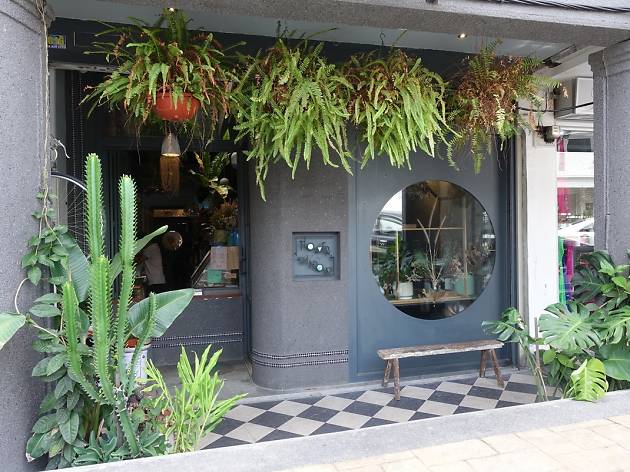 Camera: Sony RX100 IV
Littered with ferns and flowers, this cosy café smells like you're taking a trek through the crisp rainforests of Malaysia. The first floor can feel a little cramped, but head upstairs for more comfy seats to lounge in. Since Flowers in the Window is run by the same people behind Roost, the menu is similar.

The Hainanese chicken rice noodles (RM14) is unlike anything we've tried in Singapore: the noodles are thick, chewy and sticky, perfect for the sweet and spicy sauce. The chicken is lightly battered and fried, but not too greasy. Drinks and desserts also pick up on the floral theme – try the lavender pineapple juice (RM15.90) and lemon meringue curd (RM16).
9 Jln Dhoby (+60 1 6776 7489). Mon & Wed-Sun 10am-10pm.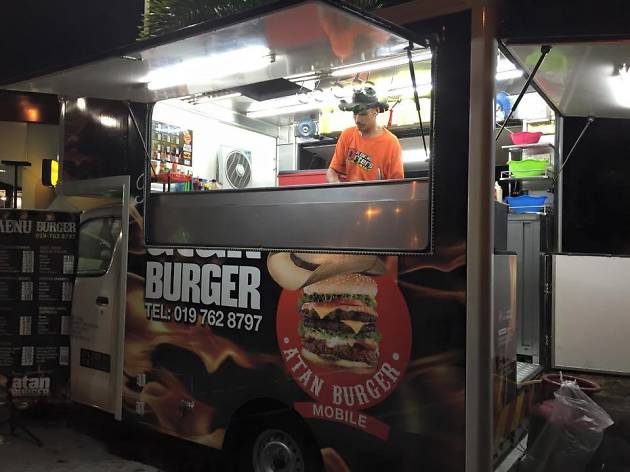 Zai Azian
Burger trucks are all the rage in Johor Bahru, and you can find one when wandering through its alleys. Atan Burger Truck is known for its mouthwatering, juicy burgers at affordable prices.
Tuck into Atan's popular double cheese chicken burger (RM5.50), made from Ramly chicken patty and drizzled with smoky sweet BBQ sauce, cheesy melted cheese, and a mixture of sauces and spices. Feeling adventurous? We dare you to order either the rabbit meat (from RM6.50) or ostrich (from RM6.50).
Taman Pelangi Indah, parking lot next to the Caltex Petrol Station (+60 19-762 8797, www.facebook.com/pages/Atan-Burger/287473944697240). Mon-Sat 8.30pm-3.30am.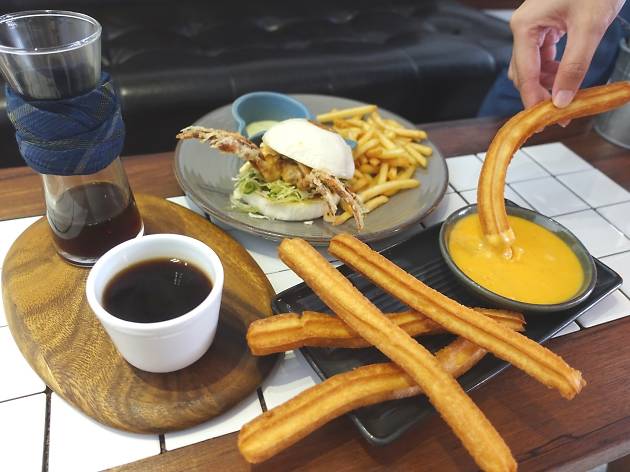 Camera: Sony RX100 IV
The Replacement – Lodge and Kitchen
Compared to other cafés 'round these parts decked out in crazy decor, The Replacement stands out with its minimalist design. Natural light bounces off white walls and the marble bar, giving the spartan café a warm glow.

Out of all the cafés we tried during our JB trail, The Replacement undoubtedly has the best food. Order the soft shell crab bao with fries (RM29.90): the crispy texture of the soft shell crab has a nice contrast to the soft, homemade bao bun. For dessert, get a plate of piping hot churros (RM16.90) with your choice of dip – there's salted caramel, dark chocolate, hazelnut Nutella and the ever-coveted salted egg yolk sauce.
33 Jln Dhoby (+60 1 0226 0311, www.facebook.com/thereplacementlodgeandkitchen). Daily 9am-9pm.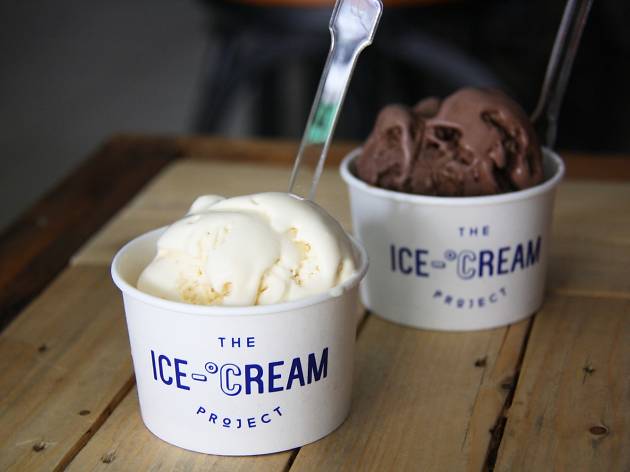 Photo: Ng Su Ann
TIP The Ice-Cream Project
At this pint-sized Jalan Dhoby storefront – which, by the way, has a swing for a seat – the staff offer a twist on traditional ice cream with the help of some good ol' liquid nitrogen. Lest you start your naysay – 'But liquid nitrogen ice cream is nothing new!' – let the freshest, finest ice cream this side of Malaysia do the talking.

There are only four fuss-free flavours: original in milk, chocolate, brownie and cream, and butterscotch. But less is more, especially when it comes to tried-and-tested classics. Order a scoop of the original, top it off with a hot, homemade chocolate chip cookie, and wash it down with a glass of milk; it's as deceptively decadent, yet truly wholesome as any ice cream treat there is. There's coffee, too, but we suggest you pick from the extensive Gryphon tea menu.

31 Jln Dhoby (+60 7-300 7286, www.facebook.com/tipdonttilt). Tue-Thu & Sun 3-10pm; Fri & Sat 3pm-midnight.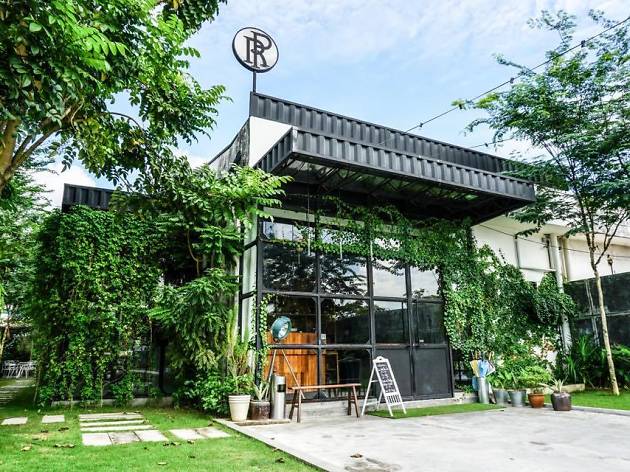 Rowan & Parsley/Facebook
Rowan & Parsley Food Atelier
Probably the prettiest cafe in JB, Rowan & Parsley Food Atelier is tucked within an industrial estate along Jalan Kota. Enter its iconic, arch iron gates and you'll be greeted by an enchanted garden with fruit trees and lush greenery.
The cafe itself is surrounded by floor-to-ceiling glass panels, evoking industrial-chic sophistication. While you're there, don't miss the desserts like the Peanut Chocolate Pie.
17 Jalan Cenderai 20, Taman Perindustrian Kota Puteri (+607-382 1760, www.facebook.com/rowan.parsley). Sun-Thu 11.30am-11pm; Fri&Sun 11am-11.30pm.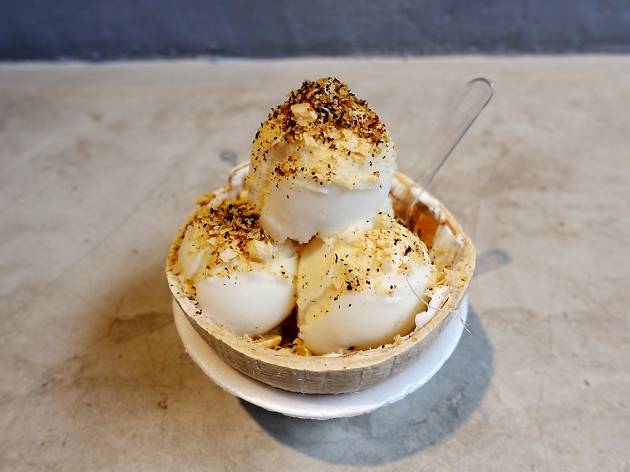 Camera: Sony RX100 IV
With an unassuming façade and name, we weren't expecting much from Sangkaya. And when the small, hollowed-out husk of a young coconut arrived with four scoops of ice cream, we were still not convinced. But from the first bite, we knew there was a reason for Sangkaya's confidence in serving only coconut ice cream.

The ice cream is thick, creamy and tasted better than those we've had in Bangkok. Yes, even the ones from Chatuchak. While we only sampled the original (from RM2.90), it also comes flavoured with Thai milk tea, green tea or chocolate. Order a combo set and get any ice cream and coconut water at RM12.90.
14 Jln Dhoby (+60 3 8938 9889, sangkaya.co). Mon-Thu & Sun 1pm-11pm; Fri & Sat noon-midnight.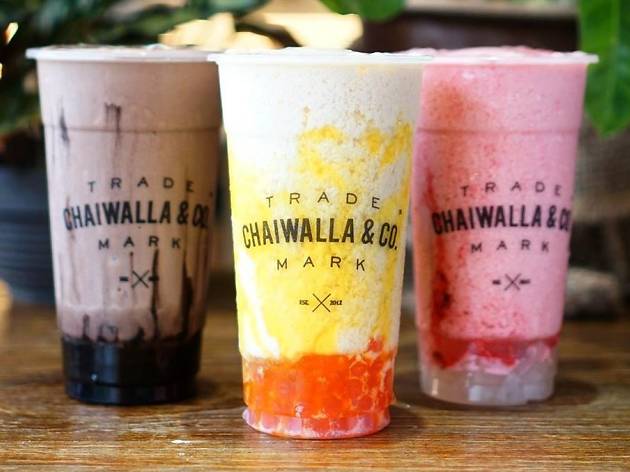 Chaiwalla & Co. Container Cafe
Housed in a repurposed shipping container, Chaiwalla is the place to stop for a tall glass of iced Thai milk tea – best paired with a box of banana cake from the nearby Hiap Joo Bakery, an old-school joint that still churns out buns in its charcoal oven. Aside from the popular classic Thai milk tea, it also has cold saffron tea, Thai green milk tea and black tea among other beverages for a quick refuel.
36, Jalan Tan Hiok Nee, Bandar Johor Bahru. Mon-Thu & Sun noon-midnight; Fri & Sat noon-1am.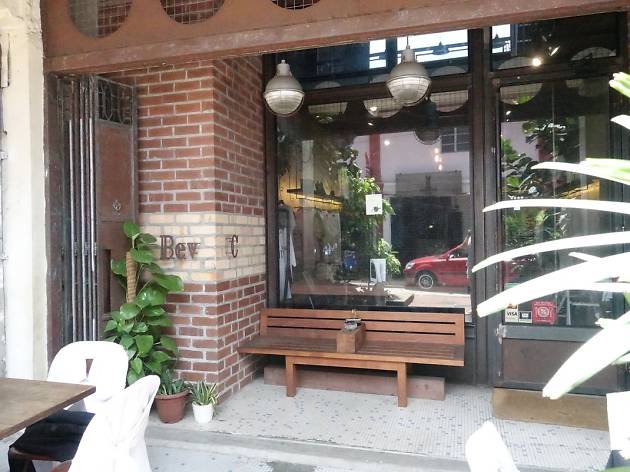 Camera: Sony RX100 IV
Don't be confused when you first step into Bev C'afe – the café is on the second floor. The first floor is a retail space that houses fashion basics, mostly in either black or white. Once you're happy with your purchase, climb up the narrow staircase and order yourself some coffee and snacks to refuel. Or, if you feel daring enough, you could rest your head on the decorative bed laid out in the middle of the café. The house special espresso ice cube (RM13.90) is a hot favourite. Shots of coffee are frozen into cubes and served with a side of milk – this way, you can enjoy a cold cuppa without diluting it with ice.
54 Jln Tan Hiok Nee (+60 7 221 3530, www.facebook.com/BevCclothingbrand). Tue-Sun 11am-8pm.
Show more
More short trips