Cockatoo Island - Biennale of Sydney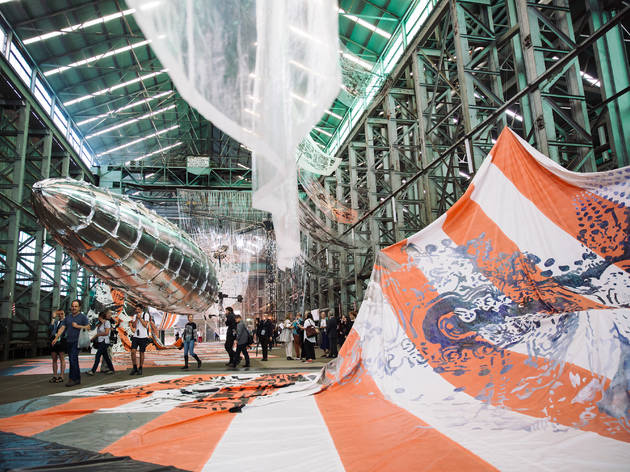 1/12
Photograph: Daniel Boud
Lee Bul – 'Willing to be Vulnerable' 
2/12
Photograph: Daniel Boud
3/12
Photograph: Daniel Boud
William Forsythe – 'Nowhere and Everywhere at the Same Time No. 2'
4/12
Korakrit Arunanondchai – 'Painting with history in a room filled with people with funny names 3' 
5/12
Photograph: Daniel Boud
6/12
Photograph: Daniel Boud
Chiharu Shiota – 'Flowing Water'
7/12
Photograph: Daniel Boud
Artist Chiharu Shiota
8/12
Photograph: Daniel Boud
Alexis Teplin – 'HE and HO for O' performance
9/12
Photograph: Daniel Boud
Bharti Kher – 'Six Women'
10/12
Photograph: Daniel Boud
Artist Emma McNally with 'Choral Field'
11/12
Photograph: Daniel Boud
Xu Zhen (produced by MadeIn Co.) – 'Eternity'
12/12
Photograph: Daniel Boud
Ming Wong – 'Windows on the World (Part 2)'
Welcome to the Embassy of the Real
As the Embassy of the Real, Cockatoo Island will feature artists who are interested in science fiction, the way we perceive reality through new technology, and the importance of the physical body in contemporary life.
"The Island is an interesting place," muses Biennale of Sydney director Stephanie Rosenthal. "The idea of reality has shifted slightly there: it's a historical site, but it also has all these leftovers from film sets."
During her first few site inspections, Rosenthal found herself unable to distinguish between actual 19th century buildings and set design (X-Men Origins: Wolverine filmed at Cockatoo Island in 2008, as did Angelina Jolie's Unbroken in 2013).
CAN'T MISS:
Lee Bul 'Willing To Be Vulnerable'
A highlight of every Biennale season at Cockatoo Island is the Turbine Hall, which is given over to works of an epic scale. This year, Korean artist Lee Bul has created a utopian cityscape within the cathedral-sized space, concocting a possible future from the dreams and aspirations of humanity.
DON'T MISS:
Festival Day
May 29, 10am-5pm
Catch a free Biennale Ferry from Campbell's Cove to Cockatoo Island; then:
– Book in for a workshop and make art at stations across the Island inspired by the artists and ideas in the exhibition.
– Catch artist Roslyn Helper and an ensemble of Facebook friends performing a live version of her virtual Chat Club project. 11.30am & 1.30pm.
– Sample wines at the Yering Station Wine Bar.
- Buy 'internetish' things at Sydney's first Internet Yami-Ichi: a market selling things or services inspired by or mimicking the Internet.
William Forsythe 'Nowhere and Everywhere at the Same Time No. 2'
This choreographer (former artistic director of Ballet Frankfurt, followed by his own Forsythe Company) usually works with professional dancers, but this installation of 400 pendulums invites spectators to undertake a spontaneous choreographic adventure: getting through the maze of swinging objects without touching them.
Rosenthal describes it as a work "about the gravity of the body, the moment where we really experience ourselves."
Read our Biennale of Sydney guide to find out what and who is where.