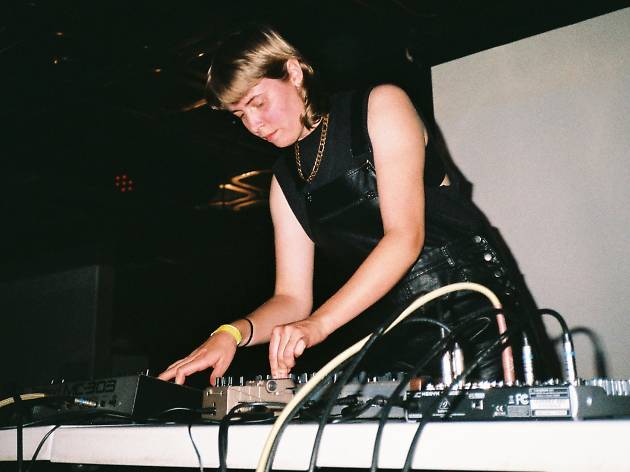 Time Out says
Liveworks is once again wrapping up with an epic Carriageworks party combining queer art and music
There are few parties that manage to pull together the full-breadth of Sydney's LGBTQIA+ community, reaching across generations, while combining a wild party spirit with some seriously stellar art and queer performance. But that's what Day for Night, the closing event of the annual Liveworks festival of experimental art, prides itself on. This will be the sixth edition of this wildly popular queer performance-party hybrid, and the third year in a row it's been hosted at Carriageworks. Proceedings kick off at noon and ride high until midnight when it starts to get appropriately hedonistic.
This year's line-up is a vibrant representation of the queer identity's many facets, featuring a great mix of senior artists and DJs alongside a new generation of queer talent and international visitors. Here are some of the highlights:
Jermaine Dean – a multidisciplinary artist and member of FAFSWAG, Auckland's LGBTQIA+ Indigenous arts collective – will be inviting revellers to be part of an immersive installation. Partygoers can enter an evolving photoshoot and become participatory characters in Dean's dreamy, fantastical universe.
Another immersive experience, by club music producer and composer Nina Buchanan, will blur the lines between the party and the art. Created as part of the Performance Space and Mardi Gras Stephen Cummins Residency, attendees can explore a quadraphonic sound-scape built from aggregated syncs, ambient textures and complex rhythms.
Adelaide-based artistic collective and electro-music group GIRL will present MASConfessional, a two-part performance in which the audience's thoughts, fears and fantasies about masculinity become the fabric of "sonic-interludes", which will be played between songs from their debut album, Masc.
A collaborative project between Harrison Pickering, Vishmi Helarante and Miranda Macpherson, Soft Core Bondage Faeries, will cover the Day and Night audience in an interwoven web of, you guessed it, softcore bondage. This playful, erotically irreverent performance will also feature a chorus of "connective-plasma-faeries" and other gift-giving creatures who will bring the audience together, literally, by tying them up.
The soundtrack to this evening of queer high-jinks will once again be supplied by Day for Night veterans, Stereogamous – aka Paul Mac and Jonny Seymour – who will be conjuring dancefloor joy with sets of thumping club bangers.
Tickets are $40 and the party runs from midday to midnight on October 26, although we suspect there will be more than a few after-parties for those looking to kick on.
Details