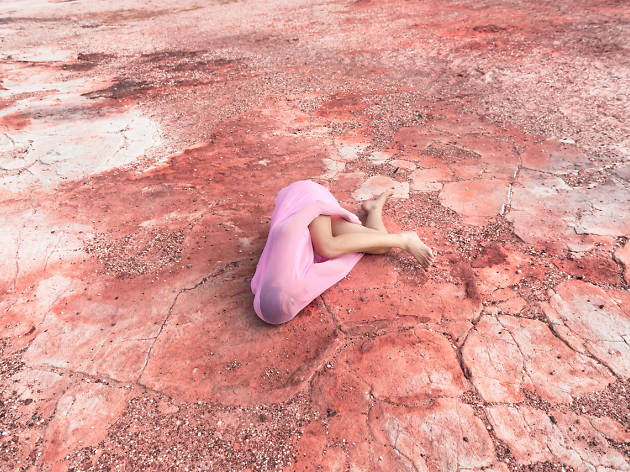 Highlights from the Underbelly Arts Lab and Festival
The celebration of gutsy new art, music and performance returns
From September 25 until October 8 the National Art School will transform into a hotbed of emerging talent when this year's Underbelly Arts Festival takes residence at the former gaol for the first time.
The alt-biennial festival consists of two parts – a two-week onsite 'Lab', which serves as an artistic development period for more than 116 artists. Dance makers, musicians, painters, performers and sculptors from across the country will be creating 21 works-in-progress, which you can pop in and view on behind-the-scenes tours throughout the lead-up to the Festival.
Festival director Roslyn Helper's highlights from the program include a fried performance piece from collaborative duo, Pony Express. Ian Sinclair and Loren Kronemyer will host a daily waterfront performance down at Woolloomooloo, where they will kayak into the water and cover themselves in hot chippies. Ensuing chaos, seagulls and crowds will create a different performance piece each day.
Choreographer and activist Amrita Hepi is working with creative pair Prue Stent and Honey Long. Their work is centred around an audience-enveloping pink, soft sculpture, which will both protect their audience and invite them to mingle with the dancers.
Angela Garrick, Nic Warnock (founder of R.I.P Society Records) and Yarran Gatsby will also present their interactive installation, The Complaint Department. The public are invited to submit a personal grievance about anything via an online form, which will then be transformed by the Complaint Ensemble into a music piece to be performed during the Festival.
Fellow artists from across the line-up will contribute to Make or Break's (Connie Anthes and Rebecca Gallo) work Merch Stand. They will be crafting take-home souvenir items unique to each Underbelly Arts artwork, which will be sold from a travelling merchandise stand throughout the Lab and Festival.
The Opening Night Party will kick-start the festival on Friday October 6, with DJs, dancefloor antics and performances – featuring Melbourne's dance goth duo HABITS in an exclusive Sydney show with support from Gussy and Jikuroux – followed by the weekend-long festival on October 7 and 8. Your ticket will also grant you access to tours and events at Lab from Sep 25-Oct 6.
Check out the full line-up and get your tickets to Underbelly Arts Lab and Festival today.