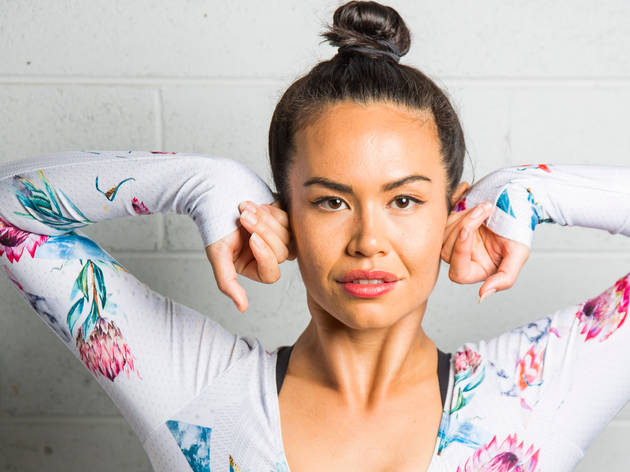 Amrita Hepi interview
Sydney knows – and loves – Amrita for her Hollaback nights and Beyoncé dance classes, but her latest project is far more fierce
Amrita Hepi was in the final creative phase of her dance-theatre work Passing, with New Zealand-born dancer and spoken-word artist Jahra Wasasala, when Beyoncé dropped her first Lemonade single and film clip, 'Formation'.
"I was like man… What the!? This is everything we're going through right now. And people were saying 'How dare she have a political statement? She's not even that black! She dyes her hair blonde!'.'"
Passing debuted at Next Wave in May and makes its Sydney premiere at Erskineville's PACT theatre in June, as part of a season called Afterglow. Hepi and Wasasala's work pitches its tent forcefully in this contested territory of authenticity and identity, using movement, spoken word, visual elements and a soundtrack curated by Lavern Lee (of FBi Radio favourites Black Vanilla and Guerre).
'Passing' is a term that describes the experience of being accepted as part of a group within which one doesn't necessarily sit. Racial passing is where a person classified as being of one racial group is also able to 'pass' as another racial group.
Passing explores identity from the perspective of two women who not only have mixed cultural heritage, but whose dance practice spans genres as far apart as classical ballet, contemporary Indigenous choreography and dance hall.
The genesis for the collaboration was an Indigenous dance residency in Canada in 2014, during which Hepi and Wasasala bonded over being fish out of water: overseas, amongst other First Nations artists, and feeling like they belonged comfortably in neither the Western or Indigenous dance practice that they both had been trained in – Hepi via classical ballet classes as a teen, followed by NAISDA and the Alvin Ailey American Dance Theater in New York.
Recalling her time at the residency, Hepi says, "I felt almost this fear and exhaustion at the prospect of identifying as Western trained, or Indigenous, or queer – in case I was probed about what that meant, or the authenticity of that was questioned. It's weird. You know what you are – but there's this fear of being found out."
Hepi hails from the Ngapuhi tribe in Northern New Zealand and the Bundjulung people in northern New South Wales. Wasasala, born and raised in Aotearoa, counts her Melanesian indigenous roots, in Fiji, as just part of her complex cultural heritage.
"People question the 'authenticity' of Jahra's Pacific-ness," says Hepi, "and for me, it's questions about being authentically Pacific and also a blackfella. People are like 'You're just banking on your brownness'."
A large part of Passing is about "mapping the experience of bodies under pressure," says Hepi. "For example, the physical grooming of hair that's attached to tradition and our mothers and our ancestry; but also the physical grooming that's comes from the exoticisation of people of colour, by the outside world."
Through the collaboration between Hepi and Wasasala, Passing also becomes a kind of transnational conversation between Australia and New Zealand, as the two compare the experiences in each country. Hepi says, "I was joking with a friend last night that 'One half of me has signed a treaty, and the other half of me hasn't.'"
See Amrita's work
If you like the Beyoncé dance classes at Goodgod, you'll love the high cardio hip-hop dance classes from Amrita Hepi and Vanessa Marian.
Amrita is in Time Out Sydney's '40 Under 40' feature, May issue.