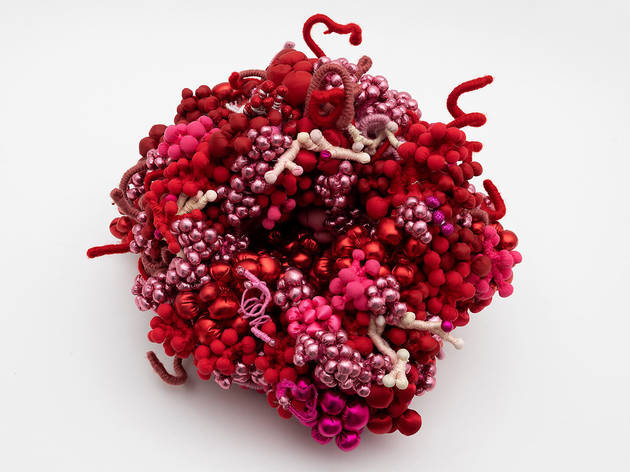 Time Out says
Spin into spring with this colourful new exhibition from the inspiring Japanese-Australian artist
As we gradually dust off the winter blues and dive into the joys of spring, we're all about embracing bright colours. Particularly after months of being stuck largely indoors. Japanese-Australian artist Hiromi Tango gets it.
Her latest show, New Now, opening at Sullivan+Strumpf gallery on September 3, is a kaleidoscopic collection of sculpture, drawings and paintings in flushed fuchsia, emerald greens and sweet pastel swirls. It also acknowledges the toll distance from loved ones takes on us. First her hometown of Tweed Heads was engulfed by bushfires overNew Year's, and now international borders are closed, cutting her off from her ageing parents in Japan. Rather than lean into sadness, the gorgeous works embrace a brighter future.
"Each represent an artistic response to overwhelming situations, and a quest for healing," Tango says. "How do we define now? How can we build resilience? How do we adapt to new realities? How can we build hope in this challenging time?"
And sheesh, she's been busy. New Now draws together no fewer than five of Tango's bright and inviting explorative series. 'Kimono's Will' is a tactile collection of sculptures fashioned from bright kimono fabric that celebrates generations of women working together while challenging tradition. 'Healing Circles' is all about rebuilding and caring for our scarred landscapes, starting off with grey spirals then spinning into colour. The natural beauty of bioluminescence is swept up in the swirls of 'Rainbow Wheel'. Tinted surfaces and bold colours combine to give us that all-important glow-up in a trio of connected works 'New,' 'Now' and 'Heal'.
And keeping the focus on what is within our power, 'Beyond Borders' showcases "the things we can still share, even across the ocean," Tango says. "Imagining a bird that could fly beyond borders, and the perspective of all the ways that nature can still connect us through this time." Hiromi Tango: New Now runs until October 3.
Want more luminescent art? Get ready to light up for Van Gogh Alive.
Details