Julie Gough at The National
The Tasmanian artist explains her work at the Museum of Contemporary Art as part of The National Biennial of New Australian Art 2017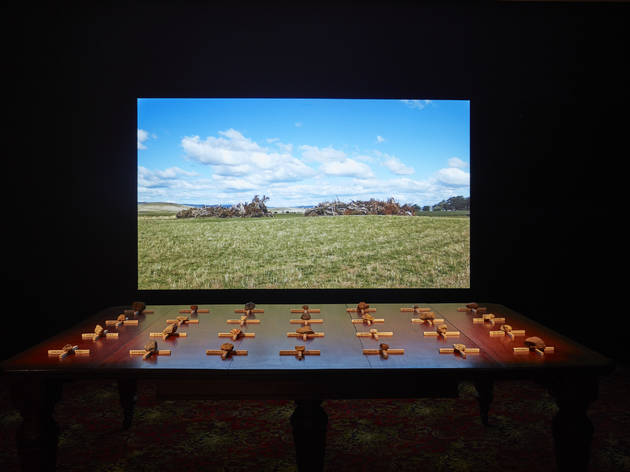 Julie Gough's installation 'The Gathering' is the dark heart at the centre of the Museum of Contemporary Art's exhibition space for the National Biennial of New Australian Art. It quietly but resolutely shows the unconscionable acts on which contemporary Australia is literally and figuratively built.
'The Gathering' takes place in a small chamber with antique chairs and dining table; it looks like a mix between an informal screening theatrette and a colonial-era dining room. At the front of the room, below a large video screen, is a table laid with small white crosses, each bearing the name of a different colonial estate in Tasmania. On top of each cross is a small stone, which the artist took from outside these estates – because as private property, they are not places she can access – despite sitting on land occupied by her ancestors for thousands of years before European settlers arrived.
The final ingredient in the installation is the video work projected above the dining table – as though it were a window within the room. 'The Gathering' runs for 18 minutes, and consists largely of still and scrolling footage of the contemporary Tasmanian landscape taken by Gough. Gates and fences are a focus, as are piles of felled wood, and close-ups of non-native plant species.
These images are given context by excerpts from private and official correspondence and records, and newspapers, from 1829 and 1830 – all relating to actions taken against the Indigenous population by the Tasmanian settlers and government. For instance, 'Government order no. 11' from the Colonial Secretary's Office, dated September 22, 1830, is reproduced in part:
"The Community being called upon to act en masse on the 7th Oct. next, for the purpose of capturing those hostile Tribes of the Natives which are daily committing renewed atrocities upon the Settlers…"
This refers to the infamous 'Black Line' military operation of October 1830, in which a large swathe of Tasmania was forcibly cleared of Aboriginal people.
Gough is a descendant of the Trawlwoolway people of north-east Tasmania. 'The Gathering' is her attempt to grapple with the fact that she and others cannot access their traditional lands; as she says, it is part of a continuum of works exploring "loss of land and access to country" that has taken her into the archives. (Another of these works, 'Hunting Ground', will be presented at the National Gallery of Australia from May, as part of Defying Empire: 3rd National Indigenous Art Triennial.) "You find stories about events that happened at these places, and it makes you think about inheritance. You can inherit land, and you can inherit trauma as well."

'The Gathering' is very effective. It situates the viewer – statistically likely to be a white one – in their colonial history and gives them a window onto the experience of exclusion and alienation. At the end of the experience, despite no overt statements to the effect, it's hard not to think of the properties shown in video as anything other than a form of 'blood money'.
Consider this your hit list for eye-candy and brain fuel.