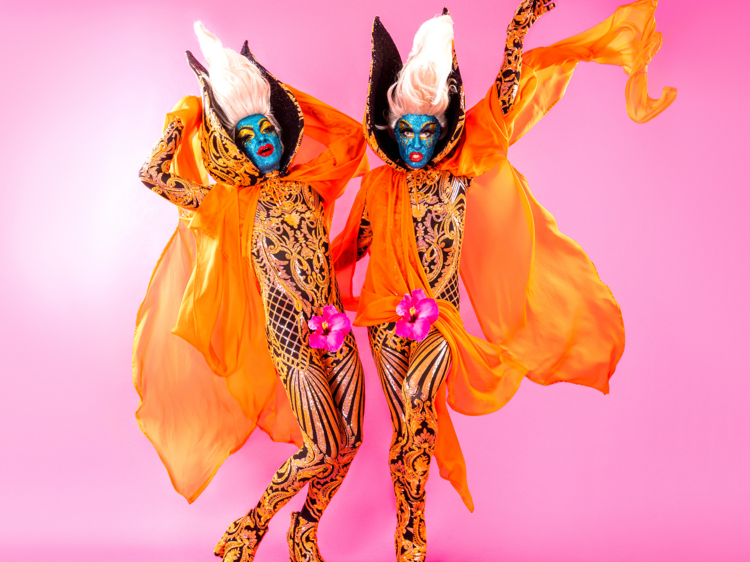 Photograph: Supplied/Carriageworks | The Huxleys, 'Hibiscus', 2022
Carriageworks is being transformed into a portal of colourful, queer new reality this summer. With the joint powers of Paul Yore's installation Word Made Flesh and the Huxleys' exhibition Bloodlines combined, you can immerse yourself in a whole lot of glittery good times and historical tidbits. Conceived as a cacophonous, kaleidoscopic 'gesamtkunstwerk', Word Made Flesh imagines a queer alternative reality, erected from the wasteland of the Anthropocene, performatively implicating itself into the debased spectacle of hyper-capitalist society. Meanwhile, Bloodlines utilises the artists' skills in costume design, performance and photography. This major new exhibition from Melbourne's dynamic duo honours legendary queer artists lost to the HIV/AIDS epidemic. Better yet, everyone is invited to get into the disco rhythm of it all at Bloodlines' Opening Night Party (Wed, Jan 4, 7-10.30pm), featuring live performances from the Huxleys, Betty Grumble, Aaron Manhattan, Benjamin Hancock, Felicia Foxx, Simone Page Jones and banging tunes from DJ Charlie Villas.
From Jan 5. Carriageworks, Eveleigh. FREE.