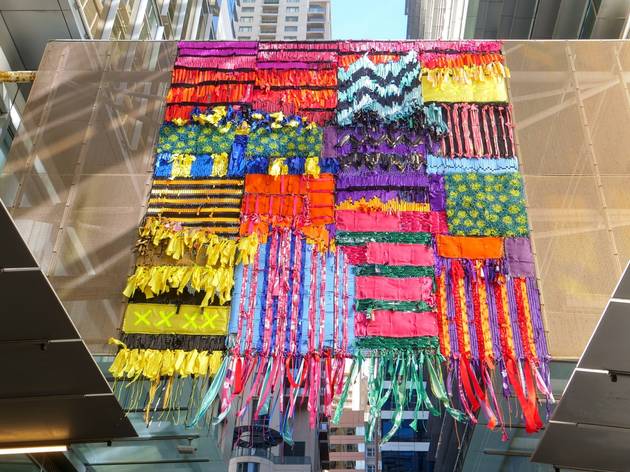 Our picks of the best public art in Sydney
Take to the streets to check out our favourite works of public art around town
It seems that everyone has a hot take on Sydney's public art, as seemingly invited by the very nature of their streetside canvas.
No matter how hard you try to make everyone happy, every work will have its detractors. Some more than others, of course. Notable spats in Sydney's public art history include that time residents threatened to dismantle Ken Unsworth's 'poo on sticks' sculpture in Darlinghurst (it still stands). Then there was the time NSW Parliamentarian Helen Sham-Ho said Lin Li's 'Golden Water Mouth' sculpture in Chinatown "looks like a penis. And remember when then-Oz editor Richard Neville ran a cover photo of himself and two others peeing into Tom Bass's P&O Wall Fountain? Yes? No? Where do you sit in this fraught debate?
That said, who could possibly argue for a city without public art? Here are some of our favourite examples that you can seek out on foot. And maybe try not to relieve yourself on them, ok?
Want more art on the streets?
Sydney is home to a vibrant community of street artists, always ready to bring a splash of colour, a touch of provocation, or just the perfect Instagram backdrop to our city's streets. But as with just about every piece of real estate in Sydney, these unlikely canvases are hotly contested spaces.