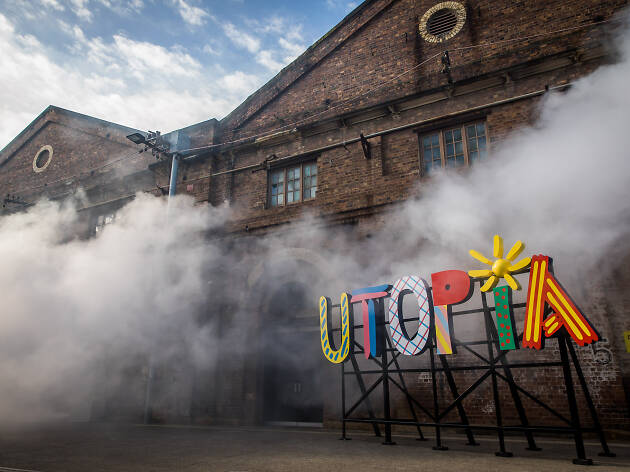 1/3
Photograph: Anna Kucera
Tom Mùller, 'Ghost Line' 2019 and Sam Cranstoun, 'Utopia' 2019 at Carriageworks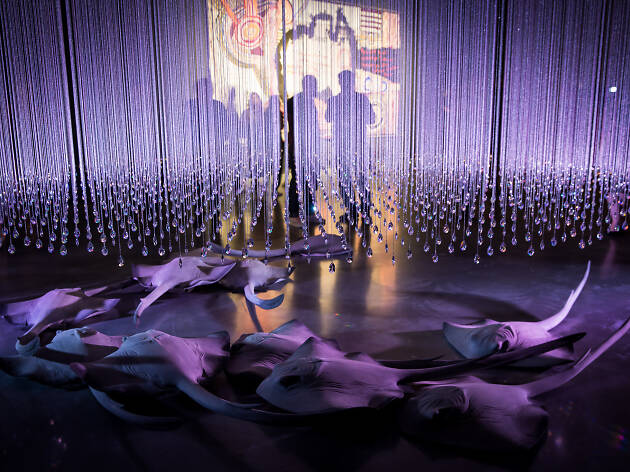 2/3
Photograph: Anna Kucera
Abdul-Rahman Abdullah, 'Pretty Beach' 2019 at MCA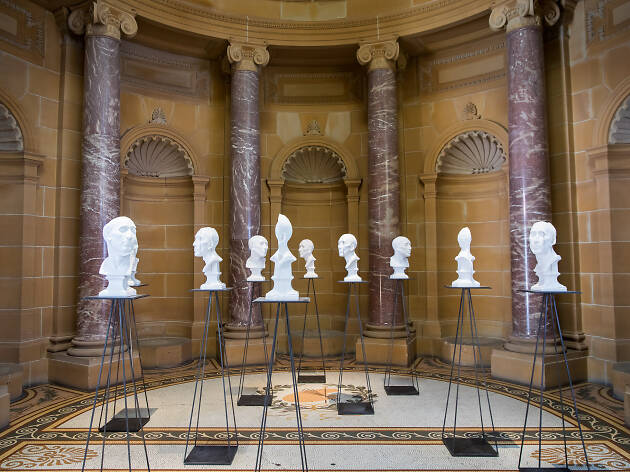 3/3
Photograph: Anna Kucera
Andrew Hazewinkel, 'Part 1, The Emissaries: Keepers of Our Stories from The Ongoing Remains, (3 parts)' 2019
The National 2019: New Australian Art
Sydney's biggest festival of Australian art is back, taking over three of our favourite cultural institutions
While the Biennale of Sydney might be all about international artists making local waves, The National is all about our local contemporary artists and the waves they're making here and around the world. Appropriately, it takes place in the "off" years of the Biennale, kicking off in 2017 and returning for its second iteration on March 29 this year.
There are 65 artists showing works across the Art Gallery of New South Wales, Museum of Contemporary Art and Carriageworks. We explored all three galleries and spoke to one artist from each.
RECOMMENDED: The best art galleries in Sydney.
The National 2019: what you can see and where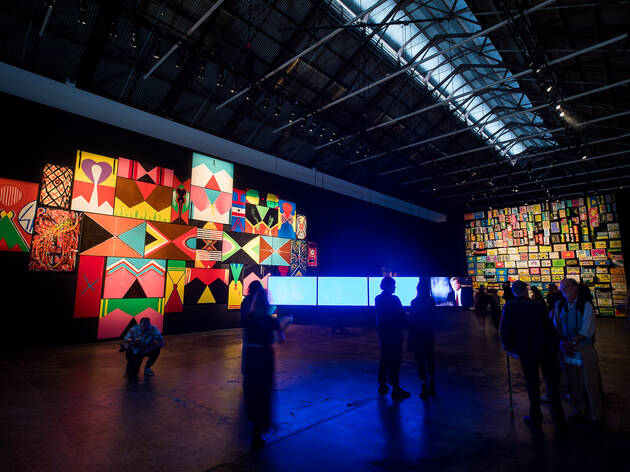 Before you even set foot inside Carriageworks, you see the first works from The National. Both are intrinsically connected to the history of the site as a workshop for steam engines.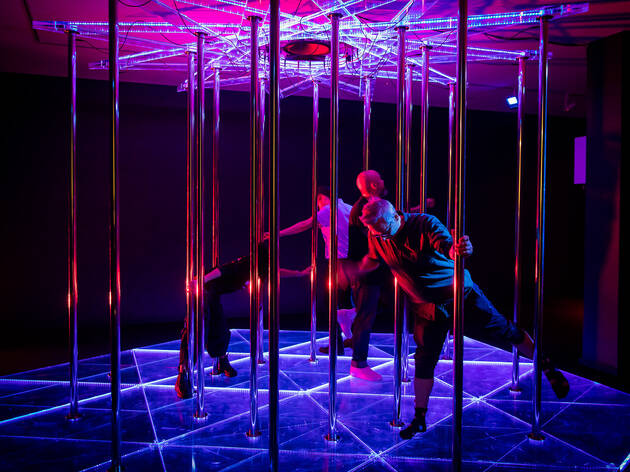 At first you might think curators Clothilde Bullen and Anna Davis have failed to pull together a "harmonious" group of artworks at the Museum of Contemporary Art. But the pair would be the first to admit that they didn't have "harmony" or homogeneity on their minds.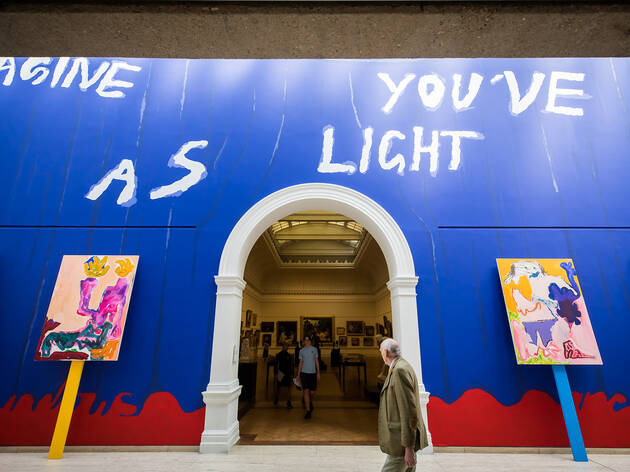 The AGNSW chapter of The National focuses on artists who work across diverse forms – sculpture, performance, video, installation, painting – but are all sensitive to the instability of the time in which we're living.
Meet three of the artists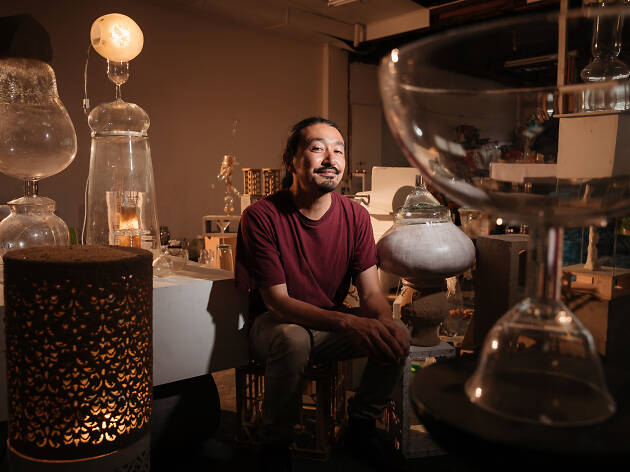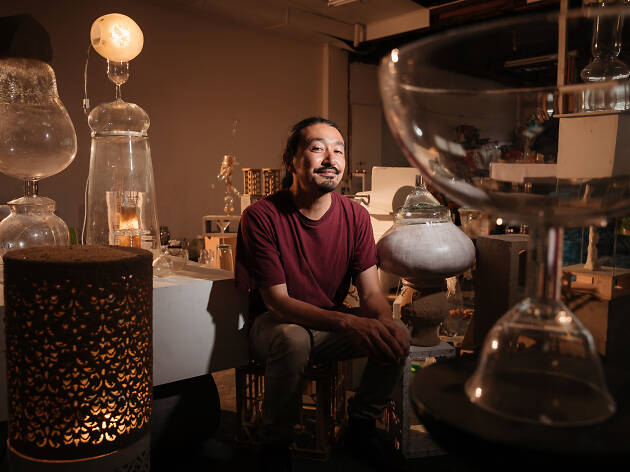 Photograph: Daniel Boud
Where: Art Gallery of NSW
Medium: Found objects, assemblage
Working from his studio in suburban Rockdale, Koji Ryui has spent weeks collecting objects for a new work, 'TOT'.
Ts and Os are the shapes most apparent in these objects, Ryui says of a work that builds on an earlier installation of found glassware titled 'Jamais Vu', created for the Biennale of Sydney in 2018.
"I work with found materials and non-art materials and I try to change their language and meaning," he says. "I'm working with glass vessels again – jars and vases and cups with layers of sand. It's all the same material – silica – but in different states."
While 'Jamais Vu' explored the acoustic properties of glass, 'TOT' begins with Ryui coating objects (glassware, but also a various other things found at home; even some food) in sound-deadening layers of sand as a way to distort the original object's identity or purpose. In this way, an everyday object can be made to look like an ancient artefact, or even something from the distant future.
The work is open to "all different possible readings," Ryui says. "Some of the objects might possess anthropomorphic qualities, or some might look like some kind of architecture, or something that we are familiar with. Each person will see it in a different way."
You'll want to touch the objects – but don't, he laughs. "If you bring curiosity that will be a good way to approach the work. Just for a moment, put the rest of your life on hold and engage, be curious. See what comes into your mind while looking."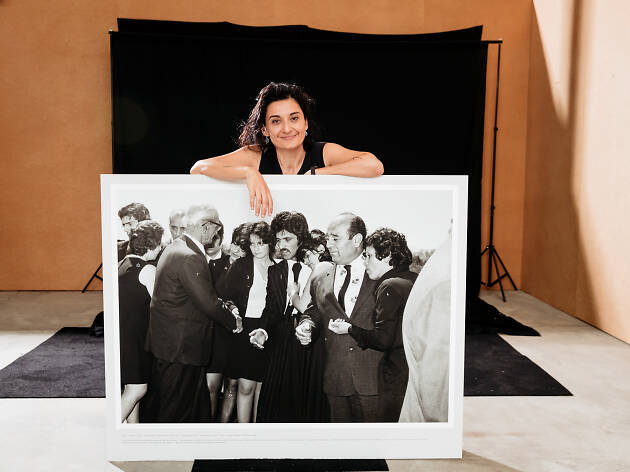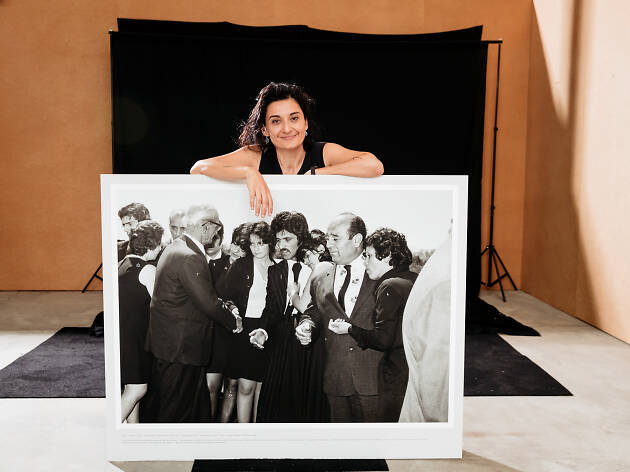 Photograph: Daniel Boud
Where: Carriageworks
Medium: Photography and photomedia
Even in this age of digital images, almost every family has a box of precious photographs.
Cherine Fahd's grandmother kept one such archive. "A couple of years before she died, she gave me a box of old photos and hidden at the bottom was an envelope," says Fahd. Inside were 24 photographs documenting her grandfather's funeral in Riverwood and his burial at Rookwood Cemetery in Lidcombe in 1975. Fahd notes, "my grandmother kept these images hidden and separate from the official family albums I was familiar with."
Fahd, a photo media artist and director of photography at University of Technology, Sydney, was immediately struck by their quality.
"They look like film stills from a Fellini movie. Almost everyone I've shown them to assumes they are staged and not of an actual event. And we don't know who the photographer was, so there's also an air of mystery about them."
It took some time for Fahd to come to terms with what she had discovered.
"I ended up hiding them under my bed for seven years, until I had the courage to work with them."
Fahd returned to the photographs in December 2017. Initially, Fahd says, she was uncomfortable with making the images public. "I had a conversation with my Dad about it, but he encouraged me to work with them. He said, my grandmother wouldn't have given you the photographs if she wanted them to remain private. She knew you'd do something with them eventually."
Fahd has "reworked" the images by digitally annotating them with numbers and words.
"One of my objectives is to share a private story of grief and loss and to provoke a witnessing of emotions usually hidden."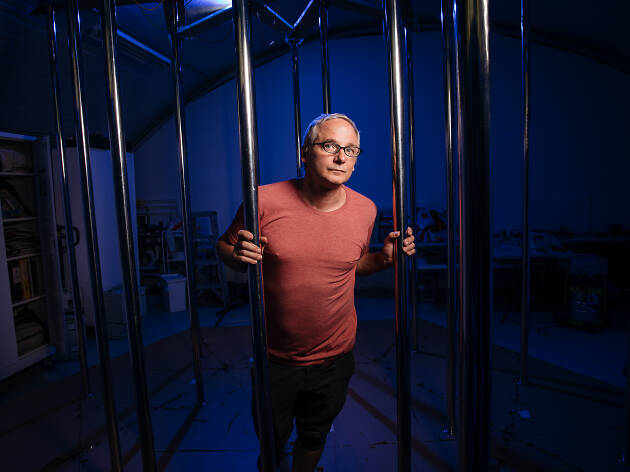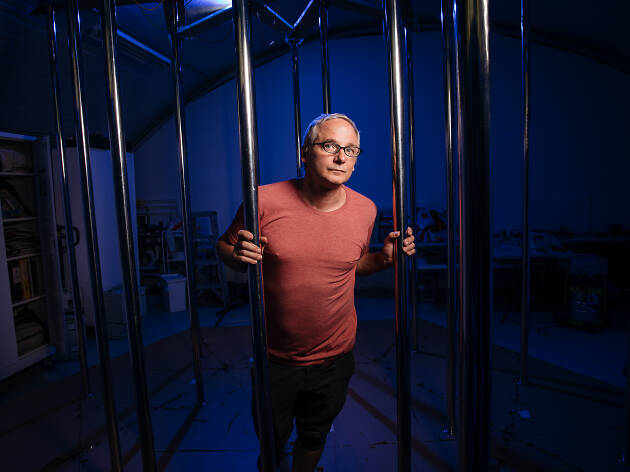 Photograph: Daniel Boud
Where: Museum of Contemporary Art
Medium: Sound and found instruments
Sound and installation artist Lucas Abela operates at the playful end of the art spectrum. He lures people into his work by making it fun and tapping into our intuitive understanding of amusement technologies.
In 'Temple of Din', for example, he turned a pinball table into a mini-gamelan orchestra. In 'Vinyl Rally', he re-engineered a video arcade driving game into a sound sculpture that sent remote control cars, each fitted with a record player stylus, careering over a track made of old LPs.
That same playful touch is apparent in a new work, 'Fort Thunder', an installation of 22 metal poles in a plastic framework, he describes as "audio Twister".
"When kids or adults get inside, they touch the poles and connect them with their bodies," Abela explains. "Your body becomes part of the circuitry, adding resistance, changing the sound. You can't just touch one pole, you have to touch two or more – or connect yourself to other people touching poles."
Abela, who also performs under the name Justice Yeldham (notorious in experimental music circles for playing shards of glass with his face), says he wants to empower gallery visitors to make noise – and lots of it.
"I want to show the fun of making powerful sounds and I try to make it easy for them to do it," Abela says. "I like the idea of people coming into an exhibition expecting one thing and then it becoming something else."
'Fort Thunder' is designed to be a collaborative experience. Bring friends or meet strangers, he says. "Five or six people at a time is ideal. The more connections, the more the instrument comes alive."
You can attempt a solo performance he adds, "but you'd have to be pretty good at yoga."
Want more?
Cultural institutions and attractions are beginning to welcome back visitors, we've rounded up some of the biggest hitters.