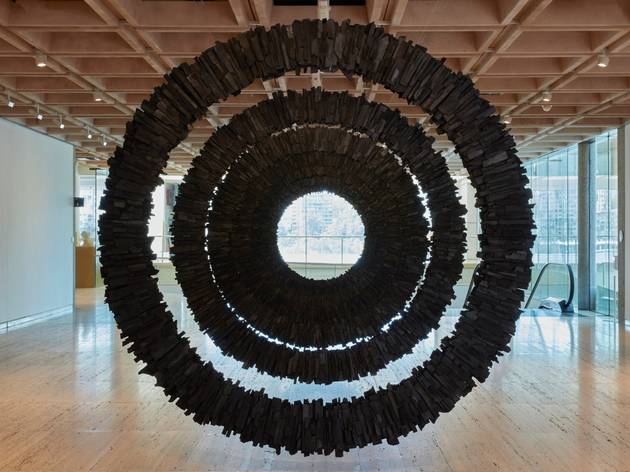 1/5
Photograph: Diana Pannucio | Regenerator, 2021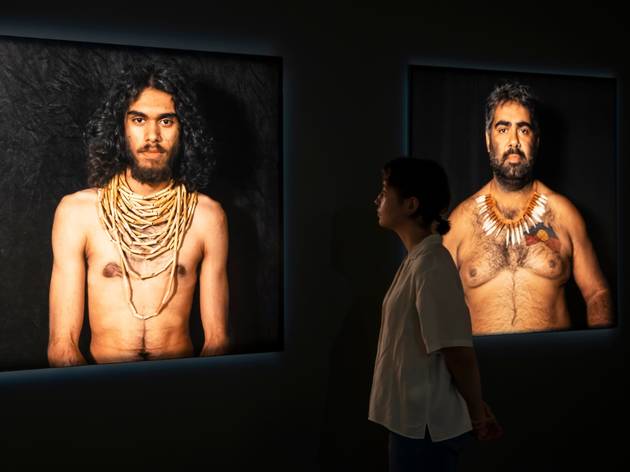 2/5
Photograph: Anna Kucera | Photograph of Jacob, 2020, Maree Clarke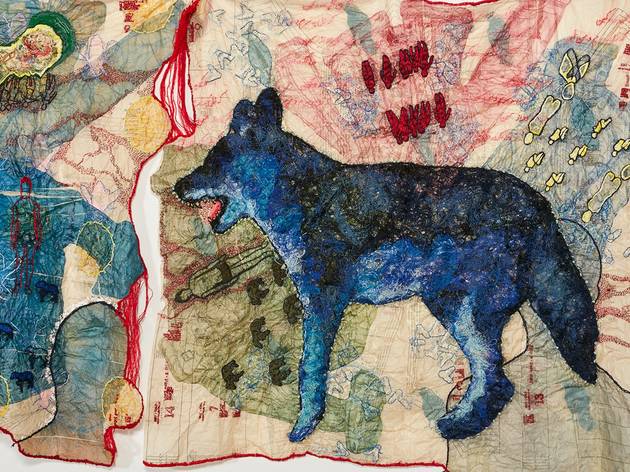 3/5
Photograph: Mim Sterling | detail, Assemblage of the Fragmented Landscape, 2020, Mehwish Iqbal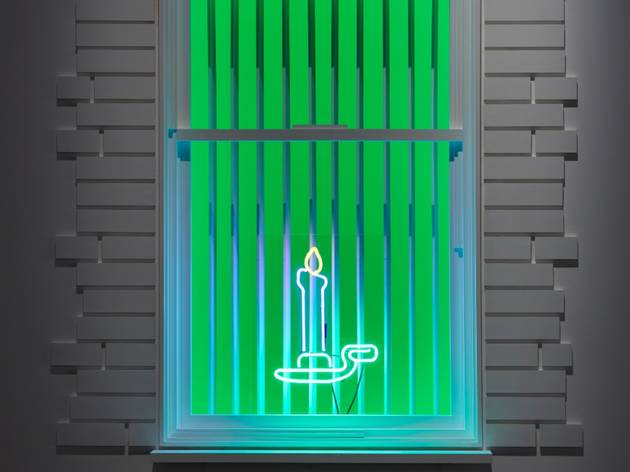 4/5
Photograph: Zan Wimberley | Burning Candle, 2021, Darren Sylvester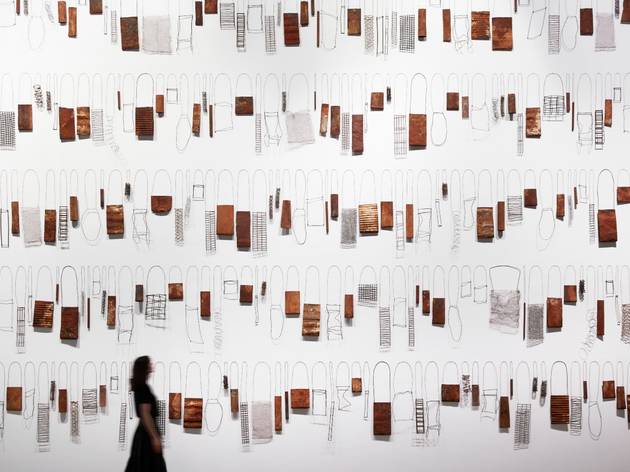 5/5
Photograph: Zan Wimberley | Narrbong Galang, 2021, Lorraine Connelly-Northey
The National 2021: New Australian Art
Sydney's biggest festival of Australian art is back, taking over three of our favourite cultural institutions
While the Biennale of Sydney might be all about international artists making local waves, The National is all about our local contemporary artists and the waves they're making here and around the world. Appropriately, it takes place in the "off" years of the Biennale, kicking off in 2017, continuing in 2019 and returning this year, handily skipping over the 2020 that wasn't.
Showcasing 39 artists, collectives and collaborations across Art Gallery of New South Wales (AGNSW), Carriageworks and the Museum of Contemporary Art Australia (MCA), The National year has been curated by Matt Cox and Erin Vink (AGNSW), Abigail Moncrieff (Carriageworks), and Rachel Kent (MCA).
With so much to soak up, we have pulled together an invaluable guide for you below, divvied up by venue.
RECOMMENDED: The best art exhibitions to see in Sydney.
The National 2021: what you can see and where
There are outstanding riches of colour on offer in the marvellous MCA outing for biennial contemporary art show The National. It's a veritable cornucopia of creative excellence well worth whiling away a few hours in, especially as Sydney eases into the cooler months. Even when the work is black and white – like Caroline Rothwell's mesmerically swirling digital animation 'Carbon Emission 5, Constructivist Rococo' – it is vibrantly so.
APY Lands artist Betty Kuntiwa Pumani's beautiful large-scale works on linen are a riot of reds and blues that thrum with desert life. Deborah Kelly's dazzling video installation and accompanying portraits are whirlwind of human hybrid forms twirling for glory that will put you into a blissed-out trance. There's a deep blue dingo stalking Pakistan-born, Sydney-based multi-disciplinary artist Mehwish Iqbal's gorgeous tapestry work 'Assemblage of the Fragmented Landscape' and Maree Clarke's stunning photography of topless men wearing traditional jewellery. Judith Wright's stunning hanging portraits daubed on Japanese rice paper, and Lauren Berkowitz' bright plastic pendants are also wow-making.
Everywhere you look there's something majestic, and nowhere more so than as you walk into the final works of the late First Nations artist Ms Wirrpanda, who was a respected leader of the Dhuḏi-Djapu clan of Dhuruputjpi until her untimely death just a few weeks before the opening of The National. The power of her work speaks for itself, and to share it amongst a wealth of work predominantly by women artists magnifies that matriarchal strength. It's a brilliant show.
Here's our guide to what you can see elsewhere in
The National.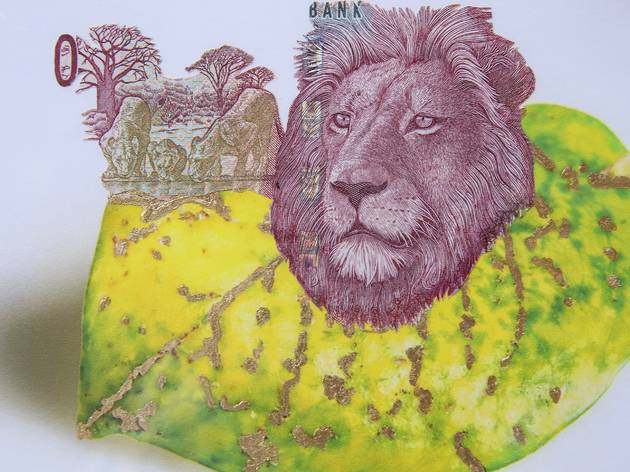 Photograph: Abdullah M I Syed and Gallery Sally Dan Cuthbert | detail, Currency of love, 2016-20, Abdullah M I Syed
From the moment you set foot in the Art Gallery of New South Wales outpost (AGNSW) of this year's spectacular Australian art biennial The National, your eye is immediately drawn down into the belly of this beast of a show, curated by Aboriginal and Torres Strait Islander art specialist Erin Vink and Asian art expert Matt Cox.
Melbourne-based artists Wona Bee and Charlie Lawler draw you in with their haunting work 'Regenerator', a suspended row of seven charcoal circles that conjure up the ghostly trace of the bushfire season's aftermath, but also hint at new life caught in endless circulation. This powerful piece hands over to Judy Watson's sky-blue tapestries 'clouds and undercurrents' hanging over the escalators. A powerful way to reclaim the atrium's open space, they create a beautiful focal point glimpsed from many spots below.
Two astounding installations take up space in the very best way in the AGNSW exhibition. Justin Shoulder's glorious inflatable installation 'Aeon+: Titan Arum' depicts a primordial soup-like scenario where inflatable creatures flail as if emerging from their mother's womb, all bathed in fluctuating pink and purple hues. It's mesmeric, and if you're lucky enough, you'll catch one of the fabulous LGBTQ+ artist's live performances in the space.
We also love Torres Strait Islander artist Alik Tipoti's knowing wink works 'Dhangal Madhubal', depicting Southern Cross-adorned creatures, including a shark hanging from one gallery space ceiling. Also check out First Nations artists Betty Muffler and Maringka Burton's large-scale linen work 'Ngangkari ngura (Healing Country)'.
Abdullah MI Syed's small-scale but big-impact gold leaf-adorned cotton works making up 'Currency of Love' and Phaptawan Suwannakudt's bold Thai script-traced works are also fab. And make time to sit down and lose yourself in video works by Australian-Balinese photographer and filmmaker Leyla Stevens, who just won the Blake Prize, and the mesmeric 'Darling Darling' by Gabriella Hirst.
Here's our guide to what you can see elsewhere in The National.
Carriageworks has given over the vast hangar-like space of Bay 21 to contemporary art biennial show The National, as curated by Abigail Moncrieff.
Don't miss Indigenous media group Karrabing Film Collective's powerful 30-minute work 'Day in the Life #1'. The group takes its name from the Emmi language word for "low tide turning" and their works interrogate inequality for First Nations' peoples of the Northern Territory. A documentary-style work, it speaks up loud and proud.
Elsewhere you can check out some really cool neon works by multi-disciplinary artist Darren Sylvester, including the funky 'Psychic's House', and Brendan Van Hek's 'Portable Horizon (Aquamarine, midnight blue)', which casts a vibrant glow over the space. A series of lightbox works by Alana Hunt also contribute to the glimmer as you walk through the cavernous space, filled with creativity.
Lorraine Connelly-Northey's trio of wire sculptures and smaller wall-hanging versions 'Narrbong Galang' are beautiful as you enter the main space, as are the bold red and yellow stripes of a giant graph-like creation by regular collaborators Janet Burchill and Jennifer McCamley.
And don't overlook Vernon Ah Kee, Dalisa Pigram and Marrugeku's brilliant video installation 'Guidirr Guidirr' in Bay 19. A darkly comic laceration of racism in this country wrapped up in the astounding beauty of this continent, it's one of the best films we've seen so far this year, and you'll easily lose half an hour or more in its astounding gravitational pull.
"Collaboration, kinship and sociality threads throughout the work of the 13 artists and collectives at Carriageworks, with each work navigating the measure and texture of our actions and engagement with the world around us," Montcrieff says. "These urgent voices from around Australia speak to our complicated and fractured present, and within this, offer hope for a renewed future."
Here's our guide to what you can see elsewhere in The National.
Want more?
Sydney is home to a vibrant community of street artists, always ready to bring a splash of colour, a touch of provocation, or just the perfect Instagram backdrop to our city's streets. But as with just about every piece of real estate in Sydney, these unlikely canvases are hotly contested spaces.
More on Coolest Neighbourhoods