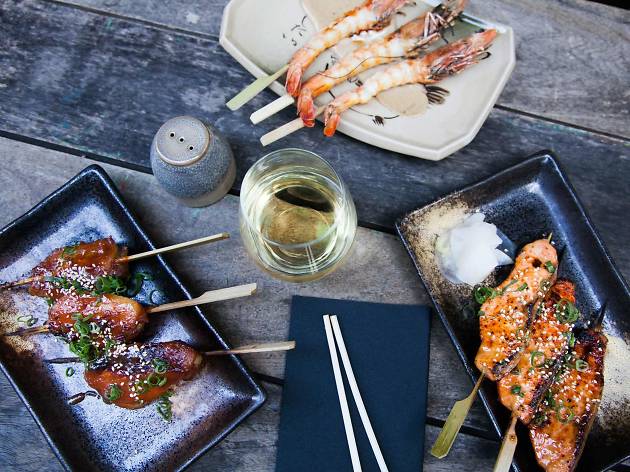 New menu at Goros includes $1 gyoza Mondays
The late-night Japanese party bar on Mary Street has a new menu and weekly specials to get you through the chilly months
It's basically a given at this point that everything tastes better on a stick. Barbecued meats, cubes of cheese and cabanossi and even chips are all items that are more fun via skewer delivery systems. And when it comes to food on sticks, the Japanese take the crown thanks to the glory of yakitori.
Small skewers of grilled meats and vegtables make for the perfect bar snack, and at Goros in Surry Hills there's not much they won't throw over the charcoal grill. You can order baby corn, shiitake mushrooms, and miso eggplant for your veg-loving mates, and for the meat eaters there's miso salmon, king prawns, chicken wings, chicken thighs and pork belly. If you are willing to look beyond food on sticks you can bolster your order with Japanese classics like karaage chicken with Kewpie mayo, agedashi tofu, a miso salmon and soba noodle salad or go all-out on a bento box.
If you're sticking to a budget over winter, time your visit around their weekly specials. On Mondays you can get $1 gyoza; Tuesdays means $15 fried chicken or wings; Wednesdays they have a $15 Japanese curry special and on Thursdays it's all about the $15 teriyaki beef burger.
Best selling Time Out Offers