Bars in Pyrmont
Pyrmont's got a solid handful of watering holes that run from dinky pubs to flash cocktail bars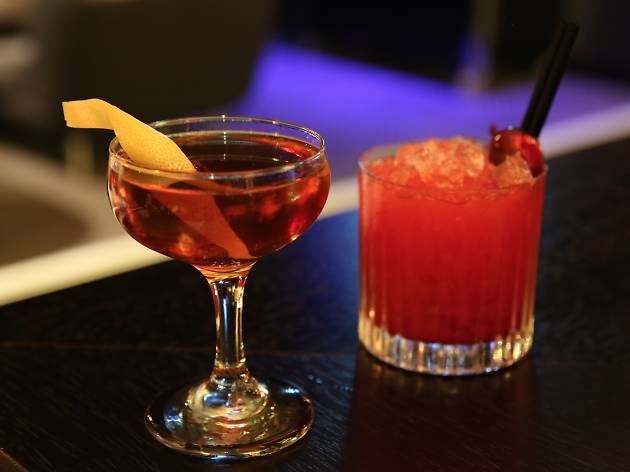 Pyrmont is a funny case study in inner city suburbs in Sydney. Unlike Surry Hills, Chippendale and Redfern, which have become creative hubs, Pyrmont's role is more functional. It is home to the Star Casino, many head offices and the Maritime Museum. But if you know where to look, it's got it's very own micro bar scene.
When a suburb features the huge gravitational force of a sprawling multi-venue like a mall or a casino, you can sometimes forget about all the little guys down on the street level. But that would be your loss, because after-work drinks in Pyrmont just got a whole lot more chill thanks to the addition of a pirate bar on Pyrmont Bridge Road with a Spanish accent and a taste for seafood. Slide into one of the freshly lacquered timber booths by the open windows and watch the sun go down as you cool your heels with a Riders 'Easy Rider' golden ale or a glass of the super approachable De Alto Amo tempranillo grenache from Spain.
Read more
Many a sunrise has been viewed from the balcony of this 24-hour watering hole located just outside Sydney's CBD in the Darling Harbour precinct. Spread out over three levels, the Pyrmont Bridge Hotel has gaming facilities, pool tables, live music, a smokers area and top-shelf tequila.
Read more
The Quarrymans Hotel got a serious makeover and now boasts 24 craft beer taps and one handpump for real-ale enthusiasts. Those coppery valves are now supplying Pyrmont with anything from Ekim's super-refreshing After Battle pale ale through to a strawberry wheat beer, a blueberry hefeweizen or an alcoholic ginger beer for people yet to acquire the taste for hops and barley. Inside, they've gone for an artisan workshop look with bare floorboards, a sandstone bar with a timber top, brown leather benches under the shabby-chic window frames and brass-pipe footrests under the bolted-down tables. On one wall is a neon sign declaring that 'in hops we trust' and with a double-hopped IPA in hand, so will you.
Read more
Somewhere between a comic book, a zine and a cocktail list, the new menu here reads like a sweet little ode to drinking nice things. It's probably one of the most approachable cocktail menus you're likely to stumble across at the moment. That's not to say the drinks lack subtlety, thought and sophistication. It's just the list is really fun to read, written in an irreverent way that takes classic cocktails and gives them a cheeky smack on the bottom.
Read more