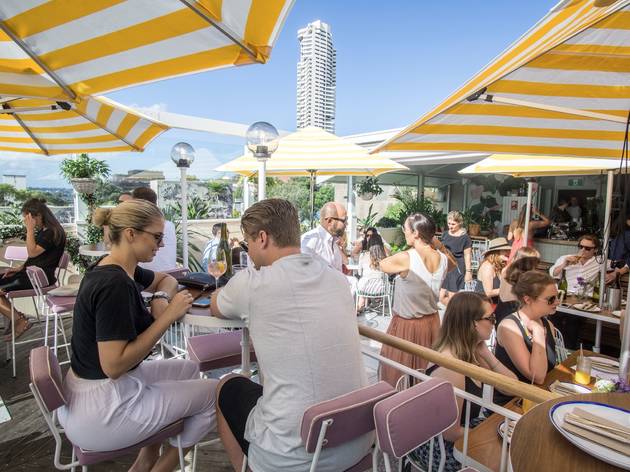 1/12
Photograph: Jack Ailwood
2/12
Photograph: Jack Ailwood
3/12
Photograph: Jack Ailwood
4/12
Photograph: Jack Ailwood
5/12
Photograph: Jack Ailwood
6/12
Photograph: Jack Ailwood
7/12
Photograph: Jack Ailwood
8/12
Photograph: Jack Ailwood
9/12
Photograph: Jack Ailwood
10/12
Photograph: Jack Ailwood
11/12
Photograph: Jack Ailwood
12/12
Photograph: Jack Ailwood
The latest edition of this Darlo pub features a rooftop terrace for summer sessions
The East Village Hotel has been through a few incarnations in recent years. All you had to do was turn your back for five minutes and it was renamed, renovated, revamped – the place has had more menus than a Masterchef kitchen.
Its most recent do-over (with Ceru's Tom Kime on board as executive chef) sees it valiantly trying to cover all bases, but that's not a bad thing. Especially since pubs often boast the square-footage to diversify a little. The ground floor is a little noisy but bright and airy with a soupçon of industrial brutalist strained through bistro chic. It helps that the staff wear verrry Frrrench long white aprons while they serve you your Tooheys New (if that's your bag) or something from the craftier end of the spectrum.
The food menu is a who's who of modern pub staples given a little kick up the butt. We choose the John Dory fillets and the sticky pork ribs, with a starter of chicken Caesar croquettes in response to an unsolicited rave from a customer at the bar. The four croquettes each sit on a lettuce leaf and are topped with parmesan shavings and a sliver of cured pork. They've got just the right amount of crisp bite on the outside and a warm interior filled with juicy chicken pieces.
The John Dory comes with chips, mushy peas, pickled onions and tartar sauce. The lightly battered fish is soft, flaky and flavorsome but the chips are so-so and you only get three, marble-sized pickled onions for your trouble. The sticky pork ribs arrive atop an Asian salad that's got bite in both taste and texture. The not-overly sticky ribs are fall-apart soft but someone's gone a little overboard with the cumin. That said, none gets wasted.
Upstairs is the Athletics Club, a very different room lined in dark wood with a purpose-made poker table, old sporting memorabilia on the walls and a host of large TV screens. Remotes are also resdily available should Arsenal TV not float your boat.
And right at the top of this tiered pub cake there's the rooftop Terrace Bar, a modern, open-air venue with comfortable sofas, dining tables, twinkling city views, a bright young crowd and a separate menu to the lower levels. The Terrace Bar menu is the most ambitious offering. You can get Israeli couscous, charcoal-grilled chermoula prawns and a lamb rump with feta and pomegranate.
The latest incarnation of this Darlinghurst pub has more layers than a trifle, but it means you can choose your own drinking speed to suit your mood, and no one is turning their nose up at another rooftop in time for summer that's for sure.
Venue name:
East Village Hotel
Contact:
Address:
234 Palmer St
Darlinghurst
2010

Opening hours:
Mon-Sat 11am-midnight; Sunday 11am-10pm