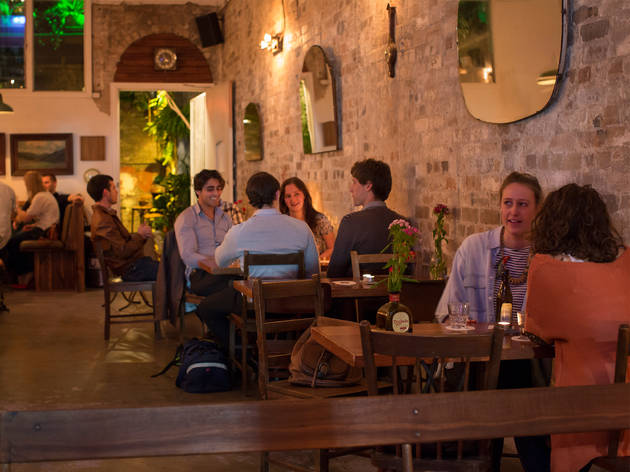 How to open a small bar
We ask three Sydney bar owners how they did it, and it turns out, it wasn't easy
With 55 new small bars opening in the inner city during the last four years, you might think opening one yourself would be a cinch. Hold. That. Thought.
The road to opening the doors on a new venue is a rocky one, littered with seemingly insurmountable bureaucracy, blown-out budgets and very long hours. Time Out chatted to Brett Pritchard and David Jank of Redfern's Arcadia Liquors and James Bradey from Grandma's in the CBD about their experiences opening small bars and got some sage advice for would-be publicans. It's tough, true, but each man swears it's worth it in the end.
1. Find the time
"It takes a phenomenal amount of time to understand and become part of the system," says Jank. "It is gruelling, but we worked out that the rules and regulations are there to separate the weak from the strong." It took almost a year for the Arcadia boys to open their bar, while it took Bradey more than two-and-a-half years from committing to the idea to opening Grandma's doors.
2. Formulate a plan
"Start with a lawyer, then an accountant and then create a business plan," says Jank. "You have to get your staff, payroll, drinks menu and pricing sorted. Are you providing any food? Write it all down." And one more thing – avoid themes. "Sydney has a tendency towards themes in venues, but we just wanted a place that people wanted to come to. People have called it kitsch but essentially it's a neighbourhood bar."
3. Find a site
For Bradey, finding the right location is paramount. "A liquor licence is attached to a specific site as well as a licensee. Both sites – Grandma's in the CBD and [his other bar] Wild Rover in Surry Hills – took us at least a year to find. It then takes a couple of months to secure it. You need to find a site that matches your concept and then you want to ensure that when you sign a lease there is a null-and-void arrangement in case you don't get your licence."
4. Get a DA
You'll need a Development Application in order to renovate, build or alter the premises – how you go about it depends on your cash flow. "Do you do it all yourself or pay a professional to do the DA for you?" asks Pritchard. "When you have limited time, [a professional] can tick those boxes for you. They have experience, they know the planners and have connections to the council." For Jank and Pritchard, doing it themselves was a steep learning curve and they now see the benefits of hiring a pro. "It costs you, say, $20,000, but it means you open a month earlier then, and in respect to trade, it is immeasurably valuable," says Jank.
6. Get a Liquor Licence
The final step is getting a liquor license, which has proved the greatest stumbling block for Bradey's latest small bar, Wild Rover. On top of the DA you'll require a community impact statement addressing residents and businesses within 100 metres of the premises and key stakeholders in order to apply for a general hotel licence from the Office of Liquor, Gaming and Racing (OLGR). Once everything is submitted, the waiting game begins. Bradey says that Wild Rover is "fully fitted-out, stocked, staffed, trained, and ready to go, but awaiting the licence. Getting a licence takes a lot longer than it used to because they are quite backed up. When we opened Grandma's we were the only license granted that month. Now they are getting three of four each month."
6. Open the doors
As soon as that licence comes through...
More ace small bars this way
Not only is the Inner West home to many of the eccentric, creative and proudly rainbow tribes of Sydney, it's also where you'll find some of the best small bar action. Tiny little haunts slinging great drinks and keeping the vibes lively and local. If you don't have one already, your home-away-from-home is probably on this list.
Best selling Time Out Offers