The best small bars in the Inner West
Hunker down in one - or all - of these great Inner West small bars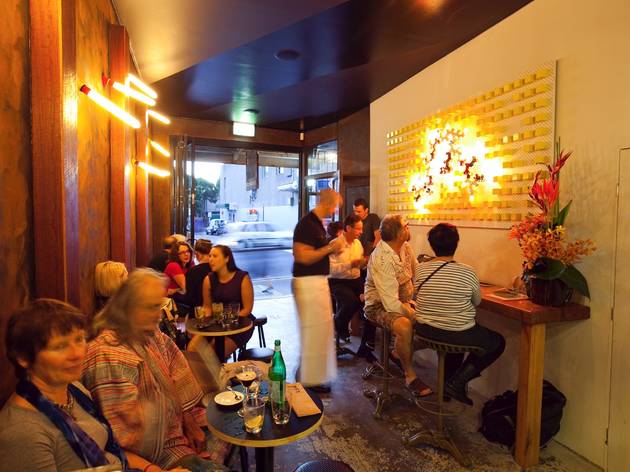 Not only is the Inner West home to many of the eccentric, creative and proudly rainbow tribes of Sydney, it's also where you'll find some of the best small bar action. Tiny little haunts slinging great drinks and keeping the vibes lively and local. If you don't have one already, your home-away-from-home is probably on this list.
The best of the Inner West
1
Look, we don't want to make too much of a thing about the Midnight Special, mainly because it's only got a 50 person capacity and, frankly, we don't want any more competition to get in. So let's emphasise that it's only open until midnight. Awesome drinks, delicious snacks, comfy booths up the back, friendly staff and excellent music provide absolutely no reason for you to go. Seriously. Back the hell off.
2
It's like the Wild West of the high seas inside this new neighbourhood bar on Enmore Road. The space was once occupied by an unassuming cocktail bar called the Waterhorse, and from the outside, not much has changed. The raw brick and louvered opaque glass panes are still in place – you need to venture inside to find the fun.
3
Every suburb needs a little guy – a tiny bar wodged in on the main street between a Student Flights and a pasta joint, one that serves the drinks you wish you could have at home, in surrounds just as comfortable.
4
It has been our experience that delicious things in Sydney tend to clump together. In a little pocket of Marrickville down by the station Cornersmith is flying the flag for the joys of pickling; you can buy some of the best banh mi in the city; and there's a line-up of dependable Vietnamese restaurants that always hit the spot. And now Titus Jones has brought cocktails and cheeseboards to this flavour-packed corner of Sydney.
5
You can't lob a decanter in Surry Hills without hitting a wine bar, and Glebe and Enmore cater generously to oenophiles. But head further west and it can start to become a long time between drinks. So imagine the joy a thirsty traveller feels when they stumble upon the gentle, golden glow of the Temperance Society, a new wine bar in Summer Hill.
6
It might be best known as the restaurant serving those famous polenta chips, but you can also just drop in for a cocktail from the list that they keep short, sweet and simple (Bloody Marys, Manhattans, Martinis), a glass of easy drinking wine, a sherry if that's how you roll or a refreshing ale.
7
The walls are covered in event posters, stencils and murals by local artists and record-sleeve menus boast a long list of bottled ales and lagers, including the St Peters Cinnamon Girl Spiced Ale, Doss Blockos Pale Lager, Coopers, White Rabbit and Mountian Goat, as well as Boston's Mill Pale Ale and the citrusy 4 Pines Kolsch.
8
Ed Cutcliffe, the moustachioed gentleman behind the Little Marionette cafes, has added another title to his mantle: publican. He has converted the funny little space beneath the Balmain Lodge into a pocket-sized watering hole where the decor is part bordello and part terrarium.
9
What we like about the folks at Corridor is that they're friendly and down to earth. They're just doing what they do and they're doing it well: long necks of Coopers pale for $12, simple mixers (get 'em to do you a ginger beer with rum and limes), local wines by the glass (in red and white!)... you get the picture. That's what this crop of small bars are about: neighbourhood joints offering a community atmosphere.
Do some browsing before you hit the bars
The Inner West bohemian hub is home to hundreds of great boutiques and bookshops, as well as fine cafes and millions of Thai restaurants