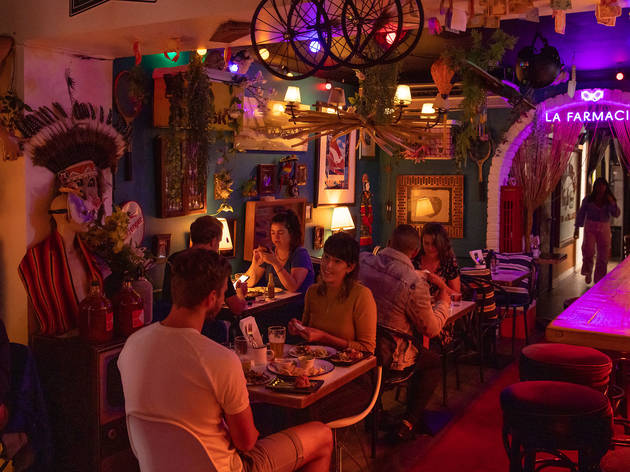 1/12
Photograph: Daniel Boud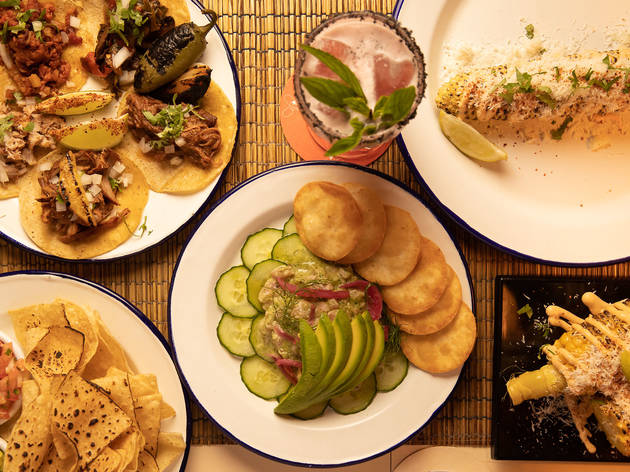 2/12
Photograph: Daniel Boud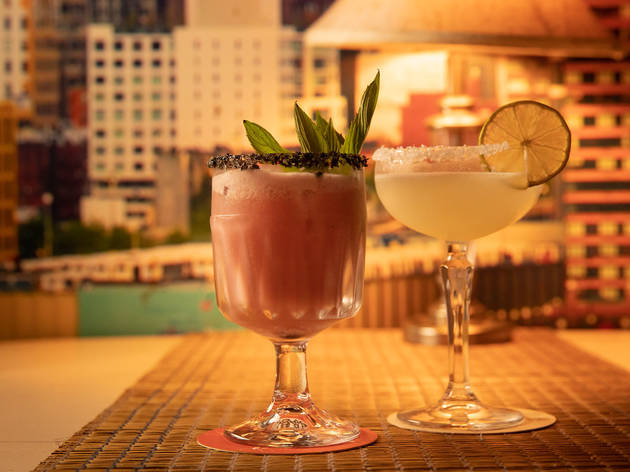 3/12
Photograph: Daniel Boud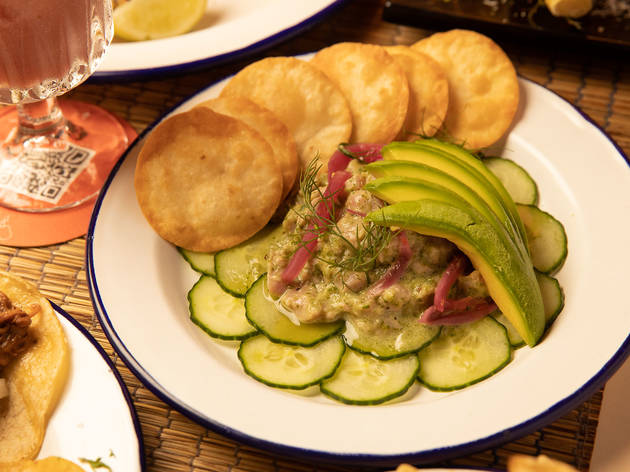 4/12
Photograph: Daniel Boud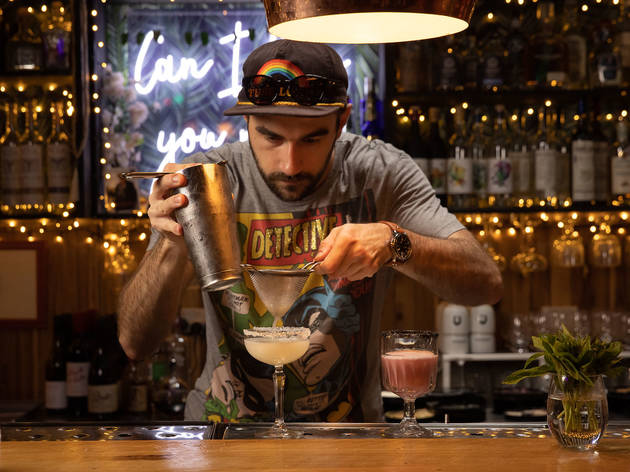 5/12
Photograph: Daniel Boud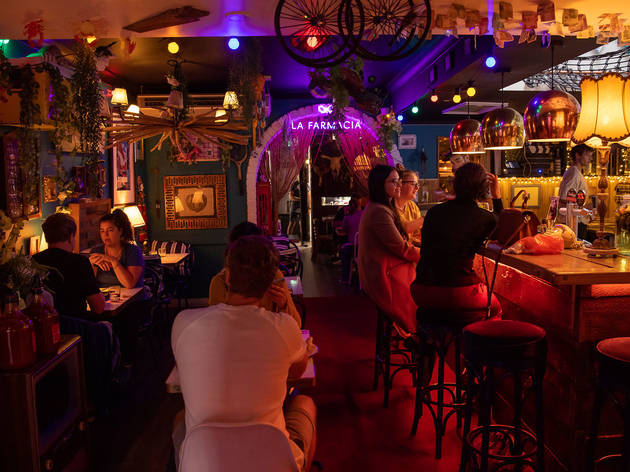 6/12
Photograph: Daniel Boud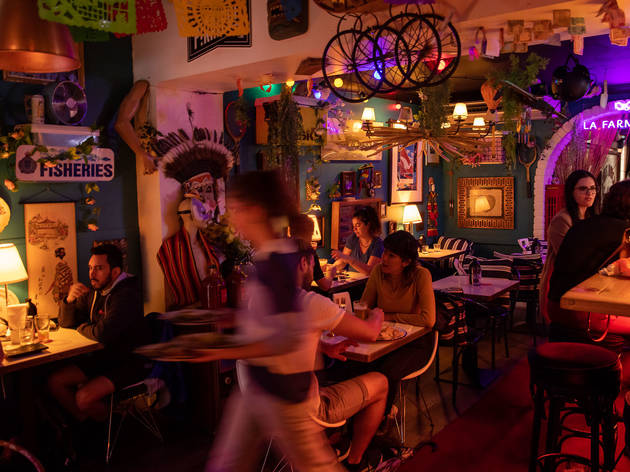 7/12
Photograph: Daniel Boud
8/12
Photograph: Daniel Boud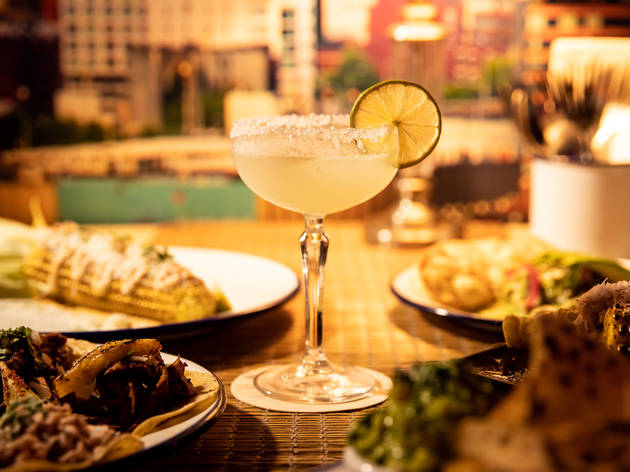 9/12
Photograph: Daniel Boud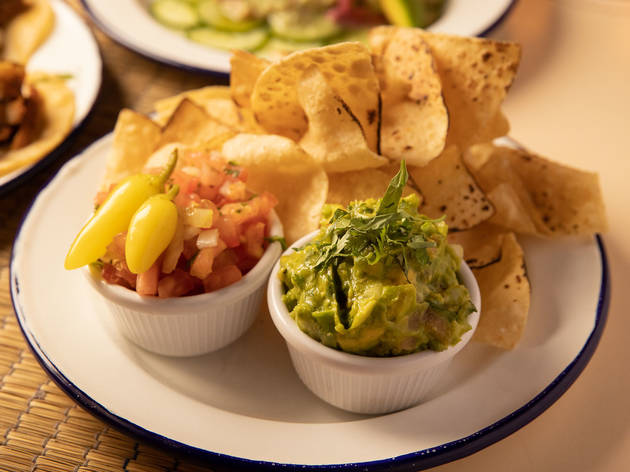 10/12
Photograph: Daniel Boud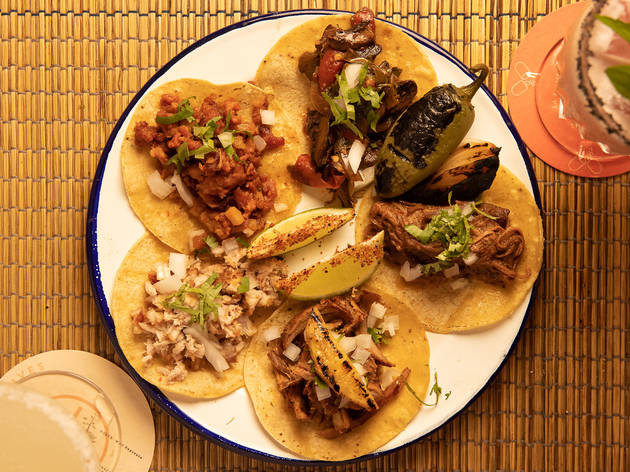 11/12
Photograph: Daniel Boud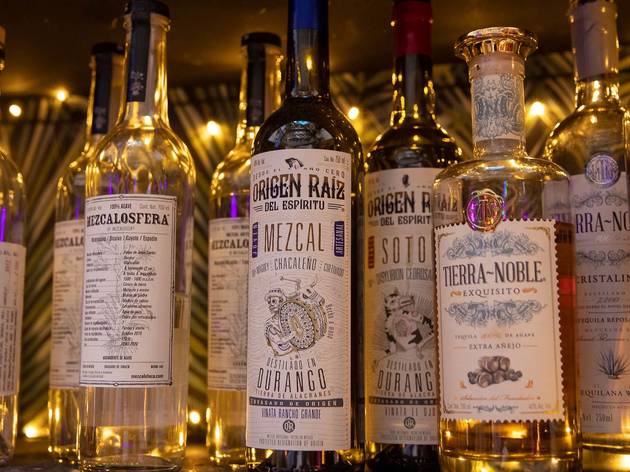 12/12
Photograph: Daniel Boud
Time Out says
Affordable fun doesn't get better than $2.50 taco night at this funky Darlinghurst eatery
Do you remember those kids' party places where every room had a different theme? Well, 81 Stanley Street is the adult version. Through the alley and upstairs is Wings and Tins, an all-American small bar cramming Buffalo wings and canned craft beer into a ramshackle dive bar with a tiny terrace. Downstairs on the street front is Mrs Palmer Sandwich, wrapping up half a dozen super-sized sangas for hungry Darlinghurst folk. And squished between the two, like brisket on bread, is La Farmacia, a Mexican hidey-hole with one of the inner city's cheapest Tuesday night specials.
Good luck booking in – Tuesday is its busiest night and the indoor tables are snapped up weeks in advance, but there's some good news for the hungry, skint, and disorganized: every single one of their outdoor tables is for walk-ins in search of $2.50 tacos. And we have the City of Sydney to thank for all that convenience and availability – the recent relaxing of footpath dining rules has gone a step further on Stanley Street, with a whole section of street-side parking cordoned off and filled with neighbourhood restaurants' tables.
Back to those unbelievably cheap tacos. A ten dollar dinner in this city is a rare find, but you could comfortable walk away after four tacos here and call it a day. Or you could go hard before you go home and see if you can fit doubles of all seven on the menu. La Farmacia and its sister venues are co-owned by Anthony Macfarlane and Alfredo Perez, the latter of whom is from Guadalajara and spent hours on the phone to his mother ensuring that what is coming out of the kitchen is something his family back home would recognize. The aim for La Farmacia was to recreate the simple food of Perez's home – steering away not only from Tex Mex, but also ducking past the fussy, perfectly plated Mexican fusion offerings dotted across the city.
You should get the Al Pastor. The pork is marinated in a rainbow of Mexican chillis, like ancho, guajillo and an achiote spice paste made with annatto seeds, which provides the bitter, earthy grounding for the sweetness of pineapple in the mix. Upping the complexity is vinegar, some garlic, cloves, bay leaves, oranges. It's a very good time. That blend of sweet and savoury is also present in the chipotle beef, a riff on a classic Southern American barbecue, but inspired by a restaurant in Guadalajara. They char the chipotle to balance the brown sugar and cloves. The brisket then puts in an eight-hour shift, baked low and slow, with the beef bones kept in to add the richness of marrow.
I have yet to interview a single Mexican person who contradicts the idea that salsa is the most important thing about a tacqueria. At La Farmacia, they make three; green, red and chile-morita. The red is packed with charred truss tomatoes, garlic, coriander, lime and chipotle; green is tomatillos and jalapenos with a touch of oregano; and the chilli-Mortiz is made by softening the dried, smoked, red jalapenos and blending them into a sauce.
They single wrap their tacos here, and they take pride in their salsas, so these are not tacos that get better with waiting – eat them as soon as they hit the table. And if all those tacos are making your thirsty, cast your eye over a drinks list that features 17 riffs on a Margarita, which is possibly the least Mexican thing about the place, catering to Sydney's love of the weird and new. Get your cocktail starring anything from coffee to elderflower or Carolina reaper chilli. Don't like too much fuss in your glass? They have 20 mezcals and 17 tequilas, plus other Mexican spirits, and they're adding to the collection fortnightly. If there' a better strategy for making Tuesday night a destination, we have yet to see it. Go get your prescription filled at La Farmacia and cruise through the rest of the working week on residual holiday vibes.
Details
Address:
81 Stanley St
Darlinghurst
Sydney
2010

Contact:
Opening hours:
Tue-Fri 5pm-late; Sat 11am-late
Best selling Time Out Offers